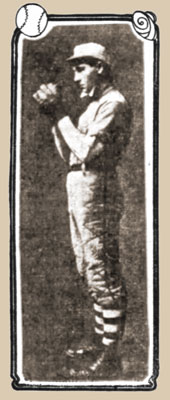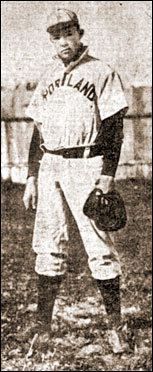 Left - Pitcher Ernest Nichols who became the Vancouver ace winning at least 17 games (17-7) in spite of his late start (June 21st) with the club. (The team won two other games where Nichols was scheduled to pitch but no reports could be found on those games). He had come to the Canadian squad after much success with an Oakland team in the Players' League of Northern California.
In 1903, Spokane won the bidding for his services in pro ball and he had a spectacular start to his professional career with 20 wins in his first 24 decisions in the Pacific National League. But, Nichols died of an apparent heart attack in late July. He was just 21..
The photo at the left is from the San Francisco Chronicle when he signed his pro deal. He had pitched in semi-pro ball in the San Francisco area in 1901 and 1902 and in the 1902 winter league. Among the highlights of Nichols' Vancouver season was a no-hitter. A single base on balls robbed him of a perfect game. Newspaper reports also referred to a feat of a total thirty-five strikeouts over consecutive starts.
Right - Frank Ellsworth "Jerry" Freeman, first baseman for Vancouver who advanced to the major leagues with Washington in 1908-1909. At one point, Freeman, who was married in Vancouver, and a teammate established a cigar store in Vancouver.