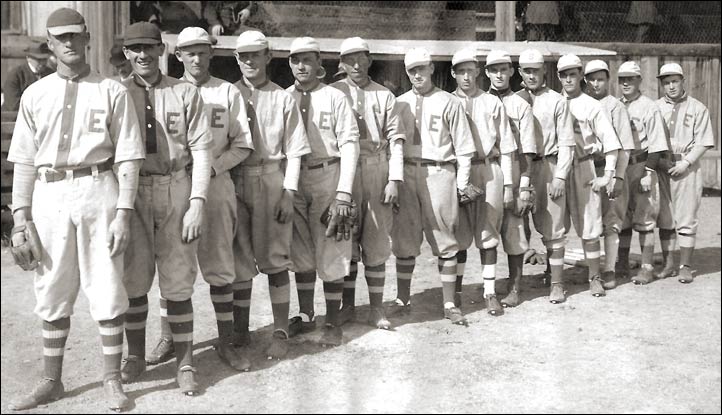 We have two versions of the names, the first from the Edmonton Bulletin when they printed the photo in their May 10, 1912 edition.
(Left to right) - Phil Deller P, Weinholt C, Henry Hinrichs LHP, Hagel SS, John Clayton P, Tappan C, Roy Dudley 1B, Grundell 3B, Tangauy OF, Puff OF, Walter Ford P, Buss Povey OF, Cullen 2b/OF, John Macklin 2B/MGR
Then in the 1913 Reach Baseball Guide :
(Left to right) - Phil Deller, Weinholt, Henry Hinrichs, Puff, John Clayton, Tappan, Roy Dudley, Hagel, Grundell, Buss Povey, Walter Ford, Tanguay, John Macklin, Cullen
(Puff played just one game with Edmonton, the league opener).
Click on the photo for a larger version.
[Photo courtesy of David Eskenazi]