Winnipeg Maroons of the Northern League. Standing (left to right) - Jack Clothier 3B, Ted Corbett P, Bud Moe P, Zip Zabel P, Jones MGR, Tom Rafferty RF, Mark Freer CF.
Middle row - Thomas Ronan 2B, Kenzi Kirkham LF, Clarence Nelson P, Frank Kurke UT, Lou Bachant C, Joe Wilkes SS.
Front row - Ben Jones P, Ira Boly P, Ryan 1B, Henry Lawson Bus.Mgr
[Photo published in the Manitoba Free Press, August 30, 1913]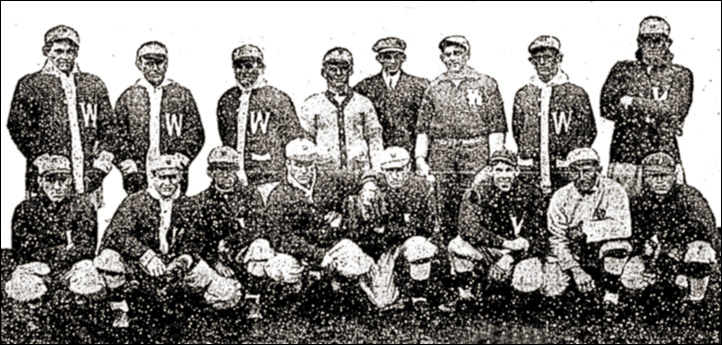 Back row (L-R) - Earnest Fosberg P, Jake Thielman P, Timothy Flood P/MGR, Frank Kurke C, Henry P. Lawsen Bus-Mgr, Elmer Steel P, Sam DeHaven 2B, Marvin H. Peasley P.
Front - Louie Bachant C, Kenzie K. Kirkham OF, Johnny Clothier 3B, Mark Freer OF, Joe Wilkes SS, Bud Moe P, Bob Kahl, 1B, Dick Diederrich P
(Comparing the names, it appears the team had a large turnover)