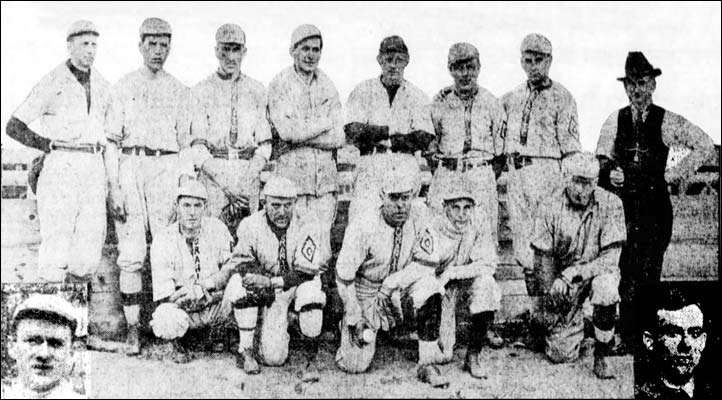 Standing (left to right) - H.E. Burgess CF, O.Wynant UT, A.Fidler 2B, R.Baynham P, W.J. Scott C, Singenbush C, "Hank" Sigurdson P, W.P. McDougall, President.
Kneeling (left to right) - J. Lawrie SS, "Dutch" Helfrick 3B, Alex Ross P, "Nap" Lexier Mascot, Sam Sigurdson, LF.
Insert left - "Doug" Tinney C. Insert right - Fred Tinney 1B.
This aggregation of athletes has been setting the Winnipeg Senior Amateur Baseball League on fire this season. After trailing the show in 1916 and being middle distance runners last year, they have come strong this season and are away in front in the pennant hunt. The Curlers have won 14 games in 18 played. At the go-in of this series they were only fielding fair but were hitting like demons, but of late they have been doing good work both on the defensive and on the offensive. Five of their regulars are pounding the ball better than .300, Fidler and Burgess going better than .400. "Hank" Siguerdson is the best pitcher in the league. Most of their players have had considerable experience in baseball which further boosts their chances of running through winners in case they should be dangerously challenged. The Granites now have a 5-game lead over Catholic Club, which is in second place.
[Wnnipeg Tribune, July 20m 1918]