J. Coughlan & Sons (notice JCS on uniform) baseball squad copped the 1918 Commercial Baseball League pennant in their first year of participation in that Vancouver circuit.
Standing, left to right (spelling of some names is questionable) - Moran, McGregor, Rodgers, Kelly, Harris, Turner, Andy Neilson (manager), Hedigan, Bickerton, Durofee, J. Lochead, Reece, Tommy Lochead. Front Row (L to R) Brown, P. Neilson (mascot), Canning (bat boy), Hannifan
Known 1918 Coughlan's roster – Brand Bill P, Brown Joe 2B/OF/P, Bullard Russ SS/3B (also National Biscuit Company), Corbiere Art P, Durfee/Durofee P/OF, Finch Charlie C (also National Biscuit Company), Hanifan/Hanifin/Hannifan 3B/C/2B/OF, Hastings Joe P, Hedigan Tom OF/1B, Kelly OF/C, Lewis OF, Lochead Jack C/OF/2B, Lochead Tommy 2B/OF/P, McDonald Ivan P, McGregor A. OF, McSorley OF, Moran/Morin 2B/SS/1B, Neilson Andy MGR, Paepke Ernie 2B/P/3B, Rogers 1B/C/3B/OF, Stinson
Players not shown on known 1918 Coughlan's roster who appear in team pic :
Harris (nothing on front of uniform) – played for Coughlan's second entry (City League)
Turner – probably an early-season spare player who never appeared in any games
Bickerton (old English "C" on front of uniform) – from some other lower mainland team
Reece (BCER on front of uniform) – B. C. Electrical Repair of New Westminster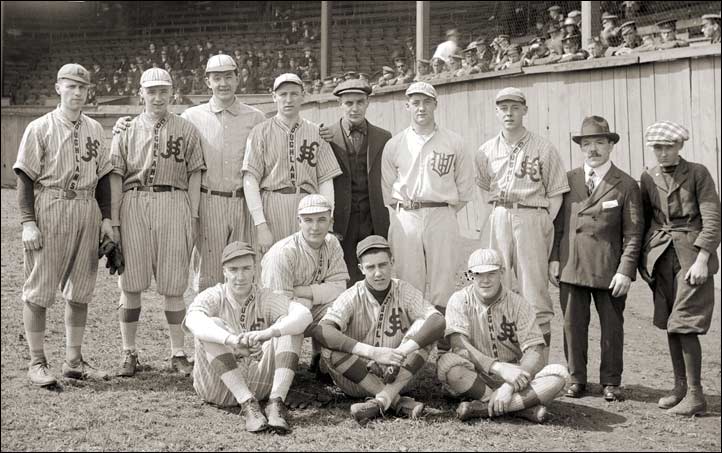 Photo taken before Commercial League Coughlan's exhibition game vs Vancouver Beavers of the 1918 class B Pacific Coast International Baseball League on April 24, 1918. One player wearing a Beavers' uniform appears in the pic (probably loaned out to Coughlan's for the exhibition match).
No known player ID's No box score was printed for the game but the linescore shows T. Locheed, Durfee and Moran shared pitching duties for Coughlan's while Rogers was behind the plate for the entire game. On that basis, it is fair to assume that the aforementioned four players are in the group pic.
[Modified from the original photo, Vancouver Archives, Reference -CVA 99-5387, Photo by Stuart Thomson]