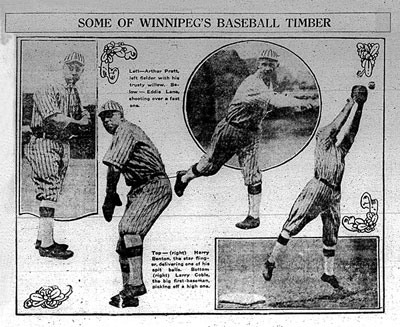 The newspapers provided good coverage of the local teams.
Left - from the Calgary Daily Herald, May 7, 1921, a preview of some of the top players from the Winnipeg Maroons.
The top caption reads, "Left -- Arthur Pratt, left fielder, with his trusty willow. Below -- Eddie Lane, shooting a fast one."
The bottom caption, "Top -- (right) Harry Benton, the star flinger, delivering one of his spit balls. Bottom (right) Larry Coble, the big first-baseman, picking off a high one."
Often the stories on the out of town teams were quite succinct. This one, in the Manitoba Free Press, May 12, 1921, noted the game played in Regina, "Moose Jaw defeated Regina in the last game of the series here tonight 9 to 8. Good and bad baseball was played."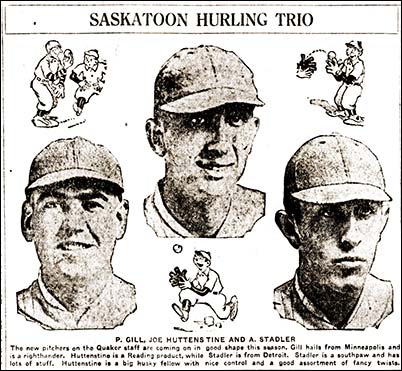 The May 7th of the Saskatoon Dailky Star featured photos of three of the Saskatoon hurlers to start the 1921 season.
The caption read, "P. Gill, Joe Huttenstine and A. Stadler.
The new pitchers on the Quaker staff are coming on in good shape this season. Gill hails from Minneapolis and is a righthander. Huttenstine is a Reading product, while Stadler is from Detroit. Stadler is a southpaw and has lots of stuff. Huttenstine is a big husky fellow with nice control and a good assortment of fancy twists."
(Gill was identified in the Saskatoon paper as P. Gill, but stories from Winnipeg identified Gill as either Howard or John, who had played with a Minneapolis amateur team on a 1918 trip to Winnipeg.)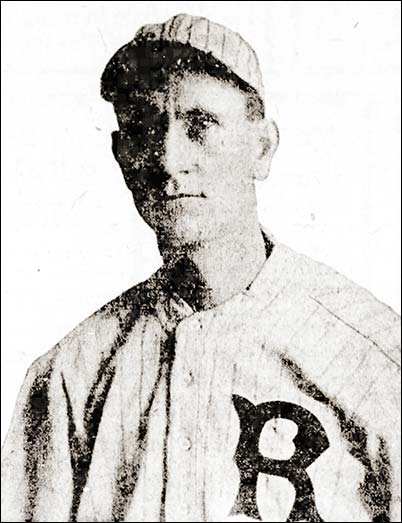 Saskatoon Quakers brought on "Silent" John Hummel as their playing manager for 1921.
The headline for this photo in the Saskatoon Daily Star was "Conquering Hero". The item, in the June 11 edition of the paper noted :
"He treats 'em rough. The Quaker manager, under whose guidance the local athletes have made a commendable advance on the league standing. From being among the also-rans, Hummel has brought the team, up to a point where they can be looked on with respect by others in the league. Besides training the boys, he has taken part in the various contests himself and has fielded in wonderful style, besides coming through with a number of timely bingles."
\An earlier story had offered : Last season with the Reading International League Club, Hummel will this year pilot the Quakers. He has eleven years Major League experience to back up his efforts hand hopes to pull through with a winner. As an outfielder Hummel has few equals and promises to be up among the leaders with the willow. Hummel will likely be a prime favorite in Saskatoon.


Right-handed pitcher Sammy Beer (left) was a familiar face in Saskatoon as a workhorse for the Saskatoon Quakers over five seasons in the Western Canada League.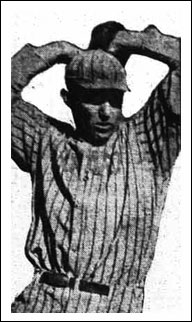 Beer pitched for the club in : 1913 (16-12), 1914 (23-7), 1919 (13-4), 1920 (10-12), and 1921 (17-16).
In the 1921 season, Beer made 30 starts for the Quakers and threw complete games in every one! He also made eight relief appearances.
Beer played in the Pacific Coast League with Oakland and Los Angeles.
Right - Fred Fairbanks a workhorse of the 1921 Edmonton Eskimos. The right-hander appeared in 25 games, 23 of them starts and completed 21. He finished with a won-lost record of 14-8.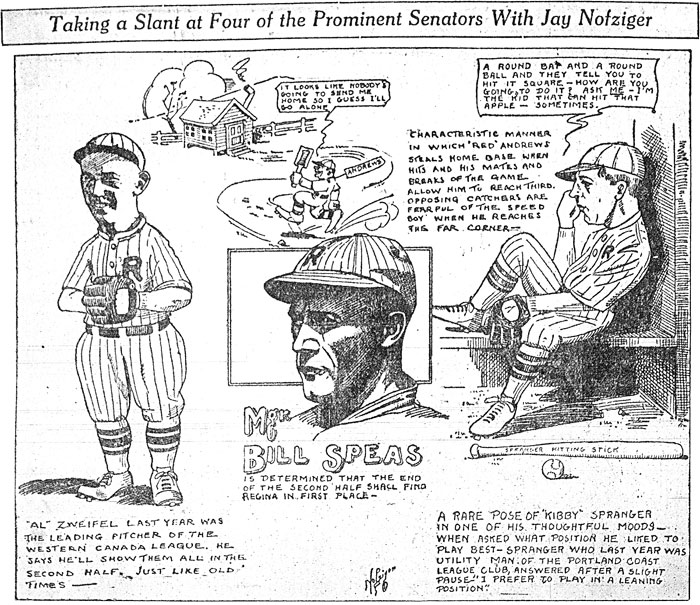 Regina pitcher Jay Nofziger turned out to be quite the artist. He displayed both talents during his tour with the Senators in 1921. The above appeared in the Regina Morning Leader, July 23, 1921. Zweifel (left) was called "Fatty" by teammates as per his prominent buttocks, hips and thighs. Andrews (top) made his claim to fame by stealing home earlier in the 1921 season, a feat later duplicated by playing-manager Speas (center). Printing on the bat just below Carl "Kibby" Spranger (right) says "Spranger Hitting Stick".
Jay was the brother of artist Edward Nofziger. Upon moving to Los Angeles, Jay joined the art department of the Los Angeles Herald in 1921. His portraits and action drawings of prominent figures appeared there until 1933. He then freelanced in Los Angeles into the 1970s. Brother Ed created illustrations for many magazines, including The Saturday Evening Post, Collier's Magazine, and Esquire. He also worked on animated films and was well-known as a cartoonist.
Tragedy struck in 1925 when Jay's two-month old son, Jay Jr. was killed and his wife seriously injured in an automobile accident in Burbank.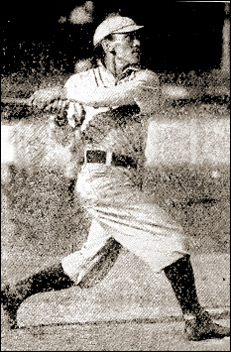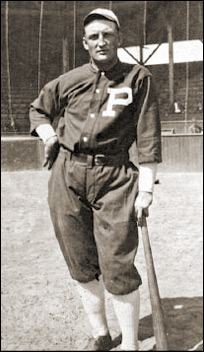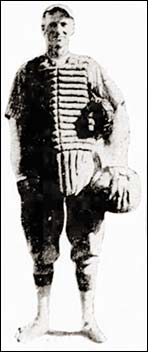 Left - Saskatoon outfielder Frank Jude, a former major leaguer. Centre - Andrew "Rip" King, the Regina catcher who went on to a career in football in the NFL & its predecessor. Right - Sam Leake, catcher for Edmonton and Moose Jaw.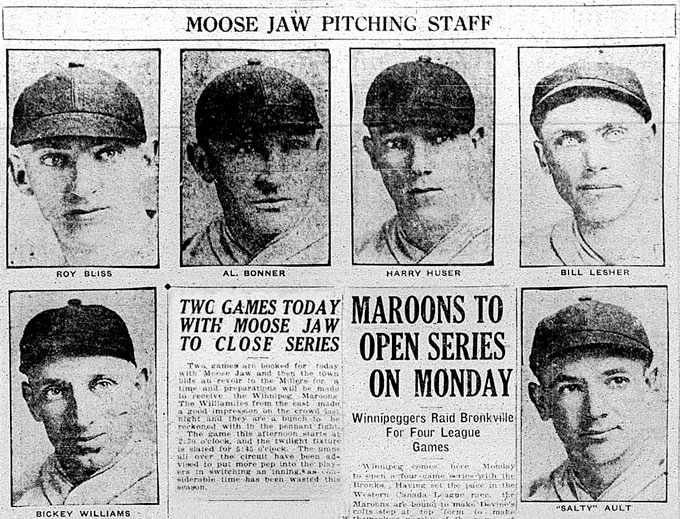 May 14, 1921, the Calgary Herald featured photos of the Moose Jaw pitching staff.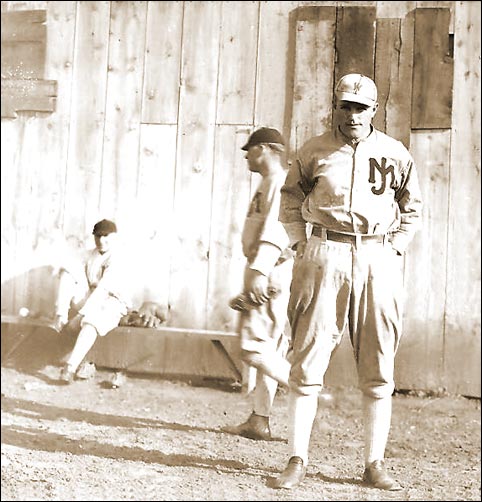 These four photos of Moose Jaw Millers players of 1921 are from the David Eskenazi collection.
Left - Bell at the left (putting on his spikes). Centre - shortstop Mark Koenig. Right - catcher / second baseman Nate Shandling
More on Koening, below.
Below left - the playing manager of the Millers, Elmer Leifer (who played the INF, OF, and even pitched). Right - Calgary pitcher right-hander Karl Schnell.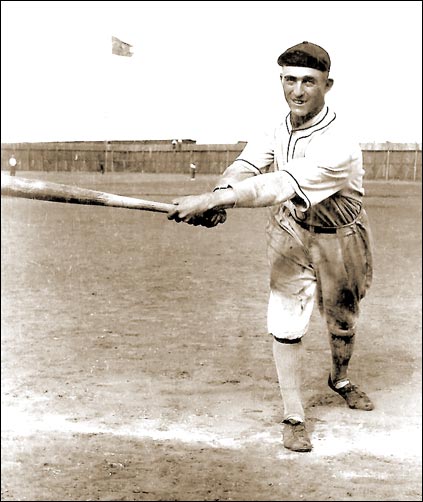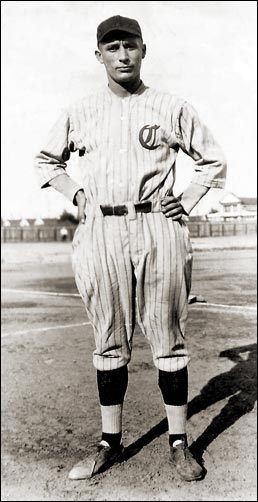 Below left - shortstop Mark Koenig who advanced to the majors to be a New York Yankee. Right - pitcher Junk Walters.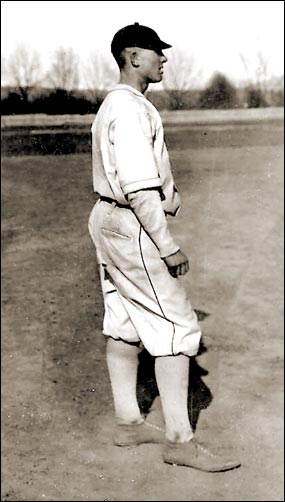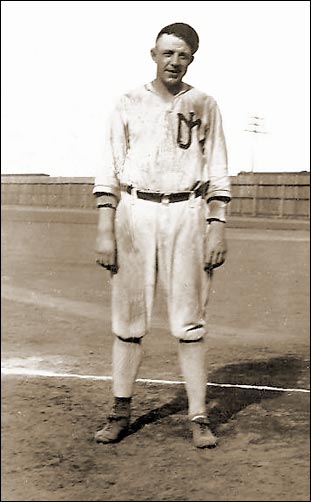 Moose Jaw shortstop Mark Koenig, a future major leaguer won praise for his defensive play in the season opener against the Regina Senators. The May 5, 1921 edition of the Moose Jaw Evening Times carried a cartoon depicting Koening. The caption read :
Everything looked easy for Mark Koenig, the Millers`youthful shortstop, who was credited with 6 assists and a put-out yesterday. And alongside of him O`Shaughnessy handled eight balls without a slip.
The lineups for opening day included future big leaguers Koenig of Moose Jaw and Johnny Frederick of Regina as well as 1919 cup-of-coffee major leaguer, Regina starting pitcher Lafayette Henion. Moose Jaw outfielder Elmer Leifer was called up to the Chicago White Sox for 9 late season games in September, 1921.

Young Mark Koenig (age 16 when the schedule began and who turned 17 on July 19, 1921) was playing his first season of professional baseball as a shortstop for Moose Jaw in a 6-team league featuring the Regina Senators, Winnipeg Maroons, Saskatoon Quakers, Edmonton Eskimos and Calgary Bronchos. Five years later, Koenig hooked up with Tony Lazzeri to became the Yankees' double play combination. The 1927 Murderers' Row was considered the strongest aggregation ever assembled on the diamond. Switch-hitting Koenig batted second in the order just ahead of Babe Ruth. He went on to play for 12 seasons altogether in the majors including stints with the Detroit Tigers, Chicago Cubs, Cincinnati Reds and New York Giants.
1921 Batting Stats for Mark Koenig with the Moose Jaw Millers :
G - 84 AB - 302 H - 61 2B - 8 3B - 1 HR - 0 BA - .202 TB - 71 SLG - .235

Koenig's versatile teammate on the 1921 Moose Jaw squad, 28 year old utility man Elmer Leifer (primarily played outfield but also pitched and even occasionally played in the middle infield next to Koenig), got a September "cup of coffee" call-up (yes, from lowly class B) to the bigs and got into 9 games with the Chicago White Sox, garnering 3 hits in 10 at bats. He never made it back to the show, however, and was out of pro ball after a brief stint with the class A Little Rock Travelers in 1922. He surfaced again in Saskatchewan as a member of the Climax teams in the 1925 and 1926 Moose Jaw Kiwanis tournaments.
1921 Batting Stats for Elmer Leifer with the Moose Jaw Millers :
G - 85 AB - 318 H - 104 2B - 22 3B -10 HR - 2 BA - .327 TB - 152 SLG - .478
24 year old pitcher Larry Elba Duff. Had a 4 - 10 record in 1921 with Moose Jaw, The next season, 1922, he got into 3 games with the Chicago White Sox and posted a 1 - 1 mark.
1921 Pitching Stats for Alba Duff of the Moose Jaw Millers :
G - 25 W - 4 / L - 10 PCT - .286
The Edmonton Eskimos had two future major leaguers in the line-up for those games, just-turned (June 26) 18 year old Floyd "Babe" Herman who would break into the majors with the Brooklyn Robins (as they were called before becoming the Dodgers) in 1926, as well as about-to-turn (July 20) 19 year old Henry "Heinie" Manush who broke into the majors with the Detroit Tigers in 1923.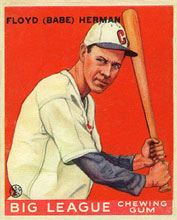 Herman, known as "Lefty" during his season in Edmonton, was one of the major leagues' most noted power hitters of the late 1920's and early 1930's. He spent the bulk of his playing days with Brooklyn but also had shorter tenures with the Cincinnati Reds, Chicago Cubs, Pittsburgh Pirates and Detroit Tigers between 1926 and 1937. He then returned to the minors for 9 years before the Brooklyn Dodgers re-signed him at age 42 where he played his final 37 big-league games. During his career in the bigs, Herman hit for the cycle a record three times. His .393 batting average, .678 slugging average, 241 hits and 416 total bases in 1930 remain Dodgers' franchise records.
1921 Batting Stats for Floyd Herman with the Edmonton Eskimos of the Class B Western Canada League
G - 107 AB - 409 H - 135 2B - 24 3B - 18 HR - 7 BA - .330 TB - 216 SLG - .528

Manush played 17 seasons for the Detroit Tigers ( 1923 to 1927), St. Louis Browns (1928 to 1930), Washington Senators (1930 to 1935), Boston Red Sox (1936), Brooklyn Dodgers (1937 and 1938) and Pittsburgh Pirates (1938 and 1939). In 1926, Manush led the American League with a batting average of .378 and finished second behind Babe Ruth with a slugging percentage of .564. In 2,008 career games, he batted .330 with 2,524 hits and 1,183 RBI. He was elected to the Baseball Hall of Fame in 1964.

1921 Batting Stats for Henry Manush with the Edmonton Eskimos of the Class B Western Canada League
G - 83 AB - 327 H - 105 2B - 17 3B - 9 HR - 9 BA - .321 TB - 167 SLG - .511
There were a number of others playing in the 1921 Western Canada circuit who would ultimately make it to the major leagues (or had seen action in the majors previous to their stint in the WCBL).




Left to right - Johnny Frederick, Hugh McMullen, Oscar "Ski" Melillo, Tony Kaufmann
From the Regina Senators :
19 year old outfielder Johnny Frederick - played 6 seasons (1929 to 1934) with the Brooklyn Dodgers.

1921 Batting Stats for Johnny Frederick with the Regina Senators :
G - 59 AB - 271 H - 66 2B - 5 3B - 8 HR - 1 BA - .244 TB - 90 SLG - .332
19 year old catcher Hugh McMullen - appeared in 64 MLB games over 4 seasons, all but two with the New York Giants.
1921 Batting Stats for Hugh McMullen with the Regina Senators :
G - 14 AB - 49 H - 10 2B - 1 3B - 1 HR - 1 BA - .204 TB - 16 SLG - .327
From the Winnipeg Maroons :
21 year old second baseman Oscar "Ski" Melillo - played 12 seasons (1926 to 1937) in the majors, mostly with the St. Louis Browns.
1921 Batting Stats for Oscar Melillo with the Winnipeg Maroons :
G - 101 AB - 422 H - 123 2B - 18 3B - 10 HR - 2 BA .291 TB - 167 SLG - .396
20 year old pitcher Tony Kaufmann - 11 seasons (1921 - 1931), mostly with the Chicago Cubs. Called up to the Cubs immediately following the 1921 Western Canada League season and was the winning pitcher in his only start. Won 16 games in 1924 for Chicago.
1921 Pitching Stats for Tony Kaufmann with the Winnipeg Maroons :
G - 33 W - 24 L - 7 PCT - .744
24 year old first baseman Dick Attreau - 2 partial seasons ( 1926 and 1927) with the Philadelphia Phillies.
1921 Batting Stats for Dick Attreau with the Winnipeg Maroons :
G - 115 AB - 429 H - 126 2B - 17 2B - 17 HR - 7 BA - .294 TB - 198 SLG - .462




Left to right - Dick Attreau, Bernie DeViveiros, Johnny Gillespie, Frank "Stubby" Mack, Karl Schnell
From the Calgary Bronchos:
20 year old shortstop Bernie DeViveiros - 2 partial seasons ( 1924 - Chicago White Sox and 1927 - Detroit Tigers)
1921 Batting Stats for Bernie DeViveiros with the Calgary Bronchos :
G - 85 AB - 348 H - 85 2B - 20 3B - 8 HR - 2 BA - .244 TB - 127 SLG - ,365
21 year old pitcher John Gillespie - one season (1922) with the Cincinnati Reds.
1921 Pitching Stats : W - 12 / L - 11
21 year old pitcher Frank "Stubby" Mack - 3 partial seasons (1922, 1923 and 1925) with the Chicago White Sox.
1921 Pitching Stats : W - 0 L - 4 (spent part of the 1921 season with class AA Seattle Rainiers and class B Tacoma Tigers)
22 year old pitcher Karl Schnell - 2 partial seasons (1922 and 1923) with the Cincinnati Reds
1921 Pitching Stats : W - 21 L- 6
From the Saskatoon Quakers :
21 year old catcher John Grabowski - spent 7 years in the majors (1924 to 1931) with the Chicago White Sox, New York Yankees and Detroit Tigers.
1921 Batting Stats for John Grabowski with the Saskatoon Quakers :
G - 58 AB - 198 H - 51 2B - 10 3B - 5 HR - 0 BA - .288 TB - 77 SLG - .389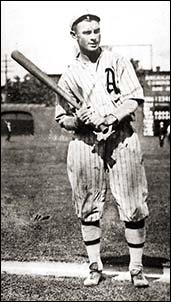 There were also a few 1921 Western Canada League roster players who had previous but very brief major league service.
From the Moose Jaw Millers:

29 year old second baseman Roy Grover, a late season acquisition, who had a one full season (1917) with the Philadelphia Athletics and 2 partial seasons (1916 - Philadelphia Athletics) and (1919 - Philadelphia Athletics and Washington Senators) in the majors.

Playing alongside Koenig as Moose Jaw's keystone combo, they solidified the middle infield defense to its highest level of the season.
1921 Batting Stats for Roy Grover with the Moose Jaw Millers :
G - 11 AB - 41 H - 13 2B - 3 3B - 0 HR - 1 BA - .317 TB - 19 SLG - .463




Left to right - John Grabowski, Lafayette Henion, Oscar Harstad, Frank Jude, "Doc" Watson
From the Regina Senators:
22 year old pitcher Lafayette Henion - appeared in one game with the 1919 Brooklyn Robins. Never made it back to the majors.
1921 pitching statistics : W - 6 / L - 2
29 year old pitcher Oscar Harstad - one season (1915) on the pitching staff of the Cleveland Indians.
1921 pitching statistics : W - 8 / L - 14
From the Saskatoon Quakers:
36 year old outfielder Frank Jude - partial season (1906) with the Cincinnati Reds.
1921 Batting Stats for Frank Jude with the Saskatoon Quakers :
G - 100 AB - 343 H - 115 2B - 12 3B - 4 HR - 3 BA - .335 TB - 144 SLG - .420
36 year old pitcher Charles John "Doc" Watson - one pitching start (a win) with the 1914 Chicago Cubs. Two seasons (1915 and 1916) in the Federal League with the Chicago Whales and the St. Louis Terriers.
1921 pitching statistics : W - 1 / L - 7






Left to right - John Hummel, Art Hauger, Carl Manda, Ed Mensor, Pat Kilhullen, Monroe Swartz
38 year old outfielder/manager John Hummel played 1165 games in the majors, all except one season with the Brooklyn Robins of the National League, compiling a .254 career batting average.
1921 Batting Stats for John Hummel of the Saskatoon Quakers :
G - 82 AB - 387 H - 124 2B - 13 3B - 13 HR - 1 BA - .328 TB - 166 SLG - .439
From the Edmonton Eskimos:
27 year old outfielder Arthur Hauger - appeared in 15 games with the 1912 Cleveland Indians.
1921 Batting Stats for Arthur Hauger with the Edmonton Eskimos :
G - 90 AB - 349 H - 110 2B - 13 3B - 8 HR - 5 BA - .315 TB - 154 SLG - .441
From the Calgary Bronchos:
34 year old third baseman Carl Manda - 9 games with the 1914 Chicago White Sox.
1921 Batting Stats for Carl Manda with the Calgary Bronchos :
G - 113 AB - 431 H - 127 2B - 30 3B - 5 HR - 1 BA - .295 TB - 170 SLG - .394
35 year old outfielder Ed Mensor - 3 partial seasons (1912 to 1914) with the Pittsburgh Pirates.
1921 Batting Stats for Ed Mensor with the Calgary Bronchos :
G - 73 AB - 252 H - 68 2B - 11 3B - 3 HR - 0 BA - .270 TB - 85 SLG - .337
Calgary's Pat Kilhullen made it to the big leagues with Pittsburgh for all of one at bat in 1914. The popular catcher died at age 32 in October, 1922 after contracting small pox.
1921 Batting Stats for Pat Kilhullen with the Calgary Bronchos :
G - 62 AB - 219 H - 56 2B - 3 3B - 82HR - 0 BA - .256 TB - 63 SLG - .288
Monroe Swartz of Calgary had advanced to the majors in 1920 straight from a stint with the Moose Jaw Robin Hoods. He appeared in just one big league game pitching all 12 innings for Cincinnati.
1921 pitching statistics : W - 4 / L - 3
Future National League umpire (1926 to 1949), John Edward "Beans" Reardon, umpired in the Western Canada League in both 1920 and 1921 where he made his reputation in Edmonton by refusing a police escort out of Diamond Park after a particularly contentious game before a hostile crowd. Reardon was the plate umpire when Babe Ruth hit his 714th and final home run in 1935.
The most amazing and impressive aspect of this 1921 WCBL season, and unfortunately the last of that era, was the high percentage of graduates who rose from this obscure class B league in the frontier west to taste a bite of what life was like in the show. There is evidence of 15 players making the jump.
Moose Jaw - Duff, Koenig and Leifer
Edmonton - Herman and Manush
Calgary - DeVivieros, Gillespie, Mack and Schnell
Regina - Frederick and McMullen
Winnipeg - Attreau, Kaufmann and Melillo
Saskatoon - Grabowski
---

The paths of John "Beans" Reardon (left) and Floyd "Babe" Herman first crossed each other during the 1921 Western Canada Baseball League season. Reardon, in his second season as a W.C.B.L. umpire called balls and strikes in many a game in which Herman, a teen-age rookie with the Edmonton Eskimos, participated.
Five years later, both were firmly entrenched in their respective roles in the National League and fate would forever etch their names in baseball lore because of one of the strangest plays ever.
During a game on Aug. 15, 1926 at Ebbets Field, the power-hitting Herman tried to stretch a double off the right field wall into a triple with one out and the bases loaded. As he rounded second base, the third base coach yelled at him to go back because the runner from first, "Chick" Fewster, hadn't yet rounded third. The runner from second base, pitcher "Dazzy" Vance, misunderstood and headed back to third, even though he could have scored easily. Herman, not having watched the play in front of him, ignored the coach and headed for third himself. All three players ended up at third base and the Boston Braves' third baseman, Eddie Taylor, tagged all three just to be sure of getting as many outs as possible.
The confused and slow-footed Vance had been a major contributor to this situation but, according to the rules, the lead runner was entitled to the base so umpire "Beans" Reardon called Herman and Fewster out. Thus, "Babe" Herman was said to have "doubled into a double play". He would later complain that no one remembered that he drove in the winning run on the play as the Brooklynites prevailed over the visiting Braves. Hank DeBerry had been on third and scored the deciding run when "Babe" got his hit.
This base-running debaucle led to the following joke: "The Dodgers have three men on base! Oh, yeah? Which base?" And from John Lardner: "Babe Herman did not triple into a triple play but he doubled into a double play which is the next best thing".
---
The 1921 Edmonton Eskimos' double-barreled rookie tandem of Floyd "Babe" Herman and Henry "Heinie" Manush returned briefly to the prairies in October 1932 as part of Earle Mack's touring Major League All-Stars. All but Herman (then with the Cincinnati Reds of the National League) were on rosters of American League clubs and one, catcher Bill Dickey of the New York Yankees, had just finished participating in his club's four-game sweep of the Chicago Cubs in the 1932 World Series. Dickey had batted .438 in the Fall Classic, the same one in which George "Babe" Ruth had hit his controversial "called shot" home run.
For Herman and Manush, it was a homecoming of sorts as they played exhibition tilts in ballparks in which they had performed over a decade earlier as Class B prospects.
The Saskatchewan centers of Regina and Saskatoon hosted games after Mack's contingent opened the tour with a three-game sweep in Winnipeg on October 8 (6 - 0 and 8 - 2) and October 10 (13 - 8). A fourth scheduled game in the Manitoba capital had to be called off because of adverse weather conditions. The Major-Leaguers had no difficulty with the Saskatchewan teams, scoring a twin-bill victory 8 - 3 and 15 - 0 over the Southern Saskatchewan All-Stars in Regina on October 12 and then following up the next day (October 13) with a 13 - 5 shellacking of the Saskatoon All-Stars in the Hub City. At that point, they headed into Alberta where Herman and Manush received a hero's welcome upon their return to Edmonton. The pros easily disposed of the amateur all-stars from the Edmonton area 13 - 0 on October 14. Nick Altrock and Al Schacht, the Washington Senators' clowns of baseball even played in the final inning of this contest. Schacht pitched and Altrock accepted two put-outs at first base while he sat on the bag. A second scheduled game in Edmonton never materialized as poor weather conditions kept the game from ever getting started. They then travelled down the road to Calgary where, on October 19, they trampled an all-star congregation from the Cowtown 8 - 0. Their last Alberta stop was in Lethbridge on October 20 and the game was played in a dust storm with a sprinkling of rain as the Macksters prevailed 16 - 10. Heading back into Saskatchewan, they ended their foray into western Canada on October 21. Before a magnificent crowd of 3,000 fans on a frosty fall day and behind the hurling of "Lefty" Grove of the Philadelphia Athletics, they subdued the Moose Jaw All-Stars 14 - 2.
The complete roster of the travelling big-leaguers consisted of:
Catchers - Bill Dickey (New York Yankees), Luke Sewell (Cleveland Indians)
Pitchers - "Lefty" Grove (Philadelphia Athletics), Rube Walberg (Philadelphia Athletics), Earl Whitehill (Detroit Tigers), Clint Brown (Cleveland Indians)
First Base - Joe Judge (Washington Senators)
Second Base - Charlie Gehringer (Detroit Tigers)
Third Base - Ralph "Red" Kress (Chicago White Sox)
Shortstop - Eric McNair (Philadelphia Athletics)
Outfielders - Henry "Heinie" Manush (Washington Senators), Bing Miller (Philadelphia Athletics), Floyd "Babe" Herman (Cincinnati Reds)
Four players on this roster (Manush, Gehringer, Dickey and Grove) would ultimately be inducted into the Baseball Hall of Fame.
The big-league tourists would also often use Washington Senators' clowns Al Schacht and Nick Altrock in late-inning mop-up performances after their front-line hurlers tossed an inning or two each. During most of the tour, the major-leaguers were designated as the home team and batted last, the theory being that taking one less turn at bat would keep the final score more respectable and less humiliating for the local squad. Manush and Herman consistently hit in the heart of the batting order, Manush in the third spot and Herman batting fourth. Herman's total of 4 home runs during the exhibition series led the way.

The photo was taken at Edmonton's Diamond Park on October 14, 1932 and featured all the participants that day including Herman, seated in the front row, third from the left and wearing a Brooklyn uniform although he had played for the Cincinnati Reds during the 1932 season and was about to be traded to the Chicago Cubs. Manush of the Washington Senators is standing in the back row, seventh from the left and can be identified by the "W" on his cap.