The 1921 Asahi All-Star team made a tour of Japan in August-September, 1921. Back row (left to right) - Joe (Yahei) Nimi, Ted Furumoto, Harry Yoshioka, Ernie Paepke, Asahi president Dr. Seitaro Nomura, Yuji Uchiyama, Unknown, Mickey Kitagawa, Tom Miyata.
Front row: Yo Nishizaki, Sutejiro Yoshioka, Unknown, Unknown, Yo Horii, Ed Kitagawa. Insert: Joe Brown
[Photo from the Ed Kitagawa collection, Nikkei National Museum]Nomura Dr. Henry Masataro,
The 16 players known to be on the trip - Joe Brown, Ted Tadayoshi Furumoto, Yo Yositaro Horii, George Sadakichi Iga, Takashi Kikukawa, Eddie Eizaburo Kitagawa, Hatsujiro (Mickey) Kitagawa, Tat Larson, Tom Tamotsu Miyata, Joe Yahei Niimi, Yosomatsu Nishizaki, Ernie Paepke, Tokikazu Tanaka, Yuji Uchiyama, Jack Wyard and Happy Masjiro Yoshioka. Plus, the trip organizer and Asahi President, Dr. Henry Masataro Nomura
Brown, Larson and Paepke were recruits from other teams in Vancouver ball.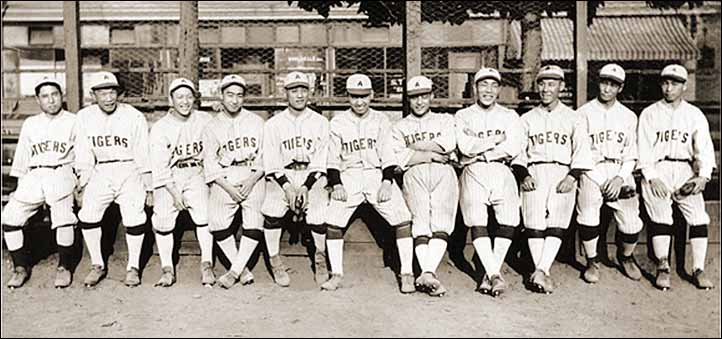 The 1921 Asahi Tigers of the Vancouver Terminal League. Left to right - Sotaro Matsumiya, S.(Bariki) Kasahara, [unidentified], Fred Kato, Junji George Ito, Harry Miyasaki, Kajiki, Tom Matoba, Bull Oda, [unidentified], Jack Hayami
We have identified three others who played with the Tigers - Abe, George Kato and M.(Ross) Yonemoto.
Photo courtesy of the Reggie Yasui collection, Nikkei National Museum]