The 1921 Asahi All-Star team made a tour of Japan in August-September, 1921. Back row (left to right) - Joe (Yahei) Nimi, Ted Furumoto, Harry Yoshioka, Ernie Paepke, Asahi president Dr. Seitaro Nomura, Yuji Uchiyama, Unknown, Mickey Kitagawa, Tom Miyata.
Front row: Yo Nishizaki, Yoshi Oka, Unknown, Unknown, Yo Horii, Ed Kitagawa. Insert: Joe Brown
[Photo from the Ed Kitagawa collection, Nikkei National Museum]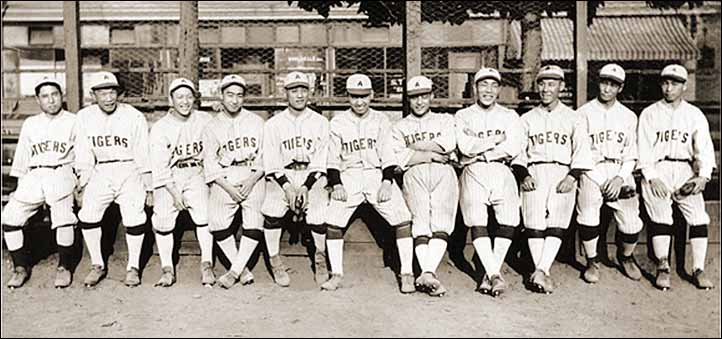 The 1921 Asahi Tigers of the Vancouver Terminal League. Left to right - Sotaro Matsumiya, S.(Bariki) Kasahara, [unidentified], Fred Kato, Junji George Ito, Harry Miyasaki, Kajiki, Tom Matoba, Bull Oda, [unidentified], Jack Hayami
We have identified three others who played with the Tigers - Abe, George Kato anhd M.(Ross) Yonemoto.
Photo courtesy of the Reggie Yasui collection, Nikkei National Museum]