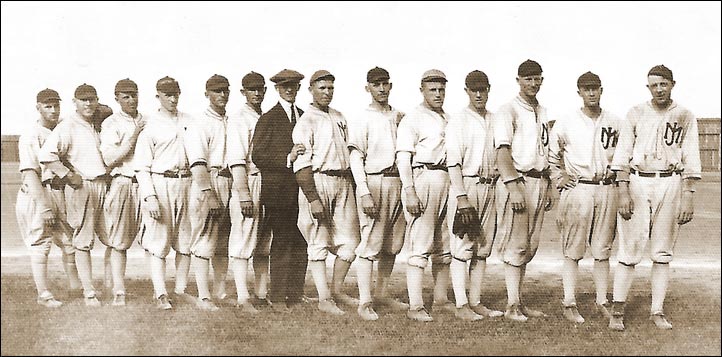 The 1921 Moose Jaw Millers in spring training at Pendleton, BC. Left to right - Willie Rose, Earl Gatewood, Elmer Lang, Al Armstrong, Elmer Leifer, Eddie Johnson, Roy Bliss, Mark Koenig, Elmer O'Shaunessy, Nate Shandling, Harry Huser, Sam Leake, Lane Shultis, Karl (Junk) Walters.
[Photo courtesy of David Eskenazi]
'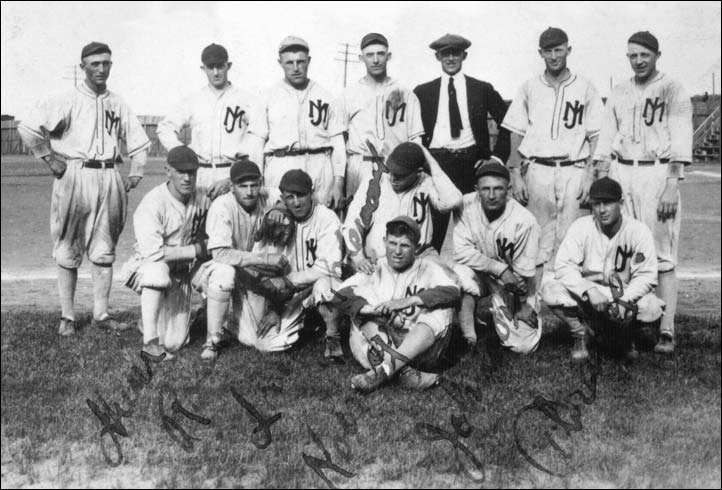 Back row (left to right) - Elmer Leifer UT/MGR, Lane Schultis P, Nate Shandling C/2B, Elmer O'Shaughnessy 3B, Roy Bliss LHP, Sam Leake C (also Edmonton), Karl (Junk) Walters 1B
Kneeling - Harry Huser (Lefty) LHP, Willie Rose OF/2B, Elmer Lang OF, Earl Gatewood C/OF, Eddie Johnston OF, George Abrams P. Front - Mark Koenig SS.
[Photo courtesy Moose Jaw Public Library]