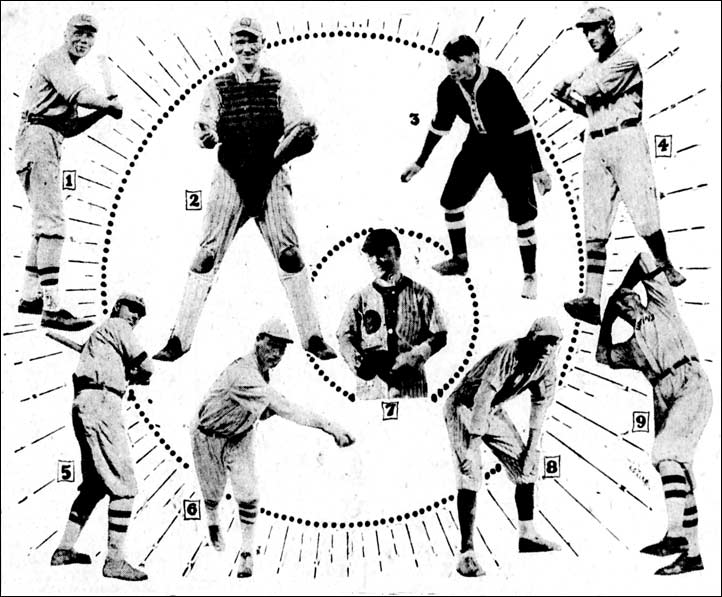 Local newspapers used to provide major coverage of amateur baseball. The Winnipeg Tribune of June 11, 1921 carried the above pictorial under the heading THESE ATHLETES ARE OUTSTANDING STARS ON THE FIVE CLUBS COMPETING IN WINNIPEG SENIOR AMATEUR BASEBALL.
Here are some of the athletes who are providing thrills every night in the week for local baseball fans at Wesley park.

1) "Patt" Cann, first baseman of the Express team. He is displaying the class he exhibited in army baseball and in 1919, when he broke into local senior baseball. Cann is clouting the ball at a clip that is making him a strong contender for the batting championship; he is tied with Ward McVey for home run hits, having delivered two.

2) Nelson Mooney, Express catcher. He is one of the best catchers in the league and is also hitting the ball better than .300.

3) Tommy Hood, second baseman of Granites. Although he is with a weak club, Tommy continues to play brilliant baseball. He won the base-stealing honors last year, and is showing speed on the paths again this season.

4) Earl Gillis, left fielder of Catholic Club. He won the batting championship last year, and is helping the Clubbers win games this season by healthy and timely clouting.

5) Ward McVey, centre fielder of Transconas. He is the most dangerous hitter on the Transcona team and is making a strong bid for the league title. Ward is delivering many extra base hits, and has two home runs to his credit. He is also a beautiful outfielder.

6)  Sid May, Catholic Club pitcher. He has been playing senior ball in Winnipeg more than 10 years, and still is one of the best pitchers in the local league. It is his wonderful work on the mound that is playing the leading part in the Clubbers keeping so well up in the pennant race.

7)  F.G. "Steamer" Maxwell, manager and centre fielder of the Arenas. He is the hardest man to pitch to in the league and averages more than one walk per game. He has been piloting Arena teams for 15 years, starting at juvenile and winning each championship in turn until finally reaching senior standing. The Arenas have been the most consistent performers in the senior league, generally been flag contenders.

8) Bill Siddle, third baseman of the Arenas. He is the best all-round player in the league. "Snake" stars at any position he is asked to play, is a speed merchant on the bases, and hits the ball hard and often.

9) Jack Hind, pitcher of the Transcona club. He led Transconas to the pennant last season, and the Railroaders are again depending chiefly upon his pitching to carry them through this year. Although May and Dodds are stars, it looks as if Hind has a slight edge on them, and is entitled to first place in ranking local pitchers.