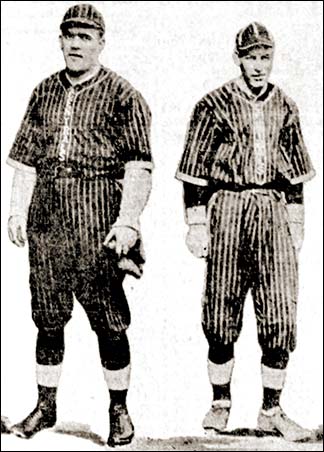 Left - Prominent in the lineup of the Central Ball Club of the Vancouver Senior League this season are Clare Johns, pitcher, and Tommy Jardine, left fielder. Johns pitched the greater part of the opening game with the Elks and was credited with the victory. Last fall in the Commercial League playoff series with Arnold & Quigley, Johns turned in four victories for the Cardinal crew. Jardine was the leading hitter of the Commercial League last season, clicking the apple for an average better than .400. This season he has got off to a good start with the stick.
(Vancouver Sun, May 7, 1922)
Right - Evan McDonald, star hurler with the B.C. Electrics of the Vancouver Senior League, who fired a no-hit, no-run game in 1922. In another game he set a record with thirteen consecutive strikeouts. McDonald is also know as an adept fielder and wields and wicked stick. In another game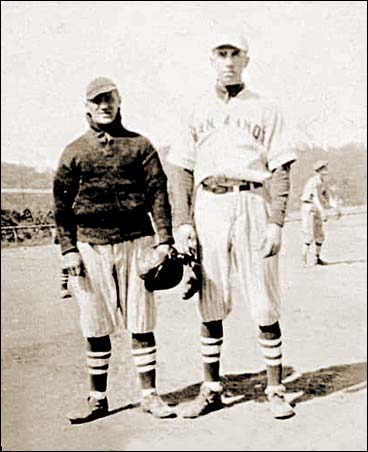 Above left - Battery for Nanaimo in 1922. Catcher Phil "Peaches" Piper and pitcher Frank Nesbitt. Photo courtesy of Max Weder.
Above right - Thomas Treadgold, outfielder of the Kelowna Elks of 1922. Photo courtesy of Cathie Pavlik, the grandaughter of Mr. Treadgold.