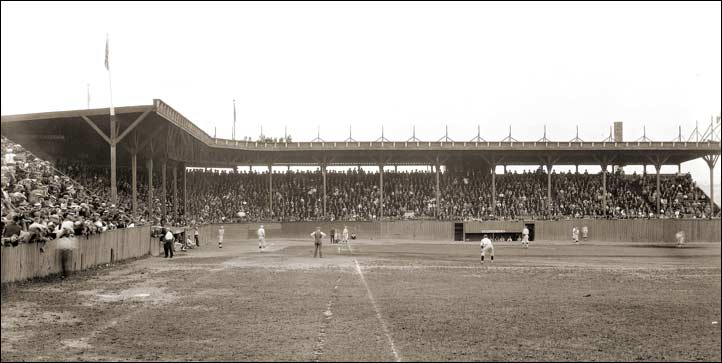 Vancouver's Athletic Park, July 30, 1924. Young Liberals vs Collingwood, Vancouver Senior Amateur Baseball League.
The facility, which accomodated about 6,000 spectators, was opened April 17, 1913. It was located at Fifth Avenue and Hemlock Street.
[Modified from the original photo, City of Vancouver Archives, CVA 99-3508. Stuart Thomson, photographer]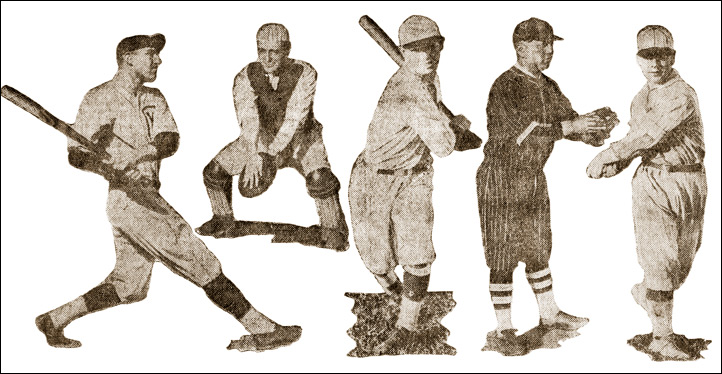 Senior Amateur ball received wide newspaper coverage. The above put the spotlight on five of the loop's stars.
Here's a quintette of balltossers who are going strong in the Senior Amateur Baseball League at Athletic Park this season. Jimmy Watters, on the left, has a determined expression as he takes a hefty swipe at the pill. He is holding down the first sack for the Young Liberals in big league style. Next is Cy McLean, Collingwood's catcher, who is considered by many fans to be the leading backstop of the loop this season. He is in good form and aids the youngsters from the suburbs with his steadiness and experience. In the centre is G.D. Robertson, youthful outfielder with the Collingwood squad. He formerly starred in the Twilight League and last season was with the B.C. Electric squad. His batting eye is gradually getting into shape and it is expected that he will be well up with the leaders at the end of the season. Next is Manson, one of the neatest outfielders in the city, who is this year with Art Gourlay's Centrals. "Manse" can fill in at any position on the lineup and is noted for his crafty knowledge of the game. On the right is Murray Lovely, who chases flies in the sun field for Collingwood. He is fast in the field and a steady performer at bat.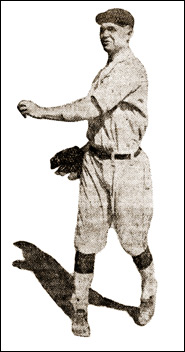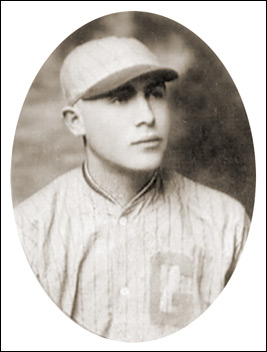 A pair of lefties for the Vancouver Young Liberals. George "Lefty" Kaye (left) got his photo in the paper with the headline Star Portsider with Politicians. When not twirling, he held down first base for the club. It was noted that Kaye had been a big factor in Nanaimo's successful 1920 season. A former Winnipeg boy.
Right - Alex "Lefty" Simons, who stayed in shape over the winter of 1923-24 by playing indoor baseball.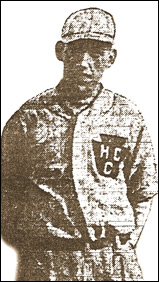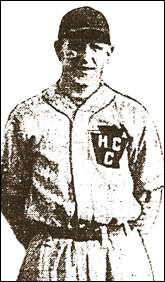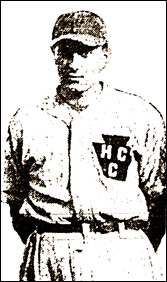 A few newspaper photos gleaned from 1924 issues - above (left to right) - Nick Craig, Abe Cross, Norm Goodall, Bill Maxwell all of Hammond Cedar. Below (left to right) - Ed Munroe, MGR of the Hammond club, right-hand pitcher Ed Olson of Hammond, and Andrew Tolmie of Vancouver Engineering Works.