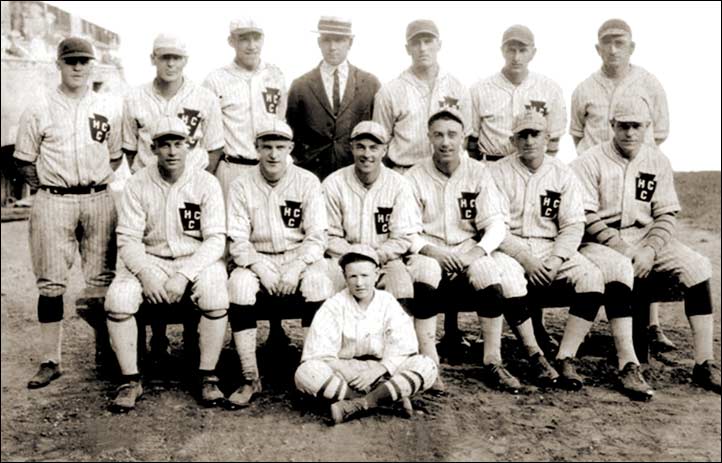 Only a couple of IDs so far - outfielder Harry Butler is second from the left in the top row and the "suit" is Doan Hartnell whose family owned the Hammond Cedar Mill.
We've made some educated guesses on some others. Front row, second from the left - Abe Cross; front row, third from the right, Dean Freshfield, far right, Norm Goodall. Back row, third from the left - Nick Craig; back row, third from the right - Ed Munroe MGR, second from the right - Bill Maxwell, far right - Bill Clark OF/C
So far, we've identified the following as other members of the team :
Isaacson OF, Pollock John Lewis OF/SS, Mounger Al OF/P, Mounger E. C, Robinson "Robbo" P, Scott Al 2B, Olson Eddie P/OF/1B
And possibly Bacon C, Batucille P, Donohue O. OF, Patricelli P, Ritch 2B
Hammond Cedar Mill was known for more than its cedar in the height of the baseball days. Doan M. Hartnell, owner of Hammond Mill, was determined to bring a championship to Hammond, and so he recruited players from all over the U.S. and Canada and offered them good paying jobs at the mill. He was frequently travelling and scouting for his company team. This caused some problems among the regular staff as these 'ringers' were not always seen as pulling their weight in the jobs they were being paid for, as they were just there to play ball. (Maple Ridge Museum)

In 1924, Hammond went on to win the B.C. title by defeating the Young Liberals and Victoria C.P.R.. Hammond then defeated a highly touted Calgary team in straight games and was all set for the Canadian national finals when snow stopped the playoff series.
Hammond had an incredible 1924 season defeating the Young Liberals and Victoria C.P.R. before tackling and defeating a highly-touted team from Calgary. There was hope of a Canadian national final but it did not materialize. Even more impressive, the 1924 Cedars won playoff series from Fraser Cafe of New Westminster, the Terminal League champion Vancouver Engineering Works and the Delta League pennant-winners from Cloverdale before knocking off the three aforementioned teams. In total, six straight playoff series.