John Donaldson received star treatment on the sports pages in Saskatchewan. The headline (left) from the Moose Jaw paper in 1926, noted the success of Moose Jaw in hiring the lefty hurler for the big July tournament. (Moose Jaw Evening Times, July 3, 1926)
In 1926, Donaldson again suited up in Minnesota, this time with Lismore Gophers. He agreed to a contract with the club just three days before the Bertha Fishermen put in a bid to retain his services. His salary was $450 a month. Given he played his first game on May 2nd and his final action was October 6th, he was paid approximately $2,250 for the summer. As was the case with Bertha the previous seasons, a house was provided as part of his contract.
The team played 45 games (John played in 43 of them) and ended with a record of 20 wins, 24 losses and a tie. Donaldson appeared on the mound in 37 games including 25 complete pitching performances, and a record of 12 wins and 15 losses.
Donaldson was brought in to pitch for Moose Jaw at the Kiwanis tournament and was the winning pitcher in their first game against Plentywood, Montana besting Swede Risberg 2-1. He didn't play in the second game, a loss to Climax. In his second start, he lost 10-9 to the Regina Balmorals in an 11-inning contest. In the tournament, Happy Felsch again suited up with the team from Scobey, Montana.
Other than his foray into Moose Jaw, it's believe the only other team he represented in 1926 was a team from Alexandria, MN, in a game against the House of David, a 2-1 loss. Thus, his pitching mark for the season was 13 wins, 17 defeats.
---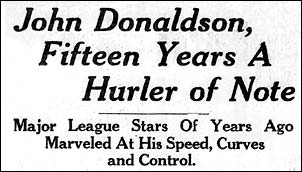 This is a brief tale of a Negro hurler who for years has been pitching sensational baseball, and has been kept out of major leagues only on account of the color line.
Donaldson is a left-hand thrower, with terrific speed. He supplied the feature attraction of the 1925 tournament here, pitching a no-hit, no run game against Moose Jaw, and this year has been secured to play with the local entry.
Irvin Rudick, writing in the Minneapolis Sunday Tribune, tells some interesting facts regarding the sensational pitcher. Here is the story :
"Independent baseball in the northwest knows no bigger attraction than John Donaldson, the famous Negro pitcher. For wherever this flinger happens to toss his baseball glove, there thousands of fans gather where otherwise only a handful would turn out to see the town team play.
"Donaldson gained his larger following in this neck of the woods, not alone on his phenomenal performances of the last few years, but through his brilliant exhibitions of years before, starting in 1912, when he first pitched independent baseball.
"During those early years when he twirled for the national Negro championship All-Nations team, of Des Moines, Iowa, he was hailed as one of the pitching marvels of the era. Famous baseball managers, major league sluggers against whom he had occasion to pitch, hailed him as a wonder. He was considered better than most of the mound stars pitching in the big show in his best days, yet he had to remain on the "outside looking in.
simply because or organized baseball's discrimination against Negro ball players.
Pitched Against Major Leaguers
"He dished up baseball to such terrific sluggers as Hal Chase, Bunny Brief, Earl Smith, of the Pirates; Cotton Tierney, who now wears a Minneapolis uniform; Casey Stengel, home run hero of the worlds' series in 1922, and countless others. They are said to have marveled at his burning speed, remarkable control and baffling curves. He pitched against some of the best semi-professional teams in the country during the tours of the All-Nations team, and rarely suffered defeat.
"It was common for him to whiff form 10 to 15 batsmen a game and turn teams back with a few widely scattered hits. He has pitched a number of hitless and runless games during his 15 years of baseball. Yet in all those years, according to Donaldson, who was in Minneapolis Saturday, stopping over on his way to Lismore, Minn., where he will play with and captain an independent team this year, he never has enjoyed the huge following that he won in Minnesota in the last few seasons.
"It was only natural that Donaldson, who had gained such an enviable reputation in baseball, should meet with instant success when he chose to cast his lot with independent teams in Minnesota. It was two years ago that he decided to invade the Gopher state.
Commendable Record at Bertha
Bertha, Minn., a town of no more than 500 inhabitants, became baseball made when Donaldson was hired to pitch for the town team in 1924. Spectators by the hundreds in close proximity to Bertha swelled the population of the town to five and ten times its size on Sundays to see the noted Negro in action.
"He "burned them over the plate" while in Bertha uniform and the town got behind Donaldson and made him a lucrative offer to pitch the following season. Donaldson accepted and had another very successful year, mowing down Bertha's most bitter diamond rivals in order. In the two years he pitched for Bertha he engaged in 28 conflicts, winning 23 of them. He pitched one of his several no-hit games last year, striking out as many as 15 and 18 men a game.
"This season, however, he transferred his services to Lismore which town made him an exceedingly flattering offer to play and captain the team there. Just as Bertha became baseball made with the coming of Donaldson, so is Lismore all excited.
Donaldson 34 Years Old
Donaldson, who is 34 years old, began his independent baseball career in 1912, after leaving George Smith college, Sedalia, Mo., where he attended one year. He was graduated from the Avons grammar school, of Glasgow, Mo., his home town.
"He joined the All-Nations team of Des Moines, Iowa, and pitched that team to the national Negro championship. He performed for many other colored teams in the early days of his career. In 1918 he turned in a game of which he is most proud, despite the fact he was defeated.
"It was in that year that he pitched against John McGraw's New York Giants and although defeated, 1 to 0, Snyder's triple late in the game with a runner on base accounting for the only run, his mound work opened the eyes of the major league stars against whom he performed.
"Despite his 34 years, Donaldson claims that his arm is as good as it ever was. He points to his record of the last two years to bear out his statement. In 50 games pitched during the seasons of 1924 and 1925, he lost only eight against the fastest independent teams in Minnesota.
"Clean living habits have prolonged his pitching career, Donaldson explained. ((Moose Jaw Evening Times - Monday July 5, 1926)

The John Donaldson research project. This is Peter Gorton's labour of love.
---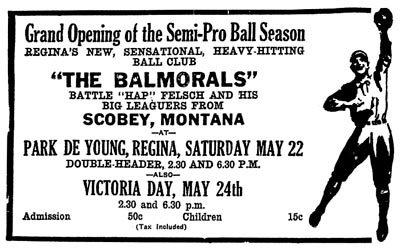 (May 15) The Regina Balmorals headed out for Scobey, Montana to kickoff the 1926 season with a pair of games against the Montana squad. Third sacker Leo Dobbyns drove in from Chicago yesterday and worked out with the team. He brought word that Ernie Runkle would soon be leaving for Regina to join the team.
Scobey, led by former major leaguer Hap Felsch, downed Regina 6-2 and 6-3 in the opening games of the season for the Saskatchewan nine.
An ad in the Regina Morning Leader trumpeted the home opener on May 22nd (Admission 50 cents, Children 15 cents, Tax Included). Former Calgary hurler Lincoln "Dodger" Lewis was on his way to Regina from Spokane, where he had been pitching semi-pro ball, and was expected to share pitching duties with veteran George Clink.
(May 22) Scobey took an early 4-0 lead and held on to shade the Balmorals 7-6 before 15-hundred fans at Park De Young. Regina had a run in and the bases loaded in the bottom of the 9th but couldn't plate the tying marker. Balmorals out-hit the visitors 13-9, with Casey Moroschan and George Hay each with three, but nine errors proved to be the difference. Third baseman Leo Vineberg booted the ball three times. George Clink allowed just nine hits in taking the loss. Bucholtz went the distance for Scobey. Bad roads delayed the arrival of the Montana squad and forced cancellation of the matinee contest.
Bucholtz (W) and Nighbor
Clink (L) and McNeally
(May 24) The Balmorals could managed just a tie in a Victoria Day double-header against Hap Felsch's powerful Scobey, Montana aggregation. In the afternoon encounter, Regina scored three times in the bottom of the 9th inning to escape with an 11-11 draw. Tommy Green, Casey Moroschan and George Hay all hit safely to load the bases and Leo Dobbyns drove them home with a triple, one of his three hits on the day. Moroschan led the Balmorals with four. The game was called after ten innings. Both pitchers, Dodger Lewis and Zeiser went the distance in spite of the heavy hitting. Zeiser gave up 18 safeties while Lewis allowed 13 hits while issuing six walks and hitting four batters.
Zeiser and Nighbor
Lewis and McNeally
In the evening affair, Scobey built up a 12-0 lead en route to a 13-9 triumph. A four-run first inning set the stage for the contest as Johnny Meyers clubbed a three-run homer. Left-fielder Wagner had three hits, one a triple, and scored three runs for the visitors. Dodger Lewis, in centre-field for Regina, had a pair of hits, including a triple, for the losers. Each team had 14 hits. Regina catcher Pat McNeally was hurt in the first game, taking a foul tip on the hand, an injury requiring six stitches. Floyd "Rancher" Snell caught the nightcap.
Bucholtz (W) and Nighbor
Clink (L), Drew and Snell
(May 29) Regina Balmorals embarrassed the visiting Virden semi-pros Saturday taking both ends of a twin-bill in convincing fashion, 12-0 and 12-3. Newcomer Bill Dunbar, from Saskatoon, was the clouting star of the opening game with four hits, the first of which was a four-bagger. He also had a double. Casey Moroschan continued his lusty hitting with four safe blows and he scored three times. Dodger Lewis hurled the first four innings giving up just two hits before giving way to Sam Drew. Lewis fanned six and walked none.
Darcy (L) and McNichol
Lewis (W), Drew (5) and Stenchoel
Bill Dunbar belted a pair of triples in the second game to lead Regina to its 12-3 victory. Dodger Lewis, at shortstop, went four for four. George Clink held Virden to seven hits to take the victory while Del Cottingham was pounded for fifteen hits in being saddled with the loss.
Cottingham (L) and McNichol
Clink (W) and Stenchoel
(June 1) Charlie Scribner hurled a six-hitter and survived eight errors by his Moose Jaw nine as the All-Stars topped Scobey 6-5 before nearly a thousand fans at the exhibition grounds at Moose Jaw. Scribner also helped at the dish with a triple and two runs scored. He compiled ten strikeouts and walked six in his mound performance. Hap Felsch had the big blow, a two-run homer for the Montana visitors.
Felsch (L), Zeiser (5) and Nighbor
Scribner (W) and Phillips
---
REGINA TOURNAMENT
(June 2) Regina and Scobey won their opening matches and will meet in the final of the $1,000 Regina Baseball Tournament. The Balmorals took a 3-0 lead and held on to edge Moose Jaw 3-2. Bill Dunbar's inside-the-park homer in the fifth inning, with George Hay on base, proved to be the difference. George Clink held Moose Jaw to eight hits as he chalked up ten strikeouts and walked just one. Both runs against him were unearned.
Wilson (L), Haigh (3) and Mills
Clink (W) and Stenchoel
Bucholtz tossed a three-hitter and Scobey took advantage of eight Plentywood errors to score a 12-1 triumph in the second game of the Regina tournament. Second baseman Hans Wagner led the offense with three hits, one a double, and four runs scored. Former major leaguer Dave Davenport gave up eight hits in taking the loss.
Davenport (L) and Pearce
Bucholtz (W) and Nighbor
(June 3) In a thrilling finish to the Regina tournament, Scobey left-fielder Hilden made a fine catch on a high drive by Dodger Lewis with two on and two out in the ninth inning to preserve a 4-3 win for the Montana crew and top money in the four-team tourney. Balmorals had loaded the bases with just one out. A fly ball scored one, but good defensive play save the win for Zeiser who held Regina to five hits. Scobey had six off Lewis, including a fence-clearing homer by Hap Felsch.
Zeiser (W) and Nighbor
Lewis (L) and Stenchoel
In the consolation final, Plentywood erased a 3-1 deficit with a six-run, second inning en route to an 11-4 victory over Moose Jaw. First sacker Tom Burke had three hits, one a two-bagger, to lead an 11-hit attack. The Canadians knocked Montana starter Steve Chekaluk out of the box in the first inning, but third baseman Earl Walters relieved and kept Moose Jaw in check the rest of the way. Al Phillips had three hits for the losers.
Chekaluk, Walters (W) (1) and Pearce
McCarger (L), Wilson (W) and Mills
---
(June 5) Slim crowds braved unpleasant weather Saturday as the Balmorals and Climax hooked up in a double-header. Regina made eight errors in the opener in losing 18-8 and booted the ball ten times in the evening encounter but managed to capture a 9-3 decision.
First sacker Brown and centre-fielder Dick Morrison each had three hits to lead the winners in the first game. Brown, who had two doubles and two free passes, scored five times. Climax overwhelmed the Balmorals with 17 hits and had seven stolen bases. Al Wissler went the distance for the win. Rancher Snell had three hits for Regina.
Wissler (W) and Comartin
Drew (L), Greene (6), Clink (9) and Snell
In the nightcap, George Clink threw a five-hitter and overcame ten errors behind him to lead Regina to a 9-3 win. Second baseman George Hay had three hits, including a double, and plated three markers for the winners.
Ramsey (L) and Comartin
Clink (W) and Snell

(June 7) Regina Balmorals announced the acquisition of Frank Lewis, another former Calgary professional player and brother of the popular Dodger Lewis now with the club. Team president Harry Terzakis said he is also seeking to sign "Lefty" Hartmann, former Weyburn star. Lewis is an infielder, usually playing shortstop. In the shakeup, Leo Vineberg and Sam Drew will be let out. The Balmorals have three engagements this week. On Wednesday they play in Climax and Thursday at Shaunavon. Saturday sees them at home to match up with Scobey. Then, on Sunday, they return to Montana for a double-header. A novel attraction is set for June 21st when the semi-pros meet the Chicago professional girls' baseball club. The squad includes eight girls and three men, the latter performing as pitcher, catcher and shortstop.
(June 8) At Assiniboia, Regina Balmorals trounced the home squad 9-2 as "Lefty" White pitched the victory running up 14 strikeouts. His battery mate, catcher Pat McNeally, just back from an injury, belted a homer.
White (W) and McNeally
Fry (L) and Devlin
(June 11) Balmorals whipped Shaunavon 10-2 Friday as "Casey" Moroschan did the hurling while Tommy Greene, Pat McNeally, Leo Vineberg, Chuck Milne and Moroschan each belted a triple to lead the attack. Regina is hoping to have two newcomers in the lineup for Saturday's matches with Scobey. Frank Lewis is due to arrive from Nova Scotia and Ernie Runkle is en route from the United States.
Moroschan (W) and McNeally
Olson (L) and McDougall
(June 12) Scobey scored twice in the 9th inning on a throwing error to edge Regina 4-2 at Park De Young. After Walker and Tissman had reached with singles with one out, third baseman Leo Dobbyns threw wildly to first on Nighbor's roller and both runners came around to score. Scobey took the lead in the 4th when Hap Felsch drove one over the fence in centre field for a home run. Three singles, by Johnny Meyers, Eddie Newhouse and Nighbor produced a second tally. Regina evened the count in the sixth when Dobbyns doubled to centre and Tommy Greene doubled him home. Greene raced home for a tie as Dodger Lewis hammered a hot one through the box. Zeiser held the Balmorals to five hits. George Clink took the loss in relief of starter Lewis who went seven innings and struck out 12. A scheduled afternoon game was postponed because of wet grounds.
Zeiser (W) and Nighbor
Lewis, Clink (L)(8) and McNeally
(June 13) On Sunday at Scobey, Balmorals notched an 8-5 victory.
---
PENNANT TOURNAMENT
(June 16) Climax blanked Swift Current 3-0 to win the Pennant Tournament. Swift Current advanced to the final with an 8-0 win over Battrum and 8-5 victory over Cabri. Climax beat Pennant 8-3 and won a bye to the final. In the other game, Cabri won a 10-inning affair from Antelope Lake 1-0.
---
(June 21) In a novel affair, two mixed teams - men and women - played an exhibition at Park De Young with the Regina Balmorals downing the visitors from Chicago 10-5. The American squad uses just four men, including the battery. Balmorals suited up four women - Eva Thompson, Annie Valian, Bessie Skerlton and Sadie O'Brien. Casey Moroschan pitched a seven-hitter for the win and helped at the plate with three hits. George Hay also poked out three safeties. Chicago catcher Handy had the only home run.
Cottingham (L), Adams and Handy
Moroschan (W) and F. Lewis
(June 23) A letter to Balmorals' pitcher George Clink revealed the death of former Moose Jaw player Earl Gatewood. The catcher/outfielder played for the Moose Jaw Millers in the old Western Canada Baseball League in the final year of professional ball on the prairies. Gatewood was killed in an automobile accident in Spokane two weeks ago. News of the tragedy was relayed by "Junk" Walters a teammate of Gatewood's in a Spokane city league.
(June 23) A bolstered Regina Balmorals squad took both ends of a double-header from Plentywood 7-2 and 10-4 behind the fine hurling of George Clink and Dodger Lewis. Trailing 2-1 in the first game, Balmorals erupted for six runs in the 7th inning to put the game away. Regina connected for six hits in the big inning including a triple by Lewis and doubles by Clink and Ernie Runkle. They had the bases full with none out in the 8th but didn't score. Clink allowed just one earned run and seven scattered hits. He compiled 13 strikeouts and walked just one. Casey Moroschan led the offense with four hits.
Walters (L) and Pearce
Clink (W) and F. Lewis
Dodger Lewis tossed a five-hitter in the 10-4 second game victory as Regina posted another six-run inning, this time the third. The new shortstop, Ernie Runkle, again impressed with four hits and four runs scored. The Balmorals beat former major leaguer Dave Davenport.
Davenport (L) and Pearce
D. Lewis (W) and F. Lewis
(June 24) Plentywood knocked out fifteen hits in defeating the Moose Jaw All-Stars 7-2 at the Exhibition grounds. The visitors used two big innings, scoring three times in each of the 5th and 9th, to take the victory. Bromberg held the All-Stars to four safeties.
Bromberg (W) and xxx
Haigh (L) and xxx
(June 26) Regina Balmorals swept a twin-bill from Moose Jaw 4-3 and 13-4. In the opener, George Clink scattered eight hits and rang up eight strikeouts to best Gordon "Smokey" Wilson. Dodger Lewis, in centre field, had two hits and scored a pair for the winners.
Wilson (L) and Mills
Clink (W) and F. Lewis
Newcomer Tom Fisher, from Rhode Island, held Moose Jaw to five hits as Balmorals walked away with the second game 13-4. Leo Dobbyns, Casey Moroschan, Ernie Runkle and George Hay each had two hits for Regina.
McDonald (L), Haigh (5) and Mills
Fisher (W) and F. Lewis
(June 27) At Gravelbourg, Regina Balmorals crushed the home team 24-5. Bals scored seven of their runs on bunts. Dodger Lewis was the winning hurler.
D. Lewis (W) and F. Lewis
xxx and xxx
(June 30) After five unsuccessful attemptsin Regina against the Scobey nine, Regina Balmorals finally topped the the visitors from Montana 6-5. George Clink scattered ten hits to gain the mound victory. Dodger Lewis and Pat McNeally each had two hits to pace a ten-hit attack. Hap Felsch had a home and double for Scobey.
Cadreau (L) and Nighbor
Clink (W) and McNeally
---
RADVILLE TOURNAMENT
(July 1) The home team captured the title at the Radville Tournament beating Bromhead 5-2 in the final. Radville was in the final thanks to an opening round 4-3 win over Bengough. Bromhead advanced by defeating Colgate 8-2.
---
LEADER TOURNAMENT
(July 1) Sceptre whipped Leader 14-4 to take top money in the Leader Tournament. It was an even contest with the exception of the third inning when Sceptre smacked nine hits, including two doubles and homers by Overbye and Jefferies to score 11 runs.
N.Berger (W) and Beell
Portigal (L) Oldhaver, Biggs and Sherman
Leader opened the tourney with a win over Burstall.
Sceptre scored three runs in the final frame to beat Prelate 8-6. Featured in the game were Beell's outstanding work behind the plate and Baerwald's sensational fielding in the outfield making five beautiful catches, robbing Sceptre batters of extra bases on at least three of them.
Wymer (L) and Benner
F.Berger (W) and Beell.
---
WEYBURN TOURNAMENT
(July 1) Halbrite and Weyburn tied 7-7 in the final of the Weyburn Tournament. The game was called at the end of the seventh inning. Down 7-3, Weyburn scored four runs in the bottom of the 7th for the tie. They smacked 16 hits off Drew for Halbrite while three Weyburn hurlers yielded just eight safeties.
Drew and Towne
McRoberts, Percy, Jacoby and Muirhead
In the tourney opener, Weyburn scored in the in the top of 11th to edge Yellow Grass 6-5 in a controversial ending. The winning run scored on a batted ball ruled fair by the umpire but disputed by Yellow Grass which left the grounds in reaction to the decision.
Jacoby (W) and Muirhead
Marlow, Larsen and Melville
Halbrite scored six in the first inning and breezed to a 12-2 victory over Tribune. Wolver tossed a four-hitter for the win.
Wolver (W) and Towne
Oliver (L) and Stainbrook
---
CRAIK TOURNAMENT
(July 1) Liberty walked off with top honours at the Craik Dominion Day Tournament. Before a crowd of 2,500 Liberty took first money defeating Aylesbury 6-1 in the final after winning the first game 4-1 over Penzance. Aylesbury won a finals berth by beating the host Craik nine 14-4. In the consolation final, Penzance topped Craik 9-3.
---
ESTEVAN TOURNAMENT
(July 1) Lampman took the $300 top prize at the Estevan Tournament defeating the fast Lignite team from North Dakota 6-4 in the final. With the last out, fifteen hundred people leaped to their feet and cheered the winning team and especially Goddard who posted his twenty-second win of the season.
Goddard (W) and xxx
Lowe (L) and xxx
Lampman romped to a 15-5 win over Estevan in the tourney opener. George Campbell, the Estevan first sacker, belted a two-run homer.
Sherwood, North Dakota, eliminated Ambrose 12-7. Lignite then disposed of Sherwood as Sinclair led the way with a two-run homer and a pair of triples. O'Donnell of Sherwood also had a two-run homer. Lampman got a bye to the final.
---
PIKE LAKE TOURNAMENT
(July 1) Kinley grabbed first money at the Pike Lake Tournament Thursday by defeating Vanscoy 2-0 in the final. Kinley took the lead in the second inning when Bill Dunbar rapped a two-bagger and was sacrificed to third. He scored on a fielder's choice. In the seventh, Dunbar belted a triple to left centre and scored on an error. Thomas and Mohr hooked up in a pitcher's duel with each allowing just four hits.
Thomas (W) and Scott
Mohr (L) and Talbot
Vanscoy began its march to the final with a 3-0 triumph over Bradwell in the opening game as battery mates Mohr and Talbot each had three hits, with Talbot slugging a double and triple and Mohr smacking a three-bagger.
Mohr (W) and Talbot
Hilldrup (L), McGuire (2) and Reilly
Swanson scored in the bottom of the final frame to edge Delisle 4-3. It was the only run after the first inning when both teams scored three times. Cummings scattered eight hits for the win. Furse took the loss.
Furse (L) and Wilson, Currie
Cummings (W) and Aiken
Kinley topped Grandora 2-1 in a five inning contest. Bill Dunbar of Kinley had the game's longest blow, a triple.
Thomas, Scott and xxx
Ed Shockey (L) and Weldon
Vanscoy rallied for three runs in the fifth and last inning to get by Swanson 4-2.
Mohr (W) and Talbot
Cummings (L) and Aiken
---
(July 1) After losing for the first time this season to Regina on Wednesday night, Scobey quickly rebounded taking both games of a holiday double-header 12-1 and 7-5. Lefty Charlie Boardman, a former major leaguer, held the Balmorals to six hits in the opener as Scobey pounded out 15 hits and took advantage of seven Regina errors, five by usually reliable shortstop Ernie Runkle.. Boardman was a major part of the offense with three hits and two runs scored. Casey Moroschan was the only Balmoral with two hits.
Boardman (W) and Nighbor
Fisher (L), Clink and McNeally
Scobey banged out another 12 hits in the nightcap to notch a 7-5 win against Dodger Lewis. Johnny Meyers drove in four runs with three hits to lead the Scobey attack. Chief Cadreau went seven innings for the win.
Cadreau (W), Boardman (8) and Nighbor
D. Lewis (L) and McNeally
(July 3) Pat McNeally's bases-loaded triple in the 9th inning scored Casey Moroschan, Ernie Runkle and George Hay to give the Balmorals a 4-1 victory over the Moose Jaw All-Starsin the first of two at Moose Jaw. Two of the base runners reached on errors. Tommy Greene gave up just two hits in registering the pitching win over veteran George Haigh.

Greene (W) and McNeally
Haigh (L) and Mills
In the second game, Bill Nutzhorn pitched and batted the All-Stars to a 3-1 triumph. He allowed just five hits and provided the game's big blow, a bases loaded triple in the 7th inning, to plate all the Moose Jaw counters.
Fisher (L), Greene (7) and McNeally
Nutzhorn (W) and Mills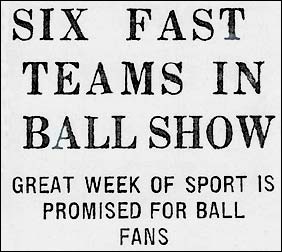 July 3, 1926, the Moose Jaw Evening Times ran an article promoting the Kiwanis Tournament. In part it read :
Commencing with home talent, the Moose Jaw All Stars, directed by Messrs. Pascoe and O'Day, are in fine fettle for a heavy week, while from across the line, comes John Donaldson, the greatest thrower in independent baseball and probably equal to the best of the big time squads. Donaldson brings with him a catcher by the name of Coruin, and if the fates be favorable and the draw agreeable this battery will probably work on the opening day.
Scobey, featuring Hap Felsch and his effiecient (sic) proteges (sic), once more invade this city in search of further honors.
Winners of the 1925 tournament, the Scobey troupe have added further to a formidable team, Borgman, another major league man, being the latest.
Plentywood, should they continue the brand of ball played to date, bid fair to be in the money when the final choice is chalked on the board.
Regina Balmorals, the best of the capital town's baseball talent, aided by former stars of the Western Canada League, put in a strong bid for place. Their work against the American teams this season warrants the statement.
Climax, so it is rumored, brings with them a collection of stars who require no introduction, mainly Joe Jackson, Buck Weaver and Jim Thorpe. With his formidable trio, and it is hard to say what others, Climax rates well up with the other entries.
Now, in all such athletic displays there must of necessity be a dark horse, and this year the South Sask. Stars, a team recruited from all of Southwestern Saskatchewan, fill the role. Just what this last entry will have to offer is uncertain, but it would be a difficult task not to collect a fast team from such an extensive territory. (Moose Jaw Evening Times - Saturday July 3, 1926)
(July 7) One big inning was enough as Regina Balmorals topped the Grenora semi-pros from North Dakota 8-5 at Park De Young. Down 4-0 after four innings, Balmorals broke loose in the 5th with seven hits, a sacrifice, two stolen bases and two Grenora errors to count eight runs. George Hay and Pat McNeally, who started the fireworks, both had two hits in the wild frame. The visitors out-hit the Balmorals 13 to 12 with Broadland and Sletten each having hit safely on three occasions.
Peterson (L) and Hub
Fisher (W) and McNeally
---
MOOSE JAW KIWANIS TOURNAMENT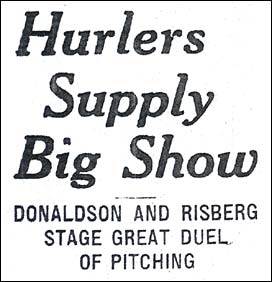 (July 8) Moose Jaw scored a pair in the 6th inning and held on to beat Plentywood 2-1 in opening day action at the Kiwanis Provincial Baseball Tournament. John Donaldson gave up nine hits, fanned ten and walked none in gaining the win over rival Swede Risberg who took the loss in spite of a four-hitter. He had nine strikeouts and walked two. Moose Jaw got its markers as Al Phillips walked and stole second before coming home on a single by Hank O'Day. O'Day advanced to second on a walk and scored on an error. Plentywood got an unearned run in the 7th. Leake, who had three hits, had the only run for the visitors. Plentywood had a runner thrown out at home in the frame.
Risberg (L) and Pierce
Donaldson (W) and Jones
(July 8) Regina Balmorals topped Scobey, Montana, 9-2 at the Kiwanis Tournament. Dodger Lewis held the visitors to seven hits in registering the win. Pat McNeally led the offense with three hits, including a triple and double, and scored three times. Ernie Runkle and Frank Lewis chipped in with three hits apiece and Dodger Lewis had a pair.
D Lewis (W) and McNeally
Borgman (L) and Nighbor
(July 9) Plentywood scored three runs in the first inning and never looked back in posting an 8-3 victory over Scobey. Walters hurled an eight-hitter for the win and helped the attack with two hits. Collins had three hits, one a double, and scored twice. Happy Felsch, in centre field for Scobey, had two hits.
Kingsley (L) and Nighbor
Walters (W) and Pierce
(July 9) Climax topped the Saskatchewan All-Stars 6-3 taking advantage of five errors by the All-Stars. Shortstop Grier led the Climax offense with two hits and three runs scored. Al Wissler punched out two safeties and scored a pair. Thomassen went the distance for the winners giving up just six hits with 8 strikeouts.
Thomassen (W) and Comartin
Nutzhorn (L) and Darby
(July 10) Regina Balmorals scored two in the 11th inning and held off a Moose Jaw rally in the bottom of the frame to notch a 10-9 triumph and a berth in the final of the Kiwanis Tournament. Regina produced 17 hits off John Donaldson, including a game-winning triple by Chuck Milne in the 11th. Regina had rebounded from a 9-6 deficit to tie in the 9th on Ernie Runkle's three-run homer. Only four of the runs against Donaldson were earned. The left-hander had 15 strikeouts and 3 bases on balls. He also produced two hits and scored four times. Johnny Dawson and Jones poked homers for Moose Jaw.
Clink (W) and McNeally
Donaldson (L) and Jones
(July 10) Climax broke a 4-4 tie on Al Wissler's homer in the 8th and added on three more in the 9th to down Regina Balmorals 8-4 to take top money at the Kiwanis Tournament. Elmer Leifer scattered ten hits to claim the pitching victory.
Leifer (W) and Comartin
Morrison (L), Clink (5) and McNeally
---
(July 12) The famous Toronto Oslers arrived in Regina for an exhibition tilt against an all-star squad frolm the Northside League. The game is scheduled to start a six o'clock sharp to allow the easterners to catch a train shortly after eight. For three years the club has been the outstanding organization in Ontario, twice winning the city title, copping provincial honours in 1924 and holding international laurels for the past two summers. On the present tour, the Oslers have won four of six game in Winnipeg and four of six in Vancouver.
Led by Fred Hamilton, once a star player before he took over managerial duties, the Oslers claim to have the top amateur squad in the country. The team includes - Clare Hoose, Charles McCay, Joe Spring, Bill Greer, Bert Hughes, Joe Breen, Jim Fleming, Jack Egan, Tom Burt, Harvery Dodds, Clarence Walker, Bill McIlroy, Ed Ashton, Percy Reid, Harold Watson and Herb Morris.
(July 12) Dropping off at the ball diamond between trains the Toronto Oslers showed their prowess downing the Regina All-Stars 13-6 in a game called after eight innings to allow the Oslers to make their evening train. Joe Spring scattered nine hits to chalk up the win and was the beneficiary of a 12-hit attack.
Spring (W) and Walker, Hoose
Ramsey (L), W. Hogg and Dreschler, Powell
(July 13) Balmorals topped the short-handed Havre, Montana, semi-pros 11-3 as Dodger Lewis held the visitors to eight hits. When two pitchers and an infielder were late in arriving, manager Herb Hester was forced to handle mound duties for the visitors after pitching a 5-0 win over Plentywood the night before. Balmorals took advantage of the tired hurler and hammered him for six hits and seven runs in the first inning. Leo Dobbyns led the Balmorals 13-hit offensive with a triple and two singles. Ernie Runkle had a pair of two-baggers and Lewis helped his cause with a double and single.
Hester (L) and Arbogast
D. Lewis (W) and McNeally
(July 14) The semi-pros from Montana took both games of a double-header from the Balmorals 6-4 and 6-2 behind the strong hurling of Lefty Corey and Pooch Puccinelli. Third baseman Skippy Stivers paced the matinee victory as he connected for two doubles and a single, walked once, scored two runs and made four outstanding plays in the field. His base-running was another feature as he scored from first base on a single. Corey held the Balmorals to seven hits blanking the home crew in all but the fifth inning when Regina erupted for four runs. Three scored on Pat McNeally's bases-loaded double.
Corey (W) and Arbogast
Fisher (L) and McNeally
In the second game, Puccinelli fashioned a five-hitter and rapped four of Havre's 14 hits in the 6-2 victory. Outfielder Harry Harper also had four hits and added four runs scored. Skippy Stivers, the Havre third sacker, provided a memorable moment with a big league play on a smash off the bat of Ernie Runkle. Stivers leapt for the ball, speared it with his gloved mitt, turned a somersault and righted himself in time to peg out the speedy Runkle at first base. He received loud applause.

Puccinelli (W) and Arbogast
Clink (L), Green () and McNeally
(July 15) Ling fired a one-hitter as Havre defeated the Moose Jaw All-Stars 7-0 in a game called after six innings because of rain. The visitors had 14 hits, three by second baseman Ed Rathjen.
Ling (W) and Arbogst
Haigh (L) and Phillips
(July 17) The best the Balmorals could do in a double-header against Climax Saturday was a tie. Ther visitors took the afternoon tilt 5-2 while the squads fought to a 3-3 draw in 11-innings in the evening affair. Pooch Puccinelli and Greer each banged out three hits in the first game to pace a 12-hit attack against Regina flinger Del Cottingham. Al Wissler held the Bals to nine hits.
Wissler (W) and Comartin
Cottingham (L) and McNeally
Fans were treated to a dandy pitching duel in the second game as Dodger Lewis faced Puccinelli, late of the Havre, Montana, semi-pros. Lewis, victimized by his defense, gave up just eight hits, no walks and no earned runs while whiffing nine. Puccinelli hurled a 7-hitter with 12 strikeouts and three free passes. Casey Moroschan had two doubles for Regina and Kelner had a brace for the visitors.
Puccinelli and Comartin
D. Lewis and McNeally
---
SASKATOON EXHIBITION TOURNAMENT
(July 19) Swanson kicked off the 1926 $1,000 tournament defeating Cory 6-2. The winning run came home in the fifth inning when Comston beat out an infield hit, stole second and scored on an error. Swanson added three insurance runs in the eighth on two singles, two errors and a wild pitch. Webster held Cory to three hits in going the full nine innings for the win. Eddie Meyers yielded just five hits but five Cory errors played a prominent role in the decision.
E.Myers (L) and Johnstone
Webster (W) and Williams
(July 20) Floral pounded out 14 hits, three by first baseman Cook, in trouncing Grandora 9-0. Baird tossed a five-hitter and struck out 13 in gaining the win. Vern Washburn and Herman Loblick from the Edmonton semi-pro league and Bill Dunbar, the Kinley star, were among those who contributed to the Floral victory.
Thomas (L) and Weldon
Baird (W) and Washburn
(July 20) Verne Gould fired a four-hit shutout to lead Ruthilda over Neilburg 6-0. Cushing and Edwards cracked home runs for the winners. Edwards, the right fielder, also had a triple.
Gould (W) and Ferguson
Wason (L) and Paquette
(July 21) Lac Vert-Eldersley rallied with four runs in the sixth inning to come from behind to down Asquith 5-1 behind the strong hurling of Les Hutchinson. Asquith took the lead in the first inning when Rube Talbot slugged a three-bagger into right field sending Abbott, who had reached on a fielder's choice, home from third. Hutchinson blanked Asqutih the rest of the way. Lac Vert tied the count in the sixth when Bob Moss opened with a single to right and scored as veteran Wilson socked a clean drive to left. That started a procession which saw three more runs cross the plate before Asquith could stem the tide. Lac Vert established a local record for assists with 20 in nine innings. Orville Armstrong at third had eight of them. Bunny Cook, one of the stars of the Saskatoon Sheiks in the pro hockey world, also hung up a record for first basemen with 18 putouts.
Hutchinson (W) and Porterfield
Furse (L), Mohr (6) and Talbot
(July 21) Moose Range scored two runs in the first inning but that's all they could do as Fiske scored a pair in the sixth to tie and two more in the eighth for a 4-2 victory. Steve Martin topped Horace Bigelow in a pitcher's duel.
Steve Martin (W) and McNeil
Horace Bigelow (L) and Fennell
(July 22) Ruthilda and Swanson played to an 8-8, 10-inning, draw. The game is to be completed in the morning. The exciting affair saw Swanson jump out to a 6-0 lead in the third inning with Ruthilda rallying with three in the 7th, two in the 8th and three in the top of the ninth to take an 8-6 lead. Swanson scored twice in the bottom of the ninth to send the game to extra innings. Ferguson and Edwards each had three of Ruthilda's 15 hits while Swanson managed just nine hits against Tiny Moore.
Moore and Ferguson
P. Mcguire, McMurchy (8), Webster (10) and Williams
(July 22) Larry Strong was the hero for Battleford in its 8-7 win over Viscount. Strong, who pitched a six-hitter and fanned 14, started the winning rally in the eighth inning with a single to left. He took second on an error and scored the deciding run on Parmentor's clean single to centre field. First sacker McKee led Battleford's 12-hit attack with three hits. . Losing pitcher Hank Wolfe led Viscount with a single, double and triple.
Wolfe (L) and J.Dubois
Strong (W) and Dixon
(July 23) It took just one inning for Ruthilda to end the continuation of their Thursday 8-8 draw with Swanson. Ruthilda scored a pair in the top of the 11th for the 10-8 victory.
Moore, Gould (W) (11) and Ferguson
P. Mcguire, McMurchy (8), Webster (L) (10) and Williams
(July 23) Floral scored all its runs in the first three innings in a 9-4 triumph over Lac Vert-Eldersley. Herb Loblick, the import hurler from Edmonton, had a rough first inning giving up three runs, but settled down to pitch solid ball the rest of the way yielding just one more counter. Infielder Billy Murray led the Flora offense with a homer and a double. First sacker Cook punched out two doubles and a single. Bunny Cook topped Lac Vert with a double and two singles.
Loblick (W) and Washburn
Gray (L), Hutchinson (2) and Ellis
(July 23) Fiske got a strong pitching effort from Steve Martin in a 5-4 win over Battleford. The hefty chucker struck out 14 and gave up eight hits in besting Archie Edwards the young Battleford collegiate athlete. Edwards rang up 16 strikeouts to set a tournament high. Eight errors back of Edwards enabled Fiske to get the upper hand.
Edwards (L) and Dixon
Martin (W) and McNeil
(July 24) Floral won a berth in the tournament final taking an easy 11-5 decision over Ruthilda. Cook, the Floral first baseman, led the way with three hits, his third straight three-hit effort. Con Bissett belted a homer and triple and Billy Murray added three hits.
Baird, Loblick (W) (3) and Washburn
Edwards (L), Moore (8) and Ferguson
(July 24) Trailing 3-2 into the bottom of the ninth, Floral rallied with two runs to edge Fiske 4-2 to win $500 first money at the Saskatoon Exhibition Tournament. Fiske had taken a one-run lead in the eighth as Tom Grady, the one-armed outfielder singled and scored on L. Dunn's long sacrifice fly to left. Paul McKenzie led off Floral's ninth inning comeback with a three-bagger to centre field. Jerry Cummings drove him home with a single over shortstop. Cummings advanced to second on a passed ball and Billy Murray put the finishing touch to the tournament with a hard smash to second that L. Dunn let clean through to plate the winning marker. Murray led the winners with a double and triple. Cummings held Fiske to eight hits in going the distance for Floral.
Martin (L) and McNeil
Cummings (W) and Washburn
---
(July 23) Dodger Lewis fired a four-hitter and, again, allowed no earned runs as the Balmorals topped Plentywood 4-2 at Park De Young. Lewis had a shutout going into the 9th inning before an error paved the way for two unearned markers. Regina scored a pair in the 3rd on Lewis' triple and singles by Casey Moroschan and Ernie Runkle and a double steal. They added two in the 4th on a pair of Plentywood miscues.
Walters (L) and Pearce
D. Lewis (W) and McNeally
(July 24) Shortstop Ernie Runkle belted a triple and two singles and scored twice to lead the Balmorals to a 6-2 win over Plentywood. George Clink held the Montana squad to nine scattered singles, three by second baseman Porky Dallas.
Bromberg (L) and Pearce
Clink (W) and McNeally
(July 26) Hap Felsch and his Scobey semi-pros scored four in the first inning and held on to notch a 5-5 draw with the Balmorals at Regina. The Montana squad got three of their five hits in the opening frame and, helped by two Regina errors, took a 4-0 lead. Balmorals fought back to tie in the 7th with a three spot and the game was called after nine inning because of darkness. Outside of the initial frame, Al Wissler pitched outstanding ball setting down 11 by strike out and giving up just two free passes. Regina got to Lefty Kells for 10 hits, four by Dodger Lewis, playing in right field.
Kells and Weires
Wissler and McNeally
(July 27) Shortstop Johnny Meyers doubled in Hap Felsch in the 9th inning to give Scobey an 8-7 win over the Balmorals at Park De Young. It was one of four scores for the Scobey playing manager. Balmorals out-hit the visitors 15-10 with Eddie Newhouse, Tommy Greene and Ernie Runkle each with three. Runkle scored three times.
Weidell (W) and Weires
Cottingham (L) and McNeally
---
REGINA INVITATIONAL TOURNAMENT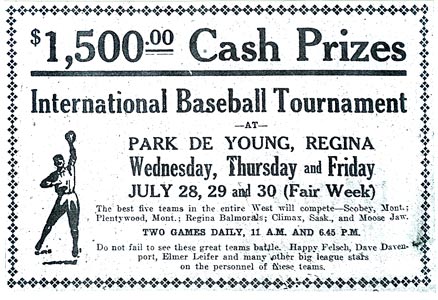 (July 28) In the opening game of the International Tournament at Regina, Plentywood scored four runs in their first at bat and it proved enough as they topped Scobey 7-3. The winners cracked out 13 hits, three apiece by Edmonson, Hub and Earl Walters. Peterson held the Hap Felsch squad to just six hits.
Peterson (W) and Pearce
Boardman (L) and Nighbor
In the evening game, Balmorals took advantage of sloppy fielding by Climax and unleashed a 14-hit attack to crush the visitors 17-4. Climax made eight errors. Frank Lewis and Eddie Newhouse each had three hits for Regina while Pat McNeally and Leo Dobbyns belted triples. Dodger Lewis pitched five shutout innings before leaving with the score 13-0.
Thomassen (L), Leifer (4) and Comartin
D. Lewis, Wissler (6) and McNeally
(July 29) George Clink threw a four-hit shutout to beat Moose Jaw and advance Regina Balmorals to the final of the International Tournament. Moose Jaw, which received a bye into the semi-final round, lost 4-0. Shortstop Ernie Runkle led the offense with a triple, double and single and scored three times.
Haigh (L) and Currie
Clink (W) and McNeally
In the final, Plentywood got to Dodger Lewis early and went on to an 8-5 victory to take top money. The Swede Risberg squad scored a pair in the first inning and knocked Lewis out of the box in the third with a four-run outburst. First baseman Tom Burke led the attack with three doubles and two runs scored. Centre fielder Edmonson added a double and two singles and scored three times. Porky Dallas was good for a pair of two-baggers. Risberg scattered ten hits in capturing the victory.
Risberg (W) and Pearce
D. Lewis (L), Clinck (3) and McNeally
---
(July 30) In one of his infrequent mound performances Tommy Greene threw a seven hitter Friday as Regina Balmorals defeated Climax 4-2. Al Wissler's 8th inning single drove in Dodger Lewis and Pat Neally to break a 2-2 tie.
Ramsey (L) and Comartin
Greene (W) and McNeally
(July 31) Climax received an outstanding pitching outing Saturday from a former Balmoral but his mates booted the ball six times and Regina came away with a 6-2 victory. Tom Fisher allowed just four hits, one earned run, and fanned six in going the distance. Del Cottingham nearly matched Fisher, hurling a six-hitter and rang up ten strikeouts. Eddie Newhouse paced the Balmorals with a triple and single and two runs scored.
Fisher (L) and Comartin
Cottingham (W) and McNeally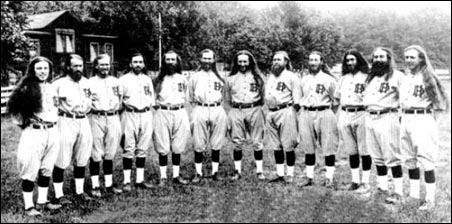 (August 2) Regina Balmorals roared back from an early 3-0 deficit to trounce the famous House of David 10-3 in an exhibition match before a crowd of nearly two thousand fans at Park De Young.
The bearded Israelite barmstormers picked up a pair of runs in the 3rd inning and another in the 4th, helped by Balmoral errors. Dodger Lewis then blanked the visitors over the last five frames. He allowed just five hits.
Lewis, Pat McNeally and Eddie Newhouse paced a 15-hit attack each with three hits. Doc Tally had two safeties for the Davids.
Heckman (L), Miller (8) and Kendall
D. Lewis (W) and McNeally
(August 3) The House of David baseballers redeemed themselves from a 10-3 pasting Monday by downing Regina Balmorals 5-1 Tuesday behind the brilliant hurling of Smith who held the hometowners to three hits. First baseman John Tucker banged out three hits for the winners while Doc Talley and Sharrock clouted triples.
The fans were thrilled as they have seldom been thrilled this summer by a running one-hand catch by Hipp of the House of David, who speared a long fly off Tommy Greene's bat in center field and robbed the Balmoral captain of his usual double. It was an act of sheer robbery and one of the most brilliant catches ever seen on any ball field, here, there or anywhere. (The Leader, Regina, August 4, 1926)
Smith (W) and Kendall
Clink (L) and McNeally
(August 5) More than 15-hundred fans turned out at Moosomin as the House fo David barnstormers took on an area all-star squad and scored an 11-4 victory. Doc Tally scattered seven hits for the win while the Davids secured a dozens safe blows off Hogg and Lebret.
Tally (W) and Champion
Hogg (L), Lebret and Pollock
(August 7) Regina Balmorals and Moose Jaw All-Stars split a twin-bill Saturday at the Exhibition grounds at Moose Jaw. In cold and stormy weather, Regina took the opener 5-2 behind the five-hit pitching of Del Cottingham. Three of the hits went to Beatty, including a pair of two-baggers.
Cottingham (W) and McNeally
Nutzhorn, Beatty (L) (2) and Currie
In the second game, Moose Jaw broke loose for five runs in the first inning and made them stand up for a 5-3 victory. Both games were limited to seven innings because of the weather conditions. Bill Nutzhorn was the winning hurler over Al Wissler. Moose Jaw punched out 12 hits, two each from Chuck Robinson, Beatty, Jim MacDonald and Craigen.
Wissler (L) and McNeally
Nutzhorn (W) and Currie
(August 9) Before one of the largest crowds of the season at Swift Current, the Regina Balmorals topped the home squad 5-3 as George Clink pitched a four-hitter to best Lefty Armstrong. After falling behind 3-2, Balmorals tied the count in the 6th as a passed ball allowed a runner on third to score. Regina took the lead in the 7th as another passed ball plated a run. Eddie Newhouse singled in the final Regina marker in the 8th. Dodger Lewis drove in Regina's first run with a single in the initial frame and brother Frank Lewis doubled to knock in Newhouse in the 4th. Swift Current made its mark in the 6th inning when Summers and Jimmy Borthwick reached on errors and advanced on a wild pitch. Abe Elliott and Armstrong followed with doubles to ring up three markers.
Clink (W) and McNeally
Armstrong (L) and Reidler
(August 11) At Lethbridge, Norman Geoghegan held the powerful Regina Balmorals to six hits to lead Lethbridge Cubs to a 5-2 victory in the opening game of a double-header. Bals rebounded, behind Dodger Lewis to take the evening encounter 7-3. Geoghegan, who compiled ten strikeouts and walked two, also had a hand in the offense with two hits, one a triple, knocked in one run and scored another.
Greene, Cottingham and McNeally
Georghegan (W) and Sang
Lewis won the second game with a six-hitter and eight strikeouts. Eddie Newhouse, who had two hits in the first game, went three for three in the evening contest. Lewis added two singles. The game was called after seven innings.
D. Lewis (W) and McNeally
Leifer (L) and Sang

(August 12) Regina's barnstorming Balmorals moved on to Vulcan Thursday and downed the local squad 7-5, but needed a comeback to do it. Playing in a drizzle throughout, Vulcan took an early lead, going ahead 4-1 after three frames. The Balmorals erupted for four runs in the 4th and added a pair in the fifth, the final inning. Al Wissler pitched the win for Regina besting Ed Killen. Adams of Vulcan had the biggest blow, a two-run homer.
Wissler (W) and McNeally
Killen (L) and Recor
(August 13) A four-run first inning proved enough as Regina's Balmorals trounced Lethbridge Miners 11-2 Friday at Adams Park. George Clink hurled a five-hitter, with ten strikeouts, for the win. Catcher Pat McNeally led an 11-hit attack with a double and two singles and two runs batted in. Second baseman Malone provided a treat for the local fans with a fourth inning home run.
Clink (W) and McNeally
Buerkle (L) and Yorko
(August 17) Dodger Lewis made a triumphant return to Calgary as the right-hander fired a two-hit shutout and fanned 13 as Regina Balmorals topped a local all-star aggregation 6-0 in the first game of an exhibition series. At the plate, Lewis banged out three hits, one a triple, drove in a pair, and scored twice. Bill Walker gave up nine hits in taking the loss.
D. Lewis (W) and McNeally
Walker (L) and Henderson
(August 18) Catcher Pat McNeally's 8th inning drive to centre field scored Ernie Runkle with the winning run as Regina Balmorals shaded the Calgary All-Stars 3-2. Runkle had reached with a double. George Clink was the winning hurler with a seven-hit performance. Stewart Lucas allowed but nine safeties in taking the pitching defeat.
Clink (W) and McNeally
Lucas (L) and Henderson
(August 19) Lefty Armstrong, with a 15 strikeout performance, pitched the Balmorals to an 8-5 win over Red Deer. Balmorals scored three in the 8th inning and held off a late charge by the locals for the win.
Armstrong (W) and McNeally
Osterland (L) and Caldwell
(August 21) With two, three-run innings, Edmonton topped the barnstorming Regina Balmorals 8-5 Saturday at Diamond Park. Scotty Lee went the distance for the victory. Roy Forman led the winners with a four-bagger in the second inning.
D. Lewis (L) and McNeally
Lee (W) and Robinson
(August 23) Regina and Edmonton battled to a 7-7 draw in the second match of a three set exhibition series. Balmorals came from behind with four runs in the top of the 8th to take a 7-5 lead, but Edmonton rebounded with a pair in the bottom of the frame to secure the tie as the contest was called because of darkness. Edmonton out-hit Regina 11 to 4. Trailing 5-3, Regina put together three hits, two walks, a stolen base, a wild pitch and an Edmonton error to push across four counters before Happy Peterson relieved Joe Baldwin to put down the uprising. With one out in the bottom of the inning, Laurie Scott walked and scored on a long single to centre by Clarence Campbell who came around to plate the tying run on an infield grounder. Russell Dolighan and McLeod each had two hits for the home squad. Tommy Carrigan of Edmonton had the only extra base hit, a triple.
Clink, Armstrong and McNeally, F. Lewis
Baldwin, Peterson and Scott
(August 24) Del Cottingham blanked Edmonton on seven hits as Regina Balmorals scored a 6-0 victory at Diamond Park in Edmonton. Cottingham fanned nine and walked one. Balmorals had just eight hits, two by catcher Frank Lewis.
Cottingham (W) and F. Lewis
Peterson (L) and Scott
(August 25) Regina Balmorals wound up their Alberta swing with a resounding 12-2 triumph over Edmonton. As Lefty Armstrong held the home squad to five hits his mates pounded three Edmonton hurlers for 12 safe blows. Frank Lewis clouted a triple and double for the winners, scored one run and added a stolen base. Eddie Newhouse had two hits and scored three times while Dodger Lewis contributed two safeties and scored a pair. Ernie Runkle and Casey Moroschan also compiled two hits apiece. Armstrong rang up nine strikeouts without issuing a free pass.
Armstrong (W) and F. Lewis
Johnson (L), Smith (2), Peterson (3) and Robinson
---
THE BARNSTORMING TORONTO OSLERS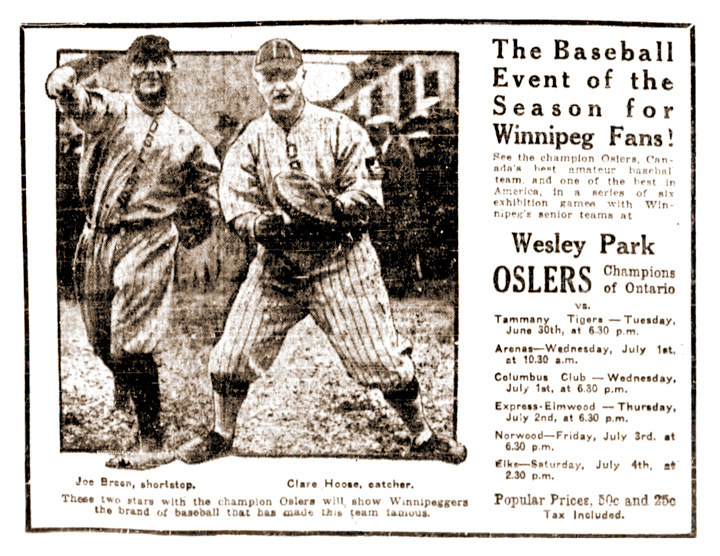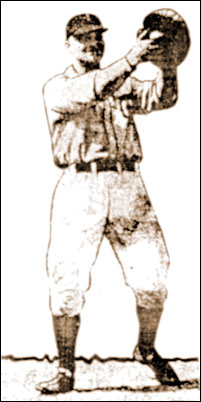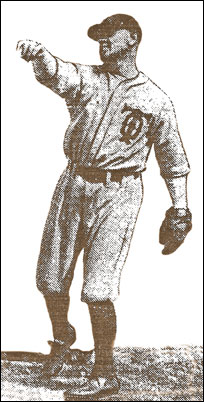 The Toronto Oslers were a powerful amateur (and later professional) team from Toronto in the period after the First World War to the mid 1930s..
Back when travel was quite the adventure the Oslers made barnstorming tours of Canada. Above, they stopped off for six games in five days in Winnipeg, in 1925, en route to Vancouver to meet the famous Asahis.
Kevin Plummer, at the web site Torontoist, has a marvelous story on the history of the Oslers.
Left -Oslers' catcher Clare Hoose one stars of the Toronto club.
Right - Oslers' star hurler Joe Spring. The right-hander was cited as the "king of curve ball and cross-fire pitchers in Eastern Canada". The hard thrower started his mound career at age 15 and for the past eleven years has been the best right-hander in Eastern Canada.
Below, edited versions of photos from the City of Toronto Archives. Left to right - outfielder/pitcher Tommy Burt, third baseman Jack Egan, pitcher Billy Greer, pitcher Joe Spring and manager Fred Hamilton.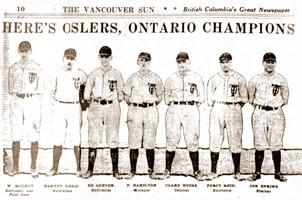 The 1926 tour included fourteen games in late June and early July, beginning in Sudbury, Ontario and was the subject of great interest.
The coverage (right) in the Vancouver Sun with the big headline and player photos splashed across the top of the sports pages was an indication of the excitement the Oslers engendered.
(June 28) Oslers opened their 1926 tour in Sudbury, Ontario, with an impressive 8-2 triumph over Copper Cliff, the 1925 Ontario Senior Amateur champions. Left-hander Charlie McCay tossed a five-hitter for the win while his mates pounded 11 hits off Cloutier, in the box for Copper Cliff. The exhibition drew a crowd of 1,500. After a luncheon, the Toronto club left for Winnipeg where they're scheduled for a slate of seven games. Star shortstop Joe Breen was unable to make the trip.
McCay (W) and xxx
Cloutier (L) and xxx
(June 29) Vancouver Baseball officials announced the selection of the Vancouver Young Liberals, the league champions of 1925, as the first team to meet the Toronto Oslers next week at Athletic Park. Owing to the cost of bringing the Oslers out West, it was decided to charge 50-cents for the entire stands, which will be reserved.
(June 30) The Oslers' Billy Greer allowed two runs in the first inning to Winnipeg's Tammany Tigers but settled down to pitch shutout ball the rest of the way as the Toronto club downed the Tigers 5-2 in the opening game of the Oslers seven-game Winnipeg series. The right-hander held the home squad to five hits and rang up 11 strikeouts. Jim Fleming, "Buck" Hughes and Bill McElroy each had two hits for the winners. The Tigers had the two big hits, a home run by Art Frick and a triple by Bill "Snake" Siddle. Bill Crowe hurled a strong game for the Tigers put a pair of errors and a couple of infield hits led to defeat.
Greer (W) and Hoose
Crowe (L) and Singbush
(July 1) In a Dominion Day triple-header in Winnipeg, which drew close to 6,000 spectators, the barnstorming Toronto Oslers came back to win a pair after dropping the morning game to the Winnipeg Arenas. The Oslers lost their star hurler, Joe Spring, after the first inning of the first game when he was forced out of the contest with an injury to his pitching hand. Reliever Charlie McCay survived the second inning but then was hit hard as the Arenas broke loose for three runs in the third, four in the fourth and another pair in the fifth en route to an 11-5 victory. Art Frick led the winners with a home run, two doubles, a single and three runs scored. He also starred in the field with several outstanding plays. He made a pair of sensational catches and participated in two double plays with strong throws to first and the plate after pulling down hard-hit drives. "Snake" Siddle clouted a triple and single and scored twice. Greig Warren and winning pitcher Bob Bedome each added two safeties. Oslers suffered a major blow when centre fielder Harvey Dodds injured index finger on his right hand in trying to field a ball in the fifth inning. At first the club thought he had broken the finger, but later reported just a sprain.
Spring, McCay (L) (2), Burt (6) and Hoose
Bedome (W) and Sinclair
The Oslers roared back in the afternoon to trounce the Elks 11-2 behind the combined six-hit pitching of Herbie Morris and "Hap" Watson. Morris, the little southpaw, went eight innings with Watson handling the final frame and drew rounds of rounds of laugher and applause from fans with his comedy stunts. Bert Hughes powered a 12-hit attack with three hits and three runs. Jim Fleming, Tommy Burt and Bill McIlroy each cracked a pair of safeties. The visitors also capitzlized on seven free passes and three Winnipeg errors.
Morris (W), Watson (9) and Walker
Wilson (L), Daily (2), Hind (3) and McCorquodale

In the third game of the day, Oslers scored three times in the first inning and held on to defeat Columbus Club 4-2 as Tom Burt held the Winnipeg nine to seven hits and fanned eight. Catcher Clare Hoose and shortstop Bill McIlroy led the winners each with a homer and single. Sid May, the Columbus Club chucker, settled into a groove after the Oslers' big first inning and blanked the Torontonians for seven innings before allowing another run in the ninth. Manager Freddie Hamilton was tickled with Burt's work, especially since Burt is the only member of the original Oslers team still playing with the club since it began play 15 years ago.
Burt (W) and Hoose
May (L) and McCorquodale
(July 2) Winnipeg Norwood handed the Toronto Oslers a three-run lead in the first inning then blanked the visitors the rest of the way while their offense came to life scoring nine times in a 9-3 victory behind Bill Stobie's fast breaking, underhand spitter. He allowed just five hits and rang up nine strikeouts. The Oslers, hard up for pitching after four games in two days, started Charlie McCay, even though the lefty had a sore arm. The visitors took the lead scoring all three of their runs in the first inning. Norwood rebounded to tie with three in the second inning and took the lead with singletons in the fourth and fifth innings. Norwood added four runs in the seventh when reliever Bill McIlroy gave up three free passes. Two errors and Stobie's single accounted for the runs. Shortstop Cochrane led the winners with three hits, one a two-bagger.
McCay (L), Morris (3), McIlroy (7) and Hoose
Stobie (W) and Olien
(July 3) With ace hurler Joe Spring back on the mound, the Toronto Oslers wound up their Winnipeg series with a 9-1 triumph over the Arenas Saturday evening. A scheduled afternoon game was called off because of rain. Spring tossed a five-hitter and whiffed eight in returning to the hill after suffering a hand injury. Jackie Egan belted a homer to power a 12-hit attack for the winners. Catcher Clare Hoose added a double and a single. Tom Burt punched out three singles. "Snake" Siddle and Knight each contributed a pair of one-baggers for Winnipeg. Oddie Lowe took the loss.
Spring (W) and Hoose
Lowe (L) and Sinclair
(July 6) Playing in Vancouver, Toronto Oslers kicked off their BC section of their tour with a convincing 11-3 trouncing of the Young Liberals. Oslers pasted three Vancouver hurlers for 18 hits, four by shortstop Bill McIlroy. Harvey Dodds had three. The Liberals punched out 15 hits against winning pitcher Joe Spring, three by Nick Craig. It was a close contest until the final two frames when the Oslers pushed across three runs in each of the eighth and ninth innings.
In an infield warmup prior to the game, the Oslers provided a lot of amusement bya clever display of "shadow ball" including some slow motion action. "Hap" Watson kept the spectators in roars of laughter by his antics on the coaching line. In the final stanza, he came out dressed in football togs and went down as a pinch-hitter.
Spring (W) and Hoose
Simons (L), Kaye (5), Puder (8) and Brown
(July 7) Freddie Hamilton and his barnstorming Toronto Oslers displayed their superiority in pair of games on Wednesday in Vancouver. They crushed an All-Star aggregation 20-2 in the afternoon affair before posting a come-back 8-6 victory over the Young Conservatives in the evening encounter. The Toronto nine had an easy time in the afternoon putting the game on ice early with a six-run explosion in the first inning. Tommy Burt's three-run homer was the key blow. They added seven more runs in the second frame and cruised to the seven-inning victory behind a 20-hit attack. Billy Greer held the All-Stars to just six hits, pitching shutout ball until allowing the two runs in the final inning.
Greer (W) and xxx
Simons (L), Kimberley (1) and xxx
In the second game, the Vancouver club took a 3-1 lead in the first inning and held a 6-4 advantage after three, but that was the end of the scoring for the locals as Herbie "Shrimp" Morris took over mound duties and held Vancouver scoreless on just one hit over the final six innings. Morris also led the Oslers' offense with three hits, a run scored and a run batted in. He walked one and fanned seven. Jim Fleming had a pair of safeties and three runs. Butler led the home nine with a pair of two-baggers, one which drove in three runs in the first inning. Coleman Hall added a double and single.
Morris has unusual control for a portsider and, if he doesn't use anything on the ball, gives a hypnotic illustration of tom-foolery for he removes his glove after each chuck, hitches his pants and then rubs the ball in both hands before settling into the glove again and hurling the pill. Yet he works fast. He is just twenty and he went great guns to the openly expressed admiration of his colleagues. (Vancouver Sun, July 8, 1926)
McCay, Morris (W) (4) and Hoose
Brand (L) and Ferguson
(July 8) Billy Greer, who had a complete-game victory on Wednesday, fired a four-hit shutout Thursday to pace Toronto Oslers to an 8-0 win over the Vancouver Asahis. Greer rang up eight strikeouts and walked just one while collecting two of the Oslers' 14 hits. Jim Fleming led the winners with a pair of two-baggers and a single. Clare Hoose also had three hits for Toronto. Eddie Kitagawa poked a double and single for the Asahis. Roy Nishidera held the powerful Ontario club to just one run through five innings but the Oslers broke loose for three in the sixth, one in each of the following two frames and a pair in the ninth. "Hap" Watson kept the crowd in good humour with his comedy touches.
Oslers turned in their fourth straight win of the series ... when with Billy Greer hurling sparkling ball, they shut out a snappy famous all-Japanese baseball aggregation called Asahi ... The Asahi are all Japanese born and educated in Vancouver. Their average age is eighteen. Half of them are school students. They were secured by the Vancouver baseball league in an effort to give Oslers a real battle ... "Hap" Watson again was the big attraction with his chatter and stuff. The [Japanese] went wild over his antics ... gave Watson an Oriental costume which he wore on the baseline.

[Nishidera], an 18-year-old pitcher, hurled nice ball for five innings and held Oslers in check, Oslers leading 1-0. In the sixth he weakened and Oslers hammered out a victory, collecting fourteen hits ... The little brown men were very fast, flashy and spectacular fielders, but woefully weak with the bat ... the best balanced team Oslers have met on the coast. Yamamura, 17-year-old shortstop, caught the eye with his speedy fielding and throwing. Before the game the two teams lined up and were photographed, and after the game Oslers gave the [Japanese] three cheers which were reciprocated. Three thousand took in the game and half were [Japanese], including the consulate staff. The [Japanese] manager wants Oslers to go to Japan next year. He says Oslers will be a big attraction in the Orient ... Oslers visited the Japanese colony this morning and were warmly received by the populace. (Toronto Star, July 9, 1926)
Greer (W) and Hoose
Nishidera (L) and Hori
(July 9) The Vancouver All-Stars erased an early 3-0 Oslers' lead with four runs in the third inning and went on to hand the Toronto club its first loss in five Vancouver contests, 6-5. Right-hander Larry Holden held the Oslers to eight hits and was a key man at the plate with a pair of doubles knocking in the tying and winning runs. The Stars collected 13 hits, including a homer by left fielder Seymour. Tommy Burt smacked a four-bagger for Toronto. Catcher Clare Hoose of the Oslers had three hits.
Spring (L), Morris (4) and Hoose
Holden (W) and Wayte
(July 10) Vancouver's Young Conservatives rallied for two late runs to come away with a 4-4 draw against the Toronto Oslers Saturday afternoon at Athletic Park. Lefty Dave Scott held the Oslers to seven hits in going the distance for Vancouver. Oslers had taken a 4-2 lead in the top of the sixth inning on singles by Tommy Burt and Harvey Dodds and an error on Ed Ashtons blow to left. In the bottom of the sixth, Miller's triple brought in Mills to cut the lead to 4-3 and in the seventh Ab Cross singled through third and advanced on a passed ball. He stole third and came home with the tying marker on an infield error. Oslers were down two more players when Buck Hughes left for the East and Jim Fleming was sidelined with a charley horse.
Burt and Hoose
Scott and Whyte
(July 13) Wrapping up their Western swing, the Toronto Oslers clipped the Regina All-Stars 13-6 to finish their tour with 10 wins and a tie in 14 games. Joe Spring and "Teedle" Walker combined to hold the local All-Stars to nine hits in a sloppily played affair as the teams combined to make nine errors, six by the visitors. Oslers cracked out 12 hits and took a big lead with six runs in the third and another three in the fourth. The team is to leave for Winnipeg in a special rail car arriving Tuesday. They'll leave Tuesday night for Port Arthur where they will board the S.S. Noronic sailing for Sarnia and arriving in Toronto Friday afternoon.
Spring, Walker and Hoose
Ramsey, Hogg and Dreschler
The Oslers returned to Toronto to capture the Ossington Park Senior League title, then the Toronto championship and went on to defeat Kingston Ponies, Walkerville Chicks and Copper Cliff Miners to win the provincial crown.



From left to right, back row - Batboy, Eddie Ashton, "Hap" Watson, Tommy Burt (Captain), Bob Espie (Vice-President), Jimmie Fleming, Bert "Buck" Hughes, "Army" Howard (Trainer), Gordon Cameron (Secretary).
Front row (left to right) - Charlie "Lefty" McCay, Harvey Dodds, Joe Spring, Clare Hoose, Freddie Hamilton (Manager), Joe Breen, Billy Greer, Percy "Pucker" Reid, Jack "Doc" Egan and John Clarence/Cecil "Teedle" Walker.