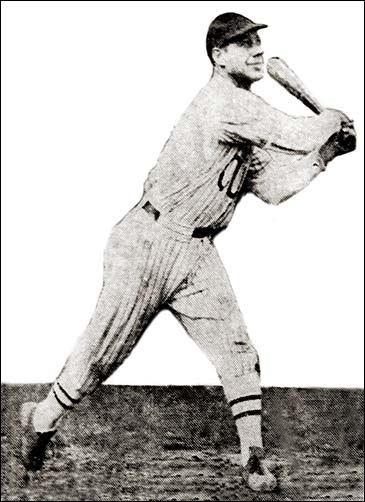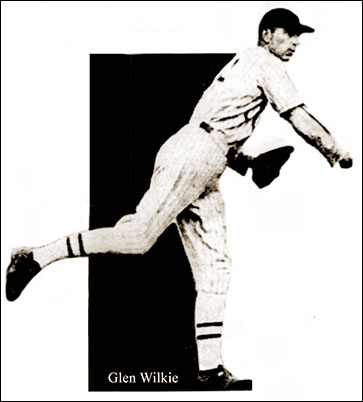 1935 stars. Left - Wetaskiwin outfielder Pete McCready (an edited version of the newspaper photo from 1933), right - Glen Wilkie, pitcher for the Edmonton Shasta Royals.
McCready was one of the four or five good ballplayers brought in by Harry Cohen who sponsored the Army & Navy Cubs. His real name was Stagg and he had run afoul of the law on the coast. So he changed his name and came to Edmonton. He was a colourful guy who, if he caught the third out, would run right in from centre field, past home plate and jump up on the grandstand screen like a monkey in the zoo.

In later years he became an awful guys with the booze, but he was a great hitter who could have played in the Pacific Coast League. He later played one year up in the coal branch, then when the Second World War came along, he joined the Army and no on here ever heard from him again. [Cecil Golstick in The Rajah of Renfrew by Brant E. Ducey] (The book says he was from Bellingham, Washington and his name was Earl Stagg.)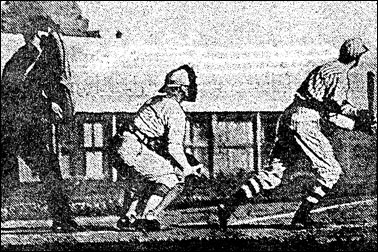 Far left - action at Renfew Park at Edmonton. Al Chapman, lead-off man for Mirror, has just singled to left field. Cliff Robinson is the catcher for the Shasta Royals and the umpire is John Ducey.
Above left - Medicine Hat playing manager and former big leaguer Ike Davis. Right - pitcher Lester Webber, a Davis recruit from California, who went on to advance to the major leagues with the Boston Red Sox and Cleveland Indians. He tossed a no-hit, no-run game against the Edmonton Shasta Royals in July, 1935, just three days after Herman Loblick of the Shasta Royals had fired a no-hitter against Wainwright.