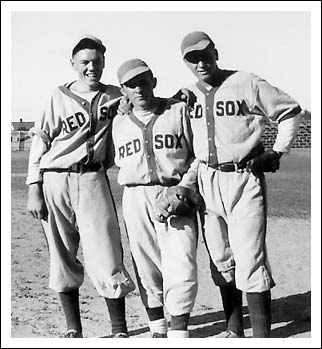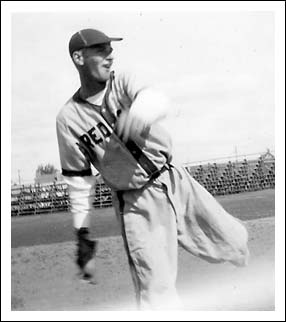 Left - Jackie Fulton (OF), Steve Petryna (3B) & Al Rittinger (SS). Right - Art "Lefty" Straub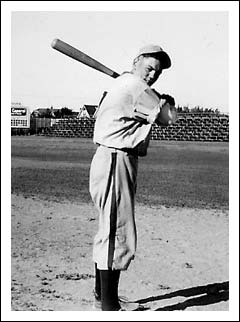 Left - Jackie Fulton OF. Right - John Wilson (OF) & Fred Petryna (C)
Members of the 1943 Regina Red Sox in front of their club house at Park de Young in Regina (which they shared with the Regina Roughriders, as they were known in 1943). Richy Eisler is the third player from the right in the back row. To his immediate right (or fourth from the right) is long-time Red Sox manager and fellow Saskatchewan Hall-of-Famer "Doc" Hughes.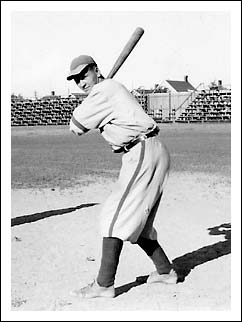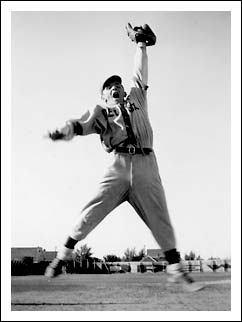 Al Rittinger Steve Petryna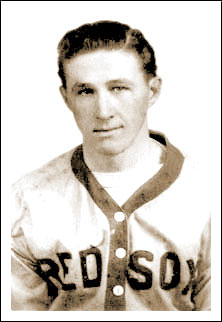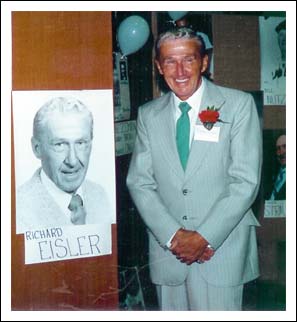 Left - Second baseman Richy Eisler, 1943. Right - in 1987 at his induction into the Saskatchewan Hall of Fame.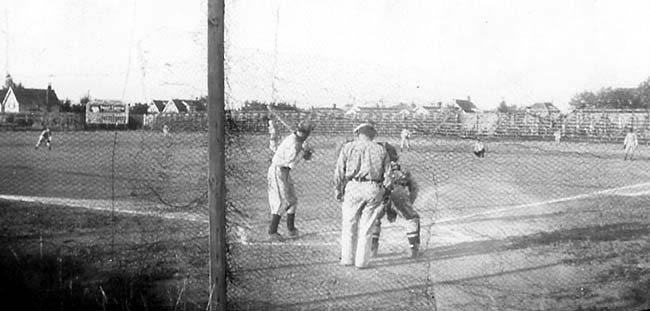 Richy Eisler (2B) batting at Park de Young during 1943 season.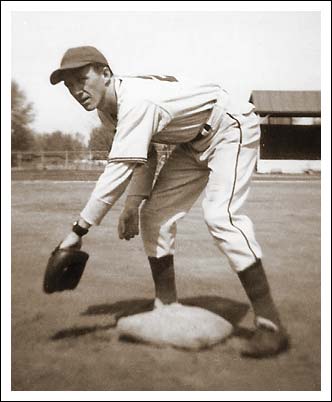 Richy Eisler, a Red Sox standout, won a tryout with the Triple-A Seattle Rainiers of the Pacific Coast League in 1944.
In the 1940s Saskatchewan's Richy Eisler was considered a top prospect for pro ball. He was an outstanding defensive players who drew rave reviews for his work at second base.
After the 1943 season with the Regina Red Sox, Eisler won a contract with the Seattle Rainiers of the Triple-A, Pacific Coast League. He went to spring training with the club, but ran into problems with immigration.
Eisler says two American Customs officers showed up at his boarding house just before opening day and ordered him to return to Canada.
"They stamped 'deported' on my passport because I was down there illegally," said Eisler. "They took me in a car to the American border and dumped me off. I had to walk to Canadian customs."
He ended up playing that season with the Bellingham Bells before moving on in 1945 to play for the Vancouver Norvans, a semi-pro club sponsored by the Vancouver shipyards.
In 1946, Eisler suited up with the Edmonton Cubs. He came back to play briefly in Regina before injuries ended his baseball career. His defensive play was so highly regarded that he won a spot in the Saskatchewan Baseball Hall of Fame and his glove is on display at the Canadian Baseball Hall of Fame at St. Marys Ontario. Richy will be 85 this (2009) spring.