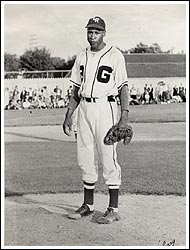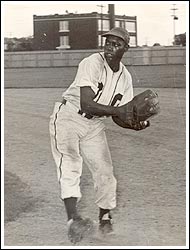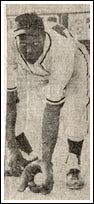 Steve Wylie (left) 12-1 and Bus Quinn (Armando Vasquez) (centre) 10-1 led the Brandon pitching staff. (Photos courtesy of Lil Lowe)
Right , Shortstop Coney Williams was a key acquisition for the Brandon Greys. Williams hit .304 during league play and was one of five imports who suited up with the Greys.
Below - Catcher Almer McKerlie of Miami, Manitoba, signs a contract with the St. Louis Cardinals. In the photo (June 16, 1948 Winnipeg Free Press) George Sisler Jr. looks on as McKerlie inks the contract. The 5'11" backstop was noticed by the Cards at the St. Louis-Free Press tryout camp. McKerlie was to be assigned to Johnson City (Tennessee) Cardinalds of the Class D Appalachian League. However, the Manitoba native decided against a career in pro ball in favour of playing close to home. He was a key member of the Carman Cardinals of the ManDak League.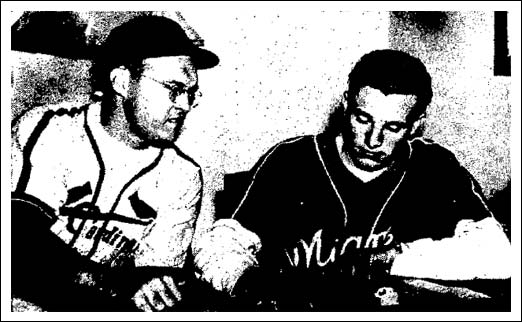 ---
A round of applause for Andrew Marshall of Winnipeg! He's been kind enough to share a discovery with us.
" ... I recently purchased a large lot of old books and when flipping through the pages of one, I discovered the year-end bank balance sheet for the "Winnipeg Reos", dated 1948. It lists their profits, coaching salaries, etc."

Quite amazingly, the Winnipeg Reos of 1948 ended up with a balance of $2,228.18 (according to the financial report from B.G. West, the Secretary-Treasurer). The team brought in over 4-thousand dollars from 50 games at Osborne Stadium and overall, had income of more than 52-hundred dollars. The largest, single expenditure was $807 for " Players Pay". The Reos spent $509.58 on bats and balls, $43.39 for hospital and medical, $83.75 on drinks and gum and 9.67 on charges for telegraph and telephone services.

---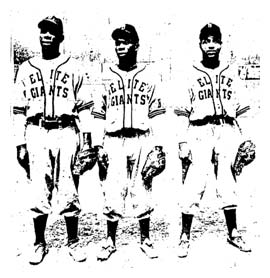 With Jackie Robinson's integration of the major leagues in 1947, the Negro Leagues began a decline that would see the end of major Negro League ball within a couple of seasons. A few of the barnstorming teams continued into the 1950s with the famous Kansas City Monarchs surviving into the 1960s. Many black players hooked up with the teams in Canada, especially on the prairies.
Above left - catcher Roy Swanson, from the Atlanta Black Crackers barnstormed with the New Orleans Creoles and Brooklyn Cuban Giants and suited up with Estevan, Saskatchewan and Elwood in the ManDak League. (The Ogden, Utah, Standard-Examiner, July 9, 1950) Above right - the outfield of the Baltimore Elite Giants, 1948. Lester Lockett, Henry Kimbo, Frank Russell. Lockett played for three seasons in the ManDak League. (Baltimore Afro-American, May 8, 1948)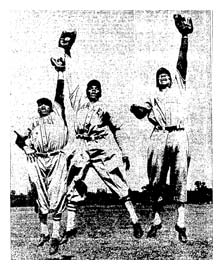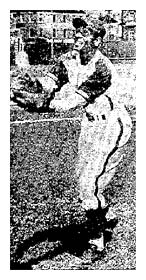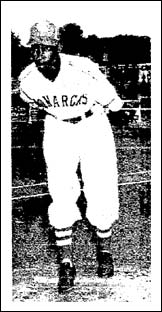 Above left - the outfield of the Harlem Globetrotters, 1952 - John Keene, Larry Cunningham and Ted Dixon. Cunningham played in Ontario with Galt and Hamilton. (The Inter Lake, Kalispell, Montana, August 20, 1952). Below centre - Freddie Sheppard, centrefielder of the 1949 New Orleans Creoles. In 1950-51 he played with Minot, Estevan and Swift Current. (The Winona Republican-Herald, July 30, 1949) [However, the same photo was used in 1952 to identify Larry Cunningham of the Harlem Globetrotters - The Independent Record, Helena, Montana, June 29, 1952) Below right - Mel Duncan of the Kansas City Monarchs in 1950 (Jefferson City Post-Tribune, June 2, 1950)