(August 21, 1949) Dick Barnes (left) fired the first no-hitter in Big Four history to lead Calgary Purity 99 to an 8-0 win over Edmonton Eskimos at Buffalo Park.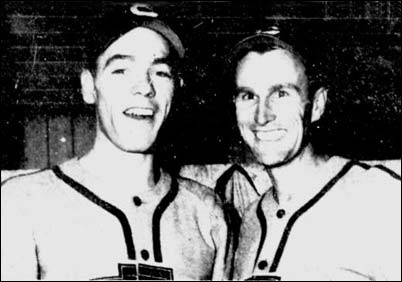 The righthander faced only 29 batters, walking a pair while fanning four. Barnes helped his own cause with a two-run homer in the 4th inning.
(Right) A pair of stalwarts from Winnipeg were key to the Edmonton Cubs title chase. First baseman Jim Ryan, left, and pitcher John McManus (right).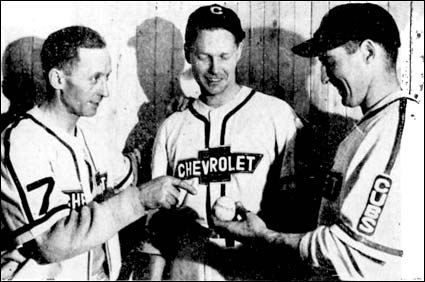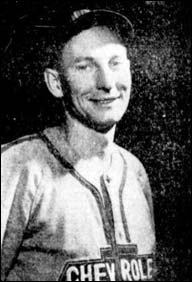 Above left - Catcher Laurel Harney (left) extolling the pitching prowess of Morris Hawkey (centre) to Reg Clarkson. Right - Cubs' playing manager Les Edwards.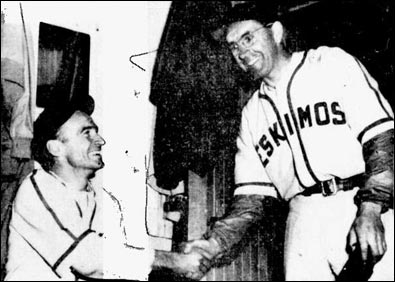 Left - Manager Ralph Morgan congratulates winning pitcher Jerry Seaman following the Esks semi-final victory over Purity 99. Below - Calgary Purity 99 lefthander Bill "Lefty" Whyte.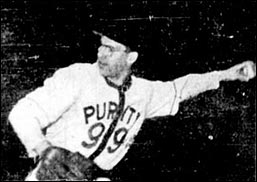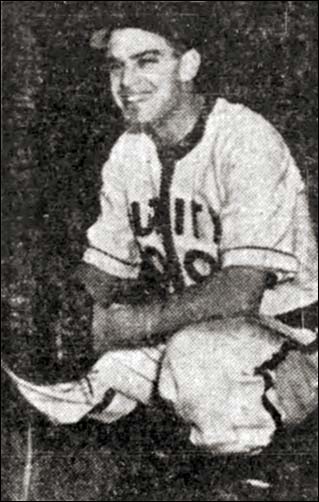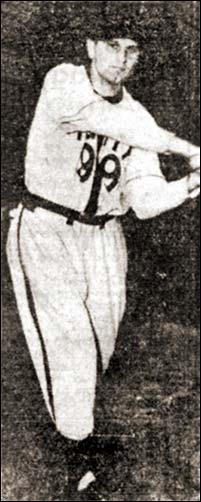 Left - Calgary Purity's Ernie Choukalos.(who also played football for the Calgary Stampeders).
Right - first baseman Walt Gully of Purity 99.

Below left - Left-hander Mike Johnson, Calgary Purity 99. Right - catcher / outfielder Barry Robertshaw of the Edmonton Cubs.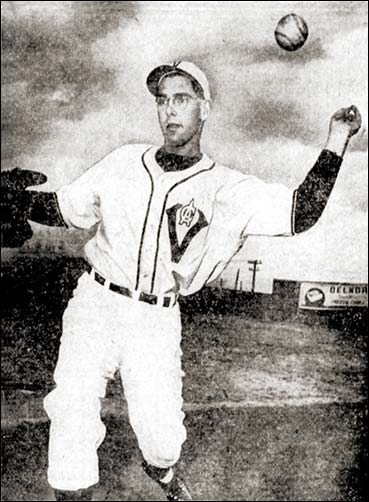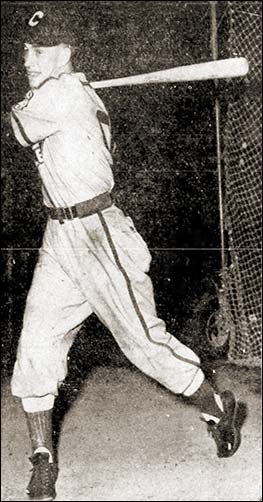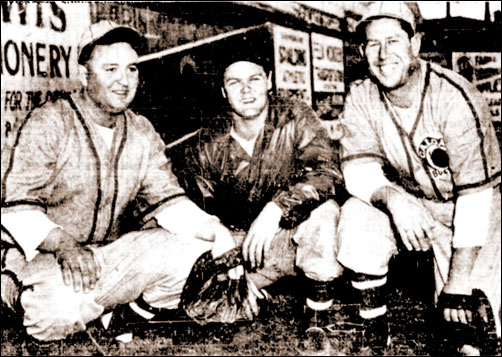 They're all smiles as the Calgary Buffaloes prepare for opening day of the 1949 season. Manager Jim Forsyth (centre) is counting on big seasons from catcher Carl Mori (left) and pitcher / outfielder Jimmy Gibson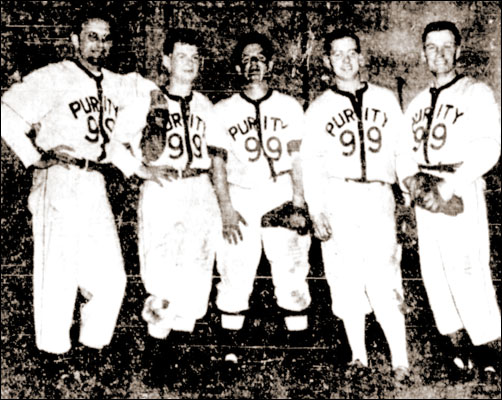 The Calgary Purity 99 infield. Left to right - Walt Gully, Don McIntyre, Fred Granato, Butch Dow and Woody Huckabay.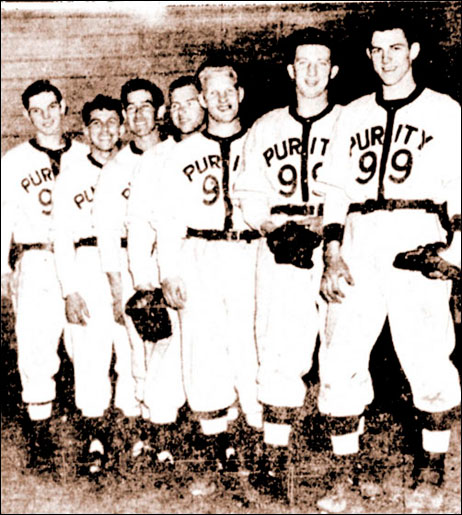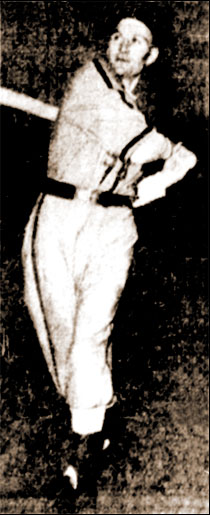 Left - As the Calgary Purity 99s prepared for the new season, a strong pitching staff (left) appeared to be one of the strengths. From left to right - Don Grant, Arnold Fernandez, Doug Oliver, Bill Whyte, Al Byman, Jack Mills and Lorne Benson.
Right - Purity 99 shortstop Woody Huckabay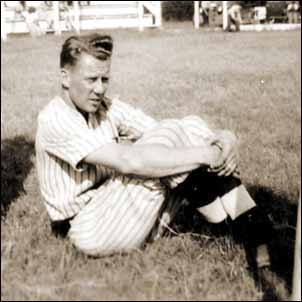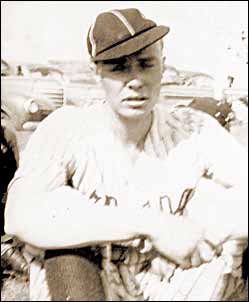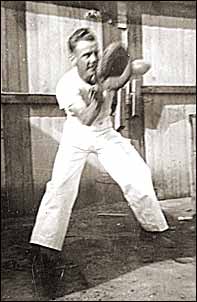 A few pictures from Carmangay, Alberta, believed to be, 1949.
Top left, left and below right - Roy McLeod, catcher. Above right -
believed to be Lorne/Earl Smith. Below left - Jonas Hernanen.

Thanks to Bob Needham for the photos.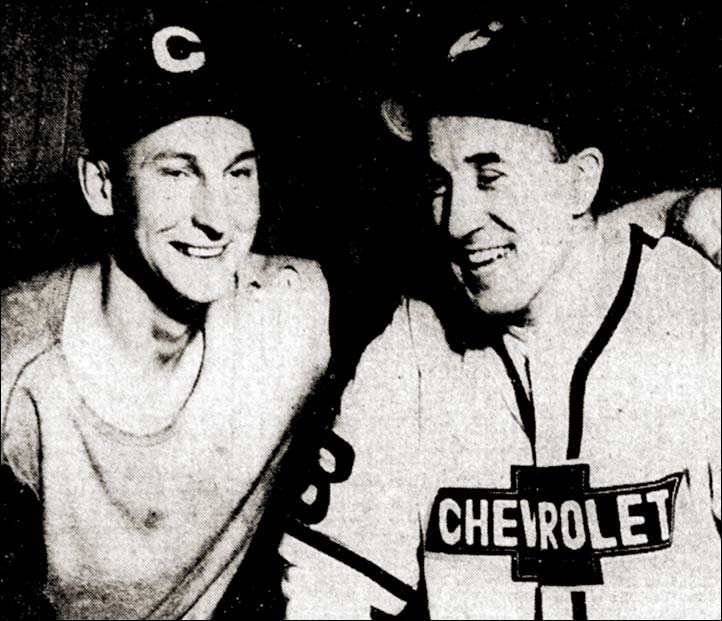 All smiles in Cubland. Les Edwards (left) the playing manager of the Edmonton Cubs twirled a three-hit shutout over Puritys in Renfew's season inaugural. Edwards is seen with left fielder Doug Stewart who played a part in two scoring rallies.
Below - from the Edmonton Journal, Saturday, July 9, 1949.