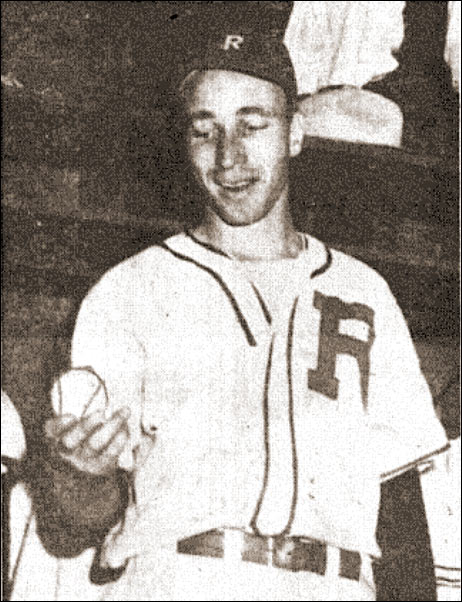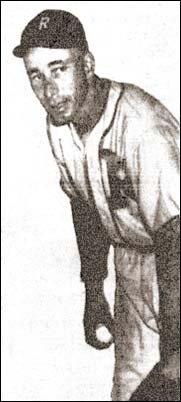 "Red" Jones (later, in his major league career, you would know him as "Sad Sam" Jones or "Toothpick" Jones) after tossing his first of two no-hitters in the 1949 season for the Rochester Royals of the Southern Minnesota League. The right-hander fanned 12 and gave up six walks in the 12-3 victory. The three runs against him came as a result of five Rochester errors. Jones wrapped up the gem fanning the final batter.
A month later, Jones fired his second no-hitter, a 10-0 playoff victory. He racked up 15 strikeouts in that one.
Jones, who came to Rochester after stints in Negro ball with the Oakland Larks and Cleveland Buckeyes, went on to a 12-year career in the major leagues. In 1959 he was the runner-up in the Cy Young voting when he had a league-leading 21 victories and 2.83 ERA with the Giants.
In 1955, his first full season, Jones had a no-hitter in the majors in pitching for the Chicago Cubs. In the ninth inning, Jones first walked the bases full, then fanned three in a row to complete the gem. Jones was credited with another no-hitter in 1959 when he pitched seven innings of no-hit ball before the game was shortened by rain.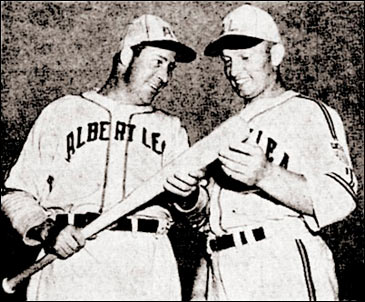 In Albert Lea vs Albert Lea, it's the new vs the old as the current Packers take on the ex-Packers in a mid-season exhibition tilt at Hayek Field.

Spike Gorham (left) is pictured talking over hitting with slugging Jack Dudding, who has made occasional appearances in the lineup this season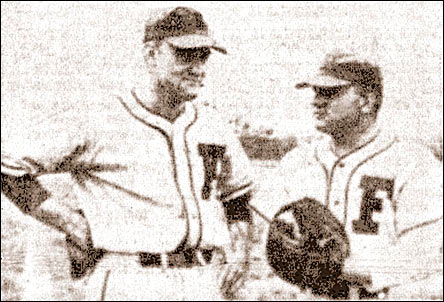 Two prominent members of the Fairibault Lakers, southpaw hurler Herb Chmiel, on the left, and Hockey Mealey, the starting catcher.
Team birthday party for the manager of the Rochester Royalos, Ben Sternberg (far right). Left to right - Mel Carter, Sam "Red" Jones, John Creevey, Gene Carroll, Spike Powell, Bob Petersdorf, Angelo Perini (Chef), Bruno Lisi, Ida Perini, Stan Partenheimer, Sam Hill, Artie Osman Jr., Earl Wolfe and Sternberg. [Photo from Phil Dixon via Town Ball]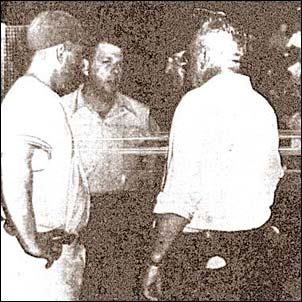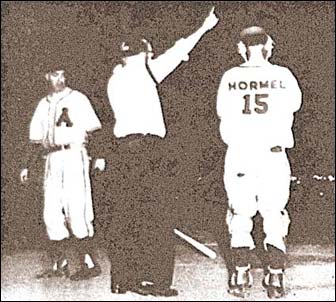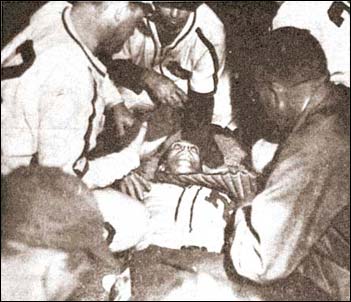 Top left - Chet Wieczorek, Austin captain, and Ben Sternberg, Rochester manager, goes over the ground rules with game officials.
Top right - A familiar Southern Minny sight - Austin manager Emil Scheid gets a final word to the plate umpire after a futile protest over a pitch call.
Left - Rochester catcher Ernie Cherney receives attention from a team physican and players after being hit on the knee by a pitch from his battery mate, "Red" Jones. Cherney was taken to hospital but later released after x-rays showed no broken bones.
Our thanks to Richard Bogovich for the Rochester material !