Pitcher Ted Bowsfield of Penticton was a high schooler with a bright future in baseball.
Pride and joy of Pentiction is 15-year-old Ted Bowsfield, a smart young hurler who has drawn the attention of St. Louis Browns' scout Tony Robello. He says Ted is one of the brightest young prospects he's seen in a long time. Ted, a high school student, stands five 10 and a half inches and weights 150 pounds. [Vancouver sun, August 4, 1950]
He was just 15 when he began his "Senior A" baseball career pitching for hometown Penticton in Okanagan baseball. His first season was cut short by an arm injury after just four starts, two of them complete game victories.
At age 16, Bowsfield was the ace for the Penticton Athletics in Senior A ball in the Okangan Mainline League in 1951. He topped an outstanding season (10-2, 14 starts, 11 complete games, one of the losses was a 1-0 decision) with a no-hitter in the playoffs. He was even better in his second summer with Penticton firing two no-hitters, one of them in the playoffs. He had tossed a two-hitter with 19 strikeouts to clinch the pennant for the Athletics. In 1953 he had a one-hitter, two, two-hitters and a three-hitter in his first four complete games but sat out a portion of the summer with arm woes. He started out 1954 with a 5-1 record,1.83 ERA and the Red Sox came calling and the left-hander was on a path to the major leagues.
Bowsfield went on to pitch in the major leagues with Boston, Cleveland, Kansas City and Los Angeles. He won eleven games with Los Angeles in 1961.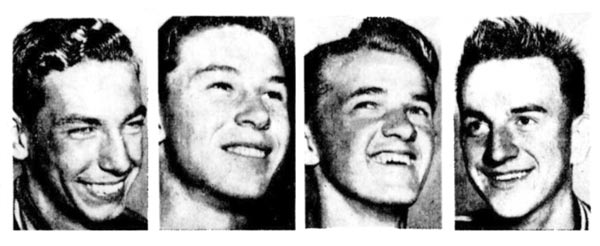 The Vancouver Sun provided wide coverage of local baseball, from Little League on up. On August 15, the paper highlighted members of Collingwood's Juvenile team. Left to right - Kenny (Kerry?) Parsons, Stan Black, Carl Homenuke and Pete Eades, who would advance to play in Senior "A" leagues.

Oldtimers, KIds Mix in Kingsway's Busy League at Central Park
Sandlot youngsters just coming up are being carefully nursed along by veterans of 20 years or more in the thriving Kingsway Baseball League which performs three times a week at Central Park's diamond. Such rookies as Jerry Hallgren, second from right, and Frank Kozac, far right, are two South Burnaby lads who will soon be leaving Vancouver to further their baseball careers. Helped along by veteran fireman Ed Henry, far left, Hallgren may leave for Redding, California, in 10 days while Kozac will attend Texas League team's spring training camp next year. Second from left is Langley pitcher Mel Hunter who recently arrived on Pacific coast from his home in Hamilton. Other old boys helping youngsters advance in baseball are Billy Adshead, Bruce Thirsk, Hec McDonald and Claude Grant. They were stars themselves 20 years ago. [Vancouver Sun, August 5, 1950]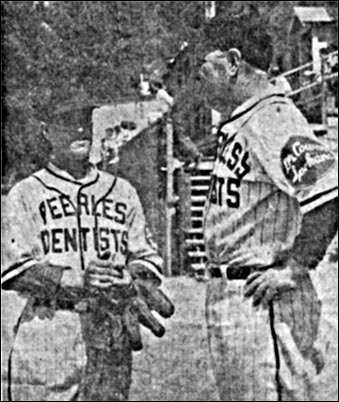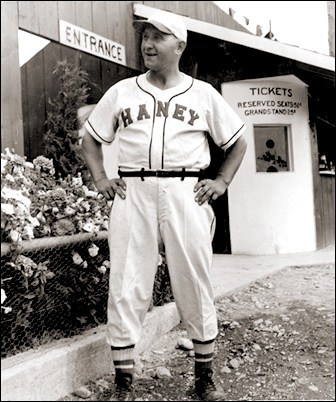 Above left - Nelson Peerless pitcher Les Hufty (left) and coach Gordie Richardson talk strategy in a game against Rossland Cubs. The Cubs won 4-3 with Hufty pitching a complete game.
Above right - Pete Telosky in the 1950s after he had taken a parcel of his own land and built a ball park for Haney. His "Field of Dreams" for the community. Check out the story at the Maple Ridge Archives.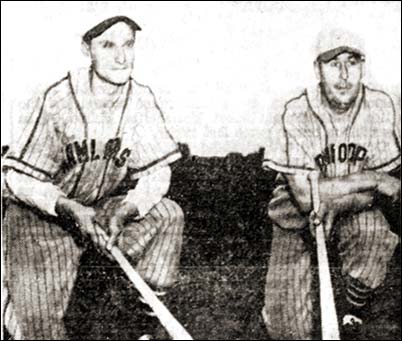 Lining up with the Kamloops Elks at the Lacombe Tournament, pitcher Joe Kanik (left) and first baseman Casey Jones.
(Edmonton Journal, June 15, 1950)
A look at the Nakusp Recreation Grounds, 1950s.[Photo courtesy of the Arrow Lakes Historial Society, 989.041.9]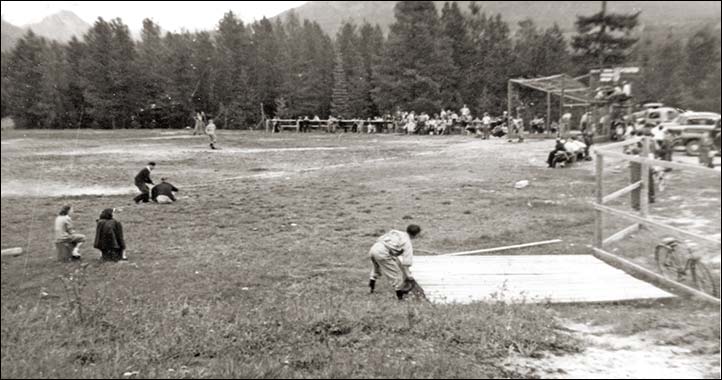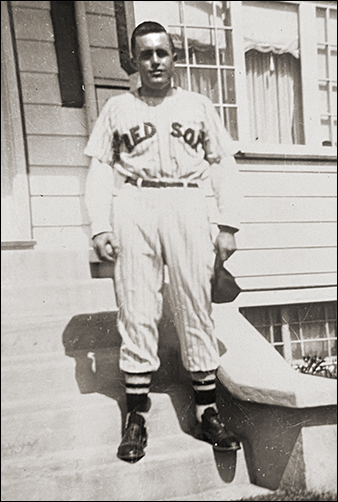 Mike Bakaway, left-handed pitcher with the Kelowna Elks Red Sox in 1949 and 1950, before a stretch in the Dewdney League in the Lower Mainland with Maillardville.
Bakaway appears to have begun his career on the prairies, first with Cudmore, then in southern BC with Trail before joining up with the famous Bentley family and their Delisle team in Saskatchewan.
After Kelowna, Bakaway suited up with Mission for a couple of seasons before a five year stint with Maillardville.