NORTHERN (MANITOBA) LEAGUE :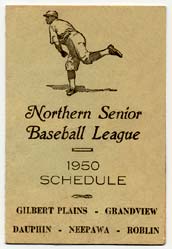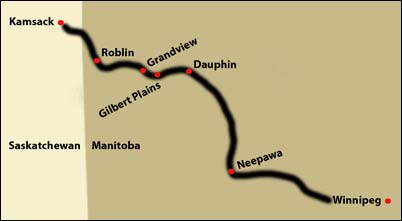 (May 24) Grandview Tournament
(May 25) The Roblin Review carried a note about Grandview's 1950 ball team :
The Grandview Exponent carred a letter last week from the President of the Baseball Club there explaining the action of the club in bringing in imports, and asking the public for some stronger support of the team. Supporters there figure the club can't compete without imports, that the younger players will be encouraged by seeing a good brand of ball and Granview's name won't stand at the tail end of the tournament lists. Executive there is looking forward to an "all Grandview" team in the future, but not the near future.
(May 25) Dauphin whipped Neepawa 8-1 in an exhibition contest at Dauphin Thursday. Johnny Goran held the visitors to three hits while the home team smacked 14 safeties. Eddie Mazur and Alex Robertson led the attack each with three hits. Norris Aitken had a pair. Don Davidson took the loss.
Davidson (L), Bodnar and mcConachy
Goran (W) and Nash
(May 26) In the return game at Neepawa, Dauphin scored a pair in the final inning to shade the home club 2-1. The exhibition game was called after six innings. Wimpy Stephenson started for Dauphin but was forced to retire after being hit on the elbow by a batted ball in the first inning. Norris Aitken took over and went the rest of the way. Eddie Mazur again led the attack with two hits. Jim Wilson allowed just five hits in taking the loss.
Stephenson, Aitkin (W) (1) and Nash
Wilson (L) and McConachy
(June 3) Roblin-Kamsack exhibition
(June 5) Gilbert Plains spoiled the Northern League season opener for the hometown Grandview fans crushing Grandview 22-3 Monday.
(June 6) With a big seven-run 2nd inning, Dauphin coasted to a 13-4 win over Neepawa Tuesday in the Dauphin home opener at D.M.C.C. grounds. Dauphin pounded out 13 hits in the six innings and capitalized on five Neepawa errors. Eddie Mazur and Stan McPhee held the losers to four hits. In his four innings of work, Mazur allowed just two hits and fanned eight. Bob Johnson went the route for Neepawa compiling 10 strikeouts. Ray Nash led the offense with a homer and double. Dauphin's newest import, Fate Simms a pitcher and all-around player from Charlotte, North Carolina, arrived by special plane shortly before game time and went into the game at first base in the 5th inning.
Johnson (L) and McConachy
Mazur (W), McPhee (5) and Nash
(June 7) Wayne "Wimpy" Stephenson fired a two-hitter Wednesday as Dauphin thumped Roblin 14-1 on the Roblin grounds. Dauphin exploded for 19 hits with newcomer Fate Simms leading the way with a four-for-five effort. Lou Bourbonnais, Alex Robertson and Ray Nash each had three hits.
Stephenson (W) and xxx
Chaccon, D.Weitzel, H.Weitzel and xxx
(June 10) In the home opener at Neepawa Saturday, the locals came through with a 10-8 win over Grandview. Down by seven runs after three innings of play, Grandview rallied to pull within a run in the top of the 8th but in the bottom of the inning Jack Bodnar tripled and scored an insurance run for the home club. It was his second three-bagger of the game. Neepawa pounded out 14 hits in the win, five of them triples. Les Douglas belted a homer for Grandview. Don Lawston, a southpaw out of Grand Forks, started for the winners giving way to tall, American, right-hander Bob Johnson in the 8th. Eddie McDonald took the loss.
McDonald (L) and xxx
Lawston (W), Johnson and xxx
(June 12) At Gilbert Plains, the hometown squad downed Dauphin 3-1 Monday behind a four-hitter by import lefty Al Jacousky while the locals punched out 12 hits off southpaw Eddie Mazur. Bill Murray paced the winners rapping a triple, double and single. Hub Macey, another import, playing left field, also had three hits.
Mazur (L) and xxx
Jacousky (W) and xxx
(June 13) Fate Simms and Wimpy Stephenson combined on a two-hitter Tuesday as Dauphin blanked Grandview 9-0. Simms went the first three inniings and Stephenson finished the game. Simms also led the hitters with a triple and single. Bill Hainstock took the loss for Grandview.
Hainstock (L), McDonald (6) and Dame
Simms, Stephenson (3) and Nash
GP W L PCT
Gilbert Plains 2 - 2 - 0 1.000
Dauphin 4 - 3 - 1 .750
Neepawa 2 - 1 - 1 .500
Roblin 1 - 0 - 1 .000
Grandview 3 - 0 - 3 .000
(June 16) Dauphin - Muskogee exhibition.
(June 16) Roblin 5 at Grandview 4
(June 16) Neepawa concentrated its offense in the 2nd inning Friday scoring five times to down Gilbert Plains 5-1 before the largest crowd of the season. Bob Johnson, a right-hander from Minneapolis, threw a three-hitter for the win. He blanked the visitors until the 8th when the Plainsmen registered their only rune. Johnson fanned six and walked a pair.
xxx and xxx
Johnson (W) and xxx
(June 19) Gilbert Plains Tournament
(June 20) Neepawa 9 Grandview 5
(June 20) Dauphin rebounded after giving up three runs in the first inning to shade Roblin 5-4 Tuesday night at Dauphin. Eddie Mazur settled down after a shaky start to hold Roblin to four hits the rest of the way. Roblin had a golden opportunity to tie in the 9th. Down 5-3, Keast, on first with a single and two out, came scampering home on a long triple to right field by second baseman Gove who was thrown out at the plate trying to stretch his three-bagger into a homer. A relay from Stan McPhee in right to Stephenson to Simms to Nash caught Gove at the plate. Again, Fate Simms paced the Dauphin offense with a triple and two singles. Ray Nash and Wimpy Stephenson each had a pair. Dick Weitzel went the distance to take the loss.
D.Weitzel and Pigg
Mazur (W) and Nash
The Dauphin offense features seven .300 hitters. Fate Simms tops the group with a .424 average in league and exhibition games. Eddie Mazur is second at .415.
AB H PCT
Simms 33 14 .424
Mazur 41 17 .415
Bourbonnais 42 16 .381
Stephenson 33 12 .364
Nash 49 17 .347
Boushy 44 15 .341
Aitken 37 12 .324
Robertson 47 12 .255
Boughen 49 12 .245
Smegelski 30 7 .233
McPhee 12 2 .167
(June 21) Binscarth Tournament
(June 22) Dauphin Elks' Tournament
(June 23) Grandview-Kamsack exhibition

(June 23) Dauphin increased its lead atop the Northern League standings with a 7-4 win over Neepawa Friday. A five-run 1st inning by Dauphin proved enough for the victory. Wayne Stephenson scattered seven hits to pick up the win. Keith Myles led Neepawa at the plate with three hits, a homer, triple and double. Dave McConaghy had three doubles.
Stephenson (W) and xxx
Johnson (L) and xxx
(June 24) Dauphin baseball got a new coach and a new name Saturday. A meeting of the team's executive decided to appoint Fate Simms, one of four imports on the team, to take over coaching duties from Matt Slobodian. The executive also voted to provide a name for the club, the Dauphin Red Birds. It is hoped crests can be obtained to place a bird inside the "D" on the team's uniforms.
(June 25) Gilbert Plains-Kamsack exhibition
(June 27) Gilbert Plains took over top spot in the Northern League standings Tuesday in scoring a 5-1 victory over Dauphin Red Birds at the D.M.C.C. grounds. Gilbert Plains newest import, lefty Bill Alexander scattered eight hits in hurling the mound win. He walked one and struck out five. John Stempak got the winners off on the right foot. He reached in the fourth inning on an error and came around to score the first run. In the 6th, he made it 2-0 belting a homer to left field. Gilbert Plains went up 5-0 with three runs in the 7th. Al Jacousky and Bill Murray knocked in runs before the third came home on a passed ball.
Alexander (W) and xxx
Stephenson (L), Mazur (8) and xxx
(June 27) Grandview pounded four Roblin pitchers for 15 hits on the way to an 11-4 victory at Roblin. Eddie McDonald held Roblin to seven hits in taking the mound decision. Savoid belted a two-run homer for the winners in the 4th inning.
McDonald (W) and Dane
D. Weitzel (L), Yakimishyn (5), Cockeril, Dent and Pigg
GP W L PCT
Gilbert Plains 4 - 3 - 1 .750
Dauphin 7 - 5 - 2 .714
Neepawa 5 - 3 - 2 .600
Roblin 4 - 1 - 3 .250
Grandview 6 - 1 - 5 .167
(June 29) Dauphin Red Birds pounded out 13 hits and Grandview made eight errors as the Red Birds picked up an easy 12-3 victory Thursday night. It was Grandview which jumped into an early lead scoring two in the first and another in the third before Fate Simms relieved starter Stan McPhee and blanked the home squad the rest of the way. Eddie McDonald's two run homer in the first put Grandview on the scoreboard and McDonald doubled to score the third run in the third inning. Dauphin put the game out of reach with a five-run outburst in the 6th inning after taking a 5-4 lead with two in the 5th. Simms and Ray Nash each had three hits for the winners while Lou Bourbonnais clouted a three-run homer.
McPhee, Simms (W) (3), Stephenson (7) and Bourbonnais, Simms (7)
Spud Williamson (L), Hainstock (6) and Dame
(June 29) Neepawa delighted the home fans Thursday rapping out 23 hits in walloping Roblin 21-6. Outfielder Ray Rush and first baseman Tommy Inverarity each clouted homers in the rout. Neepawa punched home five runs in the second and five in the seventh in posting its decisive win. Given such strong support right-hander Bob Johnson coasted to the pitching win.
xxx, xxx, xxx and xxx
Johnson (W) and xxx
(July 1) Dauphin Sports Day Tournament
(July 2) Dauphin - Kamsack exhibition
(July 3) Al Jacousky had four hits to lead Gilbert Plains to a 10-6 win over Grandview. Bill Alexander, Doug Morden and Jacousky handled the mound duties for the winners. Eddie McDonald and Bill Hainstock worked for Grandview. Morden and Bill Murray each had three hits for Gilbert Plains.
Alexander, Morden, Jacousky and xxx
McDonald, Hainstock and xxx
(July 4) Import catcher Ray Nash ripped a double to left centre field to score Jack Clark in the bottom of the 9th inning to give Dauphin a 4-3 victory over Neepawa. Clark led off the frame with a two-bagger. Trailing 2-0 in the fourth, Dauphin took advantage of wildness by Neepawa's new import hurler Amos Watson to push across three runs to take the lead. Herb Boughen walked and scored on Lou Bourbonnais' double. Eddie Mazur blasted another two-bagger to knock in the second run and after Wimpy Stephenson reached on an error and Clark drew a base on balls, Watson walked Stan McPhee to force in another marker. Neepawa got that back in the top of the 5th to tie at 3-3 as Bob Johnson hit safely, stole second and scored on a single by Don Lawston. Fate Simms gave up 11 hits but managed to go the route for the win.
Watson (L) and Matton
Simms (W) and Nash
Fate Simms continues to leadf the Red Birds batting parade hitting the ball at a .455 clip nearly a hundred points ahead of Lou Bourbonnais who sits at .361.
Gilbert Plains 4-1
Dauphin 7-2
Neepawa 4-3
Roblin 1-4
Grandview 1-7
(July 5) At Roblin Wednesday, with new manager Jack Scott in place, the home squad dumped Dauphin 7-2 with Dick Vinson firing a seven-hitter for the mound triumph. Buddy Brass of Birch River started for the Red Birds, giving way to Eddie Mazur in the third. Ray Nash, the Dauphin catcher was forced from the game in the third inning when spiked by Carl Dent in a play at home. Mazur led all hitters with a three for three. Keast topped Roblin with a pair of hits.
Brass (L) , Mazur (3) and Nash, Simms (3), Bourbonnais (7)
Vinson (W) and Pigg
(July 5) Virden Tournament
(July 6) Swan River Tournament
(July 7) Doug Morden made an auspicious debut with Gilbert Plains Saturday tossing a two-hitter in a 3-1 win over Roblin. Morden had a no-hitter going into the 8th. Ted Morton led the offense with a double and single in four trips.
Morden (W) and xxx
xxx and xxx
(July 8) At Roblin, the home team topped Grandview 7-4 in a game postponed earlier.
(July 7) Dauphin - Muskogee exhibition
(July 10) Dauphin 4 and Gilbert Plains 4, game to be replayed. (July 12 paper said played recently)
(July 10) Neepawa 2 at Roblin 7
Gilbert Plains 5-1
Dauphin 7-3
Neepawa 4-4
Roblin 4-5
Grandview 1-8
(July 11) Dauphin - Kamsack exhibition
(July 14) Roblin Sports Day Tournament
(July 17) Grandview downed Gilbert Plains 6-5 as Eddie McDonald scored a pair for the winners. Joe Goodman, Dave Ross, Don Lawson and Lou Sabo each tallied a singleton. Bill Murray netted a pair for Gilbert Plains with John Stempack, Stan Plummer and Orville Minish each garnering one run.
(July 18) At Grandview, Neepawa notched an 11-2 victory.
(July 18) Len Pigg punched out four hits to lead Roblin to a 5-3 win over Dauphin Red Birds Tuesday at Dauphin. Dick Weitzel went the distance for the win allowing seven hits. Wimpy Stephenson started strong for the Red Birds retiring the first nine batters but weakened in the 4th. The four-run 4th inning proved to be the difference. Earl Shiner led off with a walk and Keast followed with a single. With one out, Leonard Pigg, Weitzel and Yakymyshn produced successive singles to run up the score.
D.Weitzel (W) and Pigg
Stephenson (L) and Simms
Fate Simms maintained his lead atop the Dauphin batting race with a .437 average in 103 at bats. Lou Bourbonnais remained the runner-up at .371 and Eddie Mazur is third aith a .330 mark.
(July 23? Neepawa won both ends of an exhibition double-header with Gilbert Plains at Clear Lake, 5-4 and 8-2. Gilbert Plains announced the release of pitcher Vic Franczak, who has returned to his home in Milwaukee.
(July 23?) At Clear Lake Sunday, Dauphin and Neepawa each took a game of an exhibition double-header. Red Birds handed Neepawa a 4-0 lead in the opener before posting three-run innings in the 4th and 5th to claim the victory. Neepawa took a 2-0 lead in the first inning as Tommy Inverarity doubled and Cruw and Bodnar followed with singles. In the third, Cruw reached on an error, Bodnar tripled him home and then scored as Myles poked a single. Lou Bourbonnais walked to start the Dauphin rally in the 4th and Fate Simms singled. Both runners advanced on ground out and a run scored on a fielder's choice. Stan McPhee's long double brought in a pair. In the 5th the Red Birds got singles by Eddie Mazur, Herb Boughen, Simms and Ray Nash and were helped by an error to add three more.
McPhee, Stephenson (W) (4) and Simms, Nash (4)
Watson (L) and Mattson
Neepawa's Don Lawston held Dauphin to six hits, retiring 18 straight batters from the 2nd to 7th innings, to help Neepawa to a 6-4 come-from-behind win in the second game. Red Birds jumped ahead with two runs in the first inning, but Neepawa responded with three in the 4th and a pair in the 5th to take the lead for good. The winners rapped 12 hits off losing hurler Fate Simms.
Lawston (W) and Mattson
Simms (L) and Nash
(July 24) Grandview Tournament
(July 24) After starting out the season 1-8, Grandview again turned giant-killer Monday upending second-place Dauphin 4-0 a week after defeating league-leading Gilbert Plains. Lorne Benson, of Winnipeg, fired a four-hitter to blank the Red Birds who protested the game on the basis on Benson not being registered with the league. Benson and Dauphin's Eddie Mazur had a scoreless duel for five innings before the Maroons broke through in the 6th. Don Lawson singled in Eddie McDonald who had reached on a walk and Grandview threatend to break the game wide open by loading the bases with just one out. However Mazur struck out the next batter and Fate Simms made and outstanding catch in short left field to end the inning. The Red Birds came right back in the 7th loading the bases with none out on walks to Steve Boushy and Lou Bourbonnais and Simms' bunt single. But Ray Nash grounded to shortstop Joe Goodman who threw out Boushy at home. Wimpy Stephenson fanned and Alex Robertson's liner to right was speared by second sacker Lawson to end the threat. Grandview got three successive singles by McDonald, Dave Ross and Lawson in the 7th to score their second run and added two more in the 8th on two walks and three stolen bases. Benson fanned eight and walked two in his shutout performance. Mazur allowed seven hits, struck out 11 and walked seven.
Mazur (L), Simms (8) and Nash
Benson (W) and Dame
(July 26) Invitational tournament at Neepawa.
(July 26 to Aug 1) Neepawa 10 Grandview 2, Roblin 4 Gilbert Plains 3, Grandview 7 Gilbert Plains 0.
Gilbert Plains 5-2
Dauphin 7-5
Neepawa 5-4
Roblin 5-5
Grandview 3-9
(July 28) Gilbert Plains took a 7-0 lead Friday and coasted to a 7-4 win over Dauphin in spite of being out-hit 11-3. Dauphin's shaky defense played large in the outcome. The home club scored all their runs in the first four innings on three hits, five errors, four walks and a hit batsman. Orville Minish went the distance for the win striking out just three and walking one. Wimpy Stephenson pitched no-hit ball in his 4 1/3 relief stint. Ed Mazur led the Red Birds with three hits, Stephenson had a triple and single while Ray Nash cracked out two doubles. Johnny Stempak's triple was one of the three hits for the winners. The game was an off-schedule affair the result of a successful Dauphin protest of a tie game played at Gilbert Plains last week.
Mazur (L), Stephenson (4) and Nash, Bournbonnais (3)
O.Minish (W) and Stempack
(July 29) Dauphin travelled to Neepawa Saturday and fell to the home team 8-7 losing an opportunity for a tie in the final inning as playing manager Fate Simms was thrown out trying to steal home to end the game.. Don Lawston needed help from Amos Watson in the last inning to nail down the win. Stan McPhee allowed eight hits in taking the loss.
McPhee (L) and Simms
Lawston, Watson (7) and Mattson
(July 29) Grandview won its third straight over Gilbert Plains, 7-5, in a exhibition match Saturday. Southpaw Eddie McDonald notched his third win over Gilbert Plains this season. He allowed seven hits.
(July 30) Roblin took both ends of an exhibition double-header in Flin Flon Sunday.
Means (W) and Pigg
xxx and xxx
Weitzel (W) and Pigg
xxx and xxx
(July 30) Gilbert Plains exhibition vs Flin Flon & The Pas
(July 30) Roblin at Flin Flon (2)
(August 1) Dauphin clinched a playoff berth Wednesday defeating Grandview 3-0 at Dauphin. All the runs were unearned. Eddie Mazur fashioned a two-hit shutout, whiffing 11 and walking three. Lou Bourbonnais, out of St. Boniface, came up with another fine performance at shortstop and highlighted a third inning rally by driving in two runs with a smashing triple. Howie Coffee toiled for Grandview and except for an error on Ray Nash's double play ball in the 3rd, pitched shutout ball.
Coffee (L) and Dame
Mazur (W) and Simms
Neepawa 7-4
Gilbert Plains 6-4
Roblin 6-5
Dauphin 8-7
Grandview 4-11
(August 1) Gilbert Plains-Ligon's exhibition
(Aug 2) Roblin tournament.
(August 2) Dauphin-Ligon's exhibition
(August 2) Yorkton tournament
(Aug 3) August 3) I.O.O.F. Lodge tournament, Grandview
(August 3) Dauphin-Ligon's exhibition
(August 6) Dauphin - Kamsack exhibition
(August 7) Grandview Tournament
(Aug 8) Dauphin Redbirds moved into sole possession of second place downing Gilbert Plains 6-2 in a Northern League game at Dauphin. The Plainsmen took the early lead with a run in the 2nd inning on a pair of errors. They added another in the 3rd on singles by Frank Macey and Plummer. Redbirds scored four runs in the 3rd frame when Ed MacDonald, on loan from Grandview, walked a pair before two costly errors and a long single by Lou Bourbonnais. Two more runs scored in the 5th on long flies by Ernie Bouchy and Bourbonnais after Tom Harris singled and Ray Nash was hit by a pitch. Fate Simms, who ended the 3rd inning rally by grounding out, was the final out in the 5th as he tried to stretch a triple into a home run. Simms gave up seven hits in going the distance on the hill for the winners. He fanned eight and walked two.
MacDonald, Alexander (4) and Stempak
Simms (W) and Nash
Neepawa 7-4
Dauphin 9-7
Gilbert Plains 6-5
Roblin 6-5
Grandview 4-11
(August 10) Gilbert Plains Tournament
(August 11) At Dauphin Friday night, the Red Birds rode the arm and bat of Eddie Mazur to blank Neepawa 2-0 in the first of a weekend home and home exhibition series. The lefthander fired a five-hitter for the shutout and led the offense with a home run and single in three times at bat. Dauphin's first run came in the first inning as Ray Nash, who had tripled, scored on a single by Lou Bourbonnais. Jim Wilson was a hard-luck loser giving up just seven hits.
Wilson (L) and Mattson
Mazur (W) and Simms
(August 12) In the Saturday contest at Neepawa, Red Birds fell behind 4-0 after two innings then came roaring back to down the home side 6-5. In the second inning, a hit, a walk and an error filled the sacks for Neepawa and, with two out, Merv Rush slugged a grand-slam homer. In the third frame, Dauphin rebounded with three runs on singles by Ray Nash, Lou Bourbonnais and Wimpy Stephenson, a triple by Ernie Boushy and three Neepawa errors. Red Birds went ahead 5-4 in the 4th, but the home team tied it with a run in their half of the 4th to set the stage for Wimpy Stephenson's winning run in the 5th on a walk, steal, error and sacrifice fly. Boushy was the leading hitter with a triple and double.
Bourbonnais (W) and Harris
Johnson (L) and Mattson
Eddie Mazur and Wimpy Stephenson each have eleven wins to lead the Dauphin hurlers. Mazur has an 11-4 record while Stephenson is at 11-5. Fate Simms has 9 wins in 12 decisions.
(August 13) Ed Mazur put on an all-around show as Dauphin shaded Neepawa 2-0 in the Red Birds' last game of the Northern League schedule. Besides his brilliant fielding, the Winnipeg product fashioned a five-hit shutout and smacked a homer in the last of the fifth for an insurance run. Red Birds got their first run in the first inning as Ray Nash tripled and scored.
xxx and xxx
Mazur (W) and xxx
(August 14) League-leading Neepawa trounced Roblin 12-5 Monday in a Northern League contest. The game was called after five innings because of darkness. A meeting of the team's executive is to be held Tuesday to decide if the club will continue in the playoffs or disband for the season. Lefty Don Lawston pitched five-hit ball for the winners. Dick Weitzel allowed 11 in his four innings of work for Roblin. Carl Dent, who came to Roblin after playing with Brandon, pitched the final frame. Ray Rush the Neepawa centre fielder led the hitters with three hits.
Lawston (W) and xxx
D.Weitzel (L), Dent (5) and xxx
Neepawa 8-5 .615
Dauphin 10-7 .588
Gilbert Plains 6-5 .545
Roblin 6-6 .500
Grandview 4-11 .267
(August 16) Dauphin - Kamsack exhibition
(August 17) Dauphin Tournament
(August 20) Dauphin whipped Neepawa 10-3 in a five-inning exhibition game at Sportsman's Park at Clear Lake Sunday afternoon. The game was rained out after five innings and a scheduled second game was postponed. Alex Robertson handled the mound duties for the Red Birds and gave up just two hits. Neepawa's entire offense came in the first inning when Robertson hit a batter and walked another and Myles and Ralph Mattson connected for the two Neepawa hits to account for the three runs. Three hits, an error, a walk and a hit batsman added up to five Red Birds' runs in the second and Dauphin was never threatened. Fate Simms had two hits for the winners and Wimpy Stephenson added a triple.
Robertson (W) and Harris
Baker, Bodnar and Mattson
(August 23) Dauphin and Neepawa broke even in an exhibition twin-bill at Neepawa Wednesday afternoon. Red Birds took the first game 11-2 while the home squad evened matters with a 7-5 win in the second game.
(August 27) Dauphin - Melita exhibition
(August 27) The Northern League playoffs have been cancelled due to inclement weather and high operating expenses. The Dauphin Red Birds are the only team to have retained their full seasonal lineup.
(August 29-30-31) Dauphin - Indian Head exhbitions
---
(Saturday) Bowsman Seniors battled to a 12-12 tie with the touring Muskogee Cardinals before a record crowd of more than one-thousand.
(Wednesday) Bowsman played host to the Notre Dame Hounds playing to a tie in the afternoon and taking a 12-5 decision in the evening.