Moose Jaw Manager Mike Mellis (2nd from the left) discusses strategy with Curly Boyce (left), Barry Wolstencroft (2nd from the right) and pitcher Lambert "Lefty" Lauer (right).

(The Leader Post, August 16, 1950)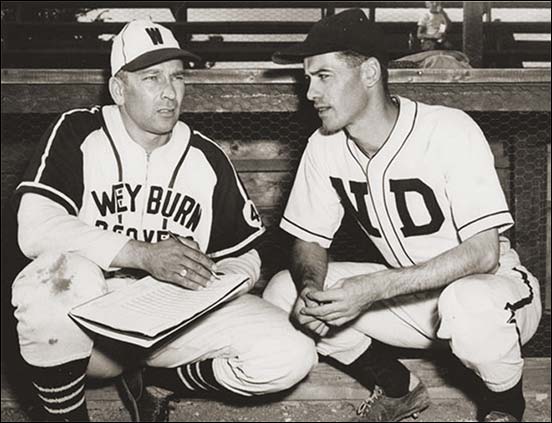 Les Wilder (left) of Weyburn Beavers and Frank Germann (right) of the Notre Dame Hounds, discuss strategy as co-managers of the Southern League All-Stars.
All-Stars lost a 7-1 decision to the defending champion Moose Jaw Canucks.

(The Leader-Post, August 16, 1950)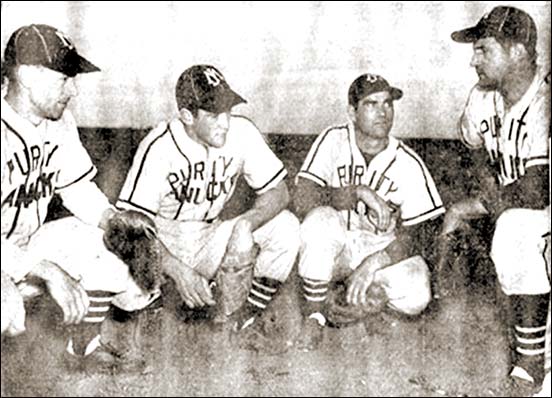 Three of the Moose Jaw Purity Canuck stars with manager Mike Mellis (right).
Left to right - catcher Stubby Martin, infielder
Barry Wolstencroft and pitcher-outfielder Albert (Lefty) Erfle.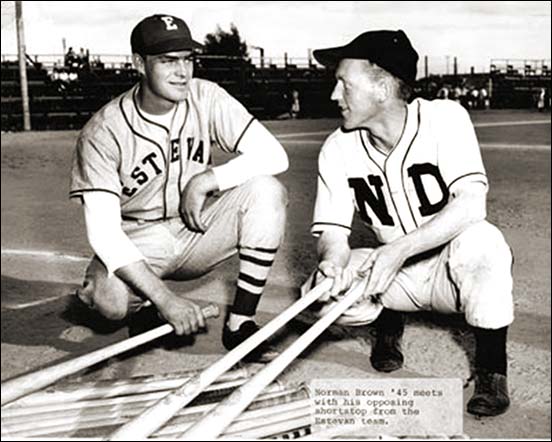 A pair of All-Stars. Mel Torgenrud (left) of Estevan Maple Leafs and Norman Brown (right) of the Notre Dame Hounds.
When the photo was taken, Torgenrud and Brown were teammates on a Southern League All-Star squad. A week later they were opponents as the teams met in the playoffs.
(The Leader-Post)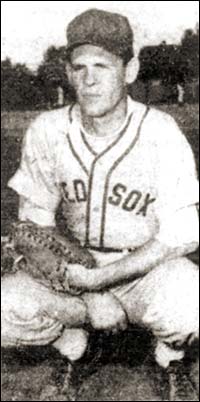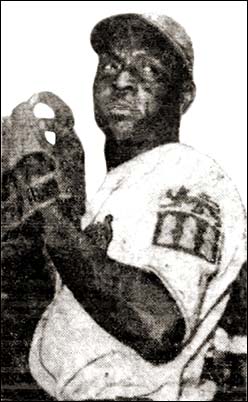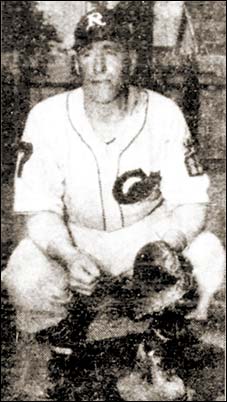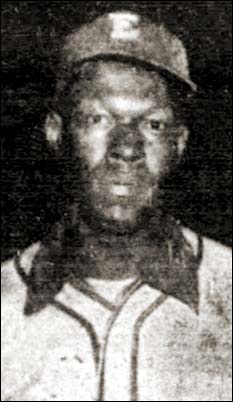 Above - catcher Don Kielman of the
Regina Red Sox, right-hand pitcher
Harold Allan of the Regina Caps,
and catcher Walter "Gus" Kyle also
of the Regina Caps
Left - import Coney Williams, who
began the season with a barnstorming
team, joined a host of newcomers on
the Estevan Maple Leafs.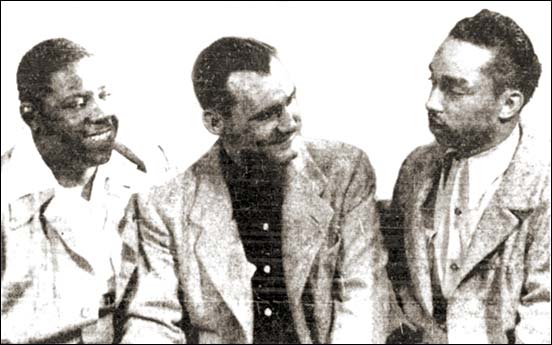 Playing coach Grant Warwick (centre) greets new import hurler Joe Searcie (right) while big Claude "Shuffle" Williams, the jovial first sacker looks on. Searcie is a right-hander.
The Leader-Post, June 10, 1950
Discussing strategy - Elmer Ekdahl (C), Walter "Butch" Buttgereit (P/OF), Nick Metz (IF/mgr) of the 1950 Wilcox Cardinals (The Leader-Post, May 25, 1950)
Below - the Weyburn Beavers of the early 1950s (perhaps the 1951 squad which finished atop the Southern standings).
A big thank you to Carole Miller (daughter of Keith Covert) for digging out the photos and to Carole's son Trevor for scanning and sending them along.
The photos were taken in Weyburn with the big grandstand in the background. It was torn down a few years ago and replaced with a metal version. Trevor reports that, when they demolished the structure, they found a bunch of vintage rifle barrels in the concrete. The original had been built in the early 1900s. The players are standing in what is now Tom Laing Park, where the Beavers continue to play.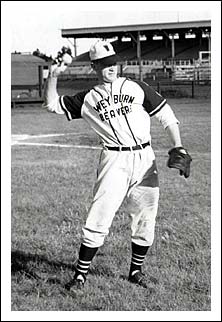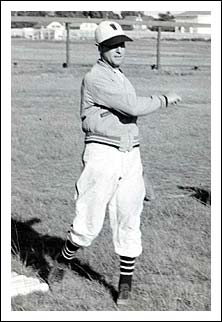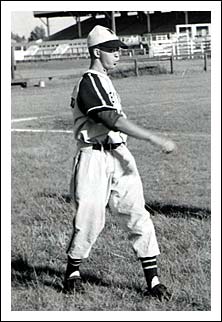 Left to right - Jim Burge 1B/OF, Keith Covert RHP/C, Baldy Garner 2B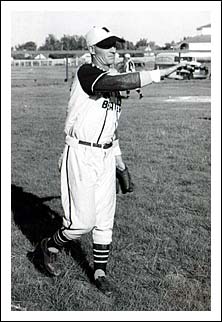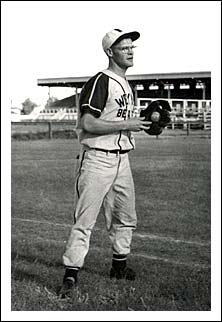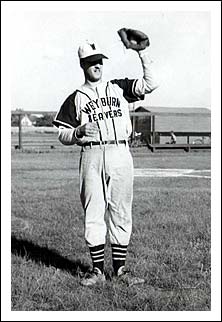 Left to right - Ralph Hogg RHP, George Knox OF/P, Blaine Shupe SS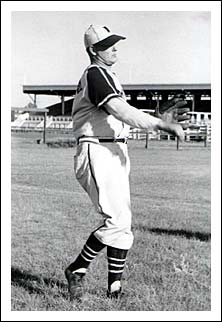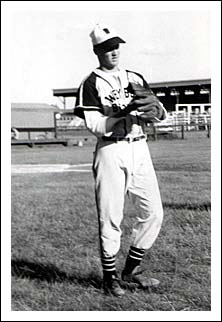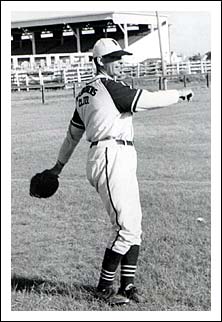 Left to right - Gaylen Shupe P/INF, Jack Shupe 2B, Les Wilder 1B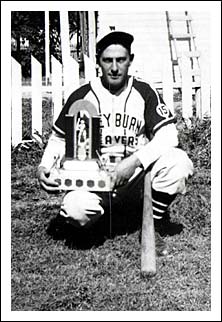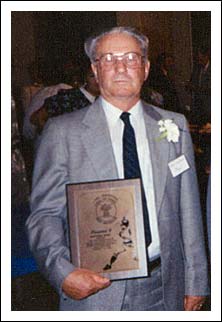 Keith Covert with MVP Trophy in 1953. Covert in 1988 at his induction into the Saskatchewan Baseball Hall of Fame.

Saskatchewan Snapshots Page One >>>