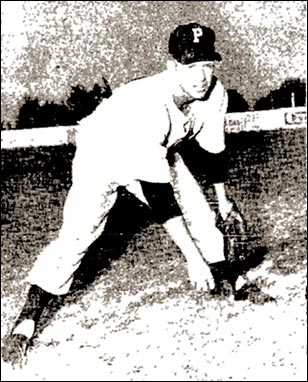 Joe "Doad" Tufeland, the celebrated Lethbridge hurler who made a mark in the lower levels of the Brooklyn Dodgers' farm system, is to rejoin the Lethbridge Miners for the local tournament in July.

The right-hander excelled in his pro debut compiling an 18-2 record for Ponca City in Class D ball in 1948. He followed with a 12-4 mark in "C" ball in 1949 and 9-3 record with Danville in "B" Level ball in 1950 before winning a promotion to Pueblo in the A-Level Western League in 1951. He asked, however, to be placed on the voluntary retirement list, to take advantage of a business opportunity in Great Falls, Montana, where he hoped to make his home.
Tufteland is the son of the late Joe Tufteland, one of Alberta's foremost baseball stars.
For a full story on the Alberta hurler, check out Brian Morrison's entertaining piece on Doad at his Diamonds In The Dusk.
Below left - Bill Gadsby, National Hockey League star and diamond star of the Caglary Buffaloes, Edmonton Oilers and Delisle Gems. Right Dick Noon, a key player for the Purity 99s in 1951, led the league in hits.