Gull Lake (May 24) Swift Current Outlaws captured top money of $400 at the Gull Lake sports day. Outlaws downed the host club, Gull Lake, 11-6 to reach the final. Shaunavon topped Medicine Hat 10-1. Swift Current took the title with a 7-5 win behind the pitching of Kjarsgaard.
---
(May 24) Claresholm sluggers had a field day pounding out 33 hits, including seven home runs and ten doubles to capture top prize in the May 24th Tournament. With strong winds whipping up clouds of dust, Stavely defeated Blackie 15-11 and Claresholm shaded Parkland 15-14 in opening action before Claresholm walked away with a 19-7 triumph in the championship game.
Jay Jenkins and second baseman Brown each had six hits on the day. Swirling winds produced a host of miscues in the Stavely-Blackie match.
Claresholm came from behind to top Parkland. Down by eight runs in the 6th inning, Meteors scored five times with Boyd Whitehead's homer the highlight. Claresholm won it in the 7th with another four runs, the winner scoring on Dutch Dodd's single to short.
W MacDonald (W) and xxx
Scott (L) and xxx
In the final, Lefty Huddle and Boyd Whitehead each poked a pair of homers as Claresholm scored seven in the first inning and cruised to a 19-4 victory. Bob Yorgason and Allie MacDonald had four-baggers for Stavely.
Scott (L), Bob Yorgason (1), Fred McInnes, Allie MacDonald and xxx
Jenkins (W) and xxx
---
Swift Current : (May 30) Sceptre Nixons walked off with the $1,000 top prize in the Swift Current tournament beating the host club 9-3 in the final. Cliff Jacobson held the Indians to eight hits in gaining the victory. Sceptre got ten hits off Wimpy Stephenson and Alex Palica. A four-run 7th inning proved decisive. A triple by Hal Price and double by Pedro Osorio were key blows in the inning.
Swift Current 3 Sceptre 9
Stephenson (L), Palica (7) and Mowbray
Jacobson (W) and Monroe
Sceptre made the final defeating Regina Caps 6-3 behind the mound work of Hal Price. Harry Monroe tripled in the 2nd to score a pair for the winners. Frank Joyner was the loser.
Price (W) and xxx
Joyner (L), Vogt and xxx
Swift Current advanced with a 4-3, 10 inning victory over Moose Jaw. Del St. John knocked in the winner after Jim Ryan had doubled and Ken Hobbs singled. Vern Callihan held Moose Jaw to six hits in gaining the win. Indians had eleven hits off Art Worth.
Callihan (W) and xxx
Worth (L) and xxx
Moose Jaw took third place money with a 13-8 win over Regina. Gerry Brock and Murray O'Flynn each scored three times for the winners. Al (Lefty) Erfle gave up thirteen hits but went the distance for the mound win. Seven errors by the Caps were instrumental in the loss.
Erfle (W) and xxx
Coons, Merritt and xxx
In opening action, Harry Monroe, recently released by Swift Current, blasted a grand slam homer to lead Sceptre past Indian Head 6-2. Chet Brewer was the winner on a six-hitter. He fanned ten. Peanuts Davis allowed just five hits in taking the loss. Bob Prescott knocked in two runs with a first inning triple for Sceptre.
Brewer (W) and Monroe
Davis (L) and xxx
Swift Current downed Shaunavon 12-3 behind Johnny Mulholland's five-hitter. Ken Hobbs, Johnson, Bill Clovinski and Jack Mowbray each had two hits. Hobbs and Ken Nelson belted triples.
Mulholland (W) and Mowbray
Ohlheiser (L) and Jensen
Moose Jaw beat Eston Ramblers 6-2 behind Murray O'Flynn's seven-hitter. Jackie McLeod had a hit and two walks for the winners. Andy Porter took the loss.
O'Flynn (W) and Harford
Porter (L) and Serpa
A three-run first inning helped Regina to an 8-6 victory over Estevan Maple Leafs.
Chadwick (W) and Turner
Torgenrud (L), Goodwill and xxx

---
Eston : (May 31-June1)
---
Exhibition :
(June 1) Edmonton Oilers registered their seventh straight win, 14-5 in exhibition action at Edmonton. Jerry Seaman got credit for the win although he needed help from Lefty Belter in the 5th when the Kamloops Elks scored four times. Bill Gadsby was the big gun for the Oilers driving in four runs. His bases-loaded double in the fourth inning keyed a seven-run outburst by Edmonton.
McQuarrie, Gatien (4) and Stewart
Seaman (W), Belter (5) and Kortgard
(June 4) Sceptre halted the Edmonton Oilers winning streak trouncing the Oilers 11-2 with a 14-hit attack. It was the first loss for the Oilers after nine wins to start the season. Cliff Jacobson went the route on an eight-hitter for the win. Three of the safeties went to shortstop Len Karlson. Hal Forss took the loss.
Jacobson (W) and xxx
Forss (L), Thorseth (6) and xxx
(June 10) Indian Head Rockets topped the Edmonton Oilers 7-4 before 5,000 fans at Edmonton.
---
Lloydminster : (June 6) Steve Wylie pitched North Battleford to first place in the annual Lloydminster tournament with an 11-1 win over Morinville. Wylie limited the Alberta club to six hits and had a shutout going into the ninth inning. Beavers took home top prize of $2,000. More than 5-thousand fans watched the final game in spite of near freezing temperatures and light rain.
North Battleford reached the final with a 9-6 win over Medicine Hat. Morinville edged Kamloops 12-10 in their semi-final game.
Morinville 1 North Battleford 11
Devine, Drenniers (7) and Carlson
Wylie and Green
Kamloops 10 Morinville 12
Wilbourn, Gatien (6) and Garay
Morris, Wilson (3), Tripp (7) and Bokenfohr.
Medicine Hat 6 North Battleford 9
Bates, Stavrianoudakis (5) and Bechelli
Wylie, Swota (2) and Green.
In opening action, 18-year-old Dane Tripp pitched a three-hitter as Morinville upset Sceptre 4-2. Kamloops Elks beat the heavily favoured Edmonton Oilers 4-2, North Battleford topped Eston 4-2 and the California Mohawks scored six in the first inning and held on to beat Delisle Gems 13-10. Gems had won the tournament in 1949 and 1950.
Kamloops broke a 2-2 deadlock with a pair of runs in the 8th to down Edmonton Oilers. They collected ten hits off pitchers John Carpenter and Lefty Belter. Carpenter took the loss. Len Gatie allowed just four hits, including a homer by Oiler catcher Ross Kortgard. Horace Latham had a homer for the Elks.
Kamloops 4 Edmonton 2
Gatie and Garry
Carpenter, Belter (8) and Warwick, Kortgard (2)
Sceptre 2 Morinville 4
Jacobson, Brewer (6) and Grant, Powell (6)
Tripp and Bakenjohr
North Battleford 4 Eston 2
Richardson and Green
McKinnon, Porter (7) and Serpa
California 13 Delisle 10
Jarvis, Stavrianoudakis (7) and Bechelli
Fowlkes, Severyn (1), Brown (5), Courtoreille (9) and Reg Bentley, Shirley (6)
---
Lacombe : (June 10) Medicine Hat / California Mohawks trounced Morinville 11-1 to win top prize money at the second annual Lacombe tournament.
"Stan Jarvis was the hero of Saturday's final as he pitched Mohawks to first prize money of $1,400. The chubby southpaw hurled four-hit ball against the powerful Morinville sluggers." (Lacombe Globe, June 14, 1951)
Medicine Hat 11 Morinville 1
Jarvis and Bechelli
Dutch Lakeman, Mac MacDonald and Garay
Mohawks reached the final with a 12-3 victory over the Central Alberta All-Stars.
Bates and Bechelli
Morris, Peterson (3), Martin (6) and Kruger
Morinville scored four runs in the bottom of the 8th to win its semi-final, 10-8 over Swift Current.
Callihan, McManus (8) and McNabb, Thederan (7)
Brennies, Tripp (5) and Garay
In first round action, the All-Stars edged the heavily favoured Sceptre Indians 4-3 as Ralph Vold picked up the win with 8 1/3 effective innings. Charlie Morris came on in relief in the ninth and stifled a Sceptre threat. Chet Brewer took the loss.
Vold, Morris (9) and Kruger
Brewer and Powell
Swift Current trounced the club from Standard, Alberta 16-2, Morinville upset the Edmonton Oilers 7-6, and Medicine Hat erupted for five, first-inning runs and held on to shade the Indian Head Rockets 6-5.
Mohawks 6 Indian Head 5
Garcia, Jarvis (7) and Bechelli
Davis, Morrow (1) and Barnhill, Ford ( )
Swift Current 17 Standard 2
Mulholland and McNabb
Sear, A Uffleman (4), Neilson ( ) and Charlton
Morinville 7 Edmonton 6
Tripp and Garay
Lowe, Belter (6) and Warwick, Kortgard ( )
---
Nipawin : (June 13) Lefty Arnold tossed a six-hit shutout as Saskatoon 55s whipped Kamsack 12-0 to cop the $1,000 top prize in the Third Annual Nipawin Tournament. Outfielder Bob Garcia, who drove in four runs in the semi-final game, had another pair in the final. Norm Brown had two hits and three walks to pace the 55s. Arnold helped his cause with two safeties.
Arnold (W) and xxx
McGowan (L) and xxx
Ken Bird held North Battleford to five hits and held on as Prince Albert shaded the Beavers 5-4 to take the consolation final. Prince Albert was filling in for the Ligon All-Stars who were unable to make it to the tourney. The Bohemians broke loose for four runs in the 4th inning on three hits, a hit batter and error.
Bird (W) and xxx
Wylie (L) , Dodds (4) and xxx
Kamsack Cyclones scored three runs in the 1st inning and four in the 2nd to defeat Prince Albert 7-3 to advance to the final. Four Prince Albert errors were crucial in the Cyclone's outburst.
Valentine (W) and
Holdaway (L) and xxx
Saskatoon advanced to the final with an 8-3 win over North Battleford Beavers. Murray Coben picked up the win with relief help from Charlie Beene in the ninth. 55s belted Steve Wylie for five hits and collected three walks in the first two frames to count eight runs before Murray Richardson took over and blanked Saskatoon for the rest of the game. Bob Herron's triple was a feature for the game for the 55s as he failed to touch first base and was called out after his gallop around the diamond.
Coben (W), Beene (9) and xxx
Wylie (L), Richardson (2) and xxx
---
Camrose : (June 13) Swift Current Indians knocked off the defending champion Sceptre Panthers 6-4 in the final to win the 2nd Annual $4,400 Camrose baseball tournament before a crowd of 6,000. The Indians took home the $1,800 first prize in the $4,400 tourney. Hal Price, a hero in Sceptre's 1950 victory, was driven from the hill in the third inning and replaced by Cliff Jacobson.
In the semi-finals, Swift Current shutout Edmonton Oilers 5-0 as Johnny Mulholland, a 20-year-old Montreal college student, limited the Oilers to six hits. Sceptre whipped the Trail Smoke Eaters 11-5 in spite of being out-hit 11-10 and making a stunning 11 errors. Chet Brewer went the distance for the win. Reg Clarkson belted a two-run homer for the winners, his third of the two-day tournament.
Sceptre 4 Swift Current 6
Price, Jacobson (3) and Hamilton
Maren, McManus (8) and McNabb.
Trail 5 Sceptre 11
Jenkinson, Lavorato (5), Boisevert (7) and Spees
Brewer and Hamilton.
Edmonton 0 Swift Current 5
Belter, Forss (5) and Warwick
Mulholland and McNabb.
In opening games, Edmonton defeated Morinville 13-6, Swift Current 2 Indian Head 0, Trail beat the Central Alberta All-Stars 5-3, and Sceptre topped Medicine Hat 8-6.
Chet Brewer's relief pitching was key to Sceptre's win over the Mohawks. He took over in the sixth inning from Cliff Jacobson and mowed down the last eleven Medicine Hat batters. Reg Clarkson drove in four runs with a pair of homers.
Alex Palica (brother of Brooklyn Dodger pitcher Erv Palica) tossed the shutout for Swift Current. Palica and Jim Morrow had hooked up in a brilliant pitching duel. Bob Hobbs belted a two-run homer for the victory.
---
Moose Jaw : (June 14) Regina Caps came back from an early three-run deficit to shade Estevan 8-7 for first prize money in the Moose Jaw tournament. Eli (Skip) Merritt was key, both on the hill and at the plate, for the Caps. He came on in relief in the second inning, and belted a two-run homer in the fifth.
Delisle Gems won the consolation final, 7-3 over Moose Jaw. Lefty Neil Courtoreille went all the way on the hill for the Gems holding the Canucks to seven hits. Bert Forbes had a triple and a single for the winners.
Estevan 7 Regina 8
Green, Bryant (4) and Landrum
Chadwick, Merritt (2) and Kyle
Delisle 7 Moose Jaw 3
Courtoreille Neil LHP and R. Bentley, Shirley (9)
Erfle and Harford
In opening games, Regina walloped Moose Jaw 20-7 and Estevan squeezed out a 4-2 win over Delisle. Second baseman Roland Miles sparked the Caps with four hits, including a grand slam homer. Lefty Allen Bryant went the distance to beat the Gems. Andy Porter took the loss.
Regina 20 Moose Jaw 7
Woolley, Vogt (8) and Turner, Kyle (8)
O'Flynn, Worth (3), McLeod (4) and Harford
Estevan 4 Delisle 2
Bryant and Landrum
Porter and Shirley
---
Kenaston : (June 16 ) Roy Taylor's Saskatoon 55s won their third straight tournament with an 11-inning11-8 win over North Battleford in the final of the Kenaston tourney.
Beavers blew a four-run lead in the top of the ninth when the 55s broke through to tie on a triple by Jules Swick. In the 11th, singles by Roy Taylor and Bob Garcia, followed by Sherman Watrous' double and Ray Hamilton's single resulted in three markers for Saskatoon. Murray Coben shutdown the Beavers in the bottom of the inning for the win.
55s made the final with an 8-7 win over Delisle as Lorne Rumball picked up the win in relief of Charlie Beene. Bob Garcia blasted a three-run homer for the 55s and Max Bentley had a pair of doubles for the Gems. North Battleford dumped Colonsay 9-3 behind the pitching of Doug Dodd. Watrous had seven hits in eleven trips to the plate in the two games.
---
Lafleche : (June 18) Walter (Butch) Buttgereit slammed a three-run homer in the seventh inning to carry Regina to a 6-3 win over Estevan in the final of the Lafleche baseball tournament. John McDaniels also homered for the Caps. Carl Coons went the distance on the hill for Regina as did Jack Bruton for the Maple Leafs. It was Coons second complete game victory in three days. He beat Eston 5-1 on Saturday.
Coons (W) and Kyle
Bruton (L) and Landrum
Regina 6 Estevan 3
Coons and Kyle
Bruton and Landrum
In the opening game of the tourney, Estevan beat Moose Jaw 8-5.
---
Medicine Hat : (June 18) Sceptre Panthers won first prize money of $1,000 in the Medicine Hat tournament defeating the Indian Head Rockets 4-1 in the final.
Hal Price gave up just six hits and an unearned run in taking the victory over mound opponent Jesse Blackman. Pedro Osorio had a homer for the Panthers.
Indian Head 1 Sceptre 4
Blackman and Cameron
Price and Garay
In the consolation final, Medicine Hat Mohawks, behind the pitching of Cliff Allmon, trounced Lethbridge Cubs 14-3.
(June 16) Indian Head scored six runs in the 1st inning and coasted to an 18-1 win over Lethbridge Cubs who committed ten errors. Toribio Leal, the little Cuban, pitched a six-hitter and struck out 16 in racking up the win. He had a shutout until the 7th inning when Bill Dea scored an unearned run.
Sceptre Panthers notched four markers in the bottom of the first and held on to down Medicine Hat 6-3. Cliff Jacobson held the Mohawks to nine hits in gaining the win.
Rockets 18 Cubs 1
Leal and Cameron, Ford (5), Barnhill (8)
Granberg, Godlenton (7) and Dea, Yanosik (8)
Mohawks 3 Sceptre 6
Watkins and Noce
Jacobson and Garay
Officials selected a tournament all-star team.
Catcher -- John Noce, Medicine Hat
First base -- Tom Alston, Indian Head
Second base -- Willie Reed, Medicine Hat
Third base -- Charlie Robinson, Indian Head
Shortstop -- Clemente Varona, Indian Head
Left field -- Al Endriss, Medicine Hat
Centre field -- Gene Jacobs, Medicine Hat
Right field -- Les Witherspoon, Indian Head
Pitcher -- Hal Price, Sceptre
Second team battery -- Jesse Blackman, Indian Head and Ed Garay, Sceptre
---
North Battleford : (June 21) Saskatoon 55s won their fourth consecutive tournament with a thrilling 4-3 win over the Beavers in the final of the North Battleford tourney. 55s picked up $1,000 for the win. 55s had won earlier events in Saskatoon, Nipawin and Kenaston.
The big blow for the 55s was a bases-clearing double by Normie Brown in the sixth inning. Brown then scored on Roy Taylor's single. The four-run inning erased a 2-0 North Battleford lead. Beavers made it a one-run game in the seventh when Pete Prediger singled in Matt Meredith.
Herron, Coben (1), Arnold (7) and Watrous
Wylie, L Dean (8) and Green
Saskatoon advanced to the final with a 2-0, 10-inning win over Colonsay in a brilliant pitchers' duel. Monarchs' Johnny Folk lost while pitching a two-hitter. Lefty Lauer of the 55s allowed just three hits. Bob Herron drove in the only runs with a triple in the top of the tenth.
Lauer and Watrous
Folk and Rosher
North Battleford defeated Eston 6-2 on a four-hitter by Murray Richardson to reach the final series. Shortstop Joe Paronne clouted a grand slam homer for the Beavers.
McKinnon, McNeil (8) and Hucul
Richardson and Green
In the opening round, 55s trounced Delisle 12-2 as 17-year-old Jack Hannah tossed a four-hitter and had one of three homers for Saskatoon. Roy Taylor and Sherman Watrous also had circuit blows.
Courtoreille, Fowlkes (2), Max Bentley (8) and Shirley
Hannah and Watrous
North Battleford whipped the Triangle All-Stars 13-2 as Roy Dean and Pete Polus each knocked in four runs.
Jimmy Linnell, Stynsky (8) and Strautman
Polus and Green
Colonsay scored two in the ninth to beat Kindersley 5-4. A double by Tony Nunes plated Lou Pisani with the tying run and a wild pitch allowed Nunes to score the winner. Len Breckner, who started on the mound for the Monarchs, had four hits.
Breckner, Coffin (3) and Rosher
Kimbel and Mills
Eston had 12 hits and took advantage of 9 Sceptre errors to score a 6-5 win. Fred Hucul of the Ramblers and Ed Garay and Cliff Jacobson of Sceptre had homers.
Porter and Hucul
Brewer, Jacobson (8) and Garay
---
Prince Albert : (June 24) Indian Head Rockets won the $1,500 top prize in the Kinsmen second annual tournament in Prince Albert with a 9-5 win over North Battleford. Veteran Chet Brewer, who started the season with Sceptre, came on in relief with the bases loaded in the ninth to snuff out a Beaver threat. With two out, Brewer struck out Les Dean on four pitches.
Indian Head 9 North Battleford 5
Blackman, Davis (3), Brewer (9) and Barnhill
Richardson, Wylie (9) and Green
Sceptre 10 Indian Head 13
Jacobson, Olmstead (3), Jarvis (5) and Garry
Leal, Berry (3), Brewer (5) and Barnhill
Medicine Hat 1 North Battleford 5
Reader, Garcia (3) and Noce
Swota and Green.
Indian Head 10 Saskatoon 9
Blackman, Morrow (7) and Cameron
Arnold, Herron (8) and Watrous
Sceptre 10 Eston 5
Price and Garry
Courtoreille, H Stevenson (9) and Shirley
Ligon 3 Medicine Hat 8
Kelly, Brazzel (9) and Scott
Watkins and Noce
North Battleford 11 Prince Albert 1
Dodd, L Dean (4) and Green
Logue, Booker (3) and Wilson
---
Biggar (June 27) Rain washed out the semi-finals and final of the $2,500 Biggar tournament.
Saskatoon 55s, Eston Ramblers, Delisle Gems and Ligon All-Stars had advanced after the first round.
The feature of the opening day was a two-hitter by Saskatoon's Jack Hannah as the 55s upset the powerful Sceptre club 5-1. The 55s backed up the 17-year-old's mound effort with eight hits off Cliff Jacobson including six doubles -- two each by Bob Garcia and Sherman Watrous. Eston squeaked out a 3-2, 11-inning, win over North Battleford as playing-manager Jimmy Shields singled, stole second and romped home on a single by Grant Locke. Delisle defeated Kindersley Klippers 5-1 and Ligon All-Stars shaded Colonsay Monarchs 6-4.
Each of the semi-finalists received $250 with the first round losers -- Sceptre, North Battleford, Colonsay and Kindersley -- pocketing $100 each.
---
GRANUM TOURNAMENT
(July 1) Daley Creek captured the Granum Tournament with a 10-4 win over Claresholm in the final. Meteors reached the final topping Wrentham 8-4 and Daley Creek beat the combined team from Granum and Jumbo Valley 7-2.
" ... Claresholm entered a colored gentleman as pitcher for the last few innings. He was a scream and was well worth the price of admission just to watch him perform." (The Claresholm Local Press)
---
(July 1) Duncan Dominion Day Tournament Duncan Athletics came out on top in the four-team tournament held in conjunction with the eighth annual Dominion Day Carnival. Chemainus beat Victoria 5-4 in 12 innings and Duncan trounced Sidney 10-2 in the opening games. Ken Cessford pitched a five-hitter for Duncan, compiling 10 strikeouts.
xxx and xxx
Cessford (W) and xxx
Athletics trimmed Chemainus 6-3 in the final match. Tied 3-3 through seven frames, Duncan made its move in the eighth. Dan Wyllie and Pete Hawryluk both singled and Panzer followed with the game-winning hit. Lefty Janzen knocked in two insurance runs with a double.
Folk (W) and Wyllie
English (L) and xxx
---
(July 1-2) Prince George Tournament
Pete Skalicki scored on an infield error in the 8th inning to plate the winning run as West Lake Loggers edged Quesnel Lumbermen 5-4 to take top prize money of $500 in the Prince George Junior Chamber of Commerce tournament. Loggers trailed 4-2 going into the 8th before a three-run rally netted them the victory. With one out, Lud Zolli singled and Roy Stafford reached on an error before Skalicki was hit by a pitch to load the bases. Walks to Red Dodd and Merv Holder brought in two runs to tie the score at 4-4 and set the stage for Skalicki's winning marker. Each team had seven hits with losing pitcher George Oliver of the Lumbermen leading all batters with three safeties. Al Bigelow went all the way for the mound triumph. An estimated 4,000 people filed into Athletic Park for the two-day event.
G.Oliver (L) and McIntyre
Bigelow (W) and Doyle
In the consolation final, Prince George Lumberman plated six runs in the third inning and held on for an 8-6 win over Vanderhoof. Jamie Gray started for the Lumbermen and picked up the win. He gave way to Ed Bent in the fifth when Vanderhoof exploded for four runs.
D.Wall, A.Wall and T.Graham
Gray (W), Bent (5) and McQuarrie
Loggers reached the final with a 9-7 victory over Prince George Lumbermen. A seven-run third inning for the Loggers proved to be the difference. Lumbermen were hurt by seven errors.
Rhodes (L), E.Bent (3) and McQuarrie, Muirhead
Dodd, Glazier and Doyle
Quesnel advanced nipping Vanderhoof Cubs 3-2, scoring all three runs in the top of the first inning on three singles and a pair of errors. Cubs scored a pair in the second helped by Spencer's double and a single by Darrell Reinke. Vanderhoof loaded the bases in the 6th inning with one out but winning pitcher Frank Friesen got an out at home on a fielder's choice and a fly out to end the threat. In the seventh and final inning, Cubs again filled the sacks but Quesnel got out of trouble with a double play. Each team had six hits.
Friesen (W) and McIntyre
Graham (L), A.Wall (1) and T.Graham
Sunday, in the opening game of the tourney, West Lake scored three in the second inning and made them stand up for a 3-1 victory over the Willow River Red Sox. Red Dodd twirled for the winners.
Dodd (W) and Doyle
Kuchurian (L), Berndt (2) and McIvor
Prince George Lumbermen rode two, three-run innings to squeeze out a 6-5 victory over the Prince George Outlaws. Trailing 4-0, Lumbermen got in the game with three in the 4th and, after the Outlaws had scored another in the top of the sixth, Lumbermen responded with another three-run rally to notch the triumph.
Young, Kasakoff (L) (5) and Makarenko
Gerein, Rhodes (W) (5) and McQuarrie, Muirhead
Dave Wall held the Quesnel Clippers to two hits in Sunday's third game as Vanderhoof came out on the long end of a 6-3 count.
Nagle (L) and Beckett
D.Wall (W) and Graham
---
(July 2) Courtenay Dominion Day Tournament Spit Quinn put on a masterful relief performance Monday as the star in Courtenay Legion's victory in the Dominion Day Tournament. The win meant $400 for the Legion team, Parksville got second place money of $250. Quinn held the potent Parksville sluggers to four scattered hits in an 8 1/3 inning relief role as Legion pulled out a 5-3 win in the final. He whiffed nine. The effort was even more noteworthy as Quinn had just finished another 8-inning relief chore in the Legion-Nanaimo game earlier in the day.
Parksville grabbed a two-run lead in the first inning when they pounced on starting pitcher Freddie Clifford for a single, a walk and a triple. Legion got one back in the third when Quinn hit a single to left and came home on Freddie Orr's long three-bagger to right. A Junior Chalmers' walk and Earl Woods' single in the second tied the count. Parksville retook the lead in the fifth when Ron Gray got aboard on an error, stole second and raced home on Walt Yeo's one-bagger. Lyle McKenzie tied it up at 3-3 when he drove in Dick Downey after Downey had walked and stolen second. Legion got the winner in the seventh. Pinch-hitter Bob Gunter belted a single to left field, advanced on an infield out and scampered home on Orr's drive to the outfield. Orr later scored an insurance run.
xxx and xxx
F.Clifford, Quinn (W) (1) and xxx
Legion qualified for the final by downing Nanaimo 5 to 2. Freddie Clifford started for Courtenay but was relieved by Quinn after Nanaimo had taken a one-run lead in the first frame. Legion took the lead in the third as Quinn drew a walk, advanced on a sacrifice and scored as Bill Moore singled to centre. After Downey walked, Junior Chalmers cracked a safety to plate both runners. Legion added two runs in the seventh after Dick Downey started things with a single to right field and Cy Stevenson reached on a infield single. Both crossed the plate on Earl Woods' long single to centre field. Quinn was the winner in relief. He fanned eight.
xxx and xxx
F.Clifford, Quinn (W) (2) and xxx
Trailing 5-2 after six innings, Parksville rallied in the seventh and eighth to hand Comox Tigers a 7-6 defeat. Comox had a golden opportunity in the ninth with the bases loaded but could manage just one run to fall short. Adrian Smith of the Tigers, led the hitters with three safeties.
Ulmer (W) and xxx
xxx and xxx
In the upset of the tourney, Parksville trimmed pre-tourney favourite Campbell River 8-6. Parksville took 5-1 lead in the third against Smoothie Marshall. The Athletics kept hammering away but Parksville clinched it in the ninth when they pushed across two runs on a walk, hit and an error. Jack Charlesworth picked up the pitching win.
Marshall (L) and xxx
Charlesworth (W) and xxx
Bolstered by Vancouver hurler Arne Halgren, Campbell River had no trouble with Victoria, cruising to an 11-2 triumph. A big sixth inning saw the Rivermen count seven runs. Thulin, Joe Kanik, Don Cameron and Telosky each had a pair of hits.
Halgren (W) and xxx
xxx and xxx
Earl Robinson had a big day for Nanaimo punching out four hits leading the club to an 8-3 victory over Cumberland Cubs, strengthened by no less than six players from Union Bay. The Hub City crew had a 5-0 lead before the Cubs replied with a singleton in the fifth. Bert Webb was the winning hurler.
Courtenay Legion opened the tourney with an easy 8-1 decision over Port Alberni. A three-run first inning on hits by Bill Moore, Junior Chalmers and Cy Stevenson and a walk to Roy Moore set Legion on the way to the victory. They added two in the fifth, two in the sixth and one in the seventh. Earl Woods yielded just five hits in a strong mound effort for Courtenay.
Woods (W) and xxx
xxx, xxx and xxx
---
Brandon : (July 2 ) Winnipeg Buffaloes took top prize in the $1,500 Brandon Holiday tournament with a 3-2 win over Elmwood Giants. A double down the right field line by playing-manager Willie Wells, followed by an error on Lyman Bostock's hard grounder brought in the winning run.
Finch and Radcliffe
Day and Robinson
Minot and Brandon battled to a 1-1 tie in the playoff for third place.
O Renfroe and Kempf
Suarez and Rodriguez
Buffaloes reached the final with a 2-1 win over Minot while the Giants blanked Brandon Greys 4-0 as newcomer Tom Parker tossed a one-hitter. Parker was one of three new pitchers to join Elmwood. Barney Morris and Dave Hall were the others.
Bruton and Kempf
Wilmore and Robinson
Parker and Radcliffe
Naranjo and Bassett

---
Saskatoon Optimist : (July 2) Eston won $1,200 first prize money in the Saskatoon Optimist tournament upsetting two-time champion Delisle Gems 6-3 in the final before an estimated 8-thousand fans. Gems had won the first two tourneys in 1949 and 1950.
Herb Stevenson, one of three brothers on the Eston club, scattered nine hits and pitched out of trouble several times to lead the Ramblers to the title. He finished with a flourish fanning Doug Bentley, Max Bentley and Bert Forbes in the 9th. He allowed just one extra base hit, a double by Max Bentley. Stevenson fanned nine and walked four. Ramblers drove Sam Fowlkes from the hill in the first frame.
Stevenson and xxx
Fowlkes, Courtoreille (1) and Bentley, Shirley (4)
Eston hammered out 15 hits to reach the final with a 10-6 win over North Battleford. Clint McNeil, with relief help from Andy Porter, got the win.
Swota, L Dean (3) and xxx
McNeill, Porter (7) and Hucul
Delisle won its semi-final, 11-7 over Colonsay Monarchs as Max Bentley paced an 11-hit attack with three safeties. Colonsay had advanced with a win over Medicine Hat.
Wilson, Folk (6), xxx and Sasseville, Rosher (6)
Fowlkes and RBentley, Shirley
Delisle posted a 5-2 triumph over Sceptre in semi-final action. Jackie Woods had three hits and Doug and Bev Bentley each had a pair. Barney Fox and George Mahaffy each had two for Sceptre.
Garcia, Jacobson and xxx
Fowlkes, Courtoreille (3) and xxx
Andy Porter pitched Eston to a 5-2 win over Saskatoon 55s in the tournament opener Saturday. Sherman Watrous had 3 of the 6 Saskatoon hits. Eston counted single runs in the 1st and 2nd innings and broke loose for three in the 7th on two walks, double by Grant Locke, and single by Chico O'Farrill. The 55s made seven errors.
Lauer, Stavrianoudakis (7), Hannah (7) and Watrous
Porter and xxx
Behind the solid pitching of Murray Richardson and Steve Wylie, North Battleford Beavers topped Swift Current 5-0 Sunday. Richardson had a no-hitter through three innings but experienced arm trouble and was replaced by Wylie who gave up only two hits the rest of the way. Roy Dean and Peter Prediger each had two hits for the Beavers.
Richardson, Wylie (4) and Green
Maren, Callihan, McManus and Macnabb
Colonsay edged Medicine Hat 7-6 in a game who featured a near riot over a call in the bottom of the 9th when the potential tying run was cut down at the plate for the final out. Mohawks had taken the lead in the 1st on a three-run homer by Al Endriss. Colonsay bounced back with four in the 4th on four hits and three errors.
Folk, Carlson (4) and Sasseville
Watkins, Bates (7) and xxx
---
Kamloops Tournament
(July 1/2) South Burnaby took the $600 top prize in the holiday weekend tournament in Kamloops downing the New Westminster Chiefs 6-3 in the final. They reached the final trouncing Kamloops Elks 10-0. The Chief won a final; berth with an 11-10 win over Kamloops CYO.
South Burnaby overcame some adversity to take top money in the tournament. Four players, driving to the tourney, went over a cliff on the Trans-Canada Highway in Al Booth's car. With no serious injuries, they hitched a ride nine miles back to Lytton and caught a late train to Kamloops. In their first game the Athletics, with Booth pitching, trounced Vancouver All-Stars 7-1.
Booth nipped back to Lytton Sunday to check on his car and was back to relieve in the last two innings against the Kamloops Elks and was credited with the win. In the final game, the Athletics wrapped up the top prize downing New Westminster Chiefs behind Ed Zibisky's hurling.
---
(July 2) First baseman Jim Kitaguchi singled in brother Charlie Kitaguchi in the bottom of the 9th to give Coleman Cubs a 12-11 victory in the final of the Blairmore Dominion Day Tournament. Cubs reached the final with a 20-1 thumping of Picture Butte Royals. The Royals had ousted Hillcrest Juniors in the opening round. The teams had battled to a 3-3 tied Saturday in a game called because of darkness and a replay was ordered for Sunday with the Royals taking a 5-3 verdict.
Claresholm dumped Blairmore Canucks 8-5 behind righthander Hubert Glenn to advance to the money round.
Picture Butte 3 Hillcrest 3
Anderson, Malemberg (6) and McKay
Walasko and Somoya
Picture Butte 5 Hillcrest 3
Watson, Malemberg (5) and McKay
Bosetti, Ganger (5) and Somoya
Coleman 20 Picture Butte 1
Kimoto and Yoshinaka
Malemberg, Gillies and McKay
Blairmore 5 Claresholm 8
John Dobek (L) and Joe Dobek
Glenn (W) and MacDonald
Claresholm 11 Coleman 12
Gallagher, Duggin (3), Glenn (L) (7) and MacDonald
Kitatguchi, Kimoto (W) (4) and Yoshinaka
(July 4) Claresholm Meteors turned back Blackie 10-2 in one of four opening day games in the monster $2,300 baseball tournament at Claresholm. 17-year-old Allie MacDonald fired a five-hitter as the Meteors trounced Blackie. He fanned five and walked two.
Steve Ganger, star hurler with the Hillcrest junior team, tossed a six-hitter as Coleman outscored Daley Creek 7-2. Bob Shearer went the distance in taking the loss.
Bud Siler gave up just six hits in leading Champion to a 12-2 conquest of Stavely. Bill Kutcheran, ace of the Lethbridge Miners, gave up nine hits in hurling for Stavely. Nolan Weiss shutout Blairmore on five hits as Del Bonita Cubs notched an 11-0 victory.
A MacDonald (W) and xxx
Cole (L), Egland and xxx
Ganger and xxx
Shearer and xxx
Siler and xxx
Kucheran and xxx
Weiss and xxx
xxx and xxx
---
CLARESHOLM TOURNAMENT
(July 5) Lloyd Bradley led Champion Red Sox to top money of $800 in the Claresholm Tournament. Bradley, former star hurler in the now defunct Big Four League, pitched both games for the Red Sox as Champion trounced Coleman 23-3 in the opener and dumped Claresholm 12-4 in the title game. Meteors beat Del Bonita 10-4 to reach the final. Sox erupted for five runs in the first inning off Lloyd Duggan, a Kelowna import, and coasted to the win. Hubert Glenn fired a two-hitter and fanned ten in Claresholm's victory.
Bradley (W) and Hagg
Si Duggan, Gallinger (1), W. McDonald (6) and Dodds
Coleman 3 Champion 23
L Kimoto (L), S Kimoto and Woskniaka
Bradley (W) and Hagg
Claresholm 10 Del Bonita 4
Glenn (W) and W MacDonald
Nielson (L), Slavich (6) and Jensen
Champion 12 Claresholm 4
Bradley (W) and Hagg
Duggan (L), Gallagher (1), W MacDonald (6) and Dodds
(July 8) Parkland Midways belted 17 hits to trounce Daley Creek 15-5. Jack Scott allowed just eight hits and compiled 15 strikeouts to get the win.
xxx, xxx, xxx and xxx
Scott (W) and xxx
Parkland spotted Okotoks four runs in the first inning but roared back with six in the bottom of the frame and went on to dump Okotoks 17-9. Dick Hawk was the winning pitcher.
xxx, xxx and xxx
D Hawk (W) and xxx
---
(July 5) Gilbert Plains captured top prize in the Roblin Tournament downing Yorkton 4-2 in the final. Eddie McDonald went the first seven frames for Gilbert Plains, giving way to John Alexander.
McDonald, Alexander and Holloway, Stempak
Berg, McIvor and Monroe
Yorkton had earlier down Dauphin 4-2 behind the hurling of Lawrence Koehler. Dave Baux was the loser for the Redbirds.
Koehler (W) and Monroe
Baux (L), Joyner and Nash
Gilbert Plains downed Roblin 9-5 in the other contest taking a 9-1 lead and holding off a 9th inning rally.
Jacowsky (W) and Stempak
Gellent (L) and Ford

---
Sceptre : (July 6) The host club won. Sceptre Nixons erupted for four runs in the sixth inning to defeat North Battleford Beavers 6-3 in the final game. Sceptre out hit the Beavers 14-5.
North Battleford 3 Sceptre 6
Wylie, P Polus and Prediger, Green
Jarvis and Garay
The Nixons downed the Delisle Gems, and North Battleford got by Swift Current in the semi-finals. Earlier, Sw fit Current downed the Sceptre Outlaws 12-2.
Also in the tournament were Eston, Shaunavon, and Kindersley.
---
Moosomin : (July 6) The Brandon Greys of the ManDak League scored two lopsided victories to claim the title in the $2,200 Moosomin tournament. Greys whipped the Western League leading Indian Head Rockets 13-9 in the final after downing Estevan 12-5 in their opening game.
Greys erased an early 5-0 deficit with two runs in the 3rd inning, two in the 4th and six in the 5th. Clarence King and Pepper Bassett homered for the winners. Pedro Naranjo went the distance on the hill for the Greys.
Naranjo
Davis
Brandon also gave up the early lead in the semi-final, trailing 4-1 going into the 4th inning, but erupted for five runs to take the lead and coast to the win.
Suarez
Bryant
Moose Jaw won the consolation final, 8-5 over Estevan. The Rockets had trounced Moose Jaw 10-1 in first round action. It proved a costly event for the Rockets. Shortstop Clemente Varona broke his leg trying to score in the final game. Varona had belted out five hits in six trips in the tournament.
---
Foam Lake : (July 11) Indian Head bounced the Beavers of North Battleford 10-3 to win top prize in the Foam Lake tourney. Rockets scored three in the first and another four in the third to salt away the victory, their third of the day. Toribio Leal, who relieved starter Jesse Blackman in the second inning, blanked the Beavers the rest of the way for the victory. A crowd estimated at 13-thousand watched the final contest.
Indian Head 10 North Battleford 3
Blackman, Leal (2) and Cameron, Barnhill
Swota and Green
The Rockets trounced Sceptre 18-7 in semi-final action. The Beavers reached the final defeating Ligon's 8-5.
Earlier in the day, Rockets shaded Eston 3-0 and Steve Wylie pitched the Beavers to an 11-2 win over Elfros. In other games, Ligon's ousted Saskatoon 3-2 and Sceptre took a 3-1 win over Colonsay.
In first round action, Indian Head downed Watson 9-6, Ligon's shaded Wynyard 10-9, Eston beat Quill Lake 9-4, Colonsay bounced back from a 5-0 deficit to edge Yorkton 6-5, Sceptre clobbered Kamsack 15-3, Saskatoon topped Grandview 8-5 and North Battleford moved on with a 9-8 win over Dauphin.
Swift Current, which had recently tried to revamp their team, was a no-show. Elfros advanced by default.
The tournament had a hockey flavour with several prominent stars competing. Doug and Max Bentley and Gordie Howe were in the Saskatoon lineup, Bert Olmstead with Sceptre, Max MacNab with Watson, Emile Francis with the Beavers, and Metro Prystai and Vern Pachal with Yorkton.
---
Brandon : (July 12) A pair of one-hit shutouts highlighted the $1,500 Brandon invitational tournament. Southpaw Ray Finch's ten-inning, one-hitter gave Elmwood a 1-0 win over Brandon and first prize. Greys Pedro Naranjo had a two-hitter going into the final inning when two singles sent Bob Harvey home with the game's only run.
Finch and Swanson
Naranjo and Bassett
Elmwood gained a berth in the finals as Willie Jefferson allowed just an 8th inning single as the Giants downed Carman 3-0.
Jefferson and Greene
Spearman and McKerlie
Brandon topped Estevan 6-3 in the other semi-final.
Bruton and Landrum
Ferro and Bassett
Carman took the consolation final 9-3 over Estevan.
Bruton, Bryant (2) and Landrum
Jessup and McKerlie
---
Kamsack : (July 13) Saskatoon 55s beat the hometown Cyclones 4-1 to take top prize of $1,200 in the Kamsack Elks tournament. Sherman Watrous had three hits, including a triple for the winners. A crowd of 7-thousand watched the action.
McCowan, Anderson and Jenson
Lauer and Shirley
In the semi-finals, Kamsack whipped Holar 13-2 and Saskatoon beat the California Mohawks 4-0 as Charlie Beene held the Mohawks to just one hit in seven innings of relief work.
The major upset of the tourney was provided by Holar, a club from the farm district in the Churchbridge area. They topped Yorkton Cardinals in the opening round then knocked out Eston Ramblers with a 5-3 win. Another surprise was the California Mohawks 4-1 victory over Indian Head, winners of the recent Foam Lake tournament. Other quarterfinal action had Kamsack downing Flin Flon 6-2 and the 55s beating Sceptre 8-3.
In other first round games, Eston beat Grandview, Kamsack ousted Bowsman, Flin Flon Miners dumped Pelly, Indian Head topped Dauphin, Mohawks defeated Preeceville, Sceptre advance with a win over Gilbert Plains and Saskatoon moved on as Steve Stavrianoudakis was the winner in a 14-2 triumph over Roblin.
---
Indian Head : (July 19) The college kids did it. The Medicine Hat Mohawks came from behind to defeat Eston Ramblers 9-6 and take $1,200 first prize money in the Indian Head tournament. 11-thousand fans watched the finale.
Medicine Hat 9 Eston 6
Francis, Barclay (2) and Noce
Fernandez, Porter (8) and Serpa
Right-hander Curt Barclay was the hero for the Mohawks pitching a seven-hitter in the morning as Medicine Hat eliminated Estevan 3-2 then throwing eight innings in relief as the 'Hawks won the final. Eston got an early jump on the Mohawks with three runs in the 1st inning of the final against Bud Francis. After the Hawks replied with a pair in the top of the 4th, three Mohawk errors contributed to a pair of runs against Barclay in the bottom of the frame. Medicine Hat pulled to within a run with two in the 7th before their four-run outburst in the 8th. They slapped out five hits, including a two-run triple by Ray White. Al Endriss and Barclay each had a double and two singles for Medicine Hat. Rudy Fernandez took the loss.
Pumpsie Green had a big game against Estevan with five hits, including a pair of triples and scored the winning run.
Barclay and Noce
Bryant and Landrum
The club got strong pitching from Bud Watkins to score an upset, 7-5 win over Regina in a semi-final.
Woolley, Coons (5), Merritt (5) and Kyle, Collins (7)
Watkins and Noce
Jackie McLeod pitched a seven-hitter to advance Eston to the final with a 14-2 win over Kamsack. Earlier, Eston got a superb mound effort from Andy Porter to best Wilcox-Weyburn 6-3.
Davis, Alexdrian and Murray
McLeod and Serpa, Hucul
Porter and Serpa
G Shupe, A Downton and Covert
Regina had won a semi-final berth as Dave Chadwick out pitched Indian Head's Jesse Blackman and Chet Brewer in the Caps' 7-2 win. An error, which plated two runs, cost Chadwick the shutout.
Chadwick and Kyle
Blackman, Brewer (3) and Cameron
Kamsack eliminated Swift Current 10-8 in spite of a three-run homer and triple by Swift Current's John McManus.
Callihan (L) and St. John
Cavin, Alexander and Jensen
In opening play, the Weyburn-Wilcox Combines scored a major upset with a 2-0 win over Sceptre Nixons. Veteran Ralph Hogg allowed seven hits and struck out seven in gaining the shutout. Rudy Garcia gave up just eight hits in a losing cause but his mates made six errors behind him.
Lefty Johnny Coleman pitched a five-hit shutout as Indian Head beat Moose Jaw 5-0. Dick Stone went the distance for the Canucks giving up nine hits and fanning ten.
Roland Miles belted out three hits -- a single, double and a triple -- to lead Regina to a 7-2 win over Dauphin Redbirds.
Estevan advanced with an 18-7 drubbing of Ligon's All-Stars. Leroy Pettus had three hits including a double and a homer.
Swift Current edged Notre Dame 5-4 in ten innings as Johnny Mulholland tossed a seven-hitter and belted a three-run triple.
Medicine Hat got by Lake Valley All-Stars 5-3 while Eston pounded the Edenwold-Kronau Combines 14-8. Kamsack beat Yorkton 8-5.
The event was certified by the National Baseball Congress.
A 16-man All-Star team was selected.
Catchers -- Lindy Serpa, Eston; Lee Landrum, Estevan
Pitchers -- Curt Barclay, MH; Ralph Hogg, Weyburn; James Coleman, IH; Dick Stone, MJ
INF -- Tom Alston, IH; Bob Prescott, IH; Roland Miles, Regina; John Kane, MH; Willie Reed, Pumpsie Green, MH
OF -- Ray Perasso, MH; Pedro Osorio, IH; Shedrick Green, IH; Bob Hobbs, Regina
Moose Jaw 0 Indian Head 5
Stone and Harford
Coleman and Barnhill, Cameron (9)
Medicine Hat 5 Lake Valley 3
Allmon and Noce
Thorseth and R Peterson
Notre Dame 4 Swift Current 5
Dombowsky and Germann
Mulholland and St. John
Yorkton 5 Kamsack 8
Rothers and Munroe
Anderson and Jensen
Estevan 18 Ligon's 7
Torgenrud, Lombard (5) and Burleson
Kelley, Broady (3) and Scott
Edenwold-Kronau 8 Eston 14
Broadt, Selinger and A Gottselig
McKinnon, Fernandez and Serpa
Wilcox-Weyburn 2
Sceptre 0
Hogg and Covert
Garcia and Garay
Dauphin 2 Regina 7
Joyner and Nash
Buttgereit and Kyle
Swift Current 8 Kamsack 10
Callihan and St. John
Calvin, Alexander and Jensen
Medicine Hat 3 Estevan 2
Barclay and Noce
Bryant and Landrum
Eston 6 Wilcox-Weyburn 3
Porter and Serpa
G. Shupe, A. Downton and Covert
Regina 7 Indian Head 2
Chadwick and Kyle
Blackman, Brewer (3) and Cameron
Kamsack 2 Eston 14
Davis, Alexdrian and Murray
McLeod and Serpa, Hucul
Regina 5 Medicine Hat 7
Woolley, Coons (5), Merritt (5) and Kyle, Collins (7)
Watkins and Noce
Medicine Hat 9 Eston 6
Francis, Barclay (2) and Noce
Fernandez, Porter (8) and Serpa
---
CHAMPION TOURNAMENT
(July 20) Hubert Glenn pitched and batted Claresholm Meteors to top prize money in the eight-team Champion Tournament. Glenn, a 6-foot-five righthander, had two doubles, a single and walk and drove in two runs and scored a pair as Claresholm topped Champion 7-2 in the final. On the hill, the Philadelphia righthander scattered nine hits and fanned eight in gaining the win.
Glenn (W) and MacDonald
Siler (L), S Pasolli (3) and Hagg
Claresholm reached the final downing Picture Butte and Vulcan. Champion beat Vauxhall and downed Carmangay 5-3 as Mervin Smith, a 20-year-old right-hander who tried out at the Brooklyn Dodgers' camp in California this spring, tossed a four-hitter. Bobby Shearer, on the hill for Carmangay, was almost as good yielding six hits but giving up five walks. Catcher Roy McLeod belted a three-run homer for the losers.
Shearer (L) and McLeod
Smith (W) and Hagg
---
(July 23) North Battleford Beavers scored early off Sceptre ace Hal Price to notch a 3-1 win in the opening game of the $3,700 Saskatoon exhibition baseball tournament. Beavers plated all their runs in the first two innings. Curtis Tate cracked a single in the first frame to score both Louis Green and Pete Prediger who had opened the game with back-to-back one baggers. Beavers went up 3-0 in the second as Joe Peronne, who had singled, scored on Green's long fly to right field. The lone Scepter counter came in the third. Ken Nelson led off with a single to right field and scored on Gene Jacob's double. Andy Swota went the route for the win holding Sceptre to eight hits. Tate and Daryl Penn each had two hits for the winners.
Price (L) and Garay
Swota (W) and Green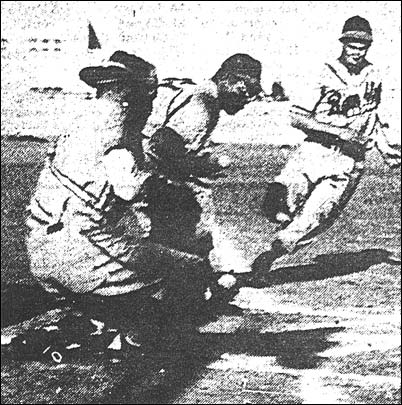 (July 24) Trailing 8-4 after seven innings, Delisle Gems stunned Eston Ramblers Tuesday with a seven run outburst in the eighth to notch an 11-8 triumph.
The Gems combined a triple, five singles and two crucial errors in their come-from-behind inning. Eston had earlier put together five hits and two Delisle errors for a five-run second inning.
One of the 8th inning runs came from Jimmy Shields on a steal of home (left, the catcher is Jim Shirley with Art Ramsay the batter).
Left fielder Bert Forbes led the winners' 14-hit day with a home run and two singles. Max Bentley added a double and two singles and Dick Piper smacked a triple. Winning pitcher Sam Fowlkes had a homer and knocked in three runs.
Fowlkes, who came on in relief after Eston had taken an 8-3 lead, pitched shutout ball for 4 2/3s innings. Herbie Stevenson, who relieved starter Rudy Fernandez in the fateful 8th, was handed the loss.
Fernandez, Stevenson (L) (8) and Hucul
Courtoreille, Severyn (2), Fowlkes (W) (5) and Shirley
(July 25) In a game in which two players were ejected for an attack on an umpire and police were call in to restore order, Delisle Gems and North Battleford Beavers played to a 5-5 tie. The teams split the points on the game and there is to be no replay unless they are tied at the end of the round robin. The ruckus came in the 5th inning with the Beavers up 3-2 and Delisle with runners on second and third and two out. Jackie Woods hit a grounder to Beaver second sacker Pete Polus who made a smart pickup but whose throw pulled Daryl Penn off the bag at first. Umpire Ivan Bell called Woods safe as Dick Piper scooted home with the tying run. Penn protested the ruling and appeared to toss his glove at the umpire. Pitcher Steve Wylie and third baseman Curtis Tate charged across the diamond to protest the call. North Battleford manager Emile Francis came from the dugout and bumped Bell and was promptly pushed onto the seat of his pants. Wylie and Tate continued the fracas with one of them kicking Bell on the hip. Delisle came up with a run in the sixth and another in the eighth to take a 5-3 lead going into the bottom of the ninth but the Beavers took advantage of two errors to knot the score. Doug Bentley had four hits to lead all hitters.
Fowlkes, Courtoreille (9) and Shirley
Wylie, L.Dean (5) and Green

(July 26) Before one of the largest Thursday night crowds in tournament history, Sceptre Nixons pounded out 15 hits to crush Eston Ramblers 12-4 to stay in the running for a berth in the tourney final. Left fielder Slim Clovinski had two hits, scored a pair and drove in three runs to lead the Nixons. Shortstop Del St. John had three singles. Hal Price held the Ramblers to five hits and whiffed 11 in posting the victory. Former Negro League hurler Andy Porter took the loss.
Price (W) and Garay
Porter (L), H.Stevenson (5) and Serpa
(July 27) Back-to-back-to-back doubles by Joe Mocha, Del St. John and Stan Jarvis, and a triple by Slim Clovinski helped Sceptre pile up five runs in the second inning Friday en route to a 9-4 win over Delisle and a berth in the tournament final. Jarvis led the Nixons to the win with four hits in five at bats and a superb relief effort in which he allowed just two hits and no runs in six innings of work. He fanned seven. Mocha and Ed Garay each had three hits for Sceptre while Doug Bentley added three safeties for Delisle.
Wall, Jacobson (2), Jarvis (4) and Garay
Courtoreille (L), Severyn (6) and Shirley
(July 28) A six-run first inning carried North Battleford to a 10-4 victory over Eston and into the final of the Saskatoon Exhibition Tournament. Pete Polus starred for the winners pitching seven-hit ball and contributing three hits, a double and two singles, to help his own cause.
McKinnon (L), Fernandez (1) and Serpa
Polus (W) and Green
---
Estevan : (July 25) Estevan Maple Leafs downed Minot 6-3 to take top prize of $1,200 in a four-team tournament in Estevan. Lefty Bryant, who pitched for Minot in 1948 and 1949, tossed a five-hitter for the win. One of the hits was Zoonie McLean's second homer of the tournament. Seven thousand fans jammed the ball park for the event.
Bryant (W) and Burleson
Schaffer, Cathey and Kempf
Leafs made the final with an 11-8 win over Sceptre while the Mallards topped Brandon 6-3. Greys beat Sceptre 8-6 in the playoff for third money as Rafe Cabrera had a homer. Lefty McKinnis and Amancio Ferro handled the mound chores for the Greys. Johnny Mulholland and Cliff Jacobson shared the hill work for Sceptre.
Willie Cathey held Brandon to five hits and McLean belted a homer in the Mallards win over the Greys.
---
LETHBRIDGE BASEBALL TOURNAMENT
(July 25) Magrath broke through for two runs in the 9th inning to down Claresholm 2-1 to knocked the Meteors out of the Lethbridge Baseball Tournament. Eagles' third baseman Grant Wheeler lashed a liner to centre field to score Floyd Gillies and Tommy Karren to provide the margin of victory. It was just the fifth hit for Magrath. Walt Pashuk allowed ten hits but registered the win. Wally Thrun was the hard-luck loser. Among the day's outstanding plays was Gene Rice's sensational catch against the right field wall of Hubert Glenn's high fly ball in the first inning. Glen, a Negro import from Philadelphia, had a sizzling single in three trips. Glenn is reported to be hauling in $800 a month. He finished 21-3 with the touring San Francisco Cubs last season.
Bow Island 4 Champion 0
Collins and Wilfey
Shearer and McLeod
Magrath 2 Claresholm 1
Pashuk and Gordon Rice
Thrun and MacDonald
Japanese All-Stars 1 Del Bonita 2
L Kimoto and Yoshinaka
Weiss and Jensen
Cubs 5 Miners 2
Tufteland and Dea
Slavich, Kucheran (5) and Deak
---
(July 28) Sceptre Nixons rallied from a 6-1 deficit with 12 runs in the last two innings to thump North Battleford 13-6 to pocket top prize of $1,300 at the Saskatoon Exhibition Tournament. Of Sceptre's 13 hits, 10 came in the last two innings. The Beavers Andy Swota was sailing along with a three-hitter until running into trouble in the 8th and handing over the mound work to Steve Wylie who promptly gave up a game-tying double to Fergie Shields. Nixons kept the offensive rolling in the ninth as Joe Mocha reached on an error, stole second and scored on Del St. John's single to centre for what proved to be the winning run. But Sceptre wasn't finished. Not by a long shot. Stan Jarvis got on base on a fielder's choice and Gene Jacobs and Slim Clovinski followed with two-baggers and Sceptre had two more runs. After Ken Wilson drew a walk, Ed Garay doubled to knock in the fourth run of the inning and Fergie Shields singled to plate another pair. An error and Mocha's single drove in the final marker. Clovinski highlighted the Sceptre attack knocking in four runs and scoring twice while collecting two hits. Mocha and Jacobs each had two hits and two runs scored while Shields rapped three hits and Ken Nelson scored three times.
Before the final, Doug Bentley of Delisle was presented with a shotgun for having the highest batting average in the round robin affair. The hockey star hit .600 for the Gems.
Garcia, Jarvis (W) (7) and Garay
Swota, Wylie (L) (8), L.Dean (9) and Green
---
Rosetown : (July 31) Indian Head and Eston split first and second prize money in the Rosetown tourney when the final was called after six innings due to darkness. The teams were tied 1-1. The Rockets and the Ramblers each take home $950. Estevan and Sceptre each collected $400.
The Rockets edged Sceptre 2-1 in one semi-final while Eston beat Estevan 9-2. Earlier in the day, Indian Head shaded Saskatoon 6-4 in a replay of their initial contest which ended in a 5-5 draw.
In the 5-5 contest, the 55s plated a pair in the bottom of the 9th to gain the tie.
Morrow, Brewer (9), Leal (9)
Beene, Fowlke (9)
In earlier play, Sceptre beat Delisle 1-0, scoring the only run in the bottom of the 9th inning, and Eston scored five runs in the top of the 10th inning to down North Battleford 6-2.
Wylie and Green
McHenry and Burnison
Eston won a semi-final berth with a 10-5 win over Plunkett. Smoke Lutcher led the Ramblers at the plate with a triple and double.
Herb Stevenson and Lindy Serpa
Ted Senko and McWillie
---
Virden : (Aug 2) Carman Cardinals exploded for six runs in the 9th inning to beat Estevan 13-9 and take top prize money of $600 in the annual Virden tournament. Maple Leafs had a 9-7 lead with one out in the 9th when McCullough in right field dropped a fly ball permitting the tying runs to score. On the next play he dropped another one and the Cards capitalized for the victory.
Brenzel and Thomas
Bruton, McHenry and Burleson
Carman made the final with an easy 17-9 win over Yorkton.
Spearman and Thomas
Rothaus and Munroe
Estevan scored two in the top of the 9th and held off a Brandon rally in the bottom of the inning to post a 7-6 win.
Woolley, Bruton (9) and Landrum
Ferro, Naranjo (1) and Bassett, Rodriguez
Greys whipped Yorkton 9-1 in a five inning contest to grab third place money.
Ferro and Rodriguez
McIvor and Munroe
---
Tisdale : (Aug 3) Chet Brewer tossed a four-hit shutout to lead Indian Head Rockets to first prize money of $800 in the Tisdale Lions Club baseball tournament. Rockets beat North Battleford 6-0 in the final before a crowd of 3-thousand fans.
To reach the final, Indian Head defeated Delisle 7-0 and the Beavers ousted the Saskatoon 55s 9-3.
Brewer allowed only one player to get as far as third and faced just 31 batters. He struck out nine. The Rockets had nine hits of Pete Polus with Bob Prescott leading the way with two doubles and a single. Tom Alston had a pair of doubles.
Brewer
Polus
In the semi-finals, Andy Swota held the 55s to four hits -- two of them homers, by Sherman Watrous and Bob Herron and a triple by Roy Taylor. Pete Polus drove in five runs for the Beavers with a triple and two singles.
Swota
Hannah, Arnold, Stavrianoudakis
Johnny Coleman tossed a three-hitter and got home run support from Bob Prescott as the Rockets beat Delisle in the semi-finals.
Coleman
Fowlkes, Courtoreille
---
Edmonton : Medicine Hat and Eston shared the top prize money as rain forced the cancellation of the prairie's biggest tournament, the $7,300 Edmonton event sponsored by Red Nixon.
The Mohawks had a 6-0 lead in the fifth inning of the title game (August 07) when the rains came. Medicine Hat's Brick Swegle agreed to replay the contest the following day but there was no change in the weather. (The two teams returned to Edmonton Labour Day weekend for an exhibition series, but that too was washed out.) The big blows for the Mohawks were doubles by Johnny Kane and Willie Reed in the 2nd and a homer by Fred Bartels, his second of the tournament, in the 3rd. Larry Bolger held the Ramblers to just three hits.
Bolger and Noce
Fernandez, McKinnon (3) and Serpa
(August 07) Medicine Hat reached the final of the $7,300 Edmonton tournament taking a 6-0 lead over Regina and holding on for a 6-5 win. The Eston Ramblers advanced by defeated the Edmonton Aces 8-6.
Medicine Hat 6 Regina 5
Watkins, Barclay (6) and Noce
Merritt, Chadwick (7) and Turner
Belmont appeared to be headed for the final after taking a 6-3 lead over Eston with a five-run 6th inning. However, the Ramblers plated three in their half of the inning and added another trio in the 7th. McDermid had homered for the Aces in the first.
Edmonton (Belmont) 6 Eston 8
Martin, Malik (7) and Pearson
Stevenson, McKinnon (6), Fernandez (6) and Serpa

(August 06) The Aces won a semi-final berth in the Edmonton tournament with a 4-3, 10 inning, victory over the Central Alberta All-Stars. Gordie Pearson's single knocked in the winning run. Regina Caps moved into the semi-final round with a 4-3, 10 inning, win over the Edmonton Oilers. Dave Chadwick went the distance for the pitching victory. Pee Wee Collins walked in the 10th and came around to score the winner.
Regina 4 Edmonton Oilers 3 (10)
Chadwick and Turner
Seaman, Lowe (5) and Warwick
Curt Barclay, reported to have turned down a $35,000 bonus to turn pro, stopped Indian Head on six hits. Larry Bolger saved the match with the bases loaded and two out in the 9th as he speared a towering drive for the final out. Fred Bartels blasted a homer in the 6th.
Indian Head 3 Medicine Hat 6
Morrow, Blackman (8) and Cameron
Barclay and Noce
It was a family affair as Jimmy Shields, the playing-manager of the Ramblers, guided his club to a win over Uncle Fergie Shields' Sceptre nine. Nixons pounded Jackie McLeod for four runs in the first two innings but the New York Rangers forward yielded just three hits the rest of the way. Ramblers won in the 10th on a walk to McLeod, a sacrifice, Art Ramsay's double, and Grant Locke's single to left. Del St. John had two doubles and a single for Sceptre.
Eston 6 Sceptre 4 (10)
McLeod and Serpa
Price and Garay
Belmont shaded the Central Alberta All-Stars 4-3 Lefty Ray Malik picked up the win in relief of Dutch Lakeman. Ray Kinasewich scored the winning run after singling and advancing on a single, walk and an infield out. Pete Kruger had a homer for the All-Stars.
---
British Columbia (August 7) Left-hander Irv Lavorato fashioned a five-hitter as Trail scored early and breezed to a 7-2 win over Spokane Builders to capture the BC championship before some 1,200 fans at Butler Park. Trail received $1,000 first prize money and won the right to represent BC at the Western Canada championships at Saskatoon. Lavorato pitched shutout ball for seven innings and compiled 14 strike outs.
Smokies got to right-hander Curt Bloomquist 11 hits. They got on the board in the first inning as Spokane errors put two runners on base for Jack Zajac who knocked in a run with one of his three hits. Catcher Tom Field belted a two-run homer in the 2nd inning. Trail made it 7-0 in the 4th when Ken Stanton knocked in one run and Julie Bilesky, with two on, drilled a liner to right that was misplayed and resulted in three more tallies.
Trail 7 Spokane 2
Lavorato (W) and Field
Bloomquist (L) and Viro
(August 6) Trail broke a scoreless tie with two runs in the 8th inning and downed Troy 3-1 to win a berth in the tournament final against Spokane. With one out, Chico Nicol and Jack Zajac beat out bunts down the third base line. Lui Corrado's single scored the first run and advanced Zajac to third from where he stole home. Troy rebounded with a run in their half of the 8th as the Americans got back-to-back doubles by Jim Moore and Len Pyne. Lefty Irv Lavorato relieved and after a walk and some anxious moments got two strikeouts and a line out to end the inning. Trail added an insurance run in the 9th as Kenny Stanton's smash to left centre drove in Tom Field who had led off with a single.
Trail 3 Troy 1
Jankola, Lavorato (8) and Field
Lucas (L) and Underwood
(August 4/5) The George Builders of Spokane advanced to the final downing Oliver 9-3. Wilkinson tossed a three-hitter for the win. Oliver hurt its chances making eight errors. Spokane got a two-run homer in the first inning by Gil Kuhn and were never threatened. Hal Cousins took the loss.
Spokane 9 Oliver 3
Wilkinson (W) and Joy
Cousins (L), Steffen (3) and Hunrick
Spokane got a four-hitter by Curt Bloomquist in blanking Rossland 4-0 in their opening game. Bloomquist duelled with veteran Jack Mathers who Rossland brought in from Grand Forks. Shortstop Sandy Sandell provided all the offense the Builders would need with an inside-the-park homer.
Rossland 0 Spokane 4
Mathers (L) and Hackett
Bloomquist (W) and Viro
Jack Zajac, who had three hits, scored the winning run on an infield dribbler in the 7th as Trail Smoke Eaters shaded Tekoa, Washington, 5-4 to win a berth in the semi-finals against Troy, Montana. Trail took a 4-2 lead in the top of the 5th on successive homers by catcher Tommy Field and pitcher Pete Boisvert. The Americans came back with two of their own in their half of the 5th, but Joey Jankola took over and held the visitors off the scoreboard the rest of the way.
Trail 5 Tekoa 4
Boisvert, Jankola (W) (5) and Field
Velling (L) and Currier
Troy advanced with a 5-2 win over Fruitvale, out-hitting the BC squad 12 to 5. Noro Pesecreta's two-run homer in the 4th gave Fruitvale a 2-12 tie but homers by Dale Thomason and Dan Moore provided the margin of victory. Previs went the distance for the winners. Fitzgerald, relieved by Fuzzy Grieves, took the loss.
Fruitvale 2 Troy 5
Fitzgerald, Grieve (7) and Bilesky
Previs (W) and Underwood
Oliver came from behind to edge Nelson 5-2 in 10 innings. Nelson took a 2-0 lead in the first inning as Bill Halldane doubled with one aboard and both came around to score as Oliver booted the ball. George Hunrick doubled in a run in the 4th and Chick Wilkins knocked in another with a two-bagger in the 7th to knot the count. Pitchers Les Hufty of Nelson and Doc Coulter of Oliver dueled into the 10th. Hunrick and Coulter came through with base hits in the extra frame for three runs and the triumph.
Oliver 5 Nelson 2
Coulter (W) and Hunrick
Hufty, Lang (10) and Wertz
---
CARMANGAY LIONS CLUB TOURNAMENT
(Aug 8) Claresholm Meteors are in the final of the Carmangay Lions Club baseball tournament. Meteors shaded Picture Butte 8-7 behind the pitching of Hubert Glenn the Philadelphia Negro import. Earlier, Meteors whipped Vulcan 19-2 behind the pitching of Rod MacDonald. Picture Butte had downed Stavely 5-1 as Ted Malemberg tossed a five-hitter.
Glenn (W) and xxx
B Watson (L) and xxx
In the opening game, Meteors swamped Vulcan 19-2 behind the steady hurling of Rod MacDonald. Veteran Ted Malemberg tossed a five-hitter to lead Picture Butte to a 5-1 triumph over Stavely.
R MacDonald and xxx
xxx and xxx
Malemberg and xxx
xxx and xxx
(August 10) Claresholm Meteors belted 23 hits to swamp Carmangay 27-9 in the final of the eight-team Carmangay Tournament. Hubert Glenn, who went the route on the hill for the win, clubbed a three-run homer in the first inning to set the Meteors on the road to victory. It was one of four homers for the winners. First baseman Lefty Huddle crushed a pair and second sacker Bernie Dunning had a three-run blast. Outfielder Glen Olson had four hits in five trips while Glenn had a single and double to go along with his four-bagger. Dunning was up five times and scored five runs. Meteors reached the final with wins over Picture Butte and Vulcan while Carmangay outsted Brant and Champion.
Glenn (W) and MacDonald
Negrello (L), Shearer (2), Connors (4), Rhodes (5) and McLeod
---
Medicine Hat : (August 19) : The hometown Mohawks beat Regina Caps 6-1 in the final of the $2,000 Medicine Hat tournament. Bud Watkins held the Caps to five hits in going the distance. Pumpsie Green had three of the Mohawks' ten hits. Medicine Hat reached the final beating Moose Jaw Canucks 10-0. Caps won their semi-final, 3-1 over Sceptre in a replay of Saturday's game which ended in a 3-3 tie. Carl Coons was the winner. Moose Jaw won third prize money by defeating Sceptre 4-1 on three-hit pitching by Johnny Mulholland. The Canucks beat Sceptre's ace, Hal Price. Alex Palica had two hits and drove in a pair for Moose Jaw.
Medicine Hat 6 Regina 1
Watkins and Green
Galloway and McDaniels
Moose Jaw 4 Sceptre 1
Mulholland and Harford
Price and Garay
"The tournament final was loaded with fielding gems. Both shortstops, Rip Collins of Caps and Johnny Kane of Mohawks, pulled off more than one sensational save. However, it was up to Ray Perasso, the Tribe's centrefielder, to make the outstanding catch of the tourney. With Pee Wee Collins resting on third by virtue of a walk and wild pitch Bob Maren hit a long line-drive into left-centre field that had "triple" marked on it. Perasso, who was away with the crack of the bat, never seemed to have a chance of stopping the ball but at the last split-second made a tremendous dive for it. His gloved hand caught the pill inches off the ground and as Perasso was rolling over and over, Collins came in to score the Caps' lone run. (Medicine Hat News, August 20, 1951)
(August 18) Curt Barclay, Mohawks' tournament "iron man" keep his record unblemished as the Hawks swamped Moose Jaw 10-0 in the opening game of the "Hat's second baseball tournament of the year. Barclay held the Canucks to three singles. Medicine Hat managed just six hits off Wayne Brock but took advantage of seven Moose Jaw errors. Franny Oneto had two of the hits, one a bases-loaded single in the 6th inning.
Brock and Harford
Barclay and Noce
"For our money Pete Beiden is the smartest coach in the Western league ... 17-year-old Pumpsie Green, the best third sacker in the league, had one hit in three trips to the plate and scored three Mohawk runs. Green is steadily improving and is tabbed for the big leagues." (Medicine Hat News, August 18, 1951)

---
National Baseball Congress Playoff Tournaments :
Saskatchewan : (August 15) The Indian Head Rockets walloped Dauphin 11-1 and 23-1 to win the Saskatchewan semi-pro championship at the tournament in Indian Head. Rockets took the two-game total-run final 34-2.
Toribio Leal, with ninth inning relief from Chet Brewer, held Dauphin to just five hits in the opener. Brewer set down the only three men he faced. Brewer tossed a three-hitter in the second contest as the Rockets pounded out 24 hits. Lester Witherspoon was the star at the plate with five hits -- a homer, two doubles and a pair of singles.
Dauphin 1 Indian Head 11
Joyner and Stempak
Leal, Brewer (9) and Cameron
Indian Head 23 Dauphin 1
Brewer and Barnhill
Stephenson and Nash
Dauphin had advanced to the final with a 5-3 win over the Saskatoon 55s. Frank Watkins had a no-hitter into the eighth inning before Jim Shirley beat out a single. Watkins went the distance allowing four hits. Redbirds scored four of their five runs on Saskatoon errors.
Dauphin 5 Saskatoon 3
Watkins and Stempak
Arnold, Stavrianoudakis (2), Beene (6), Hannah (9) and Shirley.
Six teams had qualified for the first annual Saskatchewan Championship Baseball Tournament sponsored by the National Baseball Congress -- Indian Head Rockets, Estevan Maple Leafs, Eston Ramblers, Saskatoon 55s, Regina Caps and Dauphin Red Birds.
(August 08) Indian Head moved into the final after taking a total-run series from Estevan 16-10. Rockets had fallen behind 10-2 after the first game. Eston was to have played in the grouping with the Rockets and the Maple Leafs but had stayed in Edmonton hoping to complete the final game of the rich Edmonton tournament.
Estevan 10 Indian Head 2
McHenry and Landrum
Blackman, Leal (5) and Barnhill
Indian Head 14 Estevan 0
Leal, Coleman (7) and Cameron
Jenkins, Bryant (2) and Landrum
The Regina Caps' stall tactics cast a pall over the opening day of the Saskatchewan championship tournament. Trailing Saskatoon 11-4, some members of the Regina club began to stall in hopes darkness would force the game to be called before the minimum 4 1/2 innings had been played. The strategy failed as the game went to six frames with the the 55's taking a 15-4 victory. Gordie Howe paced the Saskatoon attack against Regina with a homer, triple and double. The 55s had Max Bentley at second base, Doug Bentley in centre, Jim Shirley behind the plate, Sherman Watrous in right field and Bev Bentley and Howe in the lineup.
Regina 4 Saskatoon 15
Vogt, Chadwick (3), Merritt (4), Coons (4) and Turner
Porter, Arnold (1) and Shirley
---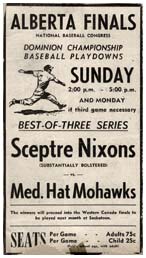 Alberta : (August 29) The Sceptre (Saskatchewan) Nixons captured the Alberta title in what turned out to be a best-of-three series with Medicine Hat. Rain forced the scheduled best-of-five series to be shortened.
Sceptre took the deciding game 3-2 after the teams had split a double-header, Mohawks won the first game 8-5 and Nixons captured the nightcap, 6-4.
Barry Robertshaw, an addition to the Sceptre club from the Edmonton Oilers, singled in Ken Nelson with what proved to be the winning run in the fifth inning. Hal Price held the Mohawks to six hits and fanned eight. Bud Francis and Larry Bolger handled the mound chores for Medicine Hat.
Mohawks' Curt Barclay scattered nine hits to take the win in the first game of the twin-bill. Medicine Hat took advantage of four Sceptre errors. Rudy Garcia , a former Mohawk, allowed just six hits in taking the loss. Cliff Jacobson pitched and batted the Nixons to the win in the second game. Jacobson allowed just five hits. Bud Watkins was the loser.
Nixons qualified for the final by winning the Medicine Hat tournament and the Mohawks won a berth by taking top spot in the Lacombe tournament.
---
(September 1-2) Courtenay Labour Day Tournament Parksville Loggers took top money in the Courtenay Invitational Labour Day Tournament downing Duncan Athletics 7-5 in the final. A bases-loaded triple by Walt Yeo in a five run fifth inning proved to be the difference. The A's out-hit the Loggers 11 to 9.
Cessford, Folk and Wyllie
White, Prior and Hindmarch
Duncan unleashed a 13-hit attack to trounce Victoria Eagles 10-4.
Cessford (W), Koppa and Wyllie
Worrell (L), Hume, McGee and Wiebe
A three-run seventh inning carried Duncan to a 6-2 win over Campbell River. Tony Folk scattered seven hits for the win.
Johnson, D.Marshall and Telosky
Folk (W) and Wyllie
---
Western Canada : (September 06) Pitcher Hal Price again was a key as Sceptre Nixons captured the Western Canada semi-professional baseball championship. Just a day after he pitched a complete-game three-hitter, Price held Indian Head to seven hits and survived a ninth inning rally as Sceptre scored a 7-5 victory. With the win Sceptre was also crowned as the Canadian champions by the National Baseball Congress.
Price held the Rockets to four hits over eight innings as the Nixons held a 7-1 lead going into the bottom of the ninth. Indian Head pushed across three markers and had the bases loaded with one out when Price got Les Witherspoon and Tom Alston to ground out to end the game. Nixon centrefielder Gene Jacobs was the star at the plate with three hits. In five games, Jacobs had 12 hits in 21 at bats.
Sceptre 7 Indian Head 5
Price and Garay
Brewer and Landrum
(September 05) : Sceptre and Indian Head split the first two games of the best-of-three final for the Western Canada semi-professional championship. Sceptre bounced back from a 19-7 beating to defeat Indian Head 7-1 in the second game of the double-header. Hal Price held the Rockets to just three hits and fanned ten in the Sceptre victory and catcher Ed Garay led the attack with three hits.
Indian Head 19 Sceptre 7
Courtoreille (L), Jacobson (7) and Garay
Morrow (W)Blackman (9) and Landrum

Sceptre 7 Indian Head 1
Price (W) and Garay
Blackman (L), Leal (4) and Landrum
Sceptre scored 13 runs in the first inning on nine walks, two hits and five errors and went on to trample the Trail Smoke Eaters 20-5 in opening action. Indian Head Rockets plated four runs in the 4th inning against Sammy Fowlkes and held on to edge Saskatoon 55s 7-6. The 55s had the bases loaded in the 8th but failed to score.
Earlier, Sceptre beat Saskatoon 5-0, and Indian Head shutout Trail 8-0.