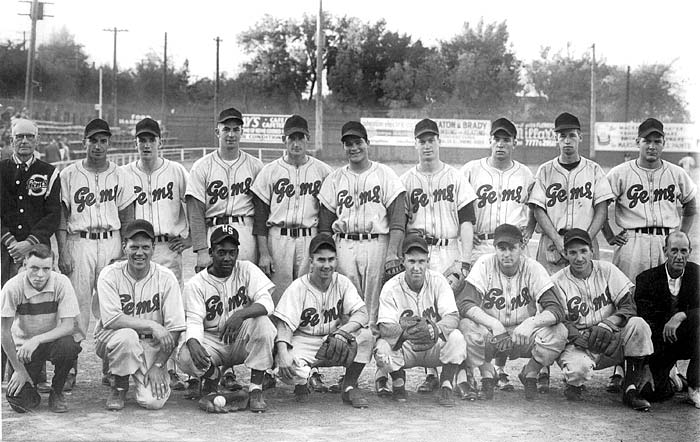 Back row (left to right) : Paul Schwager (co-manager), Doug Bentley, Bob Singleton, Len Breckner, Jim Shirley, Bob Garcia, George Read, Chuck Holdaway, Johnny Walker, Bert Lauer. Front row : (Batboy?), Ralph Mabee (manager), Frank Pickens, Reg Pendleton, Jimmy Shields, Murray Coben, Max Bentley, A.R. Harvey (trainer).
(Photo courtesy Len Breckner)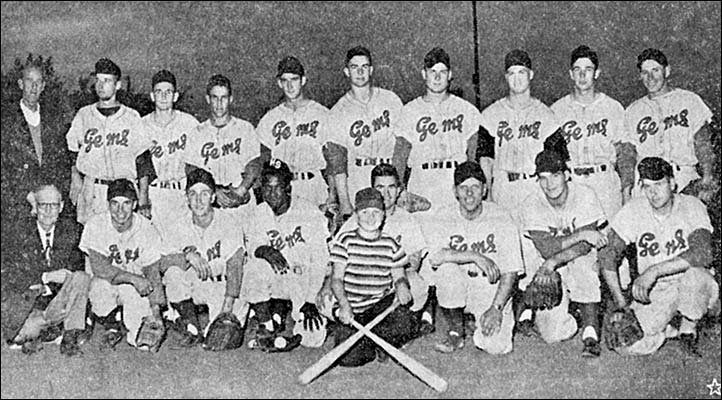 Saskatoon Gems, runners-up to North Battleford Beavers in the Western Canada Baseball final.
Back row (L-R) - Trainer A.R. Harvey, Johnny Walker, Bob Singleton, Jimmy Shields, Jim Shirley, Len Breckner, Lefty Lauer, George Read, Chuck Holdway, Max Bentley.

Front row - Paul Schwager Exec, Doug Bentley, Bev Bentley, Frank Pickens, Reg Pendleton, Ralph Mabee MGR, Bob Garcia, Murray Coben, Batboy-Gordon "Duffy" Robertson. Missing - Jim Chrones, President