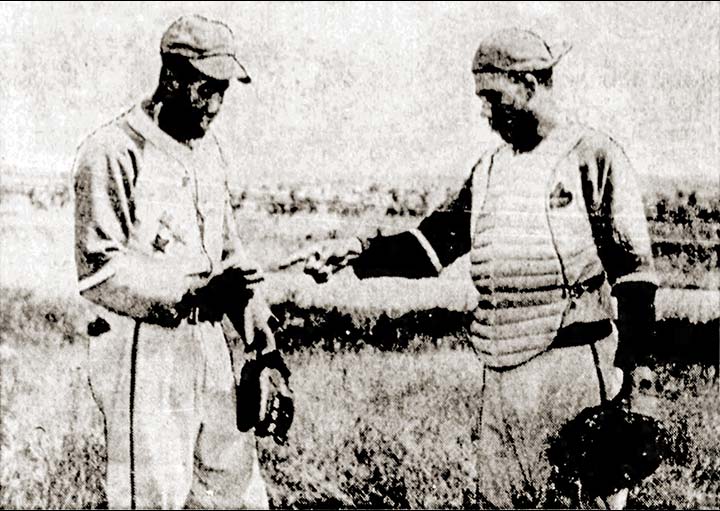 "Ivory Long , 17-year-old hurler, is shown looking over the ball with his catcher, Percy Howard, after pitching a no-hit, no-run game Thursday in the Lacombe Lions' baseball tournament. Ivory eliminated Central Alberta All-Stars 6-0, and yesterday his Ligons' Colored All-Star mates continued to eliminate Delisle Gems 9-7, then win first money at Lacombe with a 9-2 victory over Indian Head Rockets before 5,000 fans at the best tourney the Lions have staged so far." (Edmonton Journal, June 27, 1953)
Above - The host team, the Indian Head Rockets, topped Saskatoon 6-2 in the final of the Indian Head Tournament to take home top prize money of $1,200. A crowd of 65-hundred watched the final action. Manager Gilberto Yzquierdo receives the Coca-Cola Trophy from Gordon Gilbert, manager of the Regina Coca-Cola Bottling Co. At the right is the Saskatoon manager Ralph Mabee. (National Baseball Congress Annual, 1954)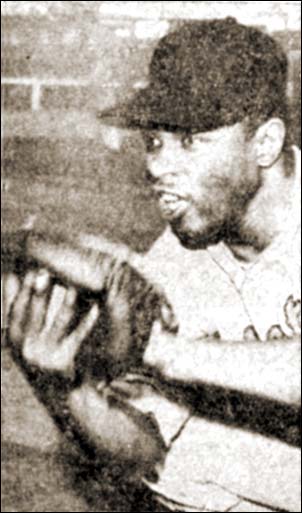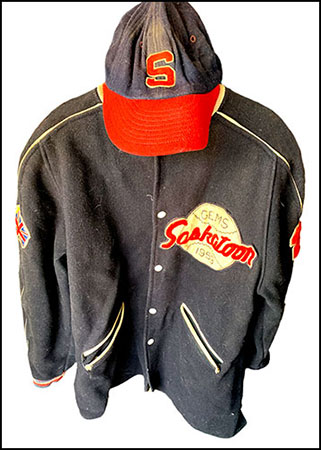 Above left - John Dean, catcher for Saskatoon Gems and Moose Jaw Maples.
Above right - from Ralph Mabee's daughter Kim, the Saskatoon Gems' jacket and cap of 1953.
Below - This, in the Saskatoon Star-Phoenix, carried a caption of En Cuba No Hace Frio de Esta Manera
Lo Dice Ignacio Cisnero que es el que mas sabe in Cuba.
Or in plain English, they don't have the snow and cold in Cuba that seven members of the Saskatoon Gems have been experiencing in Saskatoon this week.
Cisnero, who is spokesman for the group, said the Cubans have never seen snow, hockey skates or hockey sticks. They have seen hockey in the movies.
The Cubans frolicked in the snow Monday afternoon and pictured with the snowman are back row, left to right, Ezequiel Diaz (with hockey stick), Ignacio Romany, Jose Vera and Ignacio Cisnero.
Living dangerously under the threat of snow are Mario Herrera, with skates, and Sergio Martinez. The seventh, Roberto Zayas, was sleeping at the time.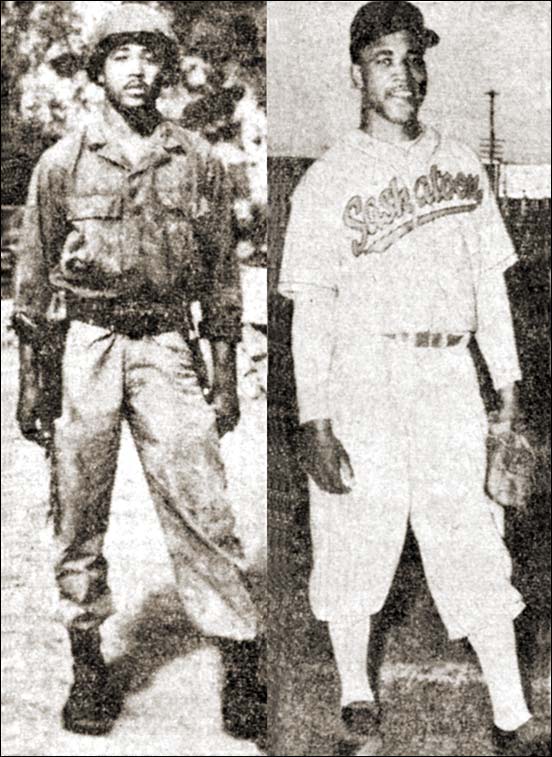 Bennie Griggs, a former Delisle baseball star, is to suit up with the Saskatoon Gems in 1953.
He arrived in the city yesterday and immediately went to work with the team.
Pictured, he is shown as both ballplayer and soldier. Bennie spent 13 months in Korea with the United States infantry and was discharged last August. He still carries bits of shrapnel in his right arm from a wound he received soon after his arrival in Korea.
However, Bennie claims the arm never gives him trouble and says "if anything it's stronger than it used to be."
He appears in excellent physical condition. Note the similarity of stance.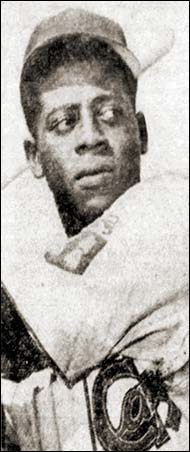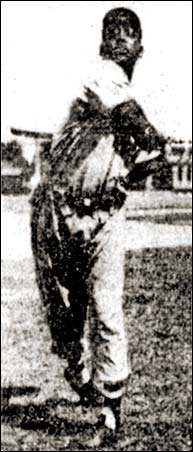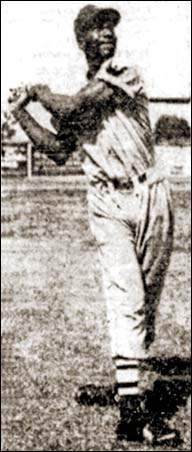 Above left and centre - Regina Caps star infielder Horace Latham and (right) outfielder Percy Trimont.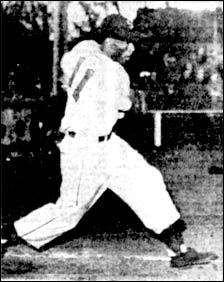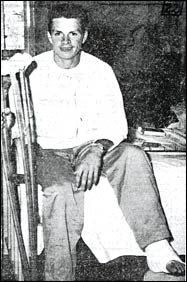 Left - Saskatoon centre fielder Mario Herrera who led the league in stolen bases, with 19
Above Right : Chuck McGuigan, described as the "scrappy, young Moose Jaw infielder" is finished for the season. McGuigan suffered a fractured ankle sliding into second base in the August 10th game against Saskatoon. (Moose Jaw Times-Herald, August 20,1953)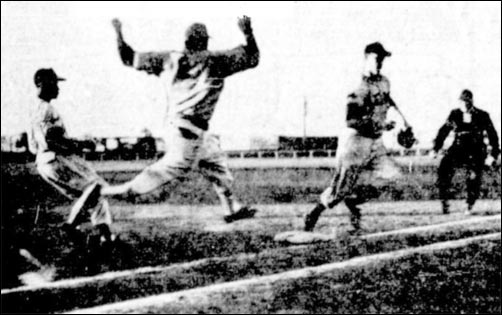 Gordie Howe, first baseman for the Saskatoon Gems, rushes to first to beat Brandon runner Johnny Banks to the bag. Gems' pitcher Jim Morrow was on the way to cover the bag, but Howe decided to make the play himself. The umpire is Ivan Bell.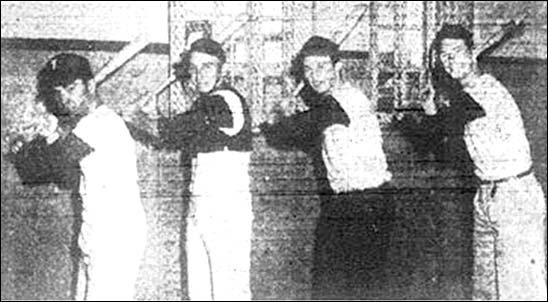 Left - Hoping for a potent offense, Moose Jaw offers a quartet of heavy hitters - (left to right) - infielder Johnny Ford, infielder Rip Robinett, catcher Tom Mannerino, first baseman Tom/Bob Peterson.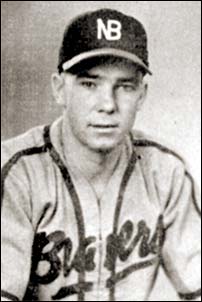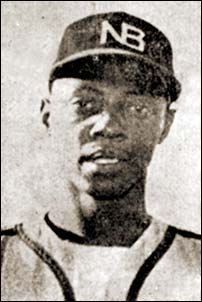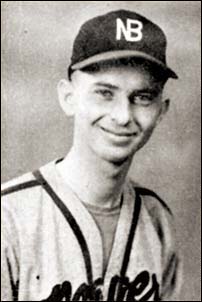 Three members of the 1953 North Battleford Beavers, local pitcher Chuck Holdway, import hurler Johnny Coleman and infielder Cliff Beisel.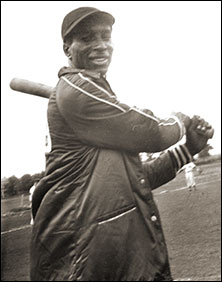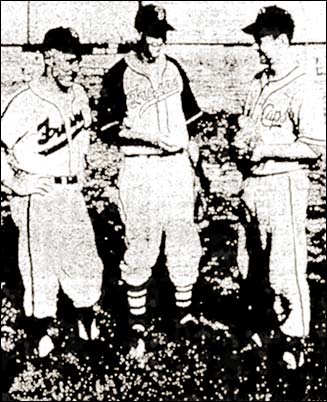 Left - Miguel Miranda, catcher for the Indian Head Rockets.
Right - Fresno State baseball coach Pete Beiden chats with righthander Truman Clevenger, centre, and catcher Bob Bennett, right.
Over the years Beiden would send dozens of FSU players to Western Canada to gain experience on prairie diamonds.
Clevenger pitched for Regina clubs in 1950 and 1952. Bennett spent parts of four summers in Canada, playing in Regina, Kamsack and Saskatoon.
Bennett would succeed Beiden as the Fresno coach. (Fresno Bee, February 3, 1953)
Below - Homebrew catcher Jim Shirley gets ready to warm up a couple of mound prospects of the Saskatoon Gems - young Oscar Tesch of Mervin (left) and Johnny Williams, the lanky Negro fire-baller. (Saskatoon Star-Phoenix, May 6, 1953)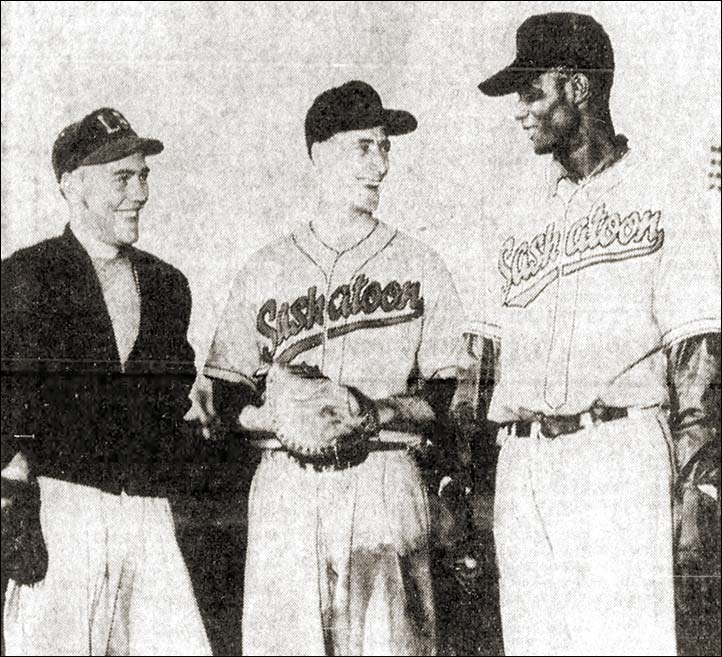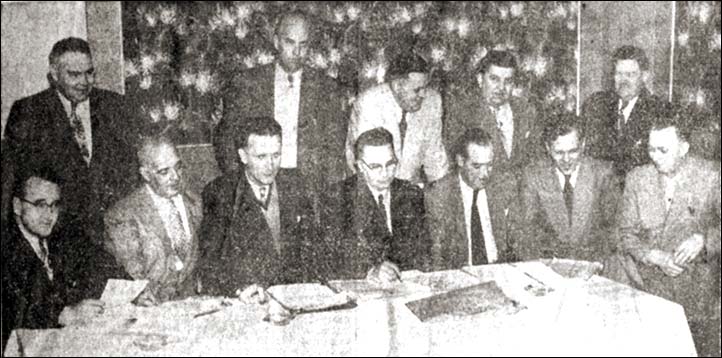 Above - Club owners and officials of the Western Canada and Mandak baseball leagues met in Saskatoon Sunday to lay plans for the 1953 season. Pictured above are the baseball men in session at their meeting at the King George Hotel. Front frow, left to right, Jack Maher, president of the North Battleford Beavers; Jim Chrones, president of the Saskatoon Gems; O.C. (Buck) Crawford, Saskatoon, WCBL vice-president; Ernie Jenner, Moose Jaw, secretary of the WCBL; Dr. R.C. Morrow, Winnipeg, secretary of the Mandak League; Ralph Mabee, general manager of the Saskatoon Gems; Denny Evenson, owner and manager of the Regina Caps. Back row, George Smallwood, Moose Jaw delegate; Don Grant, North Battleford delegate; Art Carey, WCBL official scorer; Curly Haas, owner and manager of the Winnipeg Giants; and George Halstrom, president of the Moose Jaw Maples.
---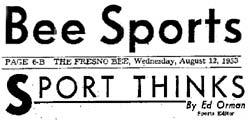 Ed Orman, The Fresno Bee, August 12, 1953
Vacationing Bruce Farris, one of The Fresno Bee sports writers, is taking a busman's holiday in Canada where he is following baseball teams for which a number of Fresno players perform.
Farris is headquartering in Saskatoon, Sask., whose ball club is being managed at present by Pete Beiden, the Fresno State College coach.
The Kamsack, Sask., team which won the league pennant this season, has been managed by Roy Taylor, a former FSC athlete and coach at the College of the Sequoias in Visalia.
The Kamsack team is disbanding and most of the players are heading back to California. However, Bob Bennett, J.D. Peterson and Jack Ladra, Fresno Staters with Kamsack, will join Beiden and his Saskatoon Gems.
Farris makes the following report :
Bob Doig has been in three games for Saskatoon and has three wins. He started two games and won one in relief. His best effort was s five hit 4 to 2 win over Regina. He looks pretty sharp.
Saskatoon has a nice ball park with the grandstand equipped with individual chair seats and a roof overhead. The bleachers make the seating capacity about 4,000 and games there draw well with crowds averaging 2,000 to 2,500. The infield is a skinned diamond but as smooth as a billiard table and far better than Fresno's. The outfield is about the same as in the FSC park.
The four teams in the current league are Saskatoon, Regina, North Battleford and Moose Jaw. Beiden really has put some hustle in the Saskatoon team and stands a good chance to nab the pennant.
Wills Whiffs 13
Ted Wills of FSC is hurling for Saskatoon and the other night he struck out 13 in beating Moose Jaw.
Last Sunday we traveled to Marysburg for an exhibition doubleheader with the Humboldt All Stars. What a setup there -- the field was carved right out of a cow pasture and the players had to run uphill to first base. The fences were about 250 feet away but only one home run was hit.
Bill Brennan, who used to star as a goalie for the Fresno Falcons, lives here. Also Gordie Howe, the great Detroit hockey player, lives right across the street from the ball park. Max Bentley, another major league hockey star, lives in nearby Leslie, and he plays part time for the Saskatoon ball club.