Mystery solved. The case of the Canada Cyclones jacket, 1953.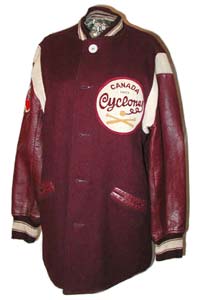 I received a note from a Portland woman asking about a jacket her brother had picked up at thrift shop in Olympia, Washington. He picked it up about four years ago because "it looked cool". After wearing it a few times, he became concerned about ruining what appeared to be a significant find, so he pushed it into the closet. Now, in preparing to move, he rediscovered the 1950's artifact and became interested in the background of his purchase.
Well, after some digging (including conversations, e-mails with Roy Taylor, John Zeeben, Bob Bennett and others) it's clear the jacket is from the 1953 Kamsack Cyclones (one of Roy Taylor's teams).
Bennett recalled the jackets were promised if the team won a big tournament (the '53 Kamsack event). On July 10, 1953 the Cyclones downed Indian Head (in one of three games that day) to take top prize AND the jackets.
My guess (from initials on the label) is that this is JD Peterson's jacket (Peterson is believed to be living in Tacoma). Peterson, one of the many Sequoias & Fresno State players to suit up in Canada, was a member of the '53 Kamsack club.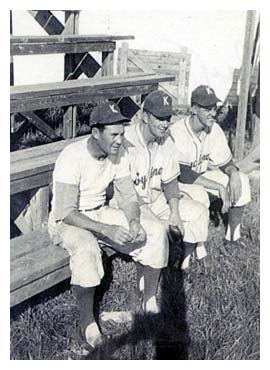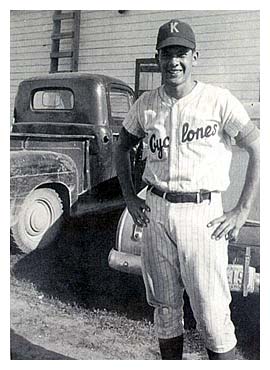 Baseball in Kamsack, Saskatchewan 1953. Left - Roy Taylor, the Kamsack playing-manager, along with Dick Hayes and Jim Jenkins. Right - Don Farris Kamsack photos courtesy Joan Parker/Kazakoff.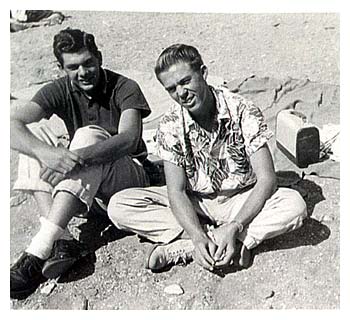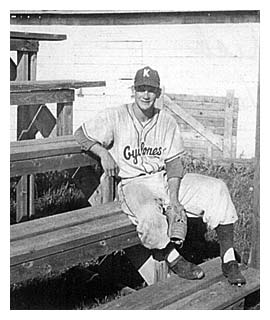 Left - Don Farris and Jim Peterson on the beach. Right - Dick Hayes relaxing before a game.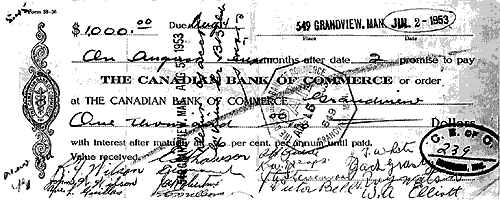 July 2nd, 1953, fifteen businessmen and farmers of Grandview and the area sign a Promissory Note for $1,000 to provide some breathing room for the ball club.
Six of the backers were farmers.
Lorna Wilson identified the others as "the oil man, druggist, hardware man, electrician, grain buyer, station agent, hydro man, truck driver and egg station man." Those from the era will know that $1,000 was a lot of money in 1953. (Image courtesy Lorna Wilson, Grandview)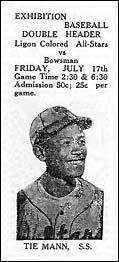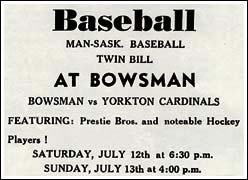 Left - One of the regular touring teams during the late 40s and early 50s was the
Ligon Colored All-Stars.
Note the admission -- 25-cents per game.
Right - Those "Prestie Bros." were, in fact, the Prystai brothers of Yorkton. Metro Prystai played in the NHL for thirteen seasons. (Advertising images courtesy of Arch Mullin)