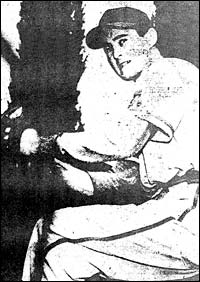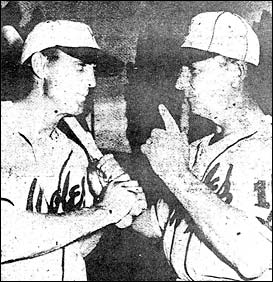 Top left - Right-hander Larry Jordan of the Penticton Athletics. Top right - Kelowna Orioles' first baseman Hank Tostenson (left) and field manager Rudy Kitsch in discussion.
Bottom left - Rival playing-managers Richie Schnider (left) of the Oliver OBC's and Sam Drossos of the Penticton Athletics shake hands following the completion of the 1954 OMBL final series, won by Penticton. Right - Trail mainstay Julie Bilesky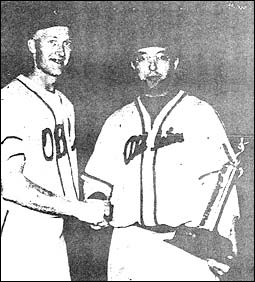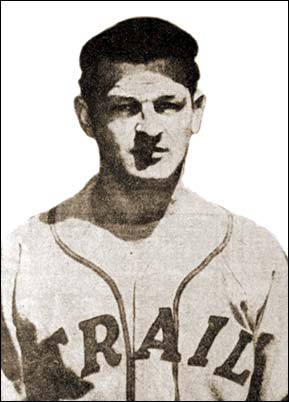 Below - Penticton Athletics following their victory in the 1954 playoff final against Oliver.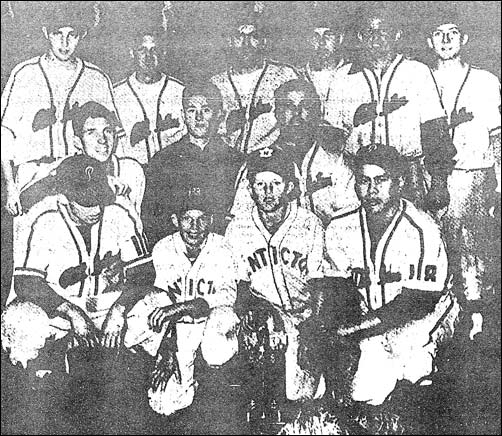 The playoff champion Penticton Athletics lineup for a victory photograph minutes after handing Oliver a resounding 21-3 defeat at King's Park.
Front row (left to right) - Gordie Jones, batboys Billy Allercott and Allan Richards, and Elmer Mori.
Second row - Lloyd Burgart, Larry Jordan, Sam Drossos.
Standing - George Drossos, Aubrey Powell, Bill Raptis, Joe Posnikoff, Johnny Apolzer and Doug Moore. Manager Les Edwards is not shown.
The local paper, I believe that to be the Kimberley Bulletin, provided some outstanding coverage of baseball in the city in the 1950s. Just into the 1954 season, the paper ran the better part of a full page under the headline "Dynamos Hopes Rest On Them" with photos and brief snippers of information on the individual players.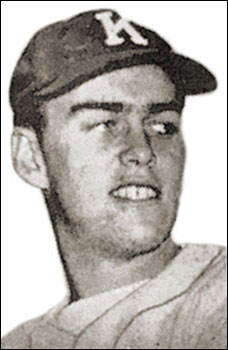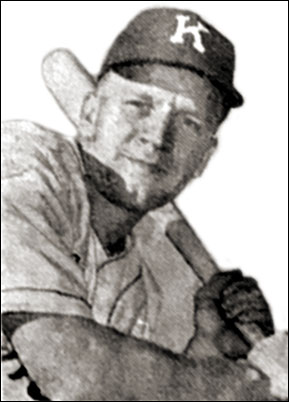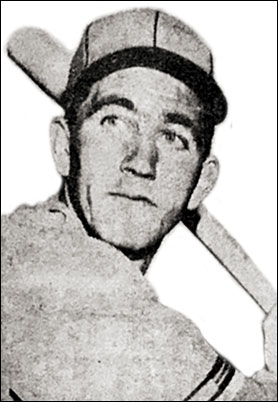 Left - Les Lilley ... powerhouse at bat
Single, born at Kimberley 21 years ago. Led the WIHL in scoring last winter and so far this season has rapped out six homers. Plays shortstop.
Middle - Red Mellor ... patrols left field
Married to girl he met in England while playing hockey for Earl's Court Rangers. Plays left field and is a consistent hitter. Born at Kimberley 25 years ago.
Right - Jim McDonald ... dynamite at bat
Hails from Trail where he was born 22 years ago. Single, and a hockey goaltender in the winter. Plays right field for the Dynamos. A terrific hitter and smooth fielder.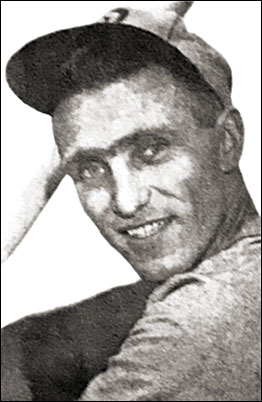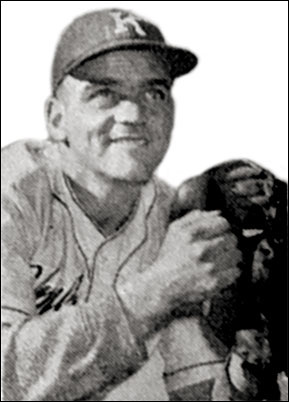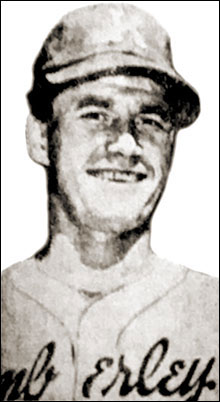 Left - Tony Brummet ... they'd better not steal
Married, and a high school teacher when not playing ball. Born at Mendham, Sask. 23 years ago. A long ball hitter and Dynamos' catcher.
Middle - Claude Bell ... never misses 'em
Another local lad, born at Kimberley 27 years ago. One of the best centre fielders in the league. Plays hockey for the Dynamiters. Claude married a local girl.
Right - Teddy Robb ... tops around second
Dynamos' classy veteran second baseman. Born at Assiniboine, Sask. 27 years ago. Married and makes his home in Chapman Camp.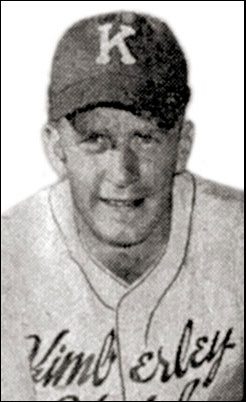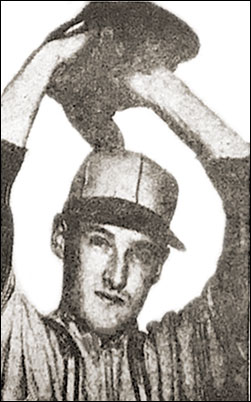 Left - Buzz Mellor ... in the hot spot
Born at Kimberley 26 years ago, married local girl. Buzz looks after third base for the Dynamos and has started to pound the ball after a slow start. Well known and high scoring hockey player.
Middle - Eric Bodin ... fogs 'em in
Single, born at Anyox, B.C. 22 years ago. The big, versatile athlete came to Kimberley as a kid and is enjoying a good year on the mound.
Right - Pete Boisvert ... classy lefthander
Pete was born at New Denver 23 years ago. He lived in Trail practically all his life. A noted left hand chucker and strike-out artists. Married and moved to Kimberley last month.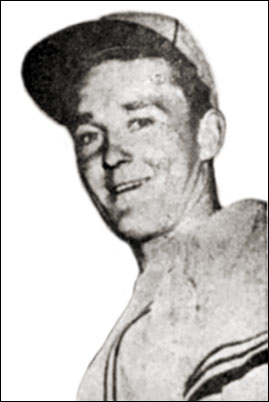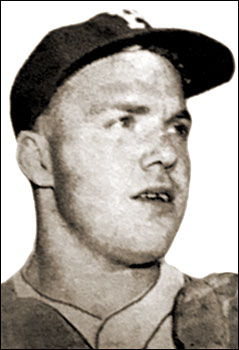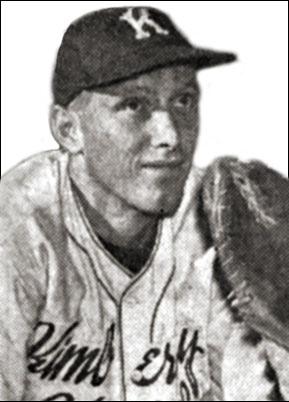 Left - Elgin Smith ... curve ball artist
Born at Oyen, Sask. 21 years ago. Single. The diminutive pitcher has knocked out one home run so far in the season.
Middle - Charlie McCarthy ... always hustling
Born at Pointex, Sask. 24 years ago. Single, came to Kimberley last year. Chuck shares the catcher's duty with Tony Brummet.
Right - Centre - Red Matthews ... anything within reach
Born at Winnipeg 24 years ago, single. Plays first bases. Played hockey in England for two seasons. A better-than-average golfer. The lanky first baseman is hitting his batting stride.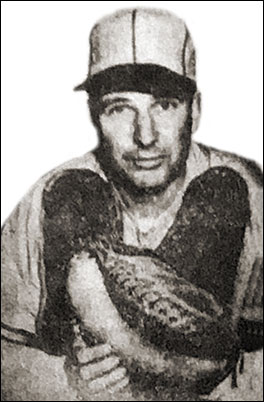 Left - Ed Crowder ... he's diamond wise
Been playing ball since he was a kid, and that's a few years ago. Was in ball at Rossland and Trail for a number of years before coming to Kimberley. Assists Rusty Wynn with coaching duties.
Right - Howard Thomas ... useful anywhere
The baby of the team at 18. Born at Kimberley, now makes his home in Vancouver where he attends school. Single, and son of former Kimberley ball star, Mickey Thomas.