After the car trip from Winnipeg to Moose Jaw, four recruits relax before beginning tryouts with the new club.
Left to right -- Reg Chopp, third baseman from the Manitoba Senior League, Collins Jones, playing-manager of the Dauphin Red Birds for two seasons, pitcher Al Seymour from the Grandview Maroons, and pitcher Don Gardner who played with Dauphin. (Moose Jaw Times-Herald)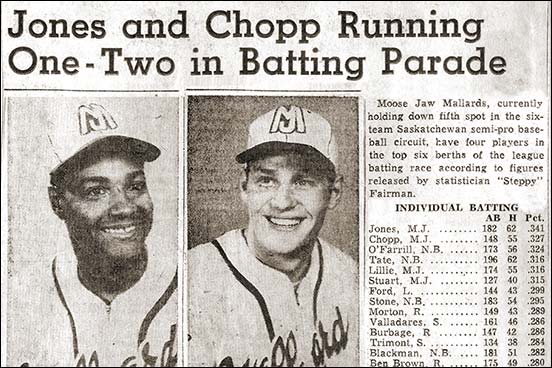 Oh if the Mallards had had some pitching!
The club finished with four of the top seven hitters. Jones and Chopp pictured, ran one-two for most of the season.
Jones finished as the runner-up while Chopp, the lone Canadian to make the All-Star squad, took 5th spot. (Clipping from Moose Jaw Times-Herald)

One of Chopp's former teammates in Winnipeg, Mark Flynn, recalled Chopp's reaction when approached about joining Moose Jaw. "Oh, I'll never hit that kind of pitching", was Chopp's response. Good hitter, poor forecaster !
Below - Saskatoon's formidable starting staff. From left to right -- Bennie Griggs, Jim Morrow, Rolando Garcia, Grant MacEwen, Bob Doig, Ted Wills and Don Kirk. (Saskatoon Star Phoenix, June 11, 1954)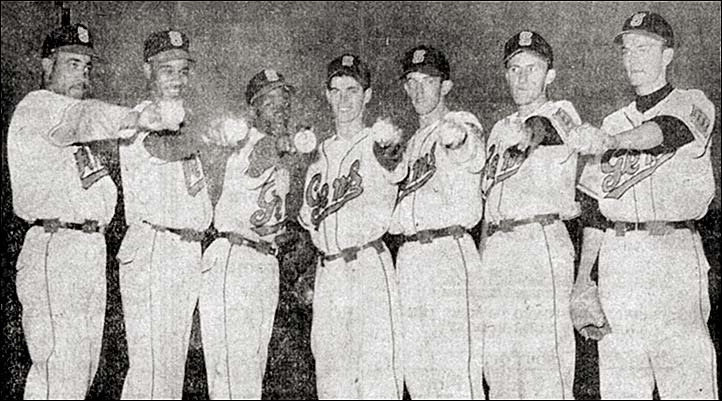 Above, - Four members of the 1954 Gonzaga University team who suited up in Western Canada -- Bob Bourbeau, Keith Gustin, Tom Mulcahy, Gary Ball,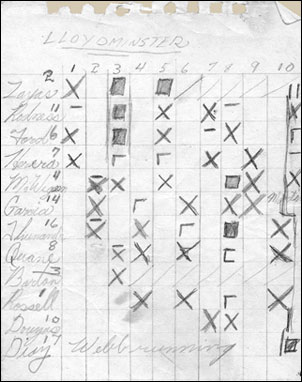 Left - Bob Holowaty, Kamsack Cyclones and Moose Jaw Mallards.19-year-old junior star from Melfort, Saskatchewan.
One of Roy Taylor's stars at COS (College of the Sequoias) in California.
Right - Oh yes. The batboy was scorekeeper too!
A hand-made box score from 1954. An extra-inning game no less!
Looks like the Meridians got seven this day. Don't know if they won or lost.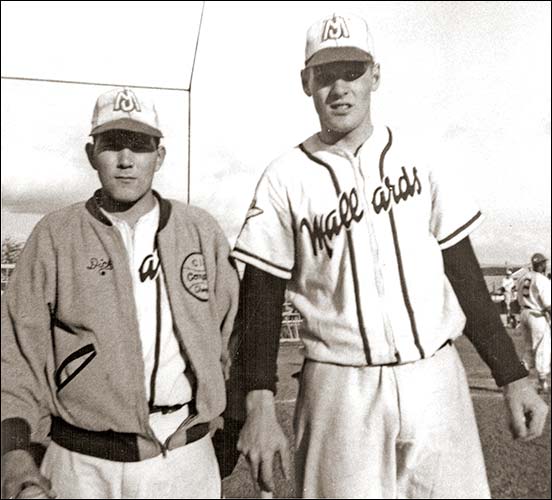 Left - Two key members of the Moose Jaw Mallards, catcher Dick Loe and outfielder Reg Chopp, a graduate of minor ball in Winnipeg.
(Photo courtesy of
Tom Mulcahy)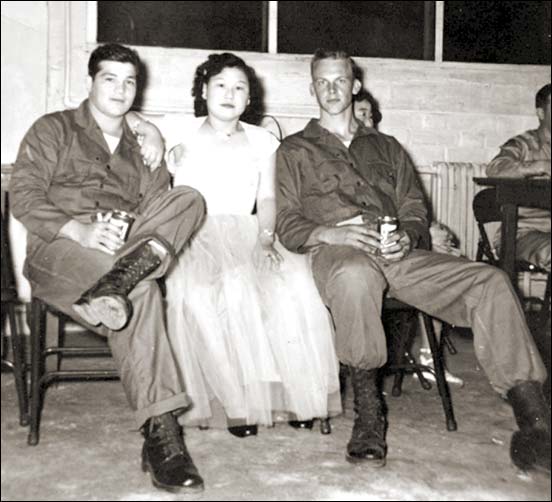 Right - Bob Garcia (left) and Charlie Beene (of the 1951 Saskatoon club). They had gone into the army together but split after basic training. Here they meet in at a dance in 1954 in Seoul, Korea.
(Photo courtesy Charlie Beene)
Below, left - Roberto Zayas (centre) with Lloydminster Meridians teammates in 1954. On the left is Osvaldo Garcia and to the right is Vincente Diaz. (Photo from Saskatchewan Archives Board R-A16662).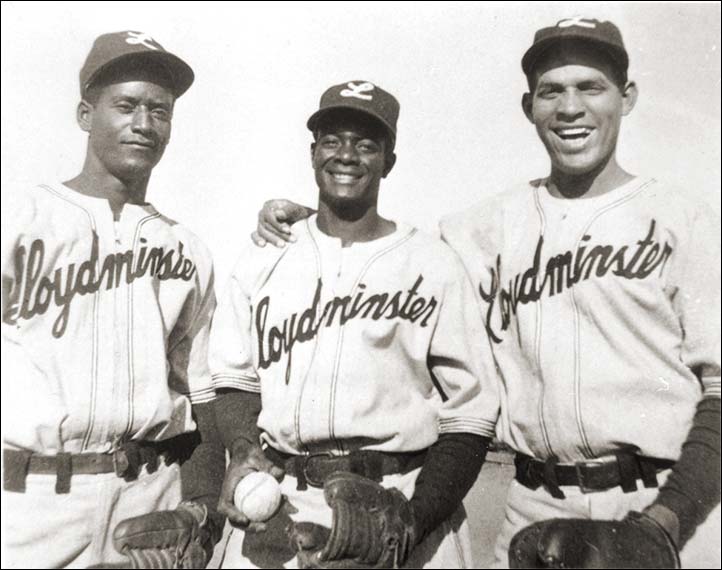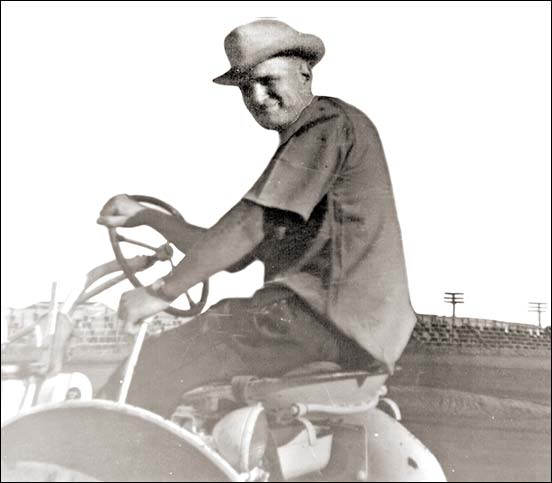 Left -- Lloydminster Meridians' executive
Ted Mitchell on his tractor helping to maintain
the ball park.
Below, left - Bob Bourbeau at infield practice at Gonzaga University. (Photo courtesy of Tom Mulcahy)
Right - Percy Trimont and Jim Morrow (left, right) point out the new lights at North Battleford's Abbot Field to Saskatoon skipper Ralph Mabee. Mabee shows off sun glasses, apparently to shade him from the brilliance of the new lights. September, 1954, North Battleford News-Optimist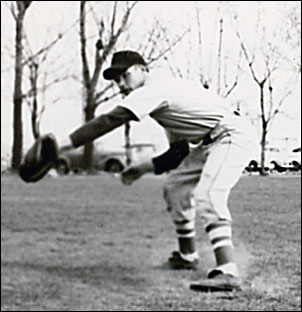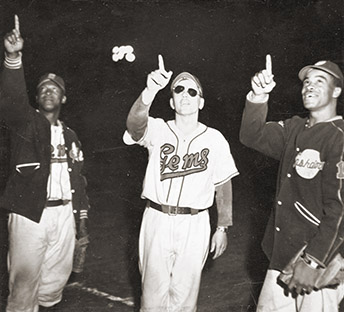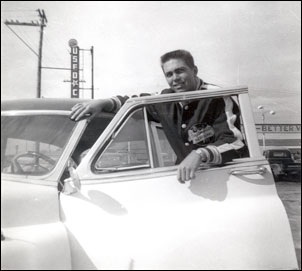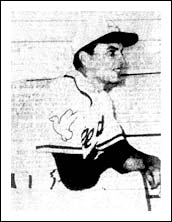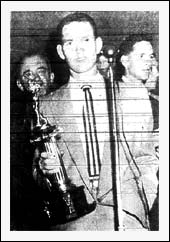 Above, left - Lefty pitcher Max Weekly checking out the cars at the used car lot.
Middle - Moose Jaw Manager Larry Isbell (a baseball and football star in college and with a future in football in Saskatchewan) plans for the season opener.
Right - Ken Nelson, playing manager of the North Battleford Beavers holds the Coca Cola Trophy at the Beavers' victory party. That's Jackie McLeod (right) who turned in a stellar pitching performance in the final game to bring the title to the Beavers.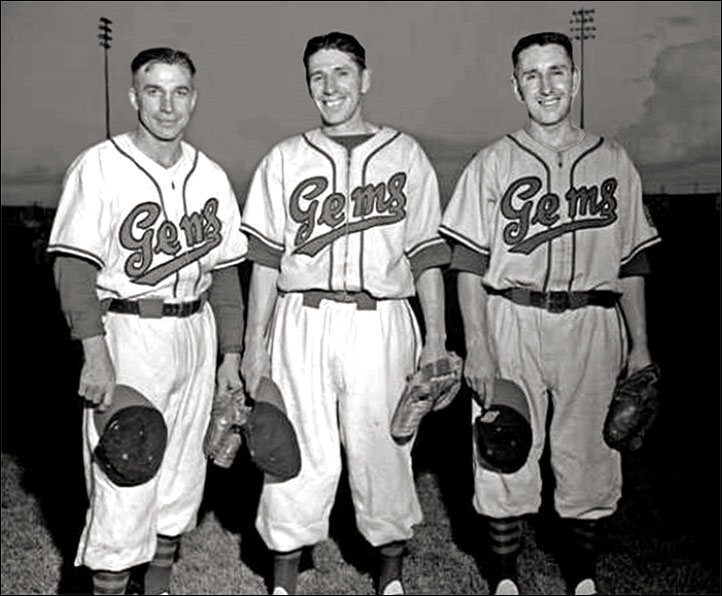 Hockey, baseball didn't matter, the Bentleys would be there. Doug, Max and Bev of the Saskatoon Gems.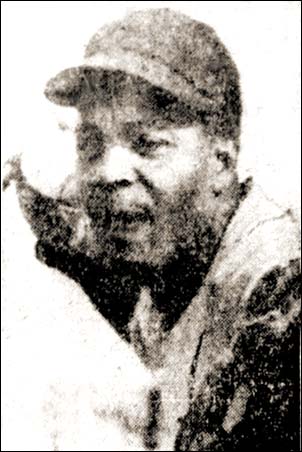 Left - infielder Roy Williams, with previous Canadian experience with the Regina Caps, came north this time with a barnstorming team from Texas, the Texas Jasper Steers.
He rapped a homer and triple as the visitors whipped the Regina All-Stars 8-1.