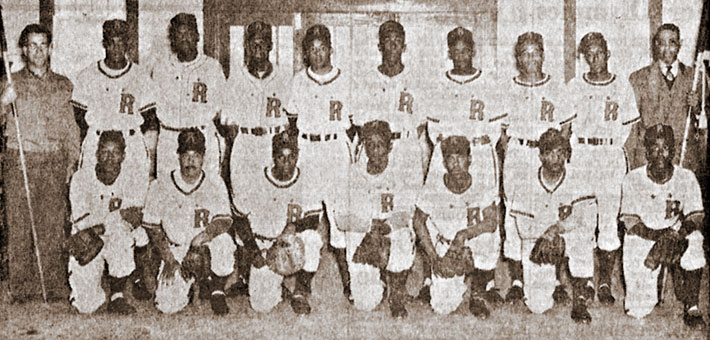 Back Row (left to right) - Dick Low, chairman of the Rosetown Legion baseball committee, Ben Brown SS, Howard Warfield OF, Ray Munson OF, Reg Jackson 1B, Lefty Summers LHP, Ben Hill P/MGR, Felton Morrison OF, Boyd Brown P, Fred Banks (owner and manager).
Front row - Sy Morton 3B, Randy Cisco 2B, Arlington Henderson C, Buddy Burbage OF, Preston Bessicks RHP, Fred Johnson OF, Harold Johnson INF [From the Saskatoon Star-Phoenix, May 17, 1954]
With much thanks to Sharon Clark of the Rosetown Archive we also have the following individual photos of the Rosetown Phillies. Top row, left to right - Preston Bessicks, Ben Brown, Boyd Brown, Buddy Burbage, Arlington Henderson, and Reg Jackson. Second row - Harold Jackson, Lionel King, Felton Morrison, Sy Morton, Dick Price and Lefty Summers. At the bottom, Howard Warfield.