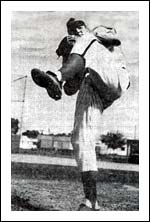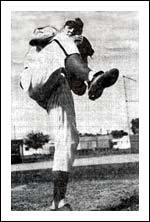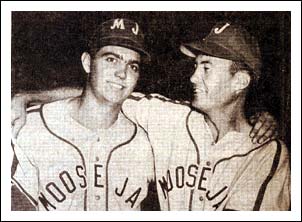 Above left & centre - No wonder the local paper called him Marvelous Max! The Moose Jaw Times-Herald, in a preview of the 1955 team featured the picture at the left -- the right-hander. Of course, Max Weekly was a big lefty. And, his brother -- later a star pitcher at COS -- was named, Marvel. (Moose Jaw Times-Herald, 1955)
Above right -
Max Weekly
(left) gets congratulations from manager
Roy
Taylor
after a four-hit win over Edmonton.
(Edmonton Journal, July 5, 1955)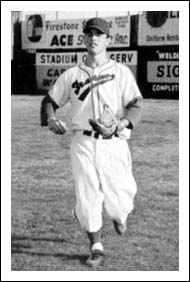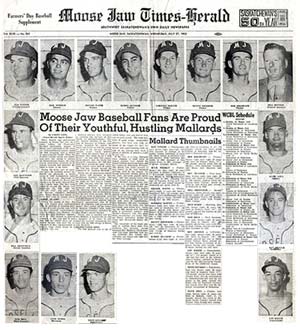 Baseball was big news on the prairies.
Here (left), the Moose Jaw Times-Herald devoted almost the entire front page of its sports section to the Mallards with pictures, a write-up, brief player biographies, and partial schedule. (Moose Jaw Times-Herald, July 27, 1955)
Right - One of Moose Jaw's prize acquisitions was Fresno State outfielder, Tony Levaggi who was drawing much attention from major league scouts in the Pacific area.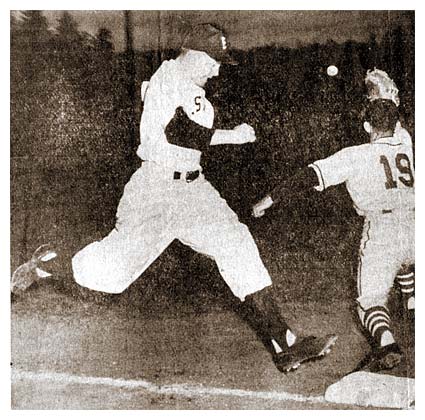 Jim Harney of the Edmonton Eskimos legs out a bunt for a base hit in the third inning of the Regina - Edmonton game at Renfrew Park, won by the Esks 5-2.
Harney barely beats the throw from Regina third baseman Pat Mills.
The first sacker is Joe Pedrazzini. (Edmonton Journal, June 18, 1955)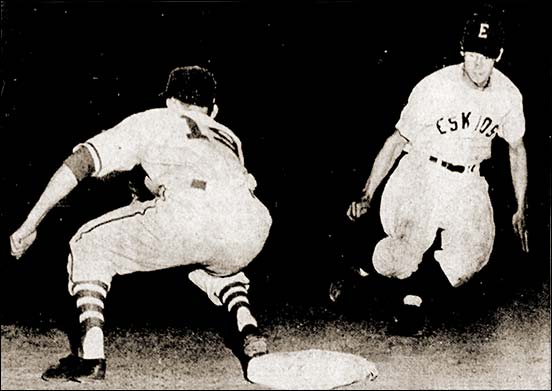 Two likely Western Canada all-stars are seen in action during the Regina-Edmonton series.
Left is Regina Braves first sacker Joe Pedrazzini, who had four consecutive hits Saturday night, and seen sliding into the bag is the league's top hitter the Eskimos' Cal Bauer.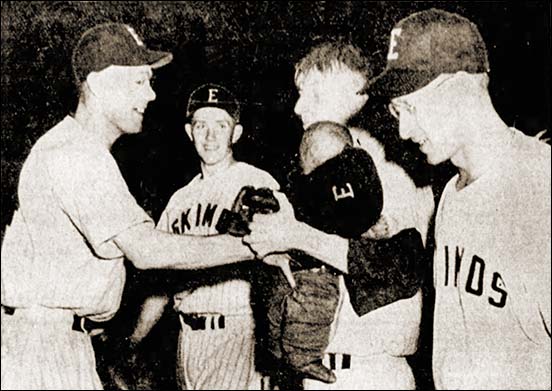 Smoky, the Eskimos' Panda bear mascot continues to do his magic for the Edmonton diamondeers. After the Esks ran their winning streak to seven straight on the wings of Kirby Pain's 5-0 shutout over the Regina Braves, Pain happily grabbed up Smoky in a victory embrace. Teammates mobbed Pain after the final out. Left to right are first baseman Jim Ryan, third sacker Jim Harney, Pain, and fellow hurler Keith Bowman. (Edmonton Journal, July 16, 1955)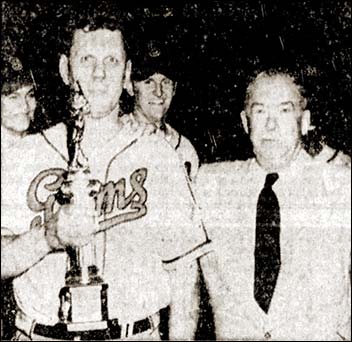 Above - Friends ... until the first pitch. North Battleford's Ken Nelson and Saskatoon manager Ralph Mabee share some laughs before the 1955 season opener. (Saskatoon Star-Phoenix, June 9, 1955)
Left - another successful season. Ralph Mabee, manager of the Saskatoon Gems, holds the trophy emblematic of the Western Canada Baseball League pennant. League president Cliff Henderson of Moose Jaw (right) made the presentation at Taylor Field Wednesday night. (The Leader-Post, August 25, 1955)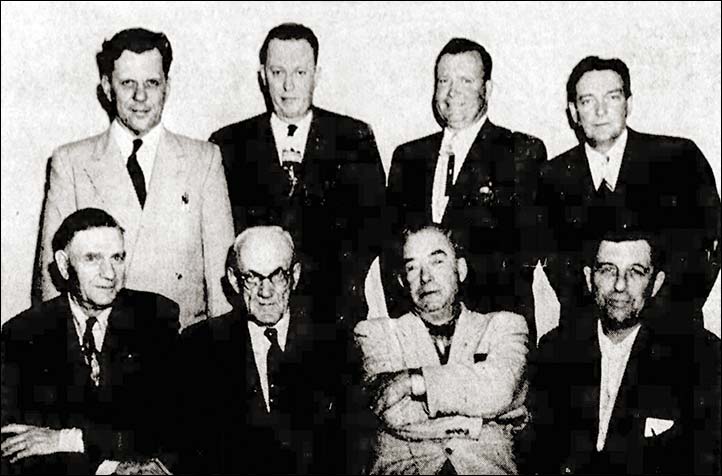 All six clubs of the Western Canada Baseball League have decided to carry on for another season. The decision was made over the weekend at a meeting in Edmonton. Those present - front (left to right), W.A. "Slim" Thorpe, Lloydminster, Brant Matthews, Edmonton, Cliff Henderson, Moose Jaw (WCBL President), Keith Erne, North Battleford. Back row - Ralph Mabee, Saskatoon, Danny Evenson, Regina, Lloyd Rathwell, Moose Jaw, John Ducey, Edmonton. (Edmonton Journal, October 11, 1955)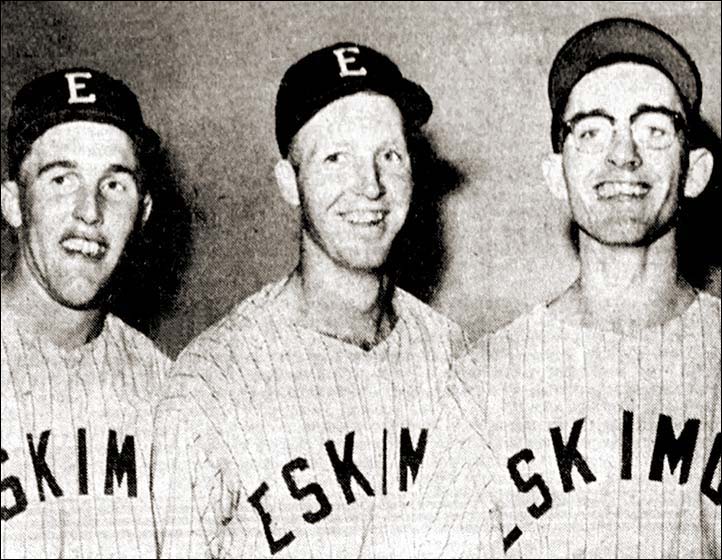 Edmonton Eskimos enjoyed a feast at the plate routing the Lloydminster Meridians 19-6 with a 23-hit attack. Everybody but the pitchers was in for a share, including Len Karlson (left) who took over in the late innings in right field, Gary Jackson (centre) who batted in three runs with a double and single, and Len Farrell (right) who hit four-for-five, including a double and knocked in three. (Edmonton Journal, July 14, 1955)