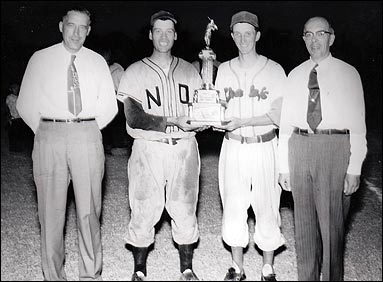 At the famous Indian Head Tournament in 1955, the Notre Dame Hounds and Brandon Cloverleafs tied for the title at the Indian Head Tournament.
That's Frank Germann of the Hounds, second from the left, sharing the trophy in the photo at the right and just to the left of the Brandon representative in the photo below.
The two teams survived a fast 16-team field to reach the finals then fought to a 4-4 draw before 3,000 fans. The game was called after nine innings because of darkness and the clubs shared top honours and an equal share of the $4,500 prize money.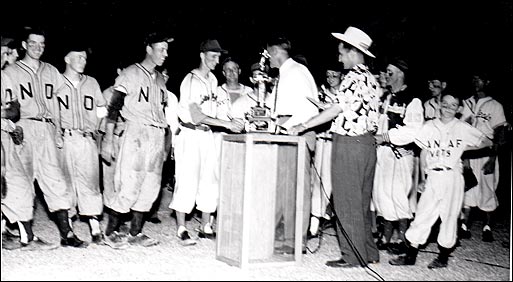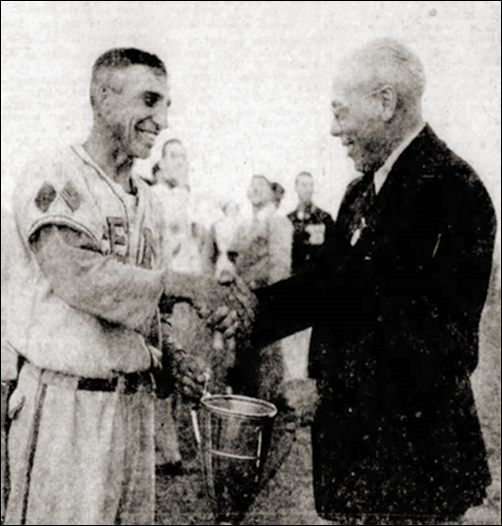 Doug Bentley, playing-coach of the Delisle Gems, receives the J.F. Cairns Memorial Trophy from Roly Howes, Chair of the Saskatoon Exhibition Baseball Tournament.
The Bentleys, backed a strong pitching performance by Murray Coben, led Delisle to an 8-2 triumph over Langham in the final of the Saskatoon Exhibition Tournament.
Coben fired a six-hitter and fanned 14 while Max Bentley led a 14-hit attack with a double, three singles and three runs.
Doug and Bev Bentley each had two hits. Doug scored twice and Bev drove in three. Second baseman Jack Dear had two hits for Langham.