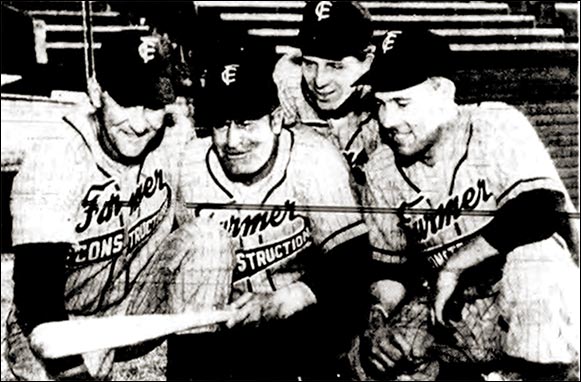 Above - Four members of Victoria's Farmer Construction plans strategy as they prepare for the season opener against Bellingham. Manager Ed Ash (second from the left) talks hitting with right-fielder Charlie Boyd (left), third baseman Stu Mitchell (rear) and catcher Rocky Harford (right)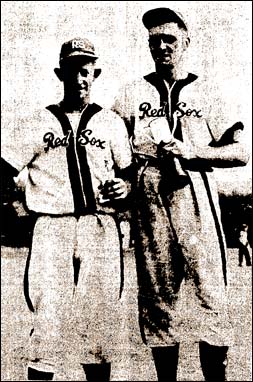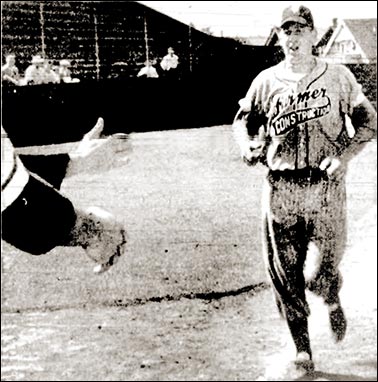 Above left - Two major reasons for the playoff victory for the Willow River Red Sox over the Quesnel Clippers in the Prince George and District League. Catcher Willie McDermid, who led the league in hitting with an amazing .502 average, and pitcher Sid Delano, who racked up seven wins with no losses, are seen holding the trophies for their outstanding performances.

Right - Charlie Boyd of Victoria's Farmer Construction about to be congratulated on a home run blast.
Below left - When Bellingham visited Victoria in mid-June, there was chance for a reunion of sorts as three former players of the pro Western International League of 1953 exchanged greetings before a game at Royal Athletic Park.
John Marshall (left) of the Bells, a 15 year veteran of the pro ranks, pitched for Lewiston that summer while Jim Harford (centre) and Bill Prior, of Farmer Construction of Victoria, suited up for the Victoria Tyees
Below right - Right-hander Gary Driessen from Central Washington U. was a star hurler in the Alaskan semi-pro league with Fairbanks before spending a half-dozen summers in Canada suiting up for Oliver in the Okanagan Mainline League.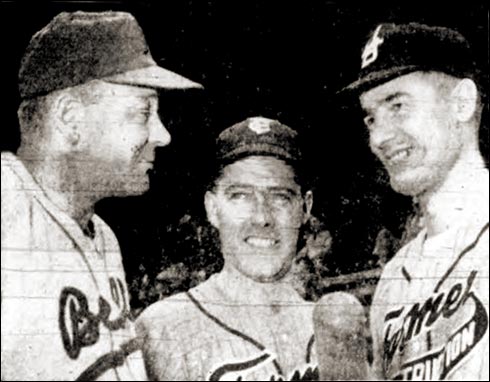 .