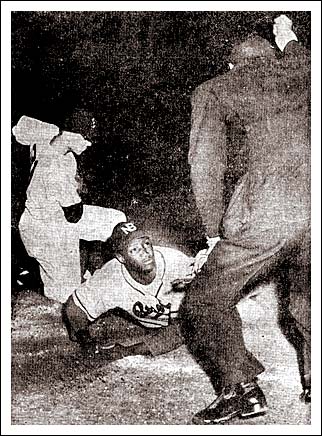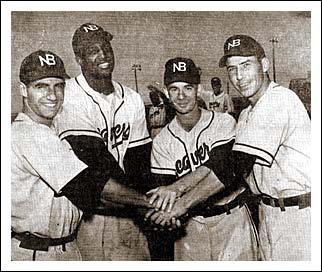 Left - North Battleford's
Bob Herron
is out at home. Umpire
Johnny Lupul
ruled that Edmonton's
Dale Zeigler
had made the tag in time. With the bases load and two outs, a pitch got away from catcher
Tom Shollin
who retrieved the ball and threw to pitcher Zeigler who made the out. Eskimos won 1-0. (Edmonton Journal July 28, 1956)
Above right - North Battleford's Mark Bussan, Bob Herron, Emile Francis, and Mike Dayne. (North Battleford News Optimist, September, 1956)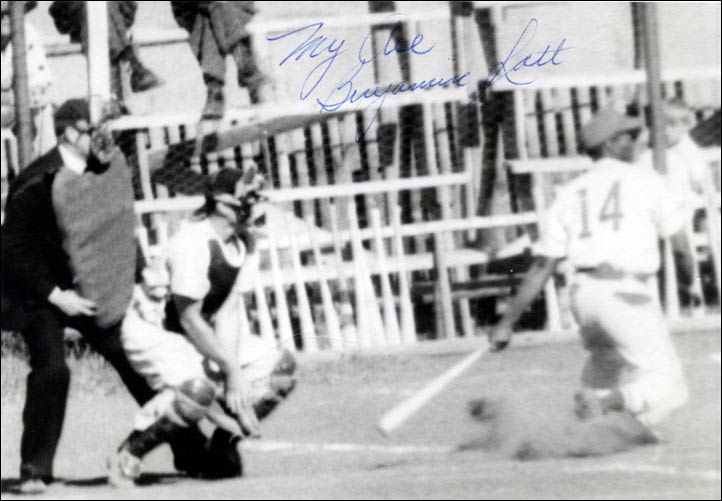 The Meridians' second baseman Ben Lott belts another.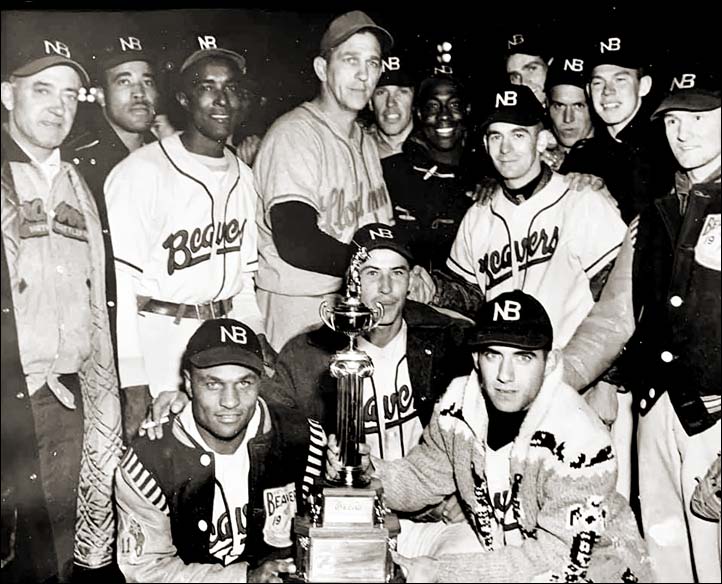 North Battleford shows off the trophy for winning the 1956 Western Canada League title. Stan Karpkinski of the Lloydminster Meridians congratulates Beavers' manager Emile Francis. Showing off the Coca Cola Trophy are Louis Green, Mike Dayne and Mark Bussan. At the left of Karpinski are trainer Henry Krueger, Bennie Griggs,and Curtis Tate. (North Battleford News Optimist, September, 1956)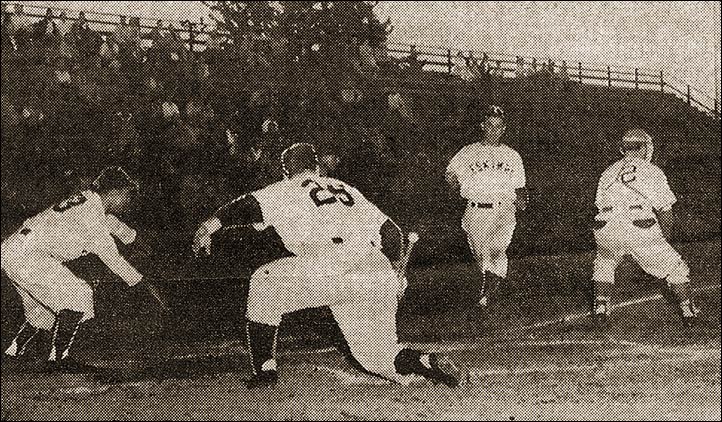 An Eskimo convention at home plate! A bases-loaded double in the 3rd inning was the key blow as Edmonton shutout Moose Jaw 4-0. Eddie Bertotti is seen scampering home, while Bob Gerst (No. 25) the next batter, and Carl Maggio, who has already scored, offer advice. The catcher is Jim Garrett. (Edmonton Journal, June 19, 1956)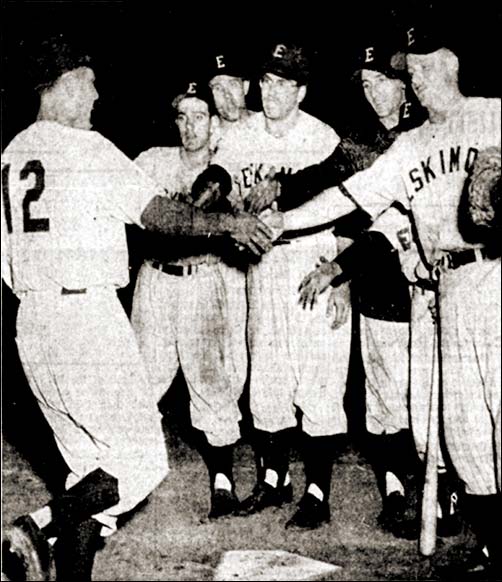 Left - Cyril Ing broke into the Edmonton Eskimo lineup with a bang.
Ing cracked out three hits in four trips to the plate, one of them a two-run homer over the right centre field wall.
Greeting the slugger are Eddie Bertotti, Phil Oyler, Bob Gerst, John Doucette (who tossed a four-hitter), a short, unidentified Eskimo, and Gary LaComb.
Photo - Edmonton Journal, July 14, 1956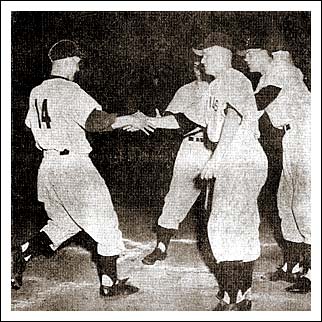 Left - Teammates gather to congratulate Gary Pennington who helped the Eskimos get the season off on the right foot with a 5th inning homer in Edmonton's 5-2 victory. Right - Regina pals, Tony Levaggi (left) and Bob Phair (right) Phair had a grand slam in Regina's 11-0 victory over Moose Jaw. Levaggi added four hits. (Moose Jaw Times-Herald, July 31, 1956)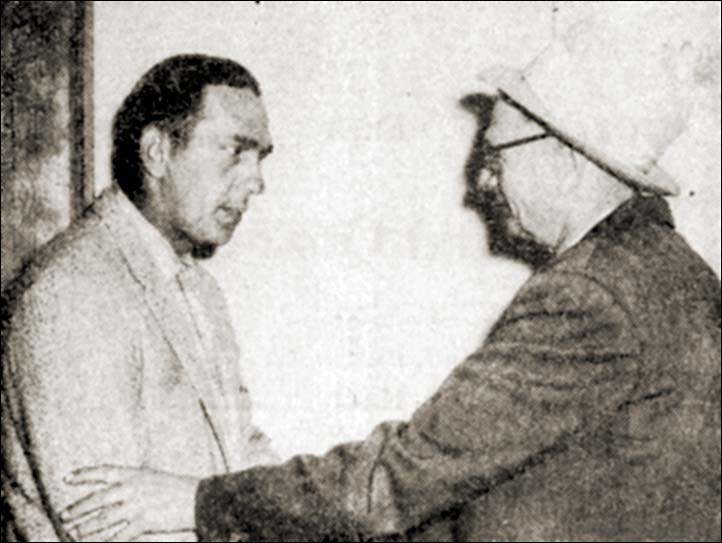 Slim Thorpe, head of the Lloydminster owners' group, congratulates manager Stan Karpinski (left) on a fine season.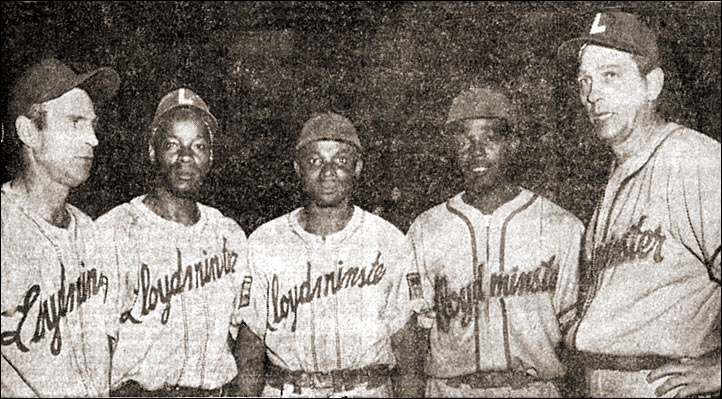 The 1956 Lloydminster infield (left to right) : Eddie Morris, Benjamin Lott, James Valentine, Curly Williams with manager Stan Karpinski. (Edmonton Journal, July 3, 1956)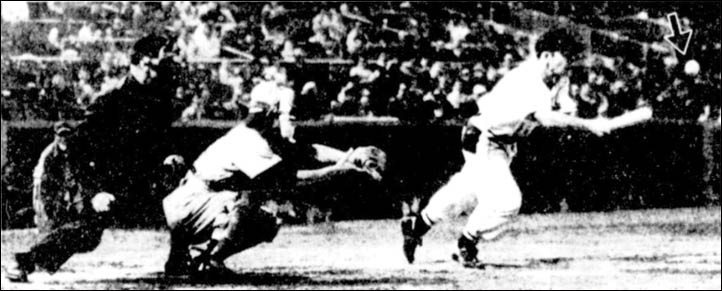 North Battleford represented Canada at the Global World Series at Milwaukee. Here, Canada lost to Japan 5-4. Johnny Ford is shown laying down a sacrifice bunt (the paper has conveniently noted the location of the ball with an arrow). The catcher is Minoru Miyahara. (Milwaukee Journal, September 8, 1956)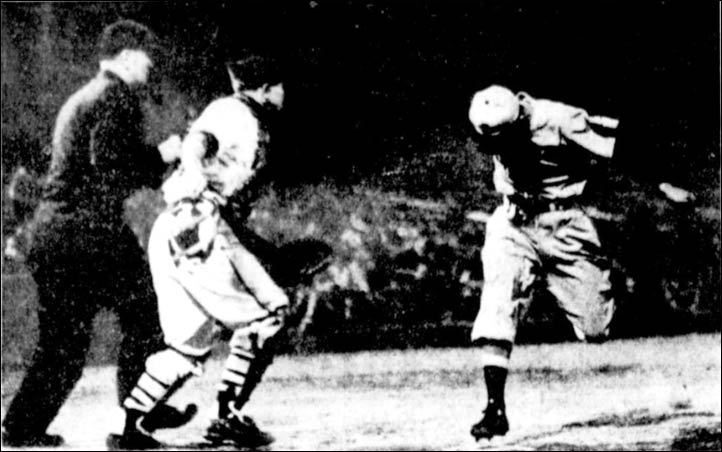 Sadayoshi Osawa of Japan scores the winning run on a suicide squeeze play. The bunt was laid down by Tokichiro Ishii. Gale Tuggle is the catcher and Chief Meyer the umpire. (Milwaukee Journal, September 8, 1956)