Semi-final series :
The underdogs got the upper hand in the opening games of the Western Canada League semi-finals.
(Aug 27) John Karpinski drove in three runs and Stan Karpinski went all the way on the hill as Lloydminster upset the pennant-winning Edmonton Eskimos 8-7 at Renfrew Park. Benny Lott had a pair of doubles and a single and two RBI. Ralph Vold was the complete-game loser for the Eskimos. Bob Gerst drove in four runs for the Esks with a triple and two singles. Meridians won in spite of seven errors.
Lloydminster 200 050 100 8 11 7
Edmonton 040 002 100 7 11 1
S Karpinski and Tanner
Vold and Shollin
North Battleford scored five runs in the second inning and held on to beat Saskatoon 9-4 in the first game of their semi-final series. Mike Dayne was the winner, Doug Gostlin took the loss.
N Battleford 050 100 003 9 10 3
Saskatoon 200 000 011 4 9 3
Dayne and Tuggle
Gostlin, Stevens (2) and Garay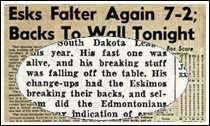 (Aug 28) Ron Perranoski, a 19-year-old lefty from Michigan State University, dazzled the Eskimos with 15 strikeouts as Lloydminster went up two games to none in their semi-final series with a 7-2 victory at Edmonton. Ben Lott and Roberto Zayas each had three hits for the Meridians. Bob Gerst led the Eskimos with three hits. (Edmonton Journal, August 29, 1956)

"(Perranoski) showed why he amassed a 10-1 win and lost record with Waterton of the swift South Dakota League this year. His fast one was alive, and his breaking stuff was falling off the table. His change-ups had the Eskimos breaking their backs, and seldom did the Edmontonians give any indication of erupting for one of their characteristic big innings." (Edmonton Journal, August 29, 1956)
Lloydminster 000 210 220 7 13 1
Edmonton 001 000 010 2 7 0
Perranoski and Tanner
Zeigler, Bull (7), Skousen (7), Jones (8) and Shollin
Tom Garcia tossed a one-hitter to lead North Battleford to a 4-1 victory over Saskatoon. Jesse Blackman sparked the Beavers with a two-run homer in the fifth. Gems scored their only run on four walks in the seventh. Garcia filled the bases and, with a lefty hitter up, the Beavers brought in Jack Bristol from the bullpen. Bristol walked Jim Shirley to force in a run, but Garcia returned to the hill to get out of the inning.
Saskatoon 000 000 100 1 1 0
N Battleford 000 021 01X 4 9 0
Bowes and Garay
Garcia, Bristol (7), Garcia (7) and Tuggle
(Aug 29) John Doucette and Ralph Vold combined on a four-hitter as Edmonton edged the Meridians 3-2 in Lloydminster. A third-inning single by Wayne Tucker drove in what proved to be the winning run for the Eskimos. Bob Gerst had a pair of hits for Edmonton to give him 8 hits in 14 at bats in the playoff series.
Edmonton 021 000 000 3 6 0
Lloydminster 000 010 010 2 4 1
Doucette, Vold (8) and Shollin
Kalski, Tesch (2), Hansen (3) and Tanner
Max Bentley's single scored Jackie Bowes in the bottom of the ninth to give Saskatoon a 5-4 win over North Battleford. Gems had taken a 4-0 lead into the ninth. Curtis Tate had a double and two singles for the Beavers.
N Battleford 000 000 004 4 8 3
Saskatoon 020 101 001 5 7 1
Griggs, Garcia (9) and Tuggle, Ford (9)
McLeod, Bowes (9) and Garay
(Aug 30) Edmonton and Lloydminster played to a 5-5 tied in a game called after nine innings by darkness. Tom Shollin had a homer and two singles for Edmonton. Curly Williams and Dick Satalich each had a pair of hits for the Meridians. Stan Karpinski went the route for the Meridians.
Edmonton 010 030 100 5 12 2
Lloydminster 001 120 010 5 9 3
Jones, Zeigler (4), Vold (6) and Shollin
S Karpinski and Tanner
Lefty Mike Dayne shutout the Gems on three hits as North Battleford advanced to the Western Canada League final with a 4-0 win over Saskatoon. Beavers won the semi-final series in four games.
Saskatoon 000 000 000 0 3 0
N Battleford 000 100 30X 4 9 1
Knutson, Stevens (1), Doyle (8) and Shirley
Dayne and Green

(Aug 31) Stan Karpinski, pitching his second complete game in two nights and his third of the series, scattered ten hits as Lloydminster dumped Edmonton 6-3 to oust the Eskimos from the playoffs. Karpinski also had two hits and engineered a game-ending double-play. Don Stewart opened the scoring with a first-inning homer for Lloydminster. Ken Guffey had three hits, including a homer, for Edmonton. (Edmonton Journal, September 1, 1956)


---
Final series :
(Sept 1) North Battleford came back from a 6-0 deficit to whip Lloydminster 13-9 in the opening game of the Western Canada League final series.
With near freezing temperatures and showers, there was a heated discussion among team management, umpires and the league president as to whether the game would be played.
When it got going, the Meridians jumped on Beaver starter Tom Garcia for five, first-inning runs. John Karpinski's bases-loaded single scored a pair. A sacrifice fly by Curly Williams added another and singles by Stan Karpinski and Ed Tanner made it 5-0. Benny Lott belted a homer in the second to give the Meridians a 6-0 lead.
Beavers came back with four runs in the third. After starter Oscar Tesch walked the bases full, Kenny Nelson cleared the sacks with a triple. Louis Green's single scored Nelson.
Meridians scored single runs in the fourth and fifth innings to take a 8-4 lead, but North Battleford broke loose with five runs in their half of the fifth. A walk to Nelson and a single by Art Stone put runners on first and third. An error by Jim Valentine allowed Nelson to score. Green's single scored a pair and Art Worth's homer added two more. Worth belted his second homer of the game in the seventh inning to give the Beavers an 11-8 lead. Bob Herron also had a two-run homer for the Beavers.
Lloyd 510 110 010 9 9 3
NB 004 052 20X 13 13 3
Tesch, Hansen (3)and Tanner
Garcia, Bristol (1), Button (5) and Green
(Sept 3) John Karpinski singled home pitcher Ron Perranoski with the winning run as Lloydminster edged North Battleford 4-3 to even their best-of-three final series at a game apiece. 15-hundred shivering fans took in the action in North Battleford. Perranoski led off the bottom of the ninth with a single and moved to second on a sacrifice bunt by Dick Satalich.
Perranoski went the distance on the hill pitching shutout ball after the second inning. The Beavers had taken a 2-0 lead in the opening frame on back to back doubles by Mark Bussan and Johnny Ford and a single by Ken Nelson. They scored again in the second on a double by Jesse Blackman and an error. Benny Lott got the Meridians on the board with a fourth inning homer. Ed Tanner's single scored John Karpinski with Lloydminster's second run. A pair of singles and a sacrifice provide the Meridians with the tying run in the seventh.
Lott, Perranoski and Curly Williams each had a pair of hits for Lloydminster. Bussan had three hits for the Beavers.
NB 210 000 000 3 9 2
Lloyd 000 200 101 4 10 1
Griggs, Garcia (7) and Green
Perranoski and Tanner

(Sept 3) Lefty Mike Dayne pitched a four-hitter to lead North Battleford to the Western Canada Baseball League title with a 9-1 win over Lloydminster in the third and deciding game of their best-of-three final. 15-hundred fans were in attendance. (North Battleford News Optimist, September, 1956)
Beavers broke the game wide open with five runs in the third. A bases-clearing triple by Mark Bussan was the key blow. Back to back home runs by Bob Herron and Jesse Blackman gave the Beavers a 7-0 lead.
Blackman paced North Battleford with three hits. John Karpinski, who had two hits, knocked in the Meridians lone run in the ninth.
Ron Perranoski, attempting to pitch both games of the double-header, was tagged with the loss. He was relieved by Ed Kalski in the third. Two crucial errors were key to the Beavers' first six runs.
Lloyd 000 000 001 1 4 2
NB 105 200 010 9 16 0
Perranoski, Kalski (3) and Tanner, Gustin (9)
Dayne and Green
---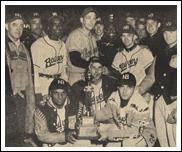 Lloydminster manager Stan Karpinski congratulates Emil Francis and the North Battleford Beavers.
Louis Green, Mike Dayne and Mike Bussan pose with the Coca Cola trophy. (North Battleford News Optimist, September, 1956)
Global World Series :
(Sept 7) A squeeze bunt in the top of the ninth inning pushed across the winning run as Japan edged Canada's North Battleford Beavers 5-4 in the opening game of the second annual Global World Series in Milwaukee.
Beavers could manage just three hits while the Japanese picked up 10 safeties off Mike Dayne and Tom Garcia. Sadao Kawai was the winner. Garcia took the loss.
Japan 000 100 022 5 10 1
Canada 000 100 120 4 3 1
Fujita, Kawai (8), Kitagawa (9) and Miyahara, Taneda (4)
Dayne, Garcia (9) and Green, Stone (8)
(Sept 9) Hawaii trounced the Beavers 10-1 to eliminate the Canadian entry from further play in the Global World Series. John Sardinha held the Beavers to just three hits, while the Hawaii had a dozen hits off four Canadian hurlers. Shin Yogi paced the attack for the winners with two hits and three runs batted in.
Canada 100 000 00 1 3 2
Hawaii 222 000 13 10 12 0
Garcia, Bristol (2), Button (3), Griggs (6) and Green, Tuggle (6)
Sardinha and Recca