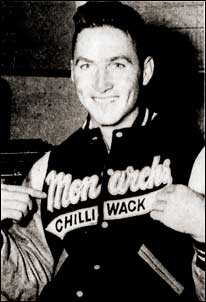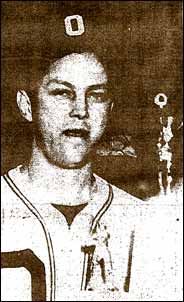 Left - Pitcher Bob Tanner shows off his new baseball team jacket. The Chilliwack Monarchs right-hander says 17 players have purchased their jackets at a price of $30 each.
Right - Don Coy, playing manager of the the Oliver OBC's holding the Bennett Trophy after winning the first annual Kelowna Dominion Day weekend tournament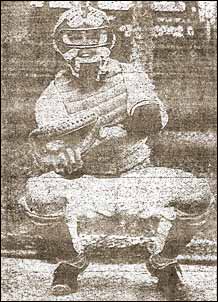 Left - catcher and field-general Johnny Culos of the Kelowna Orioles.
Right - Manager Mel Ottem and catcher Ken Stewart of the Kamloops Okonots.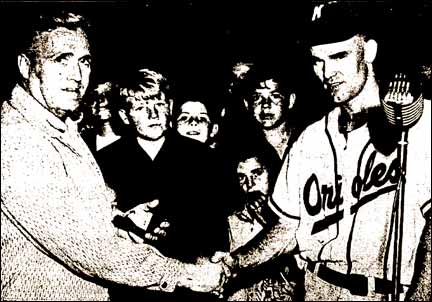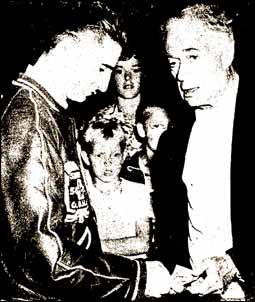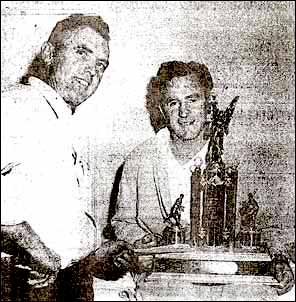 Above - Officials of the Quesnel Labour Day Tournament made awards two outstanding performers.
Above left - Bob Campell of the Kelowna Orioles is presented a wrist watch for belting the first homer of the tourney final. Jack Lee made the presentation. Campbell had earlier slugged a game-winning homer to beat Terrace in the semi-finals.
Above right - Neil/Paul Sauve of the Terrace Loggers receives a $50 cheque presented by C.G. Harcourt for the best pitching performance of the tourney. Sauve tossed a two-hitter against Willow River allowing just an unearned run.
Left - Kelowna playing-manager Hank Tostenson (left) and injured Orioles' player Cec Favell (in Kelowna General Hospital) with Quesnel Jewellers trophy, won at Quesnel Labor Day tournament.
Tostensen also presenting Favell with a cheque for his share of the tournament prize money even though he didn't play (was sidelined with injuries from automobile accident)
Below - two pitching stars for the Cheney Studs of the Northwest Semi-Pro League. Left - Monte Geiger. Centre - George Kritsonis. Right - Doug Randall of the Bellingham Bells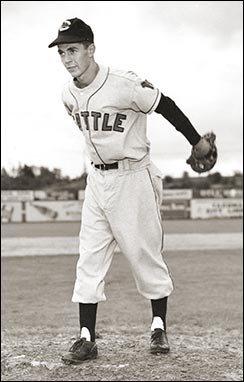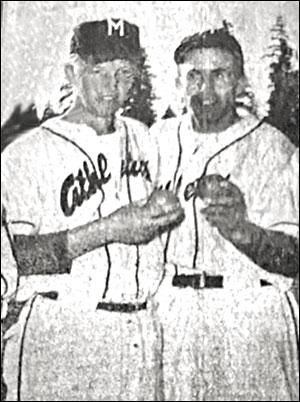 This is believed to be from the 1957 season, two aces of the Maillardville Athletics of the Dewdney League of the Lower Mainland - Bill Gillespie, the right-hander (left) and Mike Bakaway, the lefty (right).