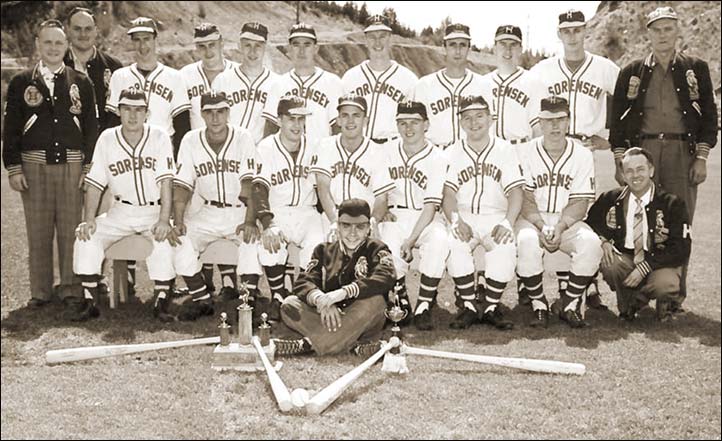 1957 East Kootenay and Kootenay Champions, Kimberley Hobos, sponsored by Sorensen.
Standing (left to right) - Chris Sorensen (Sponsor MGR), John Pedrotti (Equipment MGR), Dave Blayney P, Bob Fisher P, Jim Putsey OF, Art King OF, Ed Johnson SS, Dave McLay Coach, Carl/Cecil Ross C, Jim Ratcliffe 3B, Bryn Blayney Trainer.
Seated - Vern Kuntz OF, Ken Kuntz C, Ron "Slicker" Brown P, Al Paterson 2B, Mel Johnson P, Bob Pearson OF, Jim Nelson 1B, Bill Kenneman Sec-Treasurer
Front - Jim Claircoates Bat Boy
Missing - Alan Jobe, John Stone, Arvon Thomas, Colin Paterson, Elgin Smith, John Kosiancic, Moose Ronnquist, Joe Posnikov, Ed Blundell.
[Photo from the Kimberley Daily Bulletin, July 11, 2014]