Semi-finals :
(Aug 27) Tom Shollin had a homer, double and single and scored the winning run in the 13th inning as Edmonton edged Saskatoon 8-7 in the opener of their best-of-seven semi-final series. Shollin, who had doubled in the tying run, scored as Saskatoon catcher Harold Key threw wildly to third attempting to catch the Eskimo catcher. Gems had scored in the top of the 13th as Len Breckner's triple scored Len Tucker, who had doubled.
Read, Anderson (2), Hobson (8), Graves (L) (9) and Key
Zeigler, Vold (W) (6) and Michaels
(Aug 28) Ernie Nevers pitched a seven-hit shutout as Moose Jaw took the first game of a best-of-seven semi-final series 6-0 over Regina. Barry Robertson led the Mallard attack with a triple and two singles.
Nevers (W) and Donaldson
Modrell (L), Williams (8) and Carter
(Aug 28) Edmonton took a 2-0 lead in the semi-final series blasting Saskatoon 7-1. Eskimos took a 5-0 lead after three innings and coasted to the victory. Larry Elliott paced the Edmonton attack with a triple, double and two singles. Second baseman Mike Castanon drove in three runs with a triple and double.
Beene (L), Read (3) and Garrett
Evans (W), Blewett (7) and Michaels
(Aug 29) Saskatoon scored six runs in the sixth inning to score a 12-10 comeback victory over Edmonton. The key blow was a three-run double by Len Tucker. The two teams combined for 29 hits. Tom Shollin had a three-run homer for the Eskimos. Ken Guffey, Larry Elliott and Mike Castanon each had three hits for Edmonton. Tucker, Jim Phillips and Jim Garrett had two apiece for the Gems.
Sylvester, Blewett (L) (5), Vold (6) and Michaels
Graves, Anderson (W) (5) and Garrett
(Aug 29) Moose Jaw came back from a 2-0 deficit with three runs in the sixth and went on to down Regina 7-2. Ron Wiley allowed just six hits in going the distance for the Mallards. At the plate, Wiley drove in three runs. He had four hits. Jose Tartabull had three hits for Regina.
Wiley (W) and Donaldson
Vanderlaan (L), Wall (8), Williams (9) and Carter
(Aug 30) Saskatoon evened their semi-final series with Edmonton at two games apiece with a 5-3 victory before the home fans. Len Tucker's sixth inning homer gave the Gems the lead. They added four in the seventh on four walks and singles by Sherwood Brewer and Darrell Read.
Zeigler (L), Vold (7) and Michaels
Read (W), Beene (9) and Garrett
(Aug 31) Larry Elliott and Ralph Vold combined on a three-hitter to lead Edmonton to a 3-2 win over Saskatoon.
Elliott (W), Vold (7) and Michaels
Hobson, Beene (L) (3) and Garrett
(Sept 1) Edmonton whipped Saskatoon 8-2 to capture the semi-final series in six games. Blaine Sylvester hurled shutout ball for seven innings before Len Breckner homered in the eighth for the first Saskatoon run. Eskimos scored five in the seventh to take a commanding lead. Ken Guffey led the Eskimos with four hits. The game marked the return of Ron Fairly to the Edmonton lineup. He was forced to leave the team in August to return to California for studies.
Anderson (L), Graves (7), Beene (7) and Garrett
Sylvester (W) and Shollin
(Sept 1) Right fielder Jose Tartabull and second baseman Tommy Rinks led a 15-hit Regina attack as the Braves trounced Moose Jaw 10-3 to gain their first win in the semi-final series. Tartabull had a homer, triple and double while Rinks chipped in with a homer, double and single. Tuck Halsey took care of the mound work with a seven-hitter.
Halsey (W) and Carter
Kostenuk (L), Pieper (6) and Donaldson
(Sept 2) The Braves and Mallards fought to a 6-6 tie in a game called after nine innings by darkness. Regina broke out with four runs in the top of the first inning, three scoring on Art Shahzade's double. Moose Jaw bounced back with four in the fourth, then took the lead with two runs in the sixth. Regina tied it with single runs in the seventh and eighth.
Modrell, Williams (4) and Carter
Nevers, Wiley (1), Miller (8) and Donaldson
(Sept 3) Bill Vanderlaan set the Mallards down on seven hits as Regina squared the semi-final series at two games apiece with a 3-2 victory. Catcher Suge Carter provided the key blow, a three-run double in the third inning.
Miller (L), Pieper (3) and Donaldson
Vanderlaan (W) and Carter
(Sept 4) Ernie Nevers, knocked out in the first inning in his last start, held Regina to just five hits as Moose Jaw beat the Braves 5-2. Ron Wiley homered for the Mallards.
Nevers (W) and Donaldson
Walker (L), Modrell (4) and Carter
Mallards announced that starter Larry Miller, suffering arm problems, would be lost for the rest of the series.
Regina management learned that outfielder Tony Levaggi who played with the team in 1956 had been killed in an automobile accident in California on Tuesday.
(Sept 5) In a storybook finish, Ernie Rodriguez belted a game-winning triple to cap a four-run Moose Jaw rally as the Mallards scored a 7-6 triumph and won a berth in the Western Canada Baseball League final. Moose Jaw trailed the Braves 6-3 going into the bottom of the seventh, the final inning. With one out, Ron Wiley and Floyd Temple got back-to-back singles. Barry Donaldson struck out, but pinch-hitter Larry Miller walked on four pitches to load the bases. Jim Hoppe belted a single to right centre off reliever Babe Williams to score two runs. Then Rodriguez bashed a triple down the right field line and Miller and Hoppe scored the tying and winning runs.
Halsey, Williams (L) ( 7) and Carter
Wiley, Kostenuk (W) (4) and Donaldson
---
Final series :
(Sept 6) Moose Jaw rallied for four runs in the bottom of the ninth to take a 9-8 victory in the opening game of the Western Baseball League's final series.
Playing-manager Floyd Temple drove in the winner with a double. Mallards trailed 8-5 when Ernie Rodriguez led off with a single and scored on Barry Robertson's safety. Bo Toft knocked in Robertson with a double and scored on Ron Wiley's single. Robertson had a triple and three singles for the Mallards. Con Munatones had the big blow for the Eskimos, a two-run homer. Ron Fairly contributed a triple and a single.
Zeigler, Vold (L) (5) and Michaels
Pieper (W) and Donaldson
(Sept 7) Steve Evans tossed a six-hit shutout as Edmonton scored a 3-0 win over Moose Jaw and evened the final series at one game each. Eskimos scored all their runs in the third inning. Ron Fairly's single drove in two.
Evans (W) and Michaels
Nevers (L) and Donaldson
(Sept 8) Edmonton scored four runs in the third to take a 5-1 lead and cruised to a 9-4 win over the Mallards before 46-hundred fans. Mike Michaels, of the Eskimos, had the only homer.
Kostenuk (L) and Donaldson
Sylvester (W) and Michaels
(Sept 9) Edmonton bounced back from a 2-0 deficit with a five-run eighth inning to beat Moose Jaw 5-2 and take a 3-1 game lead in the best-of-seven final series. Three errors in the inning led to four unearned runs. Dale Zeigler and Ralph Vold combined to hold the Mallards to five hits.
Miller, Pieper (L) (7), Martin (8) and Donaldson
Zeigler (W), Vold (9) and Michaels
(Sept 10) Ernie Nevers shutout Edmonton 3-0 to keep Moose Jaw alive in the final series. Edmonton starter Steve Evans walked in the first two Mallard runs in the fourth inning. The third run scored on an error.
Nevers (W) and Donaldson
Evans (L), Blewett (4) and Michaels
(Sept 11) Edmonton scored six unearned runs in the fourth inning and went on to defeat Moose Jaw 7-1 to win the Western Canada Baseball league title. They won the best of seven series in six games. Ralph Vold held the Mallards in check allowing just three hits while fanning eight and walking just one.
Vold (W) and Michaels
Wiley (L), Pieper (5) and Donaldson
A few hours after the game, the Eskimos left for Detroit to represent Canada at the Global World Series.
---
Global World Series :
(Sept 13) Japan scored two runs in the bottom of the 13th inning to hand Canada a heartbreaking 3-2 loss. A double by Yuji Takenouchi, that trickled off the fingertips of right fielder Joe Riney, enabled two Japanese runners to score and spoiled a brilliant pitching performance by Ralph Vold. The Alberta-born hurler had retired 19 straight batters until the 13th. Edmonton had gone ahead in the top of the 13th as Connie Munatones tripled and scored on a throwing error by Japanese third baseman Toshikazu Sakakibara.
Vold (L) and Shollin
Horimoto, Suzuke (5), Shimazu (W) (8) and Taneda, Nakano (8)
(Sept 15) Blaine Sylvester scattered six hits as Canada scored an 8-2 win over Holland, knocking the Dutch team out of the double elimination series. Sylvester struck out ten and picked three runners off first base.
Brands (L), Urbanus (4) and Guerta
Sylvester (W) and Shollin, Michaels (7)
(Sept 16) Canada eliminated Hawaii from the Global Series with an 11-6 win, helped by six errors. Ernie Nevers pitched 6 2/3s innings of sparkling relief to pick up the win. Nevers took over from Dale Zeigler after Holland scored four runs in the third. He allowed just two hits the rest of the way. Joe Riney had four hits for Canada.
Sultan (L), Perrry (3) and xxx
Zeigler, Nevers (W) (3) and Shollin
(Sept 17) Dale Zeigler, who had a shaky start just a day previous, pitched a brilliant one-hitter and Canada upset the United Starts 8-0 and knocked the defending champions out of the Global World Series. Zeigler fanned just two and walked four. In the third, after a walk and an error put two men on base, Ken Guffey knocked in the first run with a single. Ed Sada's triple scored two more. Doubles by Tom Shollin and Joe Riney scored another pair. A three-base error and a passed ball helped Canada score three more in the fourth. The game was called after seven innings.
Zeigler (W) and Shollin
Baldwin (L), Campbell (3), Hisner (4), Reed (6) and Aulds
(Sept 18) Ernie Nevers pitched Canada into the final of the Global World Series. Nevers held Venezuela to three hits as Canada scored a 5-1 victory. Ken Guffey paced the Eskimo attack with a homer.
Fernandez (L), Areval (8) and Acosta
Nevers (W) and Shollin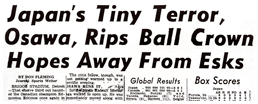 (Sept 18) For the second time in the series, the Canadians lost a heartbreaking, extra-inning game to the Japanese. This time it was in the championship game. Japan scored twice in the top of the 11th and held off the Canadians to post a 4-2 victory. Masayuke Furuta's two-run single was the winning blow. The Japanese had rallied in the ninth to tie. More than 10-thousand fans watched the final at Briggs Stadium in Detroit. Reliever Takashi Suzuki was brilliant on the hill for the winners. Pitching for the fourth time in six games, Suzuki pitched no-hit ball for five innings. There were two homers, Ron Fairly for Canada and Sadayoshi Ozawa for Japan. The 5'5" Ozawa tied the contest in the 9th with a two-out double.
Horimoto, Suzuki (W)(7) and Taneda, Nakanao (9)
Vold, Nevers (9), Blewett (L) 11), Zeigler (11) and Shollin
Canada placed seven players on the tournament all-star team -- Tom Shollin, Dale Zeigler, Ernie Nevers, Joe Riney, Ed Sada, and Ernie Rodriguez.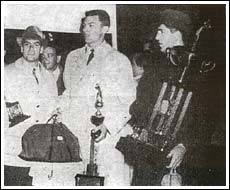 More than 600 fans waited at the airport until three o'clock in the morning to welcome home the Eskimos who lost the Global World Series title to Japan. Carrying trophies and their baggage, Conrad Munatones (left), Blaine Sylvester (centre) and Dale Zeigler (right). That's John Ducey, the general manager, just behind Munatones. Edmonton also saluted the team with a parade down Jasper Avenue and a luncheon at the MacDonald Hotel. (Image courtesy Dale Zeigler)