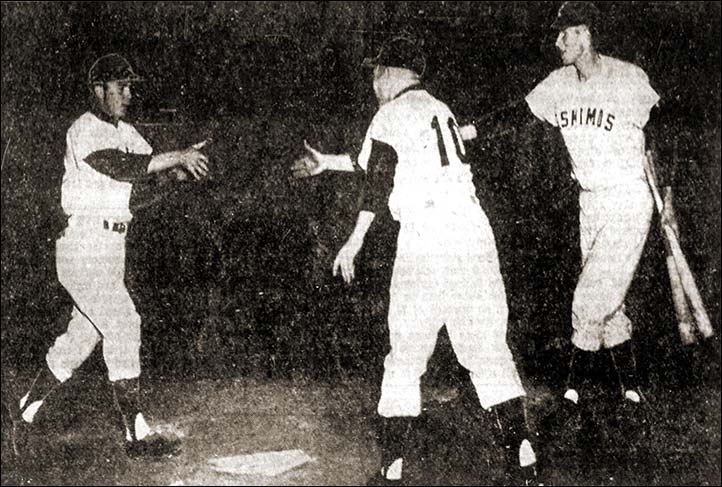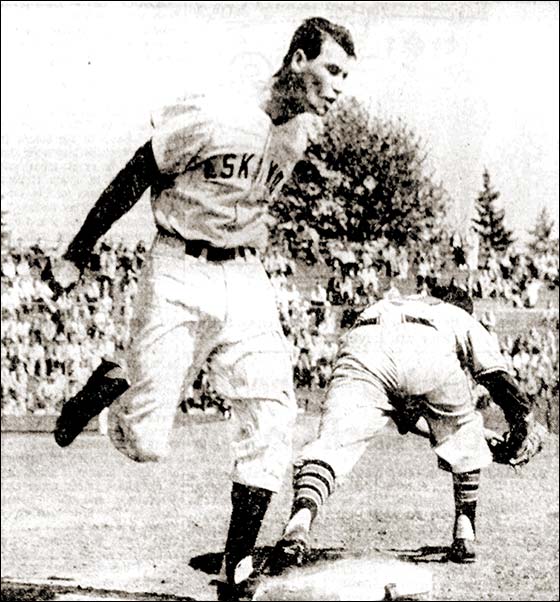 Above - Roger Tomlinson receives congratulations from Jimmy Johnson and Art Chapman on the season's first homer for the Eskimos. (Edmonton Journal, June 12, 1958)
Left - Edmonton's Jon Tatro thrown out at first in action at Edmonton against Regina. (Edmonton Journal, June 16, 1958)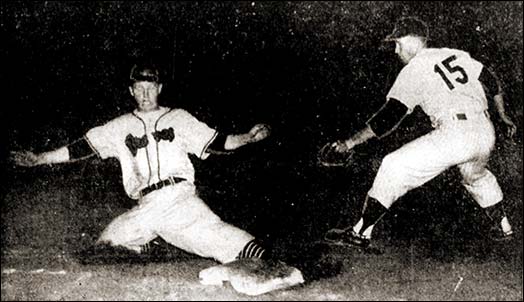 Left - Regina's John Kellner slides safely into third base ahead of the throw to Edmonton third sacker Gene Kinasewich. Kellner went on to score on a suicide squeeze. (Edmonton Journal, June 17, 1958)
Below - Jerry Zubak bounces out. Steve Strother of Moose Jaw is the catcher, John Lupul the umpire. (Edmonton Journal, July 14, 1958)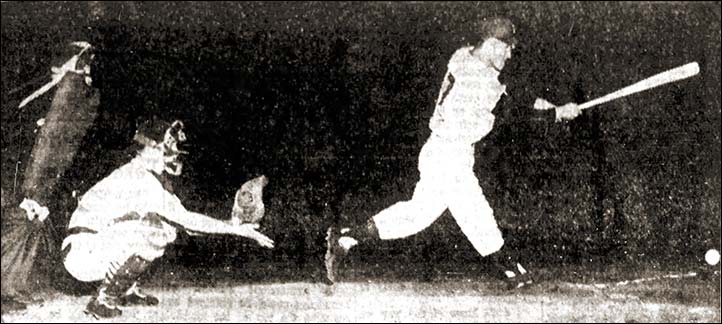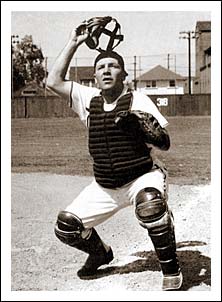 Right - Williston Oilers' catcher Bill Heath,
one of 15 players with USC connections
to suit up in the Western Canada League
in 1958.

Heath who hit .370 with Williston in 1958
and .321 with Edmonton in 1959 advanced
to the majors in 1965 with the White Sox.

(Photo courtesy Murray Cockburn)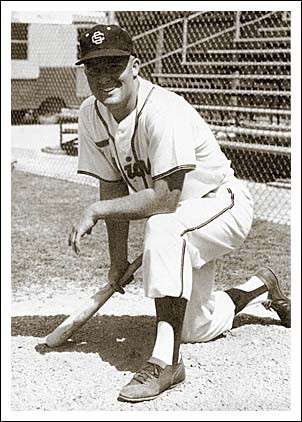 Ron Fairly, one of the league's biggest stars in 1957, was a key member of the 1958 USC Trojans. (Photo courtesy Murray Cockburn)
As a sophomore at USC, he batted .348 and topped the team in home runs, 9, and runs batted in, 67. The Trojans captured the College World Series for the second time.
Fairly, as a 19-year-old, was in pro ball later in the summer of 1958 and up with the Dodgers for the first games of a 21-year major league career, mainly with Los Angeles and Montreal.
He was an All-Star twice, both late in his career, in 1973 with Montreal and 1977 with the Blue Jays. It's believed he's the only player in major league history to have been an All-Star with both Canadian clubs.
Fairly retired after the 1978 season and went on to a long career in the broadcast booth, ending regular duties with the Seattle Mariners in 2006.
1958 Western Canada Snapshots Page Four >>>