In 1958, the Trojans captured the school's second NCAA baseball title winning the College World Series in an exciting finish at Omaha, Nebraska. USC, which trailed 4-0, beat Missouri, 8-7, in a 12-inning thriller. Third baseman Mike Blewett singled to right field in the bottom of the 12th to plate Rex Johnston with the winning market. Bill Thom, who had shutout Holy Cross the night before, fired 4 2/3s innings of scoreless ball in relief to register ther win. First sacker Ken Guffey had two hits and knocked in a pair to pace the USC offense in the final.
Four Trojans made the College World Series All-Star squad - Mike Castanon 2b, Fred Scott ss, Ron Fairly of, and Bill Thom p. Thom was named the tournament's Most Valuable Player.
Rod Dedeaux was named coach of the year by the American Association of College Baseball Coaches. Dedeaux directed the Southern California Trojans to victory in the 1958 College World Series.
USC scored a remarkable triumph after being upset in the opening round. It was Dedeaux' first national championship.
USC 0 Holy Cross 3 : Holy Cross Crusaders upset tournament favorite Southern California 3-0 in the opening round of the College World Series. Hal Deitz held the Trojans to seven hits. Holy Cross had nine hits to hand Bill Thom his first defeat in eight decisions this season. Thom had 12 strikeouts in the eight frames he worked. Jim Barudoni finished for the Trojans. Ken Komodzinski paced the Crusaders with a homer, triple and single.
USC 4 Arizona 0 : Lefty Bruce Gardner tossed a six-hit shutout as Southern California downed Arizona 4-0 to advance in the College World Series. It was Gardner's 12th win of the season against a single defeat.
USC 12 Northern Colorado 1 : Little lefty Bob Blakeslee fired a two-hitter as Southern California trounced Colorado State College 12-1 in the third round of the College World Series. The 21-year-old, 155-pound Blakeslee allowed a run in the 4th inning without giving up a hit. A walk, two errors and a fielder's choice resulted in the line marker against him. Mike Castanon had three hits, including a triple and drove in four. He also had two stolen bases. Mike Blewett had a pair of triples.
USC 6 Holy Cross 2 : The Trojans whipped Holy Cross 6-2 to eliminate the Crusaders from the College World Series. Southern Cal jumped on Hal Deitz for a run in the first on Ken Guffey's triple and added four more in the second on six singles. Bruce Gardner picked up the win in relief of starter Jim Barudoni.
USC 7 Missouri 0 : Bill Thom pitched a three-hit shutout and knocked in three runs with a double as Southern California downed Missouri 7-0 to force a sudden-death final match with Missouri for the College World Series championship. The Trojans scored all their runs in the 9th inning as Ron Fairly, USC's leading slugger with a dozen doubles and eight homers, singled to open the inning. John Werhas reached on a bunt single and Fred Scott walked to load the bases. John O'Donoghue walked Don Biasotti to force in the first run. Bill Heath singled in Werhas and Thom doubled to clear the bases. USC added a pair off reliever Bob Cooper. The Trojans received a break when Missouri ace Ernie Nevers (another of the Western Canada players) was declared ineligible for the series.
USC 8 Missouri 7 (12 innings) : Mike Blewett's two out safety in the 12th inning drove in Rex Johnston with the winning run as Southern California edged Missouri 8-7 to captured the College World Series title. The Trojans had come from behind with seven runs in the 4th inning to take a 7-4 lead. Missouri rebounded with three in the top of the 8th frame to tie. Bill Thom was the winner with 4 1/3 scoreless innings of relief. Starter Bruce Gardner was driven from the mound in Missouri's four-run second inning. Bob Blakeslee pitched into the 8th.
Back row: Tony Decarbo, Dave Stephenson, John Christiansen, Bob Santich, Mike Blewett, Rex Johnston, John Werhas, Bill Thom, Jim Conroy, Pat Gillick, Bruce Gardner, Jim Barudoni, Kearny Reeb (trainer).
Front row: Don Biasotti, Ken Guffy, Mike Castanon, Fred Scott, Rod Dedeaux (Coach), Jess Hill (Athletic Director), Terry Finnegan (Asst. Coach), Ron Fairly, Bob Blakeslee, Jerry Siegert, Bill Clair (manager). (Photo, Courtesy University of Southern California, Athletics Department)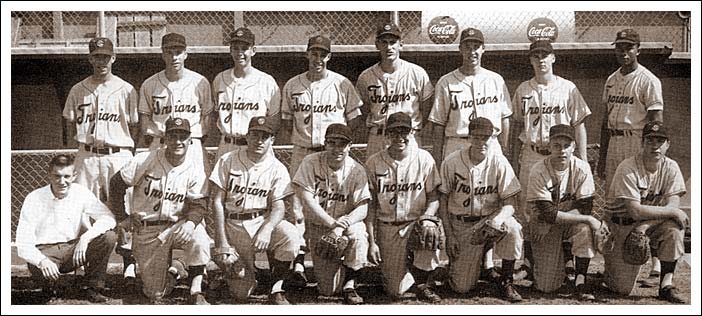 1958 USC Frosh - Front row (left to right) : Grayson Cook (mgr), Joe Curi (coach), Tom Glassman, Andy Vitalich, Ralph Martinez, Ron Stillwell, Kyle Brown, Steve Bach. Back Row (left to right) : Ernie Woods, Jerry Williams, Jim Withers, Ken Zatchik, Len Gabrielson, Bob O'Callaghan, Brian Zenz, Bob Levingston. (Photo courtesy Murray Cockburn)
Photos below from Sports Illustrated, June 9, 1958
| | | | | |
| --- | --- | --- | --- | --- |
| Mike Castanon | Ron Fairly | Bruce Gardner | Bill Heath | John Werhas |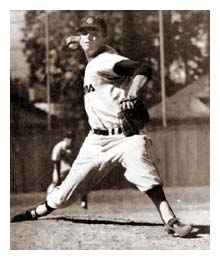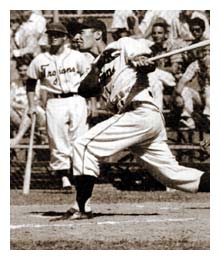 Left - Right-hander Bill Thom who pitched the Trojans to the College World Series championship. He was named the tournament's Most Valuable Player. Thom had gone 9-1, 2.40 during the regular season.
Right - Mike Castanon hit .368 in 1958 with 6 homers and 44 RBI.