Saskatoon Amateur Baseball Association : (May 19) Asquith captured the third annual Saskatoon Amateur Baseball Association Tournament downing Saskatoon Caps 6-4 in the final. Right-hander Johnny Repin held the Caps to eight hits and fanned seven after hold the Saskatoon Gems to no hits during a four inning stint in the semi-final. Mike Repin, Jack(Jock) Cleghorn, Les Stack, John Swroda and Keith Tarasoff each had two hits for the winners. Rod Campbell, who had earlier pitched a five-inning no-hitter in the Caps win over Grasswood, allowed 13 hits. Caps second-sacker Jim Chow was the top hitter in the tournament with five hits, six runs scored and three runs batted in.
Asquith 6 Caps 4
John Repin (W) and Brooks
Rod Campbell (L) and Johnson
Doug Dodd fired a six-hitter as the Caps cruised to a 14-2 win in the semi-final over Transport. Jim Chow and Keith Swan each had three hits and three RBIs for the Caps. Asquith pounded out 13 hits in defeating the Gems. Keith Tarasoft, John Repin and John Swroda each had a triple and single.
Gems 2 Asquith 13
Denny Johnson (L), Marv Prowski (4), Collins (4), Prowski (5), Jerry Duffus (5) and Wanner
John Repin (W), Mike Repin (5) and Brooks
Caps 14 Transport 2
Doug Dodd (W) and Johnson
Ross Stone (L), Hrapchuk (6) and McEwan
In opening round action in the six-team, knockout, affair, Asquith topped the Saskatoon Giants 7-2 as Jack(Jock) Cleghorn hurled a three-hitter. Marv Prowski pitched and batted the Gems by Delisle 6-1. He allowed but two hits and provided all the offense needed with a three-run homer. Caps blanked Grasswood 4-0.
Asquith 7 Giants 2
Cleghorn (W) and Brooks
McTavish (L) and Dunbar
Gems 6 Delisle 1
Prowski (W) and Wanner
Cosgrove (L) and Weber
Caps 4 Grasswood 0
Campbell (W) and Johnson
Proctor (L) and G. Walters
---
Saskatoon Optimist : (July 1) Rosetown took top money of $200 at the Saskatoon Optimist Club's July 1st tournament with an 11-6 win over Kindersley in the final. 19-year-old Jerry Duffus was the pitching star for the winners firing a four-hitter in the semi-final victory over Swift Current then putting in relief duty in the final. Catcher Don Snyder had three hits to pace Rosetown.
Jackie McLeod was the hard-luck loser for Swift Current in the semi-final, dropping a 3-2 decision to Rosetown. He allowed just six hits and had 13 strikeouts. Kindersley crushed Davidson 14-0 in the other semi-final as Bill Key had four hits while Len Breckner and Wally Jackson each punched out three. Breckner's safeties included a triple and double. Lynn Mantooth pitched the shutout for Kindersley, giving up six hits and compiling 14 strikeouts in the seven inning game.
Rosetown 11 Kindersley 6
Holdaway, Folk (W) (2), H. Stevenson (6), Duffus (7) and Snyder
Winfiled (L), Mantooth (8) and Mills
Rosetown 3 Swift Current 2
Duffus (W) and Snyder
McLeod (L) and G. Johnson
Davidson 0 Kindersley 14
Chris Batley (L), Pete Peterson and Dascoe
Mantooth (W) and Mills

---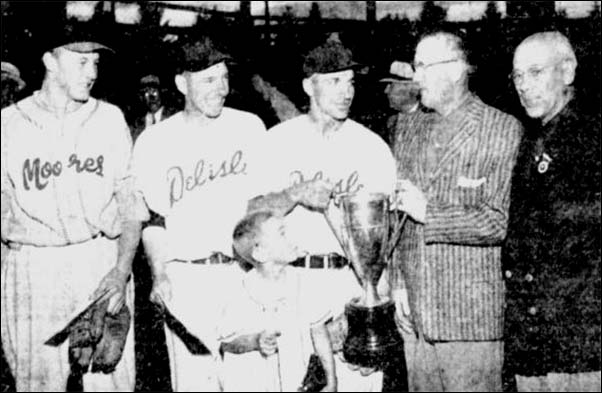 Ed Scissons (second from the right) tournament superintendent presents the J.F. Cairns Memorial Trophy, emblematic of the Saskatoon Exhibition baseball championship to Doug Bentley, manager of winning Delisle. Roly Howes, the tournament chairman, is at the extreme right. At the left is Rod Campbell who posted the most strikeouts in a single game, 14, and next to him, Max Bentley, who had the most hits during the event, seven. The little fellow in front is the Delisle batboy, Doug Bentley Jr.
Saskatoon Exhibition : (July 26) Delisle managed just three hits but took advantage of nine bases on balls and six Kindersley errors to top the Klippers 6-3 to win the Saskatoon Exhibition Tournament. Bentley MacEwen, a nephew of the Bentley brothers, pitched a five-hitter for the win. Bev Bentley had two of the three Delisle hits. Len Breckner had a two-run homer for Kindersley. Delisle had reached the final by winning a coin toss. The Delisle - Unity semi-final could not be played because of weather conditions and tournament rules declared the coin toss as the means to decide a winner.
Winfield (L), Mantooth (4) and Mills
MacEwen (W) and J. Goodwin
(July 25) The 1957 champions from Rosetown were eliminated in the semi-finals by Kindersley Klippers, 8-4. Kindersley came back from a 4-0 deficit with a five-run, fifth inning and added three more in the sixth. The game was called after six innings by rain. Len Breckner's two-run homer was the winning blow.
Kindersley 8 Rosetown 4
Blasich, Mantooth (2) and Koemstedt
Holdaway, Folk (5), Duffus (6) and D. Snyder
(July 24) Unity Merchants scored eight times in the first inning and went on to trounce Sceptre 16-1 at the Saskatoon Exhibition tournament. Unity moves on to meet Delisle Saturday morning in a semi-final match. Ollie Harris went the distance for the Merchants holding Sceptre to eight hits. Tony Keller had an inside-the-park homer for Unity.
Harris (W) and Prediger
Harold Surni (L), George Mahaffy and Johnson
(July 23) Max Bentley clubbed six hits, a triple, three doubles and two singles, to pace Delisle to an 11-2 thumping of Melfort at the Saskatoon Exhibition Tournament. Rod Campbell, on load from the Saskatoon Caps, fired a five-hitter and fanned 14 in going the distance for the win.
Campbell (W) and J. Goodwin
Joe Stroeder (L), Doug Moser (4), Rich Erhard (4) and Flanagan, Brooks
(July 22) Rusty Winfield, from California's Sequoias College, tossed a three-hitter and fanned 13 to lead Kindersley to an 8-1 triumph over Asquith. Winfield had a no-hitter through six innings. Len Breckner paced the attack with a double and two singles. The big right-fielder also turned in a great catch in right and displayed a strong throwing arm in nipping a runner at second base.
J. Repin (L), Sirota (4) and Brooks
Winfield (W) and Koemstedt

(July 21) In the opening game of the Saskatoon Exhibition Tournament, Rosetown crushed Meota 17-2 as Chuck Holdaway and Doug Stevenson each belted four hits. Don Snyder clubbed a three-run homer. Jerry Duffus held Meota to five hits.
Bob Tayloir (L), Napoleon Krysak (3), Jim Pettapiece (8) and Doerkson
Duffus (W) and D. Snyder
---
Lacombe : Lethbridge Warriors took top prize.
Lethbridge Warriors, Calgary Dodgers, Estevan Maple Leafs, Granum White Sox, Central Alberta All-Stars, Moose Jaw Lakers, Mack's Pipe Liners, North-Eastern Alberta All-Stars

---
(July 1) Calgary Elks Tournament
Granum White Sox took first prize money of $1,000 in the annual Elks tournament downing Calgary 12-9 in the final before 2-thousand fans at Buffalo Stadium. Sox plated four runs in the 4th inning on three hits an error and a walk to take a 5-2 which they never relinquished. Granum built up an 11-2 lead before Calgary rallied with seven runs in the 8th to make it close. Bill Fennessey homered for the Sox.
Granum reached the final round with a 10-4 win over Lethbridge as John Vaselenak belted a three-run homer and drove in a total of five runs. Brack Bailey and John Robertson also had a four-baggers for the Sox and Clarence Yanoski had one for the Warriors.
Dodgers won a final berth with a 9-0 win over Red Deer in a game conceded by Red Deer after Calgary had scored three times in the 4th inning. Marty Hurd had a three-run blast for the Dodgers.
Granum shaded Medicine Hat 7-6 in opening round action riding home runs by Bill Fennessey and Gord Vejprava. Lynn Duncan homered for the Superiors and nearly won the game in the 9th inning with a long, bases-loaded smash that Bill Fennessey hauled in at the centre-field wall.
Calgary whipped Vaxhall 10-0 as Tilbert Neal fired a six-hitter for the win and Bill Casanova led the offense with a homer, double and single.
Kamloops, rushed into the breach when the Seattle Cheney Studs withdrew late Sunday, filled in admirably in spite of a 17-hour drive which brough the team to the stadium just two hours before game time. The BC club gave Lethbridge all it could handle before bowing out 14-9 as Clarence Yanosik belted a pair of homers and Ron Hare added another. Jack Fowles had a two-run smash for Kamloops. The tournament opener saw Red Deer top Rowletta Lakers 2-1 in a pitching duel between Dale Ackerman of the Dodgers and Bob Pearl of the Lakers. George Hunchuk of the Lakers had the only homer.
Monday
Rowletta 1 Red Deer 2
Pearl and Hunchuck
Ackerman and Umari
Vauxhall 0 Calgary 10
Cleland, Anderson (3), LaPalme (6) and Eilmes
Neal and Martin
Medicine Hat 6 Granum 7
Whitmore, Ziebart (1) and Braun, Adams (4)
Walasko, McCaig (9) and Carrier
Tuesday
Lethbridge 14 Kamloops 9
Motley, Warnick (6), Chavez (7) and Koentopp
Lunn, Gayton (7) and Anderson
Calgary 9 Red Deer 0
Falk and Martin
Wilson and Sigurdson
Granum 10 Lethbridge 4
Davidson and Carrier
Canner, Duncan (4) and Koentopp
Granum 12 Calgary 9
McCaig, Coggins (8) and Bryson
Gary Barnes, Neal (5), Henry (6), Falk (8), Devost (9), Pearce (9) and Martin
---
Lethbridge Rotary Tournament :
(August 2) Ron Hubbard was the hero, at the plate and on the hill, as Medicine Hat Superiors came from behind a 5-1 deficit in the bottom of the eighth inning to score seven times and beat Granum 8-5 in the final of the Lethbridge Rotary Tournament. The key blow was Hubbard's pinch-hit, grand slam homer. Hubbard began the 9th in left field but was called to the mound to quell a potential White Sox rally in the bottom of the 9th. Bob Bolingbroke picked up the win in relief of starter Zeke Ziebart. Lynn Duncan had a homer, double and single for the Superiors.
Davidson (L) McCaig (8) and Bryson
Ziebart, Bolingbroke (W) (8), Hubbard (9) and Braun
Granum had won its semi-final, 8-4, over Kelowna as third baseman John Robertson belted a homer and two singles and John Valelenak rapped a three-run homer and two singles. Gord Vejprava added a triple and single.
Medicine Hat Superiors gained a berth in the final downing Calgary Dodgers 4-1 as Aaron Jones allowed just three hits and fanned 13 as he pitched into the 9th inning as temperatures broke 90 degrees. Jones aided his cause with a homer and single. Lowell Pearce took the loss.
Kelowna 4 Granum 8
DeRosa, Scott (5), Denbow (7) and Culos
Neal, McCaug (3), Walasko (6) and Bryson
Medicine Hat 4 Calgary 1
Jones, Bolingbroke (9) and Braun
Pearce, Falk (7) and Martin
(August 1) All but one of the Southern Alberta clubs advanced to the semi-finals of the Rotary Tournament. Only Kelowna Orioles broke the spell. Kelowna plated four in the 9th inning to down Lethbridge Warriors 9-7. Granum whipped the Spokane All-Stars 20-10, Medicine Hat thrashed Lander, Wyoming, Pioneers 17-8 and the Calgary Dodgers scored three in the 1st and went on to shade the Havana Giants 4-2.
In the opening game, Kelowna Orioles broke loose with a four-run rally in the 9th to score a 9-7 victory and knock Lethbridge Warriors out of the eighth annual Rotary Tournament. Two errors, a walk and hits by Jim Schloesler and Bill Martino brought the Orioles back from a 7-5 deficit. Schloesler led the Kelowna offense with three doubles and a single. Earl Ingarfield belted a three-run homer for Lethbridge. Bob Roberts went all the way for the win.
Kelowna 9 Lethbridge 7
Roberts and Culos
Chavez, Canner (7) and Koentopp
Granum scored four in the first inning and never looked back in trouncing Spokane 20-10. Gordie Vejprava drove in four runs with two homers and a double to lead the White Sox past Spokane. Gil Kuhn had a homer and double for the losers. Willie Walasko picked up the win, Gary Barnes was the loser.
Spokane 10 Granum 20
Barnes, Shortlidge (1), Stoner (6), Bloomquist (7) and Heinz
Walasko, McCaig (7) and Bryson
Medicine Hat clubbed 20 hits, including a grand slam homer by Don Risinger, to beat Lander. Phil Risinger had a three-run homer, double and two singles. Ron Hubbard was the winner, Tony Occhaito the loser.
Medicine Hat 17 Landor 5
Hubbard, Jones (7) and Braun
Occhaito, Carlos (2), Francis (6), Glen (8) and Cooper
Errors were prominent in the Giants' loss to Calgary. They committed three in the opening frame as the Dodgers scored three times without a hit. Hank Szostak went the distance on the hill for Calgary allowing just four hits. Selvo Hebra was the starter and loser for Havana.
Havana 2 Calgary 4
Herba, Rivera (1), Diaz (8), Zambrana (8) and Gonzalez
Szostak and Martin
---
(August 15-16) Medicine Hat Tournament :
(August 16) Calgary Dodgers spotted Lethbridge an 11-4 lead then roared back to upset the Warriors 14-13 to take top prize of $1,000 in the Medicine Hat Rotary Tournament. The two teams combined for 28 hits off a total of ten pitchers. Bob Foster's grand slam was a key hit in the comeback. Jerry Lorenz also had a homer and Jim McDonald and Gordie Dolinard each had three hits. Bill Casanova added a double and single. Ron Hare hit for the cycle for Lethbridge, a three-run homer, triple, double and single. Earl Ingarfield rapped a two-run homer and single. Hank Szostak was the winner, in relief.
Tilbert Neal, Falk (3), Roberts (4), Sauve (6), Szostak (W) (7) and Abel
Chavez, M Duncan (4), Motley (6), Warnick (7), Canner (L) (7) and Koentopp
Calgary gained the final with a 3-0 win over Vauxhall as Szostak fired a four-hitter for the shutout. Joe DeGregorio took the loss. Lethbridge advanced with a 6-5 win over Medicine Hat. The Superiors scored five times in the first inning. Larry Koentopp's bases-loaded double capped a four-run 6th inning for Lethbridge. Koentopp drove in Frank Amaya with the tying run after Amaya had singled and stolen second. The Warriors' catcher scored the winner as a Bob Bolingbroke pitch got away from catcher Wayne Braun.
Szostak (W) and Abel
DeGregorio (L) and Eilmes
Duncan, Minjock (2), Warnick (6) and Koentopp
Hubbard, Bolingbroke (8) and Braun
(August 15) Lethbridge Warriors unleashed an 18-hit attack to demolish Granum White Sox 13-5 in one of four first round games in the Medicine Hat Rotary Tournament. The onslaught included three homers, two triples and three doubles. Sam Canner, the winning pitcher, had a homer, double and single to lead the Warriors at the plate. Earl Ingarfield and Clarence Yanosik also had homers.
Davidson, (L) Coggins (2), Thompson (7) and Strother
Canner (W) and Koentopp
Medicine Hat got outstanding pitching from newly acquired Leroy Gregory to beat Cold Lake 6-1. Gregory was obtained from Moose Jaw of the WCBL.
Gregory (W) and Braun
Gates (L) and Demeriez
Vauxhall's Joe DeGregorio, who picked up the win in relief, singled in the bottom of the 10th and came around to score the winner on three Estevan errors as the Jets won 3-2.
Ed Williams (L) and Johnson, Kruger (9)
Marquardt, DeGregorio (W) (8) and Eilmes
Calgary scored three in the bottom of the 9th to top Grand Centre 8-5. Bob Roberts, who went the distance on the hill for the Dodgers, poked a three-run homer to break a 5-5 tie.
Cravens, Joe Beecroft (L) (5) and Pierson
Roberts (W) and Abel