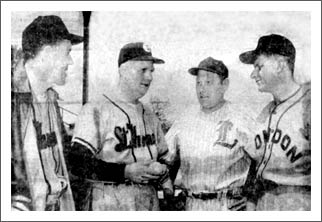 In May, 1958, baseball was kicking off in Ontario's Intercounty League.
In one contest, the London Majors played host to the St. Thomas Elgins at Labatt Park.
Pictured before the game - left to right - Gene Florcyk, starting pitcher for the Elgins; Tommy White, manager of St. Thomas; Norm Aldridge, assistant coach of the Majors and Clarence Hucul, starting pitcher for London.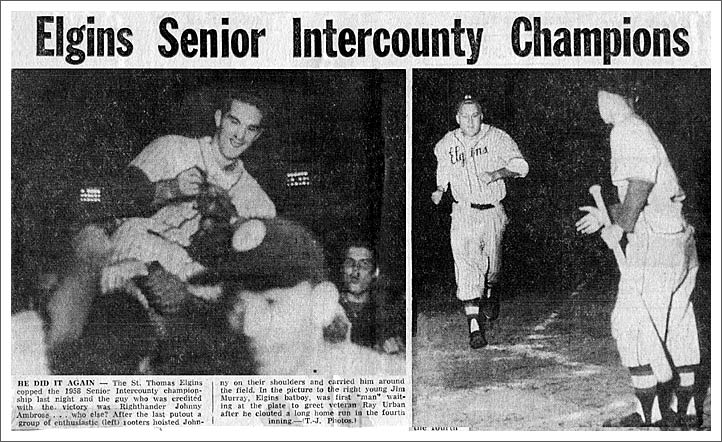 HE DID IT AGAIN -- The St. Thomas Elgins copped the 1958 Senior Intercounty championship last night and the guy who was credited with the victory was righthander Johnny Ambrose . . . who else? After the last putout a group of enthusiastic (left) rooters hoisted Johnny on their shoulders and carried him around the field. In the picture to the right, young Jim Murray, Elgins batboy, was first "man" waiting at the plate to greet veteran Wray Urban after he clouted a long home run in the fourth inning.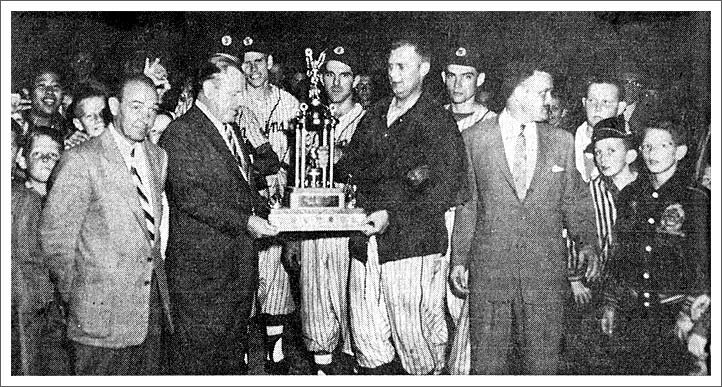 St. Thomas Elgins captured the 1958 Intercounty title downing Galt Terriers 7-5. The victory gave them the series four games to three. Following the game, Howie Webb, Carling's Western Ontario District Manager, presented Tommy White, Elgins' manager, with the handsome Carling's Trophy. In front, left to right - Truman Baldson, St. Thomas representative for Carling's, Mr. Webb, Tommy White and Marsh Ariss, president of the Senior Intercounty and league convener. Standing at the rear are Bill Jamieson, Johnny Ambrose and Jim Brown, Elgins' stars.
Below - The Intercounty League received inconsistent coverage in the Toronto papers (perhaps because of the lack of a Toronto team at the time). However, the nearby Oakville club often had good coverage. The Toronto Star, May 30, 1958 ran a half-page on the Oaks. The photo captions:
Top left - John Principi and Bob Salvisburg, Oaks' left and right hand power hitters, look ready to slug out a homer. Their bats have been bothering rival pitchers no end.
Top right - The Thomson brothers, Ross (left) and Bill, talk things over. They are one of a very few brother pitcher and catcher combinations. Ross may be telling Bill what to expect in the way of fancy curves.
Bottom left - Dot Ursacki and Wanda Sicinski receive an autograph ball from Ian Shepherd, 19-year-old rookie hurler. Inset is Rene Bouchard, another mound ace, who has just let the ball go toward the plate. Rene was Oaks' top pitcher in 1957. Oakville took over possession of first place by blanking St. Thomas 9-0, Wednesday.
Bottom right - Jack Roberts, right, of Oakville Oaks, leading the Intercounty Senior Baseball league, talks things over with his wife, Lenore, and eight-and-a-half-month-old son, Timmey. Baby seems to be enjoying it best. At left,