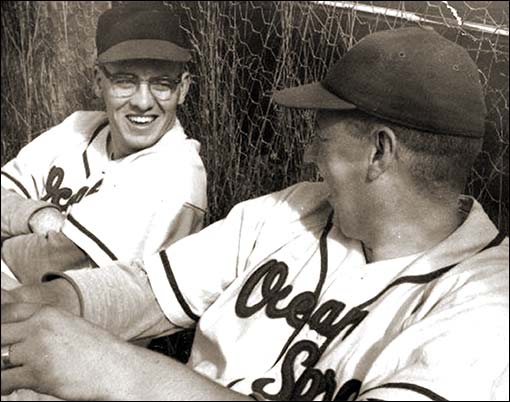 Two key members of the Yarrow Ocean Sprays, Si (or Ci) Coleman (left) and Bill Gilchrist.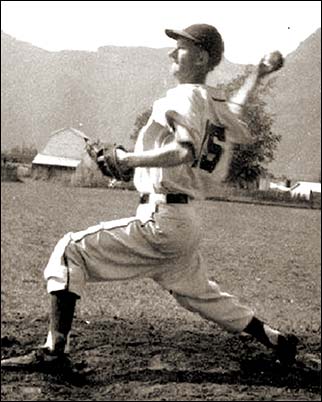 Right - Pete "Six" Ratzlaff, ace right-hander of the Yarrow Ocean Sprays of the Fraser Valley League.
No explanation yet for the nickname, "Six". Pete and brother Ernie Ratzlaff appear to have been the pitching staff for the Sprays.
Photos from Yarrow's Pioneers & Settlers
"Starting as a Junior baseball team in the early 1950's, Yarrow's Ocean Spray baseball club team rose through the ranks to play in the Senior Baseball League by 1959 against such teams as the Chilliwack Monarchs, and teams from around the Fraser Valley. The sponsorship of Ocean Spray (Cascade Foods Ltd.), particularly the support of its owner Marcus L. Urann, an American lawyer and entrepreneur from Boston, Massachusetts, and the dedication of coach Len Froese and manager/coach Eddy Froese facilitated the success of the club."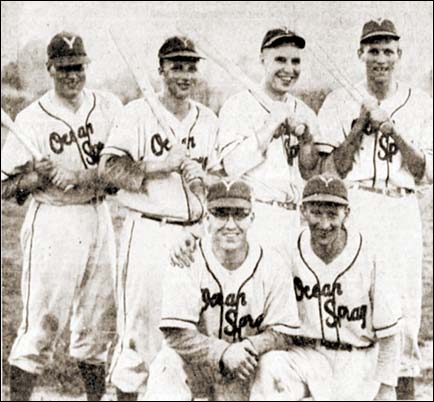 July, 1959 - After defeating the Chilliwack Monarchs for the second time in a week, there are smiles all around as six of the Yarrow Ocean Sprays enjoy the moment.
Back row (left to right) - Bill Gilchrist, Ernie Ratzlaff, Don Smith and Barney Thiessen.
Kneeling are Si/Ci Coleman and Pete Ratzlaff.
Below, top left - Russ Keckalo, who recently returned to the Vernon Carlings from Edmonton makes the acquaintance of newcomer Jim Duncan, shortstop, from Langley of the Dewdney League.

Top right - Vernon pitcher Jim Staff, outfielder Jim Tooley and lefty hurler Tony DeRosa at a pre-season workout.

Bottom left - Pitcher Jim Staff offers a "tough luck" to fellow moundsman Ron Miciuk after the right-hander dropped a decision to the Oliver OBCs. In the middle is Vernon manager Vern Dye.
Bottom right - Jim Tooley has a disagreement with plate umpire Bill Raptis.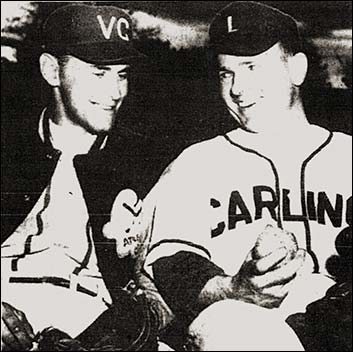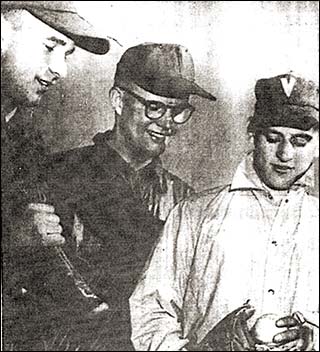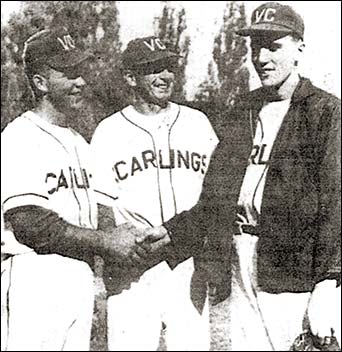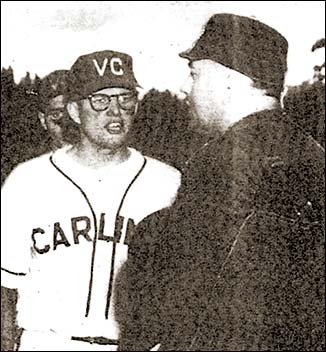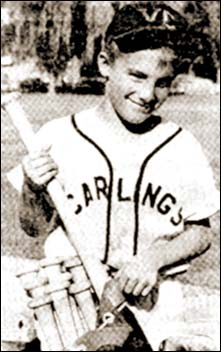 Left- And, it begins ! Batboy Clark Inglis of the Vernon Carlings.
Inglis would go on to play for more than a decade with the Vernon Luckies, Vernon Coldstream Carlings and Vernon Legion. He was the playing coach from 1971 to 1975.
At 11-years-old the young Inglis was known through the league for his specialty of warming up the pitcher and then heaving the ball to second base.