MAYMONT TOURNAMENT

(May 23) The Saskatoon Ambassadors and Speers shared first-place money during the rain-interrupted Victoria Day tournament at Maymont. Earlier wins by the Saskatoon nine were highlighted by the pitching of Jerry Edwards and the hitting of Daryl Penn and Tom Yick.
---
SASKATOON OPTIMIST : (July 1)
(July 1) A three-run seventh inning, highlighted by catcher Al Wanner's two-run single, powered the Saskatoon Macs to a 4-2 victory over Kindersley in the final of the Optimist Tournament. Shortstop Jimmy Chow had three hits before retiring with an ankle injury. Marcel Richards scattered eight hits to claim the pitching win. Macs had 11 safeties off three Kindersley hurlers.
Richard (W) and xxx
Rachul, Cottingham (6), Casares (7) and xxx
Rod Campbell allowed just three singles and fanned ten in Saskatoon's 7-1 win over Neilburg. Jimmy Chow poked a homer for the Bavarians
Campbell (W) and xxx
McIntyre, xxx, xxx and xxx
A walk and singles by Layne Jackson and Flanagan gave Kindersley two runs in the seventh inning in a come-from-behind 5-4 win over North Battleford. Bentley MacEwen fired a five-hitter for the win.
MacEwen (W) and xxx
Stites (L) and xxx
---
NEEPAWA TOURNAMENT : (July 1)
Brandon Cloverleafs turned on the offense at the Neepawa Tournament Friday to take top money with four straight victories. The Leafs crushed Eden 19-3 in the final after scoring wins of 7-0 over Kirkfield Park, 8-1 over Neepawa B's and 8-0 from the Neepawa Cubs. First baseman Tommy Town had one of his best days in a Brandon uniform with ten hits, including two homers, a triple and a double. In the first game, Don Hunter tossed a three-hitter for the win over Kirkfield Park. Town and Bob Wilson had homers.
Hunter (W) and xxx
xxx and xxx
Lorne Lilley fired a no-hitter in the win over Neepawa B's. Four walks cost him a shutout. Ron Baryluk and Hunter had long balls over losing pitcher Clint McKerlie.
Lilley (W) and xxx
McKerlie (L) and xxx
Morley Macfarlane hurled the shutout over the Cubs and had home run support from Lloyd Brown.
Macfarlane and Lad Hutchison share the pitching in the final as Town, Hunter and Mort Wright punched out homers. Eden had made the final with a 10-0 win over Brandon Canucks and a 10-0 triumph over Oakland Braces.
Macfarlane (W), Hutchison and xxx
xxx and xxx
---
BLAINE LAKE TOURNAMENT
(July 1) Saskatoon Junior Commodores copped first money at the Blaine Lake Tournament defeating Speers 8-3 behind the hurling of Ross Stone. Commodores stopped Blaine Lake seniors 4-0 in the semi-final with Erwin Doerksen getting the win. They scored a 5-1 win over Blaine Lake juniors in the opening round.
(July 3) Melville Millionaires and Notre Dame Hounds split the top prizes at the Melville Senior Baseball Tournament Sunday when darkness forced the final to be called in the fourth inning with Melville leading 8-4. Each team took home $250. Saskatoon Macs, who lost to Notre Dame in the smei-finals, won $100 and fourth money of $50 was split between Neudorf and Leroy. Twelve teams entered the tournament which was witnessed by more than 1.500 fans.
(July 10) Erwin Doerksen fired a no-hitter Sunday to lead the Junior Commodores to a split of top money with the Marysburg Royals at the Cudworth Tournament. Doerksen blanked Watson as Commodores won their opener 3-0. All the Saskatoon runs came in the first inning on hits by John Tabashniuk, Ralph Van Ness and Terry Rak.They were the only hits the Commodores managed in the contest.
In the semi-finals, Commodores defeated Wakaw 6-4 as Marv Porowski and Doerksen combined on a four-hitter. Marysburg advanced by stopped Grasswood 5-2 and handing Blaine Lake a 9-1 whipping.
---
PONOKA TOURNAMENT
(July 8-9) Vernon Carlings jumped into an early 6-1 lead and romped to an 8-3 victory over Moose Jaw Lakers and top money of $1,250 Saturday in the final of the Ponoka Baseball Tournament. Jack Charlesworth went eight innings for the win with Tom Bryan coming aboard to finish off the triumph. Vernon rapped 13 hits off three Lakers' hurlers while the Carlings' pair held Moose Jaw to six safeties. Jim Lindell, the Moose Jaw winner in relief in the semi-final against Kimberley, lasted just two innings against Vernon. Carlings boasted some of the tourney's top stars. left fielder Tony DeRosa, a converted pitcher, was far-and-away the best outfielder. Shortstop Jack Wheelhouse was among the gems in the infield. Catcher Tony Brummet was the class of the backstops and topped the tourney in slugging with seven hits in 12 trips, including the event's first homer in the semi-finals. Brummet was also the victim of the tournament's saddest coincidence. In the fourth inning of the semi-final game against Ponoka, the big catcher sent a towering fly ball into the stands off first base. It struck his six-year-old daughter, Heather, on the right eye. She was taken to hospital suffering from a fractured cheekbone, concussion and an injured eye, which, however, did not suffer permanent damage.
Final
Vernon 8 Moose Jaw 3
Charlesworth (W), Bryan (9) and Brummet
Lindell (L), Bell (2), Nutzhorn (3) and Hunchuck
Vernon also had an easy time in the semi-final with two runs in the first inning and four more in the second en route to a 10-3 win over the Ponoka All-Stars. Carlings pounded out 19 hits while Ron Miciuk and Tom Bryan combined to hold the host team to eight safeties. Tony Brummet and Russ Keckalo each cracked a two-run homer for the winners. An oddity saw Vernon's Willie Schmidt, on a four-bagger, and Ponoka's John Zahara, on a triple, both called out for failing to touch second base, both in the fourth inning.
Semi-Final A
Ponoka 3 Vernon 10
Belter (L), Yeske (5) and Dumeiriez
Miciuk (W), Bryan (7) and Brummet
Moose Jaw won a thriller in the second semi-final edging Kimberley 7-6. Two errors at third, a walk and Murray Smail's single in the eighth gave the Lakers the victory. The game saw the lead change hands four times as the teams went through seven pitchers and 14 lineup changes between them.
Semi-Final B
Kimberley 6 Moose Jaw 7
Smith, Bodine (5), Christenson (7), Steadman (L) (8) and McCarthy
McNaughton, Nutzhorn (3), Lindell (W) (8) and Hunchuck
Exciting baseball kicked off the $4,300 Ponoka Tournament as both the opening two games went to extra innings. The host Ponoka nine went 13 innings to shade Cold Lake Cardinals 8-6 before Vernon downed Mitchelli Brothers of Spokane 3-2. The opening tilt produced 22 hits and 11 errors. Cold Lake had the early lead with a run in the first, but Ponoka's five-run second inning changed the mood in a hurry. The Cardinals fought back with three in the fourth and, after Ponoka added one in the eighth, notched two in the bottom of the ninth to tie. The teams battled through three scoreless extra frames before the All-Stars got a pair in the 13th for the win. NHLer Val Fonteyne led off the rally with a double followed by a walk to Mike Bellas. Both advanced on a sacrifice fly and Fonteyne scored on an error at the plate. Ed Gauf singled to bring in Bella with an insurance run. Dale Eikerman went all the way for the pitching win.
Ponoka 8 Cold Lake 6 (13 innings)
Eikerman (W) and Dumairez
Gates (L) and Williams
Spokane led 2-0 for seven innings before Vernon Carlings took advantage of three errors in the eighth to tie the count at 2-2. In the 10th, another error and a bloop single brought in the winner for Vernon. Spokane had an opportunity in the top of the extra stanza through an error and two walks but failed to score. Jim Staff held the Americans to five hits in going the distance on the hill for Vernon.
Vernon 3 Spokane 2 (10 innings)
Staff (W) and Brummet
Barnes (L) and Chalik
Moose Jaw scored three times in the top of the first inning and cruised to a 5-1 victory over Grande Prairie Athletics behind the five-hit hurling of veteran Jackie McLeod.
Moose Jaw 5 Grande Prairie 1
McLeod (W) and Hunchuck
Davis (L) and Roberts
In the final Friday encounter, Edmonton City Police got off to a 2-0 lead in the first inning on a walk, stolen base, error and Stan Kulka's single but they would be blanked the rest of the way as Kimberley scored in the fourth on Elgin Smith's two-bagger and added three in the seventh on three hits and an error to win 4-2. Rick Steadman fired a four-hitter at the Athletics while the Dynamos rapped ten off Dave Kostenuk.
City Police 2 Kimberley 4
Kostenuk (L) and Kulka
Steadman (W) and McCarthy
---
PEACE RIVER TOURNAMENT
Dawson Creek Cardinals captured the Peace River tournament with a 4-3 win over Barrhead Cardinals in the final.
---
SASKATOON EXHIBITION TOURNAMENT
(July 25) Kindersley Klippers received outstanding pitching by Bentley MacEwen Monday night as they defeated Marysburg Royals 10-2 to launch the Exhibition baseball tournament. The left-hander allowed only two hits until the ninth when he allowed three more in coasting to the victory. He struck out 14. Three of the five hits off MacEwan were by Leo Wurtz, the Royals first baseman. Irl Flanagan collected three of Kindersley's 12 hits. Marysburg hurt its chances by making nine errors. The Royals' lineup included six members of the Strueby family - Sylvester, Arnold, Gerald, Harold, Art and Walter.
Stroeder (L) and Arnold Strueby
MacEwen (W) and J.Flanagan
(July 26) Asquith, held without a hit for five innings, scored three late runs Tuesday night to top Leroy 6-3. Red Leoffler, who went the distance for Leroy, gave up ten hits in the last four innings after allowing none for the first five frames. Elmer Walker, Jack(Jock) Cleghorn, John Sirota and Reg Cattell each had two hits for the winners while Leroy first baseman Carl Strome belted a home run into the rodeo chutes. Jimmy Chow, jack of all trades with Saskatoon Macs in regular season play, was the winning pitcher taking over in the fifth inning for starter Jack(Jock) Cleghorn. Walker, in centre field for Asquith, and Leroy shortstop Bud Guenther impressed in the field.
Cleghorn, Chow (W) (5) and Brooks
Leoffler (L) and Murray
(July 27) Lefty Rod Campbell walked six, hit three batters and threw two wild pitches but yielded just three hits Wednesday to hurl Delisle to a 7-1 victory over Neilburg. He fanned 13. Delisle scored five times in the first inning. Doug Bentley drew a walk with one out and brother Max slashed a single to left. Al Wanner poked a single to centre field, scoring Doug Bentley, and when Larry Flecik juggled the ball, Max Bentley also came home. Bev Bentley was safe on a fielder's choice and Wanner scored to make it 3-0. Gary Franklin reached on an error and stole second and Murray Coben followed with a smash up the middle to plate both runners. Delisle added a run in the second with Wanner driving in Merle Byrnes and scored again in the fifth, Doug Bentley knocking in Johnny Goodwin. Dave Kostenuk's sacrifice fly brought in Neilburg's only run in the ninth. Murray Coben collected three of the 13 hits for the winners.
Kostenuk (L) and P.Prediger
Campbell (W) and Wanner
(July 28) North Battleford moved into the tournament semi-finals Thursday defeating a scrappy Dinsmore nine 8-5. Dinsmore took a 2-0 lead in the first inning when Rollie Leavins connected for a single to drive in two runs. Beavers rebounded with one in the third, three in the fourth and four in the fifth before Dinsmore scored a pair in the sixth, one of them on a homer by Walt Anderson. Veteran Ollie Harris, with relief help from young Roy Rowley, was the winning pitcher. Barney Krake led the Beavers with three hits.
Harris (W), R.Rowley and D.Anderson
Leavins (L), Wonkel (4), E.Anderson (5) and Williams, Zeman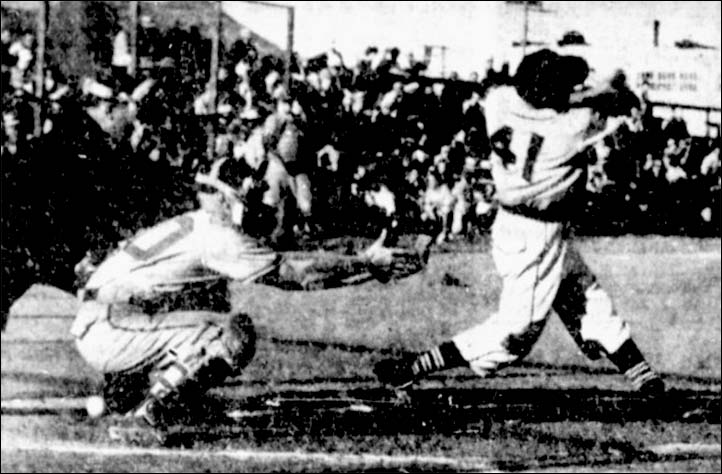 Asquith pitcher Erwin Doerksen takes a mighty swat at the ball in Friday's tournament game against Kindersley. Asquith was beaten 9-4. The catcher is Jerry Flanagan and the umpire is Moe George.
(July 29) Kindersley Klippers reached the Exhibition Tournament final for the second straight year with a 9-4 victory over Asquith Friday. A five run sixth inning which included hits by Garnet Hannon, Layne Jackson, Wally Jackson and Len Breckner plus a pair of walks and a wild pitch provided Klippers with the victory. Irl Flanagan went three-for-three and Wally Jackson smacked a double and two singles. Breckner had a pair of two-baggers. The game produced 25 strikeouts with Asquith starter Erwin Doerksen racking up 11 in just 5 2/3s innings. Reliever Jimmy Chow added two more for Asquith while the Klippers hurlers fanned a total of 12.
Doerksen (L), Chow (6) and Brooks
Casares, Cunningham (5), Holdaway (W) (5) and J.Flanagan

(July 30) North Battleford Beavers took a 5-1 lead then held off a late rally by Delisle to post a 5-4 victory to move into the final of the Exhibition tournament. The game drew one of the largest ever crowds for a Saturday morning game in tournament history. Delisle made in 5-2 in the 8th on a towering homer by catcher Al Wanner. In the ninth, Merle Byrnes received a free pass and came around to score on Doug Bentley's double to right field. With one out, Wanner singled to left to drive in Doug Bentley to make it 5-4. George Mahaffy singled to move the potential tying run to second. A passed ball moved the runners to second and third. Reliever Roy Rowley then fanned a pair to end the contest. Don Drummond led the winners with three hits and Doug Bentley had three for Delisle.
Stites (W), R.Rowley (9) and Anderson
Tesch (L), Richard (3), Campbell (9) and Wanner
(July 30) Kindersley Klippers, behind Bentley MacEwen's six-hitter, downed North Battleford 7-2 to take top prize at the Saskatoon Exhibition Tournament. MacEwen fanned 11 in besting Roy Rowley of the Beavers. Len Breckner powered the Klippers attack with a homer, double and single driving in a pair and scoring twice. Jerry Flanagan drove in three runs with a pair of hits.
MacEwen won the $25 prize for most strikeouts in a single game, the 14 he fanned in the tourney opener. Breckner copped the $25 award for most hits. He actually tied teammates Irl Flanagan and Wally Jackson with seven, but took the award for having the most total bases as he had a homer, three doubles and three singles.
Rowley (L) and B.Krake
MacEwen (W) and J.Flanagan

---
LACOMBE TOURNAMENT (July 27)
"Thanks to perfect weather and Slim Thorpe's Lloydminster Meridians, all records fell at the 11th annual Lacombe Lions Baseball Tournament Wednesday. The ideal weather put a record number of fans in the Lions new baseball park, 10,000 in two days, and the Meridians broke all other records for one club's domination in what stands as Canada's top baseball tournament, money-wise, color-wise and baseball-wise.

The Meridians completed a tournament route by defeating the Lefty Mack - Ivan Crook North Alberta All-Stars 27-5 in a final game ended by darkness after seven innings ... Indicative of the Lacombe's tourneys spot in Alberta sport field is the fact that no - get that no - event has been so heavily covered, with five dailies, three TV stations, nine radio stations and six weeklies on the spot for two days." (Hal Pawson, Edmonton Journal, July 28, 1960)
In the most one-sided final in tournament history, the Lloydminster Meridians bombed the Northern Alberta All-Stars 27-5 to take top prize of $1,500 in the 11th annual Lacombe tournament.
Meridians blasted 25 hits, including homers by Tom Bergeron and Bill Miller, and took advantage of nine walks, a hit batsman, seven errors and five stolen bases. Bergeron, with four hits, and Curly Williams had days to remember. Bergeron was on base seven straight times in the final while Williams reached safely on six consecutive plate appearances. In the three games of the tourney, Williams reached base 14 times in 15 tries. He had 10 walks to go along with three doubles and a single. Mike Noakes rapped out five singles against the All-Stars. 18-year-old Tom Belcher, who went six innings, picked up the win. He fanned 11.
Belcher, Proctor (7) and Milano, Miller (7)
Tookey, Reece (2), Gates (4), Waddle (5), Serbu (5), Weise (7) and Williams
The Meridians advanced to the final by trouncing pre-tournament favourite Drain Black Sox 17-2. Meridians scored five runs in the first and coasted to the easy win. Southpaw Dick Dyer held Drain to six hits and helped at the plate with three singles. Right fielder Norm Revis blasted four doubles and two triples to pace a 14-hit attack for the winners. Tom Bergeron belted a triple and a double. Second baseman Bill Wagner had a homer for the Black Sox.
Dyer and Milano
Ron Whittaker, Leon Criner (1), Mark Clarke (3) and Bach
Ruben Rodriguez held Calgary to five hits and fanned eight as Lefty Mack's All-Stars beat the Buffaloes 5-2.
Slaughter, Graves (7) and Garrett
Rodriguez and Williams
The biggest shock of the opening day came as the Northern Alberta All-Stars (a combination of the Cold Lake Cardinals and North Edmonton Rockets of the Big Seven League) whipped the Saskatoon Commodores 10-2. The All-Stars jumped into a 2-0 in the first inning and never looked back. Lefty Ron Gates allowed 10 hits to Saskatoon but went the distance for the win. Herb Sewers led the Stars with a homer, double and single while Tom Murphy added a triple and a pair of singles. Larry Exel, Pete Estrada and Gary Herrington each had two hits for Saskatoon.
Gates and Williams
Popkin, Scavo (5), Hobson (8) and Herrington
Calgary scored seven runs in the first two innings on the way to an 11-0 win over Barrhead. The key blow was a three-run homer by Marty Hurd. Bill Casanova had a two-run triple in the eighth along with a double and single. Ray Wrenn had three singles and Bill Fennessey cracked out a pair of doubles and a single. Gene Graves and Jim Johnson held the Pontiacs to just two hits. Barrhead was a last minute replacement for the Bellingham Belles.
Kostenuk, Dave Waddle (2) and Kulka, Johnson (5)
Graves, Johnson (3) and Garrett
Drain punched out 16 hits in trouncing Lethbridge 12-2. Everyone in the Black Sox lineup had at least one hit. Jim Lester and Bob Bourbeau each had two hits for the White Sox. Jim Withers pitched a seven-hitter for the win.
Withers and Bach
Canner, Bolingbroke (2), Sims (3), Montee (7) and Koentopp
Lloydminster pushed across four runs in the first inning to beat the Kansas City Monarchs 9-1. Bill Oakley fired a four-hitter for the win. Bob Milano rapped a two-run homer for the Meridians while Tom Bergeron had a triple and single. Norm Revis also had two hits. Sugar Cain took the loss. The Monarchs were late in arriving after driving 14-hundred miles non-stop. The team spent three days and nights aboard a bus to make the tournament.
Oakley and Milano
Cain, Calvin Grant (7) and McKnight
After the tournament, Spero Leakos picked up four players to bolster his Commodores' roster. Leakos signed up Nate Dancy, Ira McKnight and Tommy Taylor of the Monarchs and also acquired pitcher Ruben Rodriguez.

---
LETHBRIDGE ROTARY TOURNAMENT
(July 30) The Lloydminster Meridians won their second major tournament in a week by downing Calgary 9-6 in the final of the 10th annual Lethbridge Rotary tournament. Meridians took the $1,500 first prize with a five-run uprising in the seventh inning which featured a two-run homer by Tom McGarry and triple off the bat of Barry Arnett. The Buffaloes had taken a 4-1 lead in the second inning on a leadoff homer by Bill Casanova and a three-run blast by Gary Engelken. Meridians came back to tie in the third with Cliff Pemberton's triple the key blow. Marty Hurd's two-run double in the bottom of the third gave the lead back to Calgary, 6-4. That was all the scoring until the Meridians winning rally in the 7th.
Belcher, Dyer (3) and Milano
J Johnson, Burnett (2), Graves (3), Slaughter (7) and Garrett
Lloydminster reached the final with a 7-2 win over Lethbridge. Curly Williams broke the game wide open with a grand slam homer in the third. Williams, Norm Revis and Cliff Pemberton each had two hits for the Meridians. Lee Murphy and Bob Bourbeau replied with two hits each for Calgary. Bill Oakley scattered nine hits to gain the win.
Bolingbroke, Sims (3) and Koentopp
Oakley and Milano
The Buffaloes came from behind a 3-0 deficit to edge the Kansas City Monarchs 6-5 in the other semi-final. The Monarchs had jumped on starter Willie Walasko for three runs in the third inning, two coming on Frank Williams' homer. Calgary bounced back to tie in the bottom of the third on doubles by Jerry Pritchett and Marty Hurd. Buffs scored two in the fifth and Bill Casanova produced the eventual winning run with a solo homer in the sixth.
Grant, Smith (7) and McKnight
Walasko, J Johnson (7) and Garrett
In first round action, Lloydminster erupted for ten runs in the third inning and coasted to a 12-8 win over the Drain, Oregon, Black Sox. Pete Kenney and Don Lane were the victims of the Meridian onslaught. Kenney faced seven batters, allowing five hits, a walk, and a hit batsman. Lane came on and gave up three runs on four hits before Ron Whittaker finally got the side out. Tom Bergeron led the Meridians with a homer and a pair of singles. Norm Revis, Bill Miller and Mike Noakes each contributed a double and a single. Larry Pederson crashed a three-run homer for the Black Sox. Ted Richardson went seven innings for the win.
Drain 8 Lloydminster 12
Kenney, Kane (3), Whittaker (3) and Haroldson
Richardson, Searcy (8) and Milano
John Vaselenak's sixth inning homer with Lee Murphy aboard was all Lethbridge needed in a 2-1 win over the Northern Alberta All-Stars. Dick Montee, who had a no-hitter into the sixth, allowed just four hits in a brilliant pitching performance. He fanned 13. Ron Gates, who pitched an eight-hitter for the All-Stars, drove in the only run for the Northern Alberta club. In addition to his homer, Vaselenak had a pair of singles and Jim Lester belted a double and a single.
Lethbridge 2 Edmonton 1
Montee and Koentopp
Gates and Williams
Calgary scored four runs in the second inning on a Ray Wrenn grand slam and went on to a 10-1 victory over Spokane Builders. Gene Graves tossed a seven-hitter for the win. He lost his shutout bid in the seventh on a Rich Rust homer. Bill Casanova added a homer for the Buffaloes.
Spokane 1 Calgary 10
Barnes, Stoner (5), Hogan (9) and Challich
Graves and Garrett
A two-out double by George Davis sent Nat Dancy home with the winning run in the ninth as Kansas City, the defending tournament champions, shaded Saskatoon 4-3. Sherwood Brewer paced the Monarchs with three hits while the big blow was a two-run homer by Willie Washington in the fourth. Larry Exel had a solo homer for the Commodores. Tommy Taylor went the distance for the win.
Saskatoon 3 Kansas City 4
Peters, Jones (2) and Herrington
Taylor and McKnight