Executive members of the 1963 Regina Red Sox welcome the legendary Satchel Paige to Regina prior to the touring Satchel Paige All-Stars' exhibition game against the Red Sox. (Left to right) - Harvey Johnson (player representative), Charlie Leibel (Red Sox team president), Satchel Paige, Regina mayor Henry Baker, Bill Childs (director), Jack Fulton (director). Photo courtesy of Harvey Johnson
Moose Jaw playing-manager Roland Jones greets the legendary Satchel Paige before an exhibition game at Moose Jaw. The Paige All-Stars downed Moose Jaw Regals 11-3 before a crowd of nearly 1,000 spectators at Ross Wells Park. That's umpire Roy Tollefson at the right.
Slow as molasses on the mound and fast as ever when throwing, the oldest active veteran of the major leagues tossed two innings of one-hit baseball before giving way to his 19-year-old son LeRoy . . . Regals collected two hits off three All-Star hurlers. Left-hander Henry Myers was called to the mound in the last inning to retire the last batter with the bases loaded. Regals scored all three runs in the last inning on walks issued by the young "Satchel" Paige. Oddly enough, it was the veteran Paige's hit that broke up what appeared to be a tight contest. Paige sent a single down the right-field line with the bases loaded in the second inning. (Moose Jaw Times-Herald, July 24, 1963)
August 10, 1963, the Moose Jaw Times-Herald captures Moose Jaw playing-manager Roland Jones in a series of images as the Regals downed Notre Dame Hounds to capture the Southern League pennant.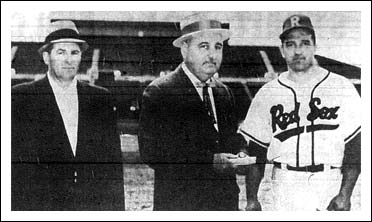 Regina manager Ed Stefureak with Regina mayor Henry Baker and Southern League president Joe Trapp prior to the start of the 1963 All-Star game.