VICTORIA INVITATIONAL TOURNAMENT
(July 4-5) Powered by the bat of right fielder
John Haar
, the Vancouver OK's clipped Haney-Hammond 9 to 8 in eleven innings to capture top prize in Victoria's $1,000 invitational baseball tournament. Haar's heroics lifted the highly-touted OK's from behind in the exciting tournament finale. The OK's reached the final earlier in the day when
Jim Marshall
drove in all of their runs in a 3 to 3 squeaker over Port Moody. Haney-Hammond won its berth, blanking Victoria Greaves 4 to 0.
---
SASKATOON EXHIBITION TOURNAMENT
(July 19) Fulda fell behind 4-1 before rallying with five runs in the fifth inning on the way to a 7-5 triumph over Lanigan-Guernsey in the opening game of the Exhibition Tournament. With the exception of the fourth inning when the Combines scored four times, helped by a pair of errors, left-hander Roman Suer was in command yielding just seven hits overall with eight strikeouts. Ted Suer, with a double and single, was the only batter with more than one hit.
R.Suer (W) and Wempe
Groff, Herr (5), B.Guenther (5) and Plaster
(July 20) Cliff Shockey slugged a homer, two doubles and a single driving in three runs and scoring a pair in leading Delisle past the Allan T-Birds 5-1. Don Poindexter allowed nine hits in going the distance on the mound for the winners. Don Frolek tossed an eight-hitter in taking the loss.
Frolek (L) and Bogren
Poindexter (W) and McKnight
(July 20) Asquith advanced to the semi-final round winning a coin-toss after battling Neilburg-Manitou Braves to a 4-4 tie in a game called after eight innings because of darkness. The Braves jumped into a 3-0 lead in the first inning with Pat Gibbons' ground-rule double driving in a pair. Asquith got one back in the fourth and then scored three in the fifth for a 4-3 advantage when Cliff Mein walked five batters. In the sixth, Pete Prediger singled, stole second and made third on a bad throw then scored on Dennis Murray's infield hit to knot the count. Gene Graves registered the win with an eight-hit performance. He fanned nine.
Graves (W) and Brooks
Mein (L), Murray (5) and Freed
(July 21) Dinsmore Dynamos broke up a 1-1 tie with three runs in the eighth inning, helped by two errors, for a 4-1 victory over the North Central All-Stars. Lefty reliever Dave Banks sparkled for the winners firing one-hit ball with six strikeouts in 4 1/3 innings after replacing starter Ed Anderson. Shortstop Merle Byrnes punched out three hits and played brilliantly in the field. A play on Carl Strome's grounder in the sixth inning was the fielding gem of the night.
E.Anderson, Banks (W) (5) and Henry
Loeffler, J. Stroeder (L) (3), Fouhse (8) and Strueby

(July 22) Ira McKnight drove in seven runs Thursday night to power Delisle to a 12-7 win over Fulda and a berth in the Exhibition tournament final. As a pinch-hitter in the third inning, the former Negro Leaguer, blasted a grand slam homer to erase a 3-1 Fulda lead. Later, McKnight added a second homer and a single. He also took a turn on the mound in relief of starter Bernie Sonntag. Delisle pounded out 15 hits with Bob Babki, Gord Johnson and Don Heit getting two apiece. Fulda had 12 hits including a home run and double by Dennis Hebig. Gary Bentley, son of Max Bentley, pulled off the field gem of the game in the third inning.
R.Suer (L) and A.Ermpe
Sonntag, McKnight (W) (4), Poindexter (8) and Johnson, McKnight
(July 23) Asquith scored two runs in the first inning and remained in command throughout in downing Dinsmore 9-5 to advance to the tournament final Saturday. Les Stack and Jimmy Chow with three hits apiece led a 12-hit attack for the winners. Larry Lazecki gave up eight hits in doing the distance for Asquith. Three of the safeties were triples by Roy Piper, Dave Banks and Ed Knudson. Elmer Walker and Jack(Jock) Cleghorn had three-baggers for Asquith.
Ellis, Banks (2), Anderson (8) and Knudson
Lazecki (W) and Brooks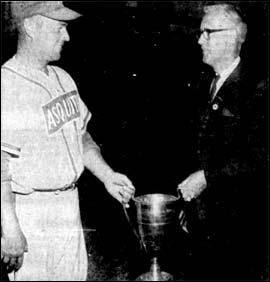 Bill Cleghorn (left) manager of Asquith receives the J.F. Cairns Memorial Trophy for capturing the championship of the Saskatoon Exhibition Tournament. Tourney official Eddie Scissons makes the presentation.
(July 24) Asquith spotted Delisle a four run lead in the top of the first inning before roaring back to capture the Exhibition Tournament championship with a 14-10 victory Saturday. 12 hits, six for extra bases powered Asquith to the title and $575 in prize money.
The big blows for the winners came from Erwin Boehm, with a homer, Jack(Jock) Cleghorn, a triple and double, and two-baggers by Elmer Walker, Tony Keller and Les Bloomquist Walker knocked in four runs.
Home runs by Gordie Johnson and Cliff Shockey led a 10-hit attack for Delisle. Max Bentley added a triple and two singles. Gene Graves, in relief of starter Rod Campbell, picked up the win.
Shockey and Les Stack of Asquith shared the $25 prize for most hits, each with six. Graves took home $25 for the most strikeouts in a single game, nine.
Eddy, Poindexter (3), Babki (6) and McKnight
Campbell, Graves (4) and Brooks
---
LACOMBE TOURNAMENT
(July 29) North Battleford Beavers are the champions of the Lacombe Tournament. Beavers took home the $1,100 top prize Thursday with an easy 14-5 win over Edmonton Angels. Down 5-4 after five innings, Beavers plated four markers in the 6th on three hits, three errors and a walk. They followed up with a six-run 8th inning on seven hits and an error. Dave Hallis, Jack Rowley and John Ford each drove in four runs. Al Symington was the offense for Edmonton with a three-run double in the 2nd and the game's only homer in the 4th.
Don Frolek (W) and Larry Derksen
Dale Schultz, Dave Dinwoodie (L) (5), Al Hamilton (6), Ed Welch (6), Sandy Neilson (6) and xxx
Beavers made the final downing St. John, Washington, Indians 7-5. Dale Schultze's 10th inning homer gave Edmonton a 4-3 win over Kindersley.
(July 28) Rollie Miles, the long time Edmonton football star, led the Edmonton Blue Willow Angels to a 6-3 win over Kamloops Lelands in opening round action. Miles, the playing coach of the Angels, rapped an 8th inning single, his second hit of the game, to score the tying and winning runs. Kamloops had taken an early lead in a nightmare of a 5th inning for Edmonton as the Angels committed four errors.
Kindersley's Joe Ferguson, an 18-year-old import from San Jose, California, dropped behind the Viking Shamrocks 4-1 when his mates booted the ball four times in the third inning. Ferguson then bashed the day's only homer, a grand slam, off Ray Michaud as the Klippers won, 7-5.
Sherman Cottingham had the best pitching performance of the opening day, a one-hitter with 12 strikeouts, as North Battleford blanked the Central Alberta Red Sox 2-0. Owen Mailey's leadoff double in the second spoiled Cottingham's bid for a no-hitter. Gord Labossiere took the loss.
Tom Brown fired a three-hitter and was a star at the plate with three hits and two RBI as the St. John Indians of Washington topped the Vernon Luckies 6-0.
---
CANADIAN NATIONAL JUNIORS
(August 4) Eighteen players from eight provinces have been selected for Canada's national team to compete in the International Wolrd Championships at Mexico City in October. Members were chosen from teams playing in the national championships. Players had to be 18 years old or younger on September 30th to participate in the world meet.
Catchers : Barry Ellis of Prince Edward Island and Wayne Reily of Nova Scotia.
Pitchers : Mike Kelly and Bill Weatherbie of PEI, Julien Oullette of Quebec, Fred Cardwell of Saskatchewan and John Hegen of Nova Scotia.
Infielders : Wayne Janz of Manitoba, Scott Harvey of New Brunswick, Ray Colbourne of Newfoundland, Jacques-Pierre Lauzon of Quebec, Jim Paisley of Saskatchewan and Fred MacDonald of PEI.
Outfielders : Lyle Moffat and Gord Karch of Alberta, Mel Smith of Manitoba, Jacques Gagne of Quebec and Dave Crabbe of Nova Scotia.
---
WASHINGTON STATE NATIONAL BASEBALL CONGRESS TOURNAMENT
(August 6-9) The Bellingham Bells trounced the Vancouver Ramadas 10 to 1 in the 28th annual Washington State semi-pro baseball tournament at Pacific Stadium in Bellingham. Both teams, out of the Pacific International Baseball League, advanced to the finals in the four-day, eight-team double-knockout tourney. Vancouver had defeated the Everett WA Orioles in their first game. The victory for the Bells earned them a spot in the national championships to be held in Wichita KS in late August. Vancouver's lone run in the closing game came in the fifth inning when Stan Osadczuk, an addition from Columbia of the PIL, came in on a single by Bill Jorgensen, a pick-up from Haney-Hammond.
---
KAMLOOPS LABOUR DAY INVITATIONAL TOURNAMENT
(September 4-5-6) The South Burnaby Athletics of the Pacific International League won the eight-team single-knockout Kamloops Labor Day weekend baseball tournament. The Athletics won three straight games, defeating Coquitlam, the Kamloops Okonots and Vancouver Ramadas for the championship. Pitcher Dan Miscisco backed his winning effort with a three-run homer in a 5 to 4 victory over Kamloops. Glen Ford also nailed a three-run circuit-clout as he pitched the Athletics to a 7 to 1 win over Coquitlam. Frank Kozak Jr, a tourney addition from the Astoria Athletics of the Vancouver Industrial League, was the winner as he hurled South Burnaby to a 2 to 1 triumph over Vancouver in the tournament final.