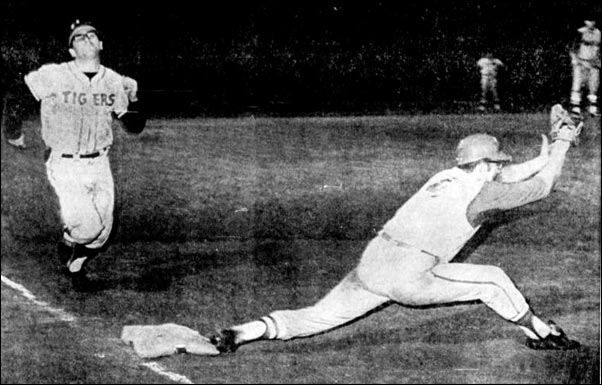 Wally Waddle of the Edmonton Tigers is out at first base as Ken Ewasiuk of the Edmonton Blue
Willow Angels stretches for the throw in an Alberta Major Baseball League match.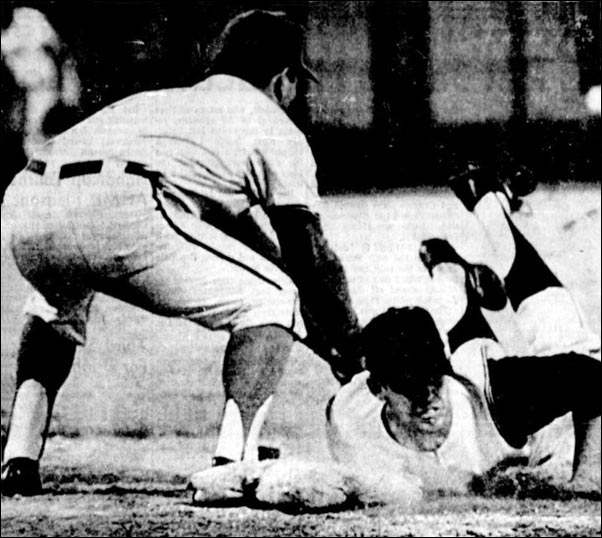 Pinch-runner Mark Jones of the Calgary Giants dives back to first base in the 6th inning to beat
the pick-off throw from Cascades' hurler Ian Reed. Jim Berlando readies to take the throw. Giants
posted a 3-2 Alberta Major League victory.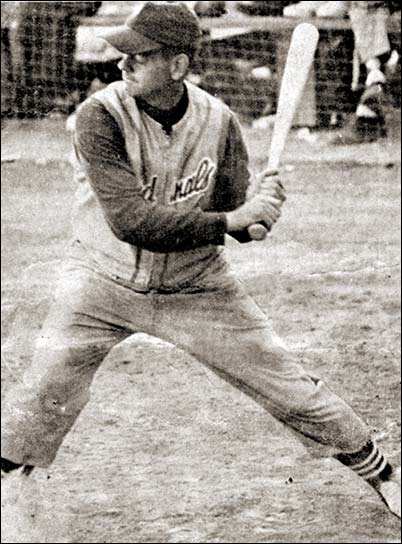 Lloyd Haddon was a star of the 1968 Peace River, Alberta, Baseball Tournament.
Playing for the Beaverlodge entry, Haddon set a tourney record by smashing six home runs. In one game, he had three round trippers, driving in eight runs.
Haddon, a long-time hockey star in the West, went six for ten with four intentional walks.

Umpire Ed Weber makes the call as Saskatoon Commodores' Randy Munch tries to get back to first base after Unity pitcher Ross Stone had snared Bob Lewis' bunt in the air and fired to first baseman Irl Flanagan for the double play.
Commodores won the Northern Saskatchewan League game 6-5 in 10 innings.
Below - in Saskatchewan's Mid-West League, Harvey Grummett (7) of the Saskatoon T-Birds rips a triple to drive in a run against Asquith Braves. The catcher is Larry Pavaloff and the umpire is Ed Weber.