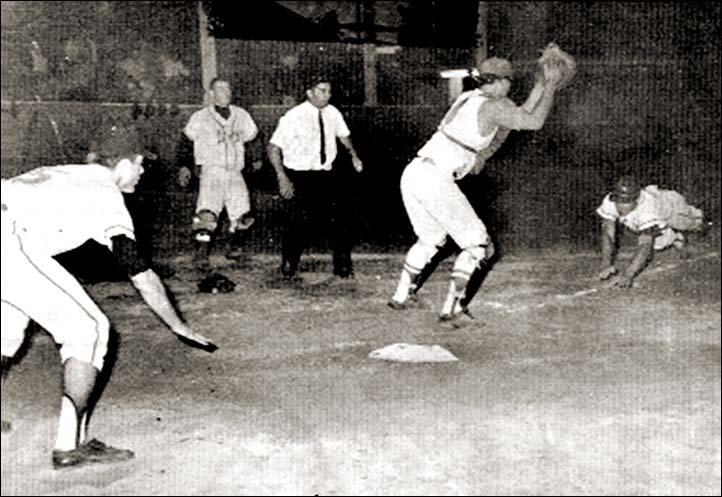 Clark Inglis, Vernon Luckies shortstop, slides toward home in the eighth inning of the final of the Kamloops Labour Day Tournament at Riverside Park. Inglis tried to score from first on a double, but was thrown out at the plate. However, the Luckies went on to defeat the Victoria All-Stars 5-2 to win the event. The Luckies' Don Archer (far left) gives Inglis the "get down" sign. Gordie Nuyens looks on beside Umpire Frank Rota as Mike McAvoy takes the throw to tag Inglis.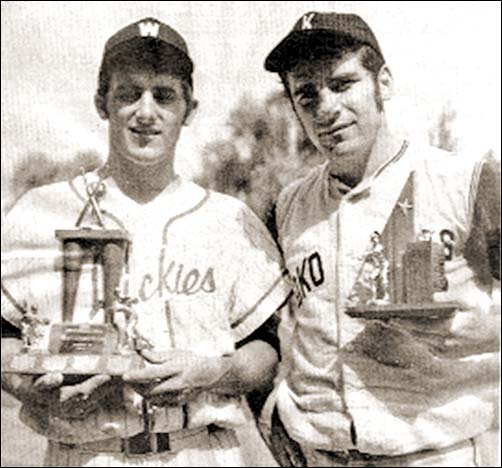 Batting kings !
Clark Inglis (left) displays the Jim Holt Trophy for leading his club, the Vernon Luckies, in hitting in 1970. Inglis, with an even .400 average, finished just behind the league leader, Joe Watson (right) of the Kamloops Okonots. Watson finished at .403.
Watson, from Smithers, BC, is better known as a National Hockey League defenceman, mainly with the Philadelphia Flyers. Watson's brother Jim also played baseball with Kamloops and hockey with the Flyers.