NORTH SASKATCHEWAN LEAGUE TOURNAMENT
(July 4) Unity Cardinals captured top money in the NSBL Dominion Day Tournament with a 3-0 win over North Battleford in the finale. Rain delayed the event until Saturday. Doug Wilkinson blanked the Beavers on five hits while the Cards scored three times on four hits and two North Battleford errors.
Wilkinson (W) and xxx
xxx and xxx
Beavers had crushed Kindersley 10-0 in the opening game as Tom Sallaway hurled a three-hitter and fanned 14. Beavers had ten hits off loser Lonnie Miles. Greg Dvorak paced the attack with a homer and single while Sallaway and Mark Perkins each had a triple and single. Sallway drove in three runs in the big 6th inning.
Sallaway (W) and xxx
Miles (L) and xxx
Unity dropped Neilburg-Lloydminster 12-7 in the day's second game. Al Ferchuk survived 12 hits to go the distance for the win. He rang up 14 strikeouts. Scott Woodward took the loss. Dick Schmidt knocked in four runs with a double and two singles. Don McIntyre had a triple and single for the Monarchs.
Ferchuk (W) and xxx
Woodward (L), Henricks (4) and xxx
A coin flip to decide a bye to the final was won by North Battleford.
Unity advanced to the final thumping Saskatoon 12-5. Gary Bock held the Commodores to eight hits while the Cardinals exploded for 17 safeties. Dick Schmidt knocked in three runs with a pair of singles. Jim Shaw had a double and three one-baggers. Bob Brown and Al Mitchell each had a triple and single for Saskatoon.
Bock (W) and xxx
xxx and xxx
(July 6) A two-run double by Larry Tollefson in the sixth-inning provided the Moose Jaw Regals with a 3 to 1 victory over the Melville Millionaires in the Melville tourney final as the Regals won top money of $400. Moose Jaw had advanced to the final with a 12-inning, 6 to 5 win over the Yorkton Cardinals while the Millionaires had defeated the Regina Red Sox 7 to 4.
---
LACOMBE TOURNAMENT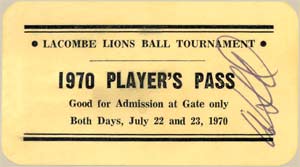 (July 23) The Moose Jaw Regals and the Jamestown, North Dakota Elks split first and second place money of $2,500 at the 21st annual Lions Club baseball tournament in Lacombe, Alberta. The championship game was called after the Regals and Elks were tied 1 - 1 following the 11th inning. Regals got on the board first with an unearned run in the 5th inning as pitcher Roy Rowley scored on third baseman Gene Roebuc's error. Roebuc made up for the miscue in the 7th when he scored the tying run on a single by second baseman Jim Nelson. Regals had a golden opportunity in the last of the 9th when playing coach Ned Andreoni slammed a triple but he was left stranded. Regals again threatned in the bottom of the 11th when outfielder Terry Buck walked, stole second and advanced to third on a wild pitch. Again, the Regals couldn't bring the runner home.
Rowley, Stone (7) and xxx
John Reha, Jean Kapaun () and xxx
In earlier games Thursday, Regals blanked the Edmonton Tigers 8-0 taking advantage of five Tigers' errors. Terry Buck fired a three-hiiter for the shutout. Ned Andreoni had a two-run double in the 3rd inning.
Buck (W) and xxx
Lynn (L), Curtis (7) and xxx
The Elks shutout Peace River All-Stars 7-0 behind a three-hitter by Steve Furst. Tom Kraft belted a homer for the winners.
Furst (W) and xxx
Les Ohrn (L), Jerry Howard (6) and xxx
(July 22) Edmonton Tigers took a 3-0 lead in the first inning but needed a run in the bottom of the 9th to shade Eston Ramblers 4-3 in the opening game at the Lacombe Tournament. Ron Watamaniuk singled to knock in the winning marker. Bill Chahley held Eston to six hits to take the mound win over Bob Burchfield.
Burchfield (L) and Marshall
Chahley (W) and Franchuk
Aided by Bob Booth's two-run homer in the 6th inning, Moose Jaw Regals topped Kelowna Carlings 6-2. Fred Cardwell and Ross Stone teamed up for a five-hitter for Moose Jaw. Bob Bridges took the loss. Kelowna made five errors.
Bridges (L) and Favell
Cardwell (W), Stone (6) and Tollefson
Peace River got a two-run homer from outfielder Ray Stokke in the first inning to spark a 6-1 victory over the Unity Cardinals. Dave Hendershot had a strong outing for the win hurling a five-hitter. Don Hendricks took the loss.
Hendricks (L), Sharpe (4_ and Wilkinson
Hendershot (W) and O'Sullivan
The Jamstown Elks of North Dakota ousted the defending champion North Battleford Beavers 4-3. Down 4-0, Beavers rallied in the 7th inning with three runs, one a solo homer by Cam Sternig, but fell just short. Starter Dan Kapaun pitched into the 7th for the win. Greg Dvorak took the loss.
Kapaun (W), Reha (7), Furst (8) and Jensen
Dvorak (L) and Bunan
---
CALGARY TOURNAMENT
(August 11) Two Saskatchewan teams - Unity Cardinals of the North Saskatdchewan League and Eston Ramblers of the Mid-West circuit - have been added to the field for the Calgary major baseball tournament at Foothills Stadium.
Cardinals replace the North Battleford Beavers who were forced to withdraw because of playoff commitments. The club, managed by Irl Flanagan, will be bolstered by two San Fernando State pitchers from Lloydminster, Don Heinrich and Scott Woodward. They also boast ace right-hander Tom Sharpe, from Fresno State, Gary Boch, an addition from the Moose Jaw Regals of the Southern League, right-hander Al Ferchuk and catcher Doug Wilkinson from Fresno State.
Ramblers are the runaway pennant winners in their league and feature ace right-hander Bob Burchfield of Fresno. They've also picked up a pair of U.S. imports from the Melville Millionaires of the Southern League - Don Kirck and Grant Beckstrand. Catcher Al Marshall from the Kindersley Klippers and infielder Merle Byrnes figure to help the offense.
Other teams lined up for the affair include the St. John (Washington) Indians, North Idaho All-Stars, Okanagan (Kelowna) All-Stars, Edmonton Oil Kings All-Stars and the Calgary Foothills Giants.
(August 12) The Peace River-Fairview Selects have been selected to complete the field for the Calgary tournament. Selects were given the nod after a pair of prospective entries - Minot, North Dakota, Athletics and Butte, Montana - cancelled their applications. The Selects will feature a pair of ice hockey stars, Al Rycroft and Brian Walker, who began the season with the Calgary Cubs. Also in the lineup will be Brian's brother Gerry, last year with the Edmonton Angels, and Phil Headley. Slugging catcher Terry Watchorn, well known for his curling exploits, and veteran hurlers Jerry Howard, Jim Fox and ex-Calgarian Murney Nellis are also on the roster.
(August 14) On the eve of their opening action, Calgary Giants lost their star hitter Stu Heron. The AMBL batting champion is at his home in Moose Jaw where his father passed away earlier this week. He will remain for the funeral and could be missing for the entire weekend. Ron Moffat of the Cubs has been installed as his replacement.
(August 14) California college import Bob Burchfield, hurling for the Eston Ramblers, fired a four-hitter to shutout the Calgary Giants 3-0 in the opening game of the Calgary Tournament. The right-hander, with a 9-2 record in the Mid-West League, struck out seven and walked three. Al Taylor, who set an AMBL league record with 10 wins, gave up just six hits but walked five and hit a batter in taking the loss. Ramblers struck early scoring a pair in the first inning as Taylor walked the first two batters. Both advanced on Ed Fauth's sacrifice bunt. Al Marshall's bloop single to left drove in the first marker and Reg Andrew bunted for a hit and an RBI. Taylor blanked the Ramblers until the 8th when Fauth lined a double to deep left field and Andrew knocked in his second run with a single to right.
Burchfield (W) and Morrice
Taylor (L) and Heatley
(August 15)
---
CANADIAN SENIOR BASEBALL CHAMPIONSHIP, Brandon, Souris, Hamiota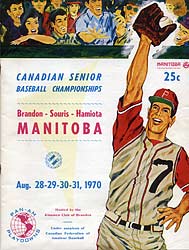 (August 31) BC rallied for three runs in the bottom of the 9th inning to down Saskatchewan 3-2 and take the gold medal at the Canadian Senior Baseball Championships at Brandon. The Victoria squad notched the markers on three bases-loaded walks. Saskatchewan, represented by the Saskatoon Commodores had gone ahead 2-0 in the top of the 9th as Randy Munch hit a two-run triple to score Roy Rowley and Fred Maxemiuk.
Larry Haylor, who replaced starter Ross Stone with the bases jammed and one out in the 9th, walked Doug Hill to tie at 2-2 and after a strike out, walked pinch-hitter Russ Holmes to end the game. George Brice held the Commodores to six hits in going the distance for the win.
Stone (L), Haylor (9) and Brown
Brice and Bunyan
BC had shutout Ontario 3-0 in a semi-final martch earlier in the day. Saskatchewan topped Nova Scotia 7-0 to reach the final. Randy Munch led the offense with three hits and three RBIs.
BC 3 ONT 0
Gage-Cole and Bunyan
Paterson, Murphy (8) and Fenion
SK 7 NS 0
Rowley and Brown
Coll, Briedgie (3) and Elder
Earlier, Saskatoon remained unbeaten at the Canadian Senior Championships with a 4-1 victory over the host Brandon All-Stars. Edd Tabashniuk was the latest Commodores' pitching hero with a two-hitter.
Thompson, Morrison (5) and Seafoot
Tabashniuk (W) and Stubbs

Manitoba Transcona 0 QUE 5
Bob Hunter and Al Hunter
Schodier and Hardy
NB 7 NS 6
McLure and Fife
Coll, Bridges (8) and Elder
QUE 2 BC 11
Tremblay, Dufour (1), Odellet (3) and Hardy
Webster and Morgan
(August 30) Saskatoon Commodores received outstanding pitching to upset Ontario 6-0 and whip Alberta 11-1 to advance to the final of the Canadian Senior Baseball Championship at Brandon. Fred Cardwell, a pickup from Moose Jaw Regals, fired a two-hitter to blank the powerful Ontario club. Randy Munch went three-for-three to lead the offense. Roy Rowley had two hits. Ken Haanen slammed a triple.
Haanen led the attack in the second game with three hits while Rowley clouted an inside-the-park homer and a double. John Anderson and Don Hrapchak combined on a one-hitter to hold Alberta, represented by Peace River, to one run.
In Saskatoon's opening match, Ross Stone tossed a three-hitter as the Commodores blanked Prince Edward Island 13-0.
Knight (L), Landreth (6) and Fenion
Cardwell (W) and Brown
Les Ohrn (L), Chapman (4) and Kozie, Gullett (4)
Anderson, Hrapchuk (W) (5) and Brown

Stone (W) and Brown
Ted Lawlor (L), Canahan (3) , Larkin (4) and Keough
British Columbia, which stayed in the running with a 3-1 record, squeaked out a 1-0 win over Manitoba Transcona. The only run came in the second inning when losing pitching Tom Lisowski walked four straight batters then struck out the side.
BC 2 NS 3
Jolly, Maybee (6), Webster (8) and Morgan
Bridges and Wilder
NB 6 Manitoba Transcona 1
Johnson and Fife
Maskie, Watson (5), Hunter (8) and Raugh
Man All-Stars 5 AB 2
Thompson, Keating (5), Morrison (5) and Gardiner, Seafoot (9)
Anderson, Fox (2), Nellis (5), Chapman (7) and Gullett, Kozie (5)
ONT 3 MAN 1
Heinbein, Sleeman (7) and Fenion
Neville, Hodgson (5) and Seafoot
AB 5 PEI 0
Anderson and Gullett
Murphy and Larkin
Winner of the championship will earn the right to represent Canada in the world amateur championships in Colombia in November and travel to Colombia in 1971 for the Pan-American Games.
(August 28) Friday, Winnipeg Transcona downed Nova Scotia 8-5 while BC trounced New Brunswick 16-6. Ontario beat Alberta 5-1. The Manitoba All-Stars blanked PEI 6-0 as Bryan Smith belted as bases-loaded triple in the third inning and Bill Chappel had an inside-the-park homer in the 8th.
NB 6 BC 16
Lapointe, Coughlan (6) and Fite
Price, Jolly (6) and Morgan
QUE 9 NB 1
Gervais and Hardy
Johnson, Jenkins (5) and Menard
Winnipeg 8 NS 5
Toews, Hunter (8) and Raugh
Banfield, Matheson (9) and Elder
ONT 5 AB 1
Murphy and Fenion
Ohrn and Kozie
Manitoba 6 PEI 0
Scott and Gardiner
Gavin, Conahan (8) and Keouh
---
KAMLOOPS LABOUR DAY TOURNAMENT
(September 6-7) Vancouver Mounties captured the championship at the 24th Annual Kamloops Labour Day Tournament Monday blanking Kamloops Okonots 5-0 in the final. Mounties had earlier downed Vancouver CYO 3-2 and Kelowna Carls 5-2 in the single knockout, eight-team event.
Kamloops defeated Vancouver Walls 4-2 and Vancouver Longshoremen 5-1 to reach the tourney final. In other games, Longshoremen beat Saskatoon T-Birds 6-0 and CYO stopped the Calgary Giants 4-1.
---
ENDERBY LABOUR DAY TOURNAMENT
Six teams are entered in the double-knockout Enderby Tournament slated for the Labour Day weekend. The three north Okanagan teams are the Salmon Arm Old Stylers, Celista Vikings and the Enderby Oil Kings. The Calgary Carlings, Creston Maroons and Nakusp Loggers fill out the roster.
---
WORLD AMATEUR BASEBALL CHAMPIONSHIP, Colombia
(November 19) A two-out, bases-loaded single by Jorge Brown in the 8th inning gave Puerto Rico a 9-7 victory over the Dominican Republic Thursday. Guatemala shaded Italy 1-0 in 10 innings in another contest.
(November 20) Burt Hooton pitched a two-hitter and James Corcoran and Robert Ellis led a 14-hit attack with home runs as the United States walloped the Netherlands Antilles 14-0 at the World Amateur Tournament in Colombia. It was the second straight win for the Americans who whipped Nicaragua 11-1 on Thursday. In other games Friday, Nicaragua beat Holland 5-2, Puerto Rico blanked Italy 4-0 and Guatemala defeated Venezuela 6-2 in 10 innings.

(November 28) Burt Hooton (left) fired a no-hitter for the United States as the Americans beat Cuba 3-1 to tie for the lead at the World Amateur Championships. Hooton, a right-hander from the University of Texas, gained his no-hitter when the official scorer made a ruling change. He had originally credited Wilfredo Fernandez with a hit, but later changed it to an error. Hooton helped the offense with a run-scoring single in the sixth inning. It was the first defeat for the Cubans and created a three-way tie for first place among Cuba, the US and Colombia.
(November 30) The US clinched at least a tie for first place with a 6-4 win over the Dominican Republic Monday night. Cuba kept its hopes alive with a 10-1 triumph over Nicaragua.
(December 01) The United States and Cuba face off tomorrow in the first game of a best of three series. The two teams finished the tournament with identical 10-1 records, necessitating the playoff. The US lost to Puerto Rico and Cuba was defeated by the Americans. Puerto Rico beat Canada 2-1 Tuesday and finished in third place. Cuba topped Colombia 9-6.
(December 02) Cuba downed the US 3-1 in 11 innings Wednesday in the opener of a three-game series to decide the World Amateur Baseball Championship. Pitcher Jose Huelga, who outdueled Burt Hooton, won his own game by driving home Lazaro Perez with a single in the 11th inning. He later scored when Hooton fumbled an infield grounder.
In the second game, Thursday, lefty Richard Troedson of the US will face Cuba's Santiago Mederos, also a left-hander. Orlando Garcia pitched a one-hit shutout as Colombia defeated Guatemala 9-0. Colombia finished with a record of 8-3.
(December 04) Cuba, with a four-run first inning, defeated the United States 5-3 Friday to successfully defend its World Amateur Baseball Championship title. The Cubans had won the first game of the three-game series 3-1 on Wednesday.
Puerto Rico took the bronze medal with a 9-2 mark. Colombia placed fourth (8-3), Venezuela followed (7-4). The Dominican Republic was sixth (6-5), then followed Nicaragua 4-7, Netherlands Antilles 3-8, Italy and Canada finished at 1-9 and Netherlands was last with a 1-10 record.