NORTH BATTLEFORD TOURNAMENT
(July 1) Garry Barker fired a two-hitter, with 11 strikeouts, to help North Battleford Beavers to top money at the North Battleford Tournament with a 2-1 victory over Kindersley in the final. The winning run scored on a sacrifice fly in the 4th inning. With the score tied 1-1, Jack Rowley doubled to lead off the 4th inning. Neil Lampitt moved him to third with a sacrifice and a fly ball brought in the eventual winning run for the Beavers. Randy Arthur allowed just five hits in taking the loss.
Barker (W) and xxx
Arthur (L) and xxx
Neilburg Monarchs claimed the consolation prize with a 9-8, 10 inning win over Unity Cardinals.
Lonnie Funk (W) and xxx
xxx, Gary Bock (L) and xxx
Cam Sternig rapped a homer and three singles to lead the Beavers to a 9-4 win over Neilburg in the first round. Tom Sallaway hurled a six-hitter. Losing pitcher Don McIntyre belted a homer for the Monarchs.
Sallaway (W) and xxx
Don McIntyre (L)
Kindersley Klippers shaded Unity in 14 innings. Les Ohrn picked up the win in relief while Larry Haylor went the distance for Unity. Haylor, who had seven hits in 11 trips to the plate in the tourney, went 4 for 6.
xxx, Ohrn (W) and xxx
Haylor (L) and xxx
---
KINDERSLEY TOURNAMENT
(July 17-18) Vince Ruboco tantalized the Saskatoon Commodores by loading the bases in the 9th inning on three straight singles then struck out the side to preserve Unity`s 3-0 victory in the final of the Kindersley Tournament. Rucobo had relieved starter Gary Bock in the 7th inning.
Bock (W), Ruboco (7) and xxx
Martinson (L) and xxx
Saskatoon advanced to the final with an 8-0 triumph over Minot Merchants in their first game Saturday and 2-1 win over the host Kindersley Klippers in the semi-final. Unity trounced Edmonton Tigers 7-0 in a semi-final after defeating Thompson, Manitoba 5-2 in their opener. Edmonton beat Eston Ramblers 3-0 and Kindersley downed Calgary Cubs 4-2 in first round action.
---
LACOMBE TOURNAMENT
(July 22) Edmonton Tigers and the Fargo, North Dakota, Idsos shared top money at the 22nd Annual Lacombe Tournament after the teams battled to a 6-6 draw in the final of the event. The game was called at the end of nine innings because of darkness. Trailing 6-1 after five innings, Ross Marion started the comeback for the Tigers with a homer in the seventh. In the bottom of the ninth, down 6-2, Edmonton rallied for four runs to earn a share of the top prize. Dave Sowinski singled to lead off the final frame and Don Stewart walked. A towering sac fly to right by Jesse Chavez brought in the first marker. Dave Kostenuk lifted a blooper down the first base line that fell in for a double and Ron Watamaniuk drew a free pass to load the bases with two out. Third baseman Fred Seyer lined a pitch into left field for a single and the ball got by outfielder Steve Furst and all three base runners came home to knot the count. Orv Franchuk was the third out and umpire Joe Arisman called the game.
Dick Marsden, Mark Munson (9), Steve Idso (9) and Madsen
Tim Brady, Ross Marion (5) and Waddle, Franchuk (8)

Edmonton advanced to the final by downing Unity 6-2 and Fargo won a slugfest with Kamloops, 11-10. In the Unity game, Edmonton got to Gary DeBenadetti for three runs in the first inning and led all the way. Both teams had seven hits with Ron Watamaniuk belting a four-bagger for the winners. Ed Anderson was the winning hurler.
Anderson (W) and Franchuk
DeBenadetti (L) and Tollefson
Fargo needed 12 innings to dispose of Kamloops in the other semi-final getting the winning run on John Tesser's disputed run in the bottom of the 12th. He was ruled safe on a close play at the plate. Furst, who made the costly error in the final, was the finning pitcher. Catcher Greg Gustafson and Wayne Dye had round-trippers for Kamloops while Paul Dobis cracked his second of the tournament for the Americans.
Plumber, Clarke (6), Bechtell (6) (L) and Gustafson
Marsden, Munson (6), Idso (8) (W) and T.Tesser
(July 21) Fargo, North Dakota, bombed North Battleford Beavers 9-1 on a 12-hit attack. Beavers didn`t help their cause making three errors. Kraft belted a homer for the winners. Steve Idso went the distance for the win.
Idso (W) and Tesser, Manson (8)
Barker (L), Sallaway (8) and Sette
Bob Bridges held Red Deer to five hits as Kamloops Okonots beat the Alberta club 7-1. Randy Rota had a homer for Kamloops,
Bridges (W) and Gustafson
Ballou (L), Changnon (7) and Grant
Vince Ruboco fired a two-hitter, setting down 14 via strikeouts, as Unity Cardinals downed Calgary Jimmies 2-0. Rococo also scored the winning run as he led of the 5th inning with a double to right centre and scored on Tim Young`s single. Young came around to score on a sacrifice fly. Unity, which won the Kindersley Tournament last weekend, has had their pitching staff go 36 consecutive tournament innings without allowing an earned run.
Rucobo (W) and Wandler
Stephens (L), Lynn (5), Wolfe (8) and Chamberlain
Edmonton topped the defending champion Jamestown Elks 6-3 behind the eight-hit pitching of Tim Brady.
Otto (L), Haas (6) and Jensen
Brady (W) and Franchuk
---
CALGARY TOURNAMENT
(July 24/25) Edmonton Tigers of the Alberta Major Baseball League edged Unity Cardinals of the Northern Saskatchewan League 8-7 in 10 innings to take top prize at the Calgary Baseball Tournament. Tigers, who were out hit 14-5, scored three runs on bases-loaded walks and five more through errors.
Cards took an early 2-0 lead with three hits in the first inning. Tigers responded with three in the 5th as Unity starter Gary Bock filled the bases on walks and manager Irl Flanagan put in the call for lefty ace Vince Rucobo who had just finished a nine-inning stint a few hours previous. Rucobo walked in three before he began throwing strikes and Edmonton had a 3-2 lead. Unity came back with a pair in the 6th to retake the lead, 4-3. In the top of the 9th, Rucobo had two out and a runner at second when an error on a routine grounder opened the floodgates and Edmonton followed with a walk, wild pitch and a Texas Leaguer to account for three runs and a 6-4 margin. Unity wasn't though just yet. In the bottom of the 9th they worked reliever Ross Marian for a double and a walk and Larry Balon ripped a pinch hit single off lefty Cliff Mein to narrow the margin to 6-5. Unity knotted the count at 6-6 when Mein walked Ed Ralston with the bases loaded. In the 10th, two Unity errors accounted for two more Tiger runs and the Cards responded with just one in their half of the inning as Tim Brady came on to halt the rally.
Mein, third of four Tiger pitchers, was credited with the win. Tom Sharpe, third Unity hurler took the loss.
Sharpe and Jim Shaw each had three hits. No Tiger had more than one.
Edmonton pitcher Tim Bradley was named the tournament's most valuable player. Unity's Sharpe was the top batter and Vince Rucobo the top pitcher.
Anderson, Marian (9), Mein (9) (W), Brady (10) and Franchuk
Bock, Rucobo (6), Sharpe (10) (L) and Wandler
In semi-final action, winning pitcher Tim Brady tripled to setup the deciding run in the 8th inning as the Tigers shaded the Calgary Cubs 2-1. Brady and Ed Anderson combined on a six-hitter.
Brady (W), Anderson (8) and Franchuk
Lynn (L), Baird (8) and Chamberlain
A five-run 3rd inning, in which Unity collected four of its five hits, carried the Cardinals to a 5-3 win over Walla, Walla. Vince Rucobo held the Americans to seven hits in going the distance for the win. Dick Rousseau was the tough luck loser.
Rousseau (L) and Olson, Gannon (4)
Rucobo (W) and Wandler
In opening round play, Calgary Cubs trounced Kamloops Okonots 12-2 in a game called after seven innings because of the 10-run rule. Chris McKinnie tossed a three-hitter for the win and helped at the plate with a homer. Marv Chamberlain also had a four-bagger for the Cubs.
McKinnie (W) and Chamberlain
Bridges (L), Plummer (4) and Gustafson
Edmonton Tigers scored three in the 8th and six in the 9th to down Minot Merchants 11-6. Minot out hit the Tigers 12-7. Fred Seyer homered for Edmonton, Don Werlinger had a homer for Minot. Lonnie Funk went the route for the win.
Funk (W) and Franchuk
Brules (L), Koering (9) and Werlinger
Tom Sharpe hurled a four-hitter and Unity had a four-run 3rd inning to down the defending champion Jamestown, North Dakota, Elks 5-3.
Haas (L), Otto (3) and Jensen
Sharpe (W) and Wandler
Down 4-2 in the 7th inning, Walla Walla, Washington, scored three runs to take a 5-4 decision over Regina Red Sox. The game was held up for 90 minutes because of a power failure.
Homme (L), Currie (8) and Logan
Conover (W), Walker (8) and Gannon
---
PAN AMERICAN GAMES, Cali, Colombia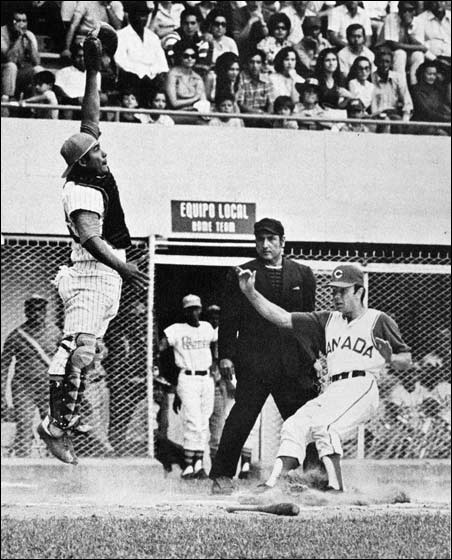 The Canadian National team finished with a 4-4 record in a tie for third place in the nine-team event but Colombia, also 4-4, was awarded the bronze medal because of a 7-6 win over Canada in the opening games of the tournament.
(Photo - Dale Stokke scores to make it 3-0 for Canada over Colombia. But the Colombians rebounded for a 7-6 victory)

Henri Corbeil was the starter and loser for Canada in that debut match. Bob Thompson relieved Corbeil in the sixth inning. Roy Rowley (left) belted a homer in a losing cause.

The following day, Fred Cardwell (right) pitched a gem, with 9th inning relief help from Larry Webster, to shade Mexico 2-1. The Canadians bunched four of their six hits in the fourth inning as the squad got consecutive safeties from Dale Stokke, Tom McKenzie, Norm Caig and Gord Clark.
The United States dumped the Canadian squad 7-1 in our third contest as American right-hander Paul Patterson pitched one-hit, shutout ball until the 8th inning. George Brice tossed a three-hit shutout as Canada evened its record at 2-2 with a 1-0 win over Venezuela.

Rick Houghton's homer proved to be the difference as Canada topped Puerto Rico 5-3. Glennis Scott (left) picked up the win in relief of starter Henri Corbeil.
Against the powerful Cubans, Canada jumped into a 2-0 lead in the first inning but could not hold on as the eventual gold medalists rebounded for a 7-4 victory with five Canadian errors prominent in the decision. Vincente Diaz and Augustin Marquetti belted homers for Cuba which had 11 hits off right-hander Fred Cardwell. Braudilio Vinent gave up 11 hits in chalking up the win. It was the fifth straight win for the Cubans, while Canada fell to 3-3. The Dominicans topped the US 5-4 and Venezuela blanked Colombia 1-0. Puerto Rico got three homers and beat Mexico 6-0.
Nicaragua blanked Canada 3-0 as George Brice took the loss. Fred Cardwell pitched shutout ball in relief.
In the team's final match, Canada topped the Dominican Republic 2-0 behind the combined efforts of Ross Stone, Bob Thompson and Cardwell. Cuba finished at 8-0, the USA picked up the silver medal for a 6-2 mark.


Canada's mound staff turned in an outstanding effort. Glennis Scott allowed no runs in his 8 innings of work. George Brice had an ERA of 1.17 for 15 and 1/3 innings, Ross Stone (left) 1.84 for 14 2/3s and Fred Cardwell 2.13 over 12 and 2/3s. Bob Thompson pitched 9 and 1/3 innings for a 4.82 ERA and Herni Corbeil was at 7.27 for 8 and 2/3s innings. Larry Webster blanked the opposition in his 2/3s of an inning.
Second baseman Allan Robertson led the Canadian hitters with a .400 average and catcher Bryan Bell had a mark of .294. Dale Stokke (right) led the team in hits, with nine.
---
WORLD AMATEUR BASEBALL CHAMPIONSHIP, Nicaragua
(November 27) Cuba and Nicaragua remained unbeaten at the 19th World Amateur Baseball Tournament. Cuba blanked Puerto Rico 7-0 for its fifth win and Nicaragua upset Mexico 3-0 for its fourth. Canada edged Italy 3-2 for its first victory after three loses.