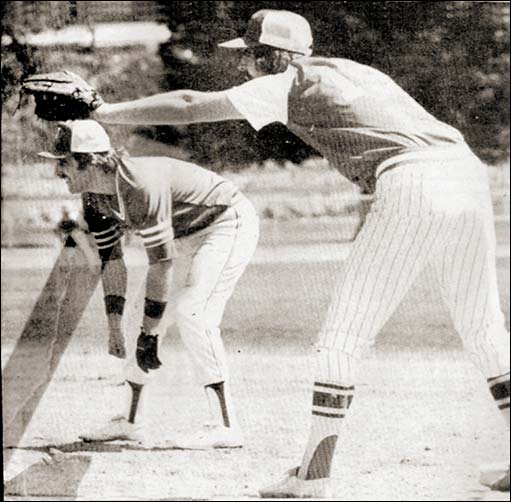 Clark Inglis
of Vernon Coldstream Hotel gets a good lead off first base in a North Okanagan Baseball League contest at Polson Park.
Inglis singled and stole a base in the first game and his single in the final inning of the second contest helped Vernon to a sweep of the double-header.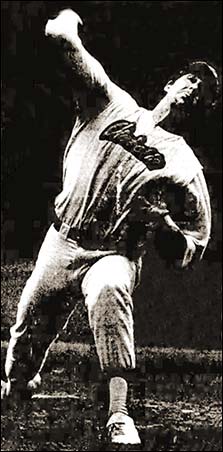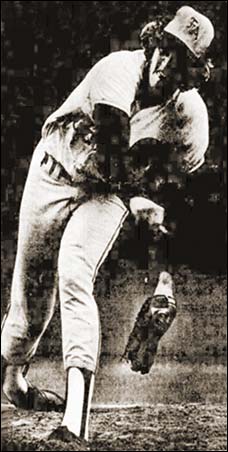 Two of the mound stars of the BC Senior Baseball championship series of 1973.
Left - Victoria's Bob Mabee racked up 20 strikeouts in ten innings of relief hurling as Victoria won in a 14-inning thriller.
Right - Mike Finlayson of Fraser Arms, an 18-year-old right-hander allowed just two hits and fanned 12 as Fraser Arms trounced Victoria 12-0 in the tournament final.
Finlayson is on a baseball scholarship at Green River College in Washington.

The paper provided little information on this one other than it was a Brian Lee photo of a game at the Senior Amateur Invitational Tournament at Queen's Park Stadium in New Westminster. It's an unidentified (except for #27) Fraser Arms runner sliding safely into second or third during the final between Fraser Arms and Victoria.
(Richmond Review, July 4, 1973)